These Yummy Buttermilk Whole Grain Waffles are my go-to recipe! They're crispy on the outside, tender and fluffy on the inside, and have delicious almond flavor.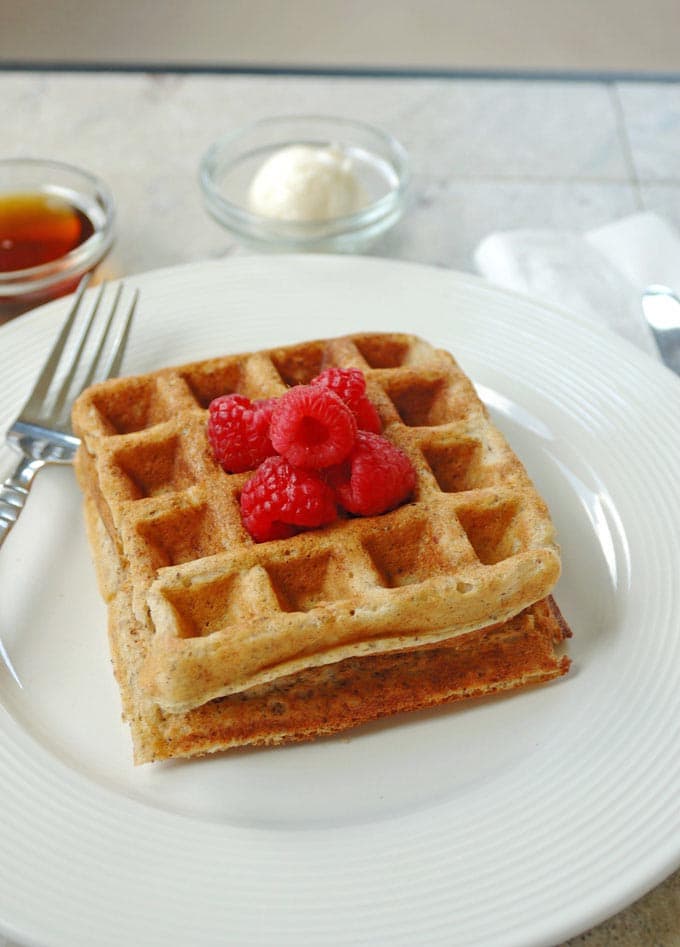 I'm so excited to finally have a go-to waffle recipe! It's taken two years for me to get this right.
In other news, I think I finally figured out how to work my camera. So, without further ado…I give you yummy buttermilk whole grain waffles.
I really wish you could pull up a bar stool in my kitchen, let me pour you a cup of coffee and serve you this breakfast. (No wonder I used to love working at Bob Evans.)
But since we are separated by who knows how many miles (oceans even?), the next best thing is for me to share this recipe with you. But I hope you can feel the love from wherever you are.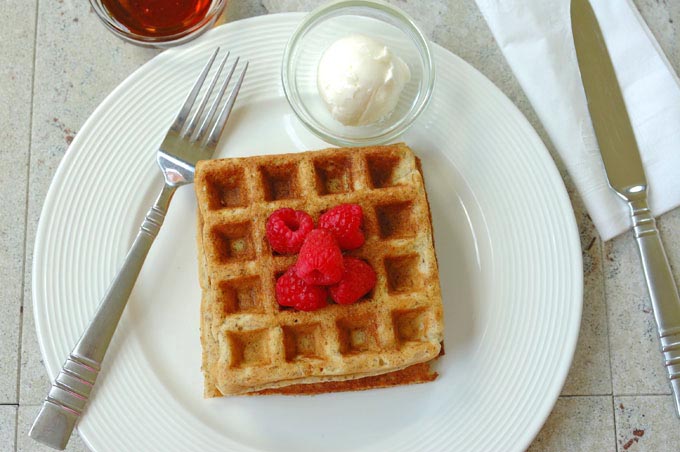 First, I need to tell you these aren't just delicious "for a whole grain waffle." They're delicious, period.
They're crispy on the outside, tender and fluffy on the inside, and not the least bit dense or heavy (unlike other versions I've tried). Best of all, you can really taste the almond flavor, along with a slight buttermilk tang.
My biggest pet peeve with homemade waffles and pancakes is they're often bland. The best way to fix that is to increase the salt and extract until some bold flavor pops. (It's just like how my red, suede Mary Jane pumps simply make any outfit.)
While developing this recipe, I tried using lots of vanilla, but it wasn't providing any oomph. So, I  switched to my beloved almond extract, plus homemade buttermilk I got by adding lemon juice to my low-fat milk.
Buh-bye, bland. Hello, somethin', somethin'.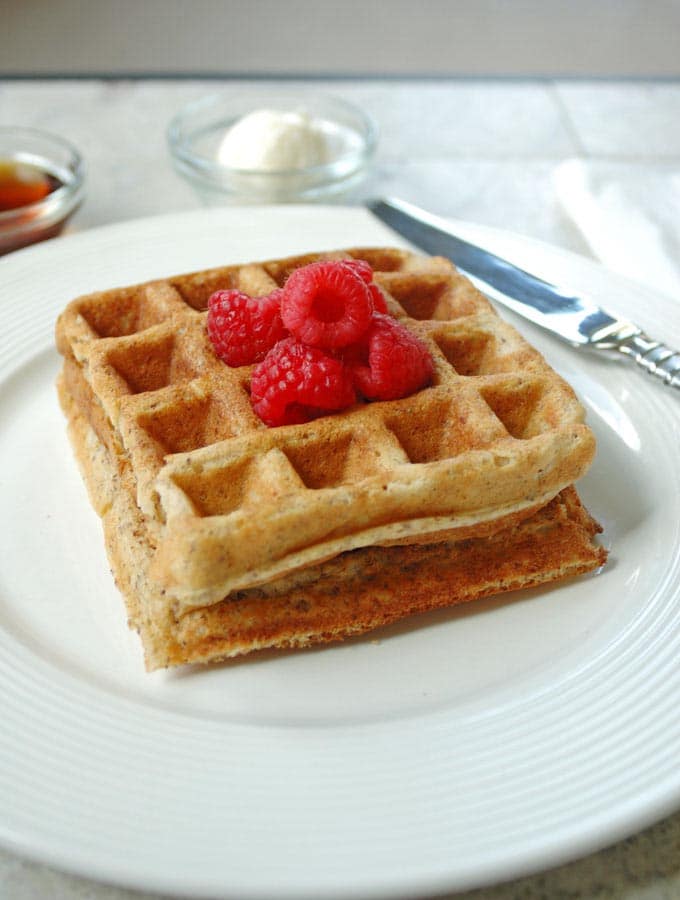 Finally, the ingredients list here contains white whole wheat flour, which you know I stock regularly, plus a tiny amount of white flour, just for texture. There's also some flax seed meal and wheat germ, both of which I've started buying to add into my smoothies, breads, and whatever else needs to be healthified and fiberfied. (I'm just making up words now.)
But if you don't feel like purchasing the flax and wheat germ, you'll have to substitute something for them, such as oats. I haven't tried it, but I use oats in my Cinnamon Almond Multigrain Pancakes with good results.
Enjoy!
(Recipe Source: Inspired by this recipe on allrecipes and Our Favorite Pancakes.)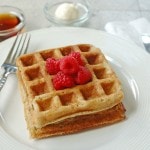 Yummy Buttermilk Whole Grain Waffles
Crispy on the outside, tender and fluffy on the inside, these Yummy Buttermilk Whole Grain Waffles are my go-to recipe. You can really taste the almond flavor, along with a slight buttermilk tang, and the healthy ingredients aren't noticeable to picky eaters.
Keyword:
homemade waffles, whole grain waffles
Ingredients
1 3/4

cups

low-fat buttermilk

(or use low-fat milk + 1 3/4 tablespoons lemon juice or vinegar)

2

eggs

(beaten)

1/4

cup

canola oil

1/4

cup

unsweetened applesauce

2

teaspoons

almond extract

1

cup

white whole wheat flour

1/2

cup

flax seed meal

1/4

cup

wheat germ

1/4

cup

all-purpose flour

1

tablespoon plus 2 teaspoons

sugar

(or use 1 1/2 packets Stevia)

4

teaspoons

baking powder

1

teaspoon

salt

butter for serving

maple syrup for serving

berries for serving

(optional)
Instructions
Heat your waffle iron and set it to medium (or whichever level you prefer).

If making your own buttermilk, add the milk to a measuring cup and stir in the lemon juice or vinegar. In a medium mixing bowl, whisk your eggs. Add your oil, applesauce, and almond extract to the bowl. Add the buttermilk and whisk to mix it in.

Add all of your dry ingredients (white whole wheat flour, flax seed, wheat germ, all-purpose flour, sugar or Stevia, baking powder, and salt. Whisk well to mix.

Follow the directions for your waffle iron regarding how much batter to scoop onto the iron. (My waffle iron takes two cups of batter at a time, which is half of the batter made in this recipe.) Scoop the appropriate amount of batter into the center of your waffle iron and spread the batter evenly with the back of a spoon. Close the iron and let the waffles cook until the waffle iron beeps, gives a green light, or whatever yours does to indicate the waffles are done.

Carefully remove the cooked waffles with two forks and set them on a dish or platter. Continue cooking the next batch of waffles using the rest of the batter (according to your waffle iron's instructions). I get two batches of waffles (four each time) for a total of eight, square, Belgian waffles.

Serve with butter, maple syrup and berries, if you wish. Freeze any extra waffles in freezer bags. To reheat, toast them in the toaster and then pop them into the microwave for another 10 seconds or so if needed. (Or, you can store extra batter in the refrigerator for three days.)
Nutrition Facts
Yummy Buttermilk Whole Grain Waffles
Amount Per Serving
Calories 493
Calories from Fat 234
% Daily Value*
Fat 26g40%
Cholesterol 86mg29%
Sodium 734mg32%
Potassium 863mg25%
Carbohydrates 50g17%
Protein 16g32%
Vitamin A 170IU3%
Vitamin C 1.1mg1%
Calcium 381mg38%
Iron 3.4mg19%
* Percent Daily Values are based on a 2000 calorie diet.