Mom's Asparagus Frittata is made on the stove, just like in Naples! Featuring Romano and Parmesan cheeses, eggs, garlic, asparagus, and olive oil. This will be one of the best meals of your life!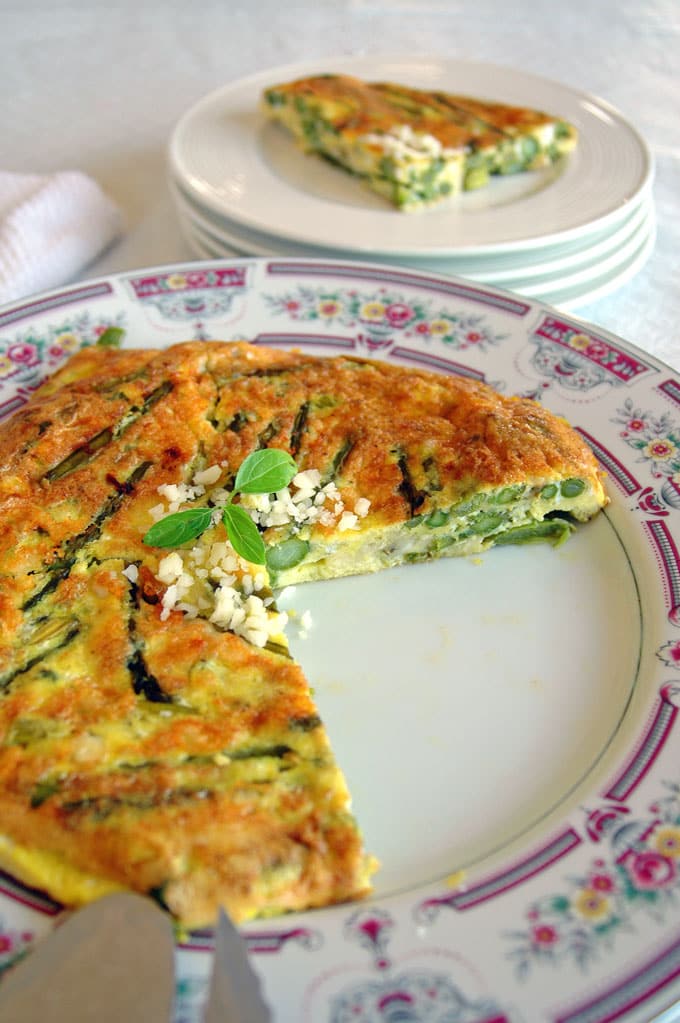 I'm so excited to share Mom's Asparagus Frittata with you! This Italian omelet is incredibly delicious!
It's been one of my favorites for years, but I'd never ventured to make it myself. Heck, until now, I'd never made any frittata.
It's partly because Mom insists that frittata has to be made on the stove and not in the oven, because "That's how we do it in Naples."
So, I always wimped out, happily enjoying Mom's frittata in her kitchen whenever I got the chance.
But this blog is largely about pinning down the family recipes. It was time for me to put on my big-girl mutande and get over my fear of flunking "This is how we do it in Naples."
I'm so glad I did!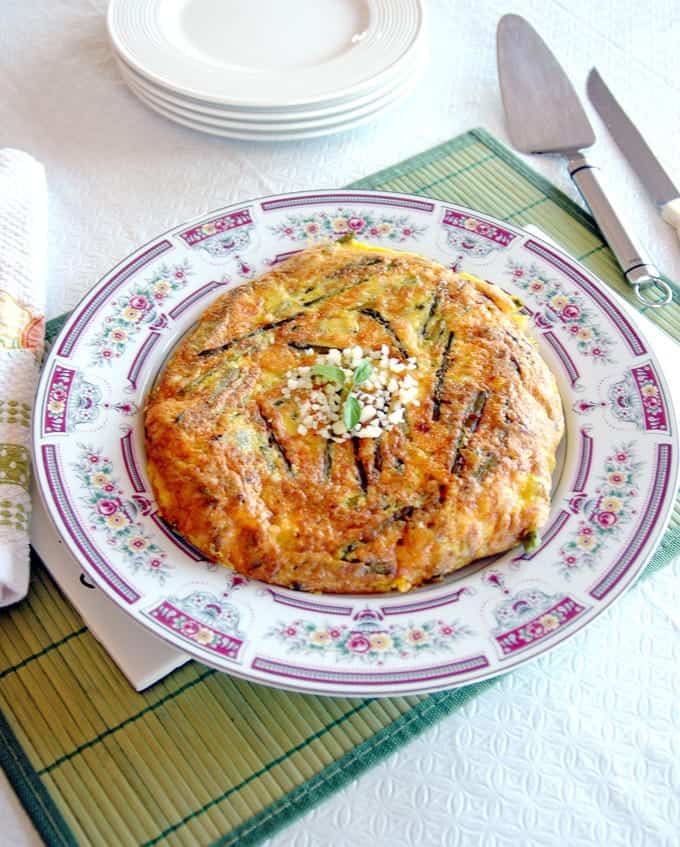 My reward was biting into a crispy-on-the-outside-but-tender-on-the inside, oh-so-delicious frittata. I'm not exaggerating when I say I swooned as my taste buds were greeted with the salty/nutty overtones of Romano and Parmesan cheeses, followed by eggs, garlic, asparagus and olive oil...oh, my my.
Spring never tasted so good.
And I did it! And I learned to make Fried Spaghetti Frittata too!
I had worried about how to invert the asparagus frittata without ruining the whole thing, but with Mom's good instructions, I had no problems. I felt such an adrenaline rush to successfully make this in my kitchen.
Just like in Naples!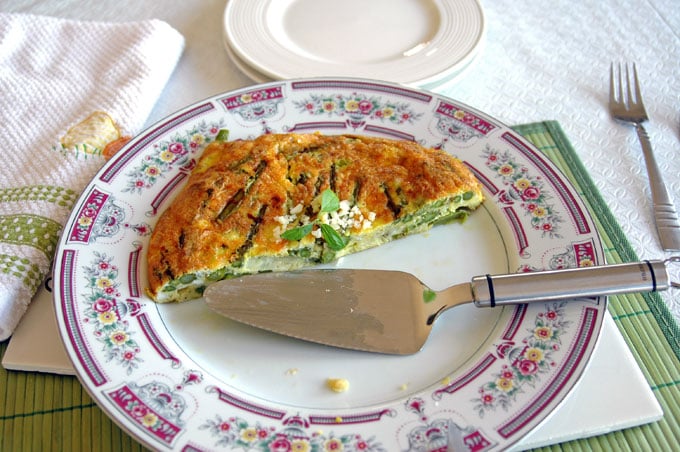 Tips to make asparagus frittata
The asparagus needs to be fully cooked and fork-tender before it goes in the frittata. Start by cooking it at least halfway by steaming the asparagus and then finish cooking it by sautéeing it with garlic in olive oil.
The cooked asparagus needs to be dry before it's ready for the frittata, so gently pat it with a paper towel.
The heat needs to be on low under your frittata pan, so that the bottom won't burn.
Don't invert the frittata until you see that the edges are turning brown and are set. There shouldn't be much liquid on the surface; it should be almost set. (It could take 18 minutes or more.)
Have two spare large, round pans or platters ready to help invert the frittata over the sink when it needs to be flipped. (I used a pizza pan and a 12-inch skillet.)
Invert three times: from the original 10-inch pan onto the first spare pan, so that the cooked side is up; then onto the second spare pan so that the raw side is up; finally, back onto the original 10-inch pan, with the cooked side up.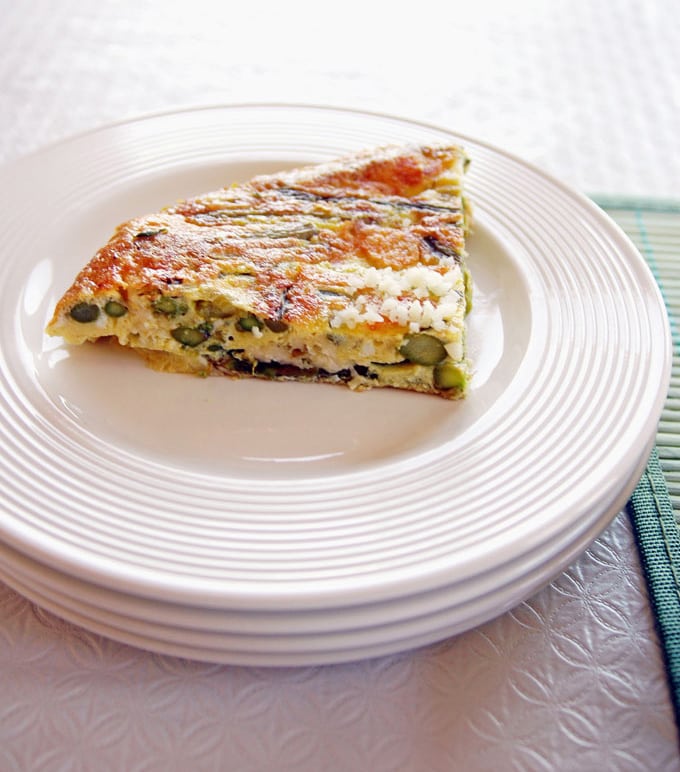 Hakuna frittata, my friends! It means no worries...
Other egg recipes to try
Enjoy!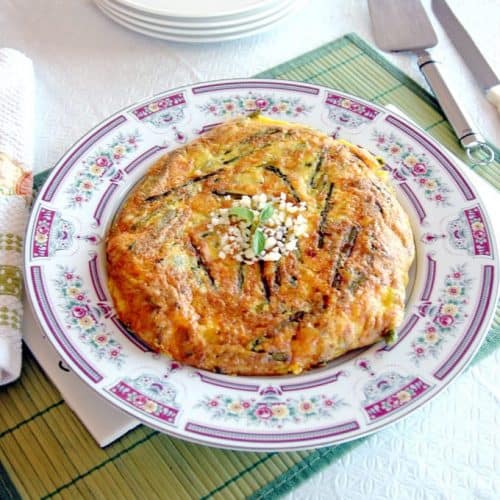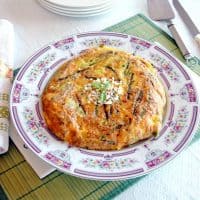 Ingredients
1

bunch asparagus

1

clove

garlic

(peeled & pressed; or minced)

2

tablespoons

plus 1 teaspoon olive oil

(divided use)

6

extra large eggs

(or 5 jumbo)

⅛

teaspoon

black pepper

(or to your taste)

½

cup

freshly grated Parmesan cheese
Instructions
Rinse the asparagus and pat dry. Trim off and discard the tough ends (remove the bottom 2 inches or so.) Cut each remaining stalk into three equal pieces.

Pre-cook the asparagus until it's crisp tender (you will finish it by sautéeing it afterward). You can pre-cook the asparagus by steaming it for about 15 minutes (place a couple inches of water in your bottom pot, bring it to a boil, then place the asparagus in the steamer basket on top and cover it.) OR - You can cover the bottom of a skillet with water, let that come to a boil, and cook the asparagus in it.

While the asparagus is cooking, beat your eggs with a fork or whisk in a small mixing bowl and add the black pepper, whisking it in. Peel and press your garlic (if you have a garlic press) or mince it with a knife. Grate your cheeses (I cut mine into chunks and whirl them in the blender.) Set out two spare round pans or platters that will be used later for inverting the frittata.

When the asparagus is crisp-tender, heat 1 tablespoon of olive oil in a 12-inch skillet over medium high heat and add the garlic, stirring it around. After about 30 seconds, add the asparagus and stir it to coat it with olive oil. Let the asparagus finish cooking until you can easily insert a fork in it, stirring occasionally to make sure the garlic doesn't burn, and lowering the heat if necessary.

Turn off the heat and use a slotted spoon to transfer the asparagus to a bowl. Pat it with a paper towel if there is excess liquid. Stir in the cheeses.

Place a 10-inch skillet over low heat on the stove and add 4 teaspoons of olive oil. Spread the oil around and add the asparagus mixture, distributing it in an even layer. Pour the eggs on top.

Cook the frittata uncovered on low heat until you see that the edges are browning and firm. The top should be almost set. (This could take at least 20 minutes.)

When you are ready to cook the other side, place one of your spare round pans or platters face down over the frittata pan, and over the sink, invert the frittata onto the pan. The cooked side will be up. Then use your second spare pan or platter to invert the frittata again, so that the raw side is up. Finally, invert the frittata back into your 10-inch skillet.

Finish cooking the frittata over low heat, until the bottom is firm and set. (You can gently lift the edge with a spatula to check it.) Slide the finished frittata onto a round platter and let it rest for a few minutes before slicing it. The frittata is delicious at room temperature. Store leftovers in the refrigerator for up to four days.
Notes
You might be able to shave off some cooking time by pre-cooking the asparagus in shallow boiling water instead of steaming it. Or, you can start with leftover asparagus and quickly sautée it with olive oil and garlic.
Nutrition
Calories:
282
kcal
|
Carbohydrates:
6
g
|
Protein:
19
g
|
Fat:
20
g
|
Saturated Fat:
7
g
|
Cholesterol:
269
mg
|
Sodium:
437
mg
|
Potassium:
346
mg
|
Fiber:
2
g
|
Sugar:
2
g
|
Vitamin A:
1375
IU
|
Vitamin C:
6.6
mg
|
Calcium:
336
mg
|
Iron:
3.8
mg
(Recipe Source: Adapted from Mom, who uses two bunches of asparagus and Pecorino Romano instead of regular)