Baked Arugula Frittata is great for breakfast, brunch, lunch or a meatless dinner! The peppery greens are so good combined with eggs, garlic, Parmesan, Romano and feta. Plus, baked frittata vs. stovetop.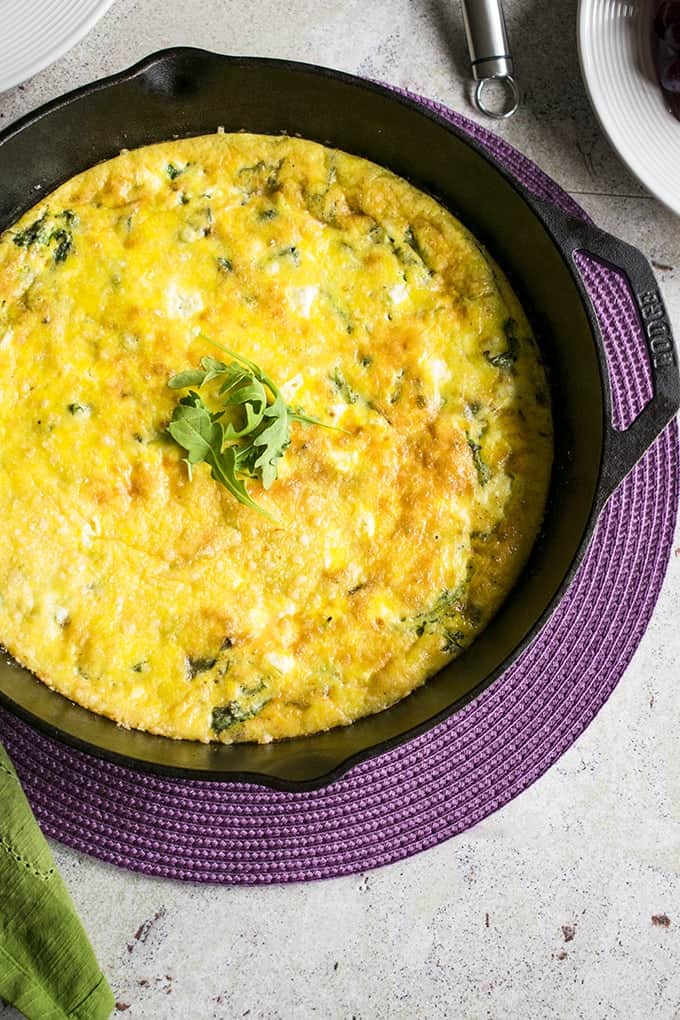 To bake in the oven or cook on the stove. That is the question.
The frittata question, in case you're wondering. It's an important, philosophical topic.
You see, my whole life, I've only known frittata to be made on the stove, as it's done in Naples. Some of you may recall when I shared Mom's Asparagus Frittata and explained I finally learned to flip it like a true Napoletana.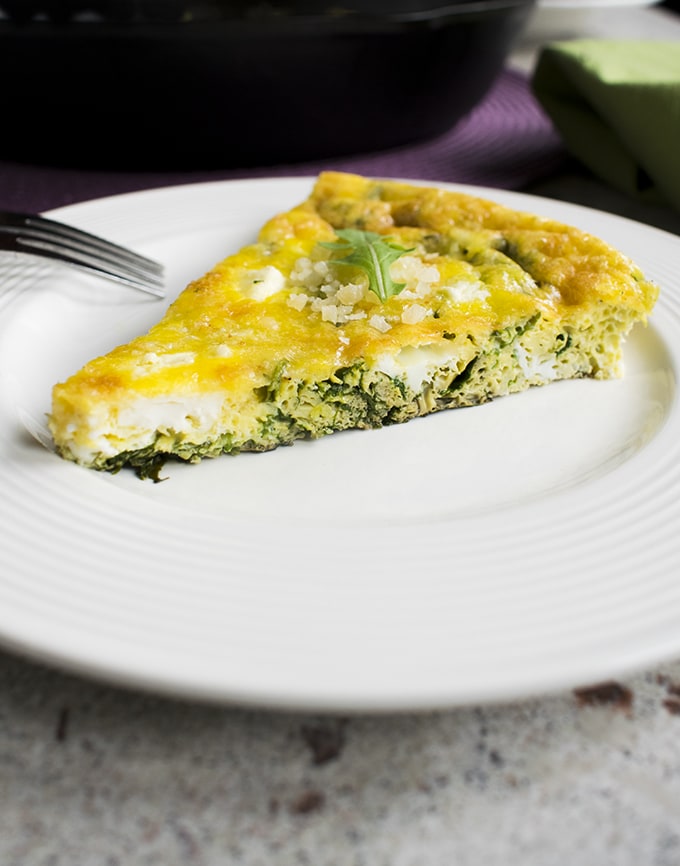 It was fabulous, and I've made that several times, along with this delicious Fried Spaghetti Frittata. But I've always wondered about baked frittata.
After all, everyone else was doing it. What was I missing?
I had to find out. So, one day, when I discovered a large container of baby arugula that needed to be used pronto, I decided to make baked arugula frittata.
My first try showed promise. I sautéed my arugula in olive oil and garlic on the stove (in my cast iron pan), then added eggs and cheese before popping the whole thing in the oven. I finished it in the broiler to get some browning action on top.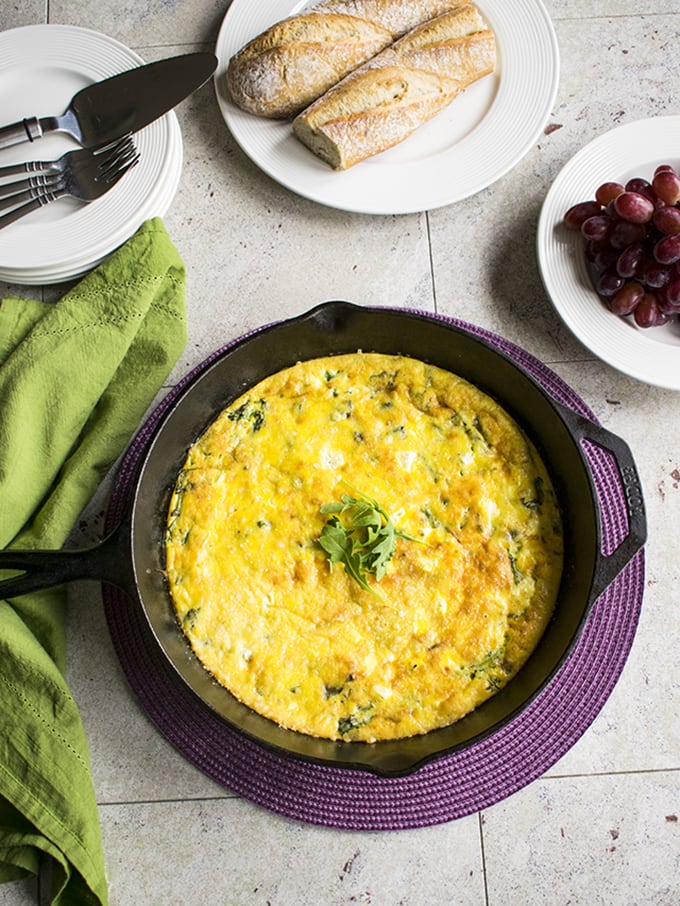 I was satisfied with the method (read on for my comparison of baked vs. stovetop) but needed to work on the ingredients. I'd used Parmesan and Romano but realized the peppery greens needed a salty kick from feta. And more eggs.
I jotted down my notes for next time.
Luckily for all of us, my next iteration was spot on. The feta, plus a little sprinkle of salt, provides the perfect oomph that makes you go "mmmm."
If you're a fan of arugula, this is heaven. And, if not, feel free to use spinach instead.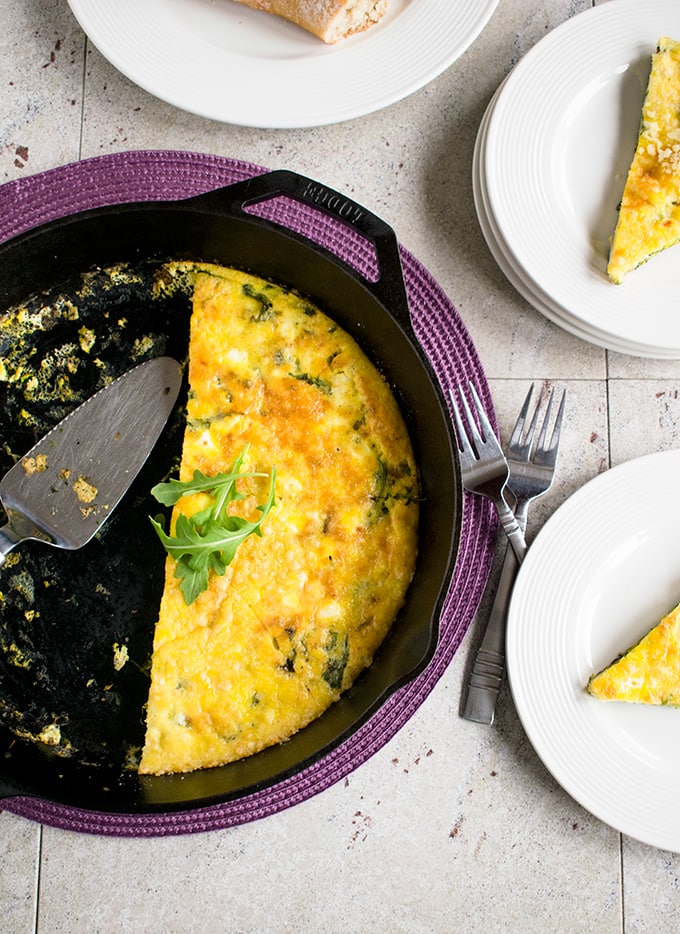 And now, for my assessment of baked frittata vs. stovetop frittata.
Ease - The baked frittata isn't intimidating, like the stovetop version can be. No worries about flipping at the wrong time and splattering batter all over your sink.
Cleanup - The oven frittata uses two fewer pans than the stovetop version (the stovetop one requires extra pans for inverting the frittata — unless you own a frittata pan (affiliate link), which I'm adding to my wish list!)
Length of cooking time: The baked frittata takes about seven minutes less to make than the stovetop version.
Taste & Texture - The oven-baked frittata is very good. I'd give it an 8 on a scale of 1-10. But, Mom is right. Frittata made on the stove is a 10. You just can't get that crispy bottom, beautifully browned top and superior flavor with the oven version.
I'll let you decide which method you prefer. I'm pretty sure I'll be using whichever one suits my mood and circumstances on any given day.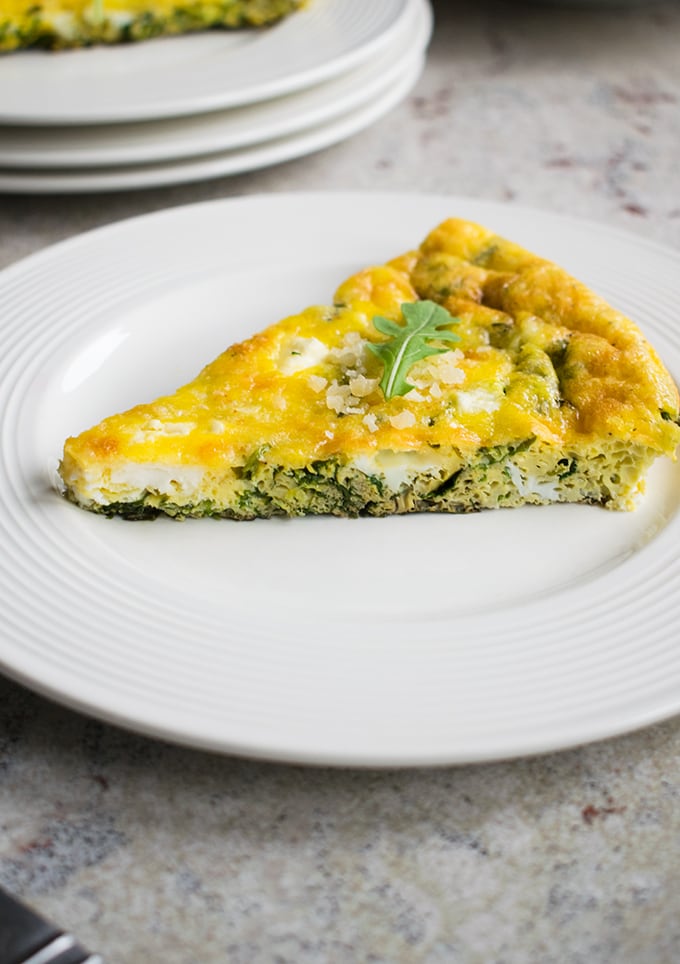 But don't miss out on this arugula frittata. It's perfect for Sunday breakfast or brunch.
Or how about leftovers to pack for lunch? (It reheats beautifully in the microwave.)
It also makes a great vegetarian dinner, served with bread and fruit. It's a great meal for Lent.
I've said it before, but can't resist repeating...Hakuna frittata, my friends! Enjoy!
If you're looking for other breakfast or brunch ideas, you might like this Italian Sausage and Egg Casserole, Our Favorite Pancakes or Healthy Whole Wheat Blueberry Muffins.
Enjoy!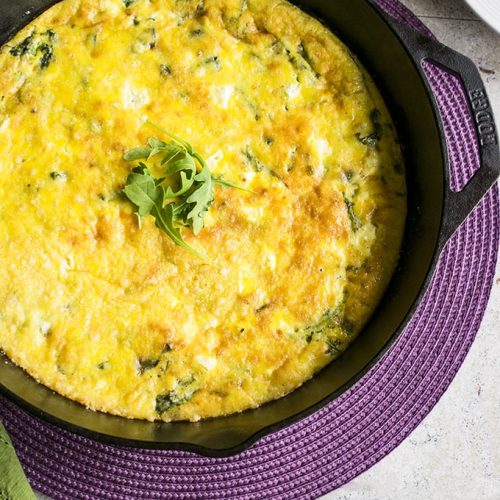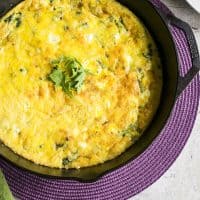 Ingredients
10

extra-large eggs

½

cup

grated Parmesan cheese

(plus extra for serving)

½

cup

grated Romano cheese

¼

cup

crumbled feta

3

tablespoons

olive oil

1

medium clove garlic

(peeled and pressed)

4

ounces

baby arugula

(rinsed and patted dry if needed)

¼

teaspoon

black pepper

sprinkle of salt
Instructions
Preheat your oven to 350 degrees F. Crack your eggs into a small mixing bowl. Grate your Parmesan and Romano and crumble your feta, if needed. Toss the cheeses together in a small bowl.

Heat a 12-inch cast iron or oven-safe skillet on the stove over medium-high heat. (If using a cast iron, the handle will get hot, so protect your hand with a glove or oven mitt.) Add your olive oil to the pan and spread it around to cover the bottom.

Use a garlic press to press your garlic into the pan. (Or chop it finely, if you don't have a press.) Stir the garlic around for about 30 seconds.

Add your arugula to the pan and stir to coat the greens with the oil. Sauté the arugula for at least five minutes, until wilted.

While the arugula is cooking, beat your eggs with a whisk or fork. Stir in your black pepper and sprinkle of salt.

When the arugula is completely wilted, pour your eggs over the top. Sprinkle on your cheese in an even layer, covering the entire surface. Turn off the heat on the stove.

Place your pan in the oven on the center rack. Bake for 15 minutes, then broil for three minutes to lightly brown the top.

Cut the frittata into wedges to serve, and sprinkle extra Parmesan on top, if desired.
Notes
To make this completely on the stove, lower the heat when you add your eggs and cheese to the pan. Cook the frittata on low until the top is almost completely set, with just a small circle in the middle that needs to cook more. Flip over the frittata: If you don't have a special frittata pan, you will need to invert the frittata onto a round platter or pizza pan, then flip it again onto another round platter, then invert it back into your skillet. Cook until the bottom is done.
Nutrition
Calories:
385
kcal
|
Carbohydrates:
3
g
|
Protein:
24
g
|
Fat:
30
g
|
Saturated Fat:
10
g
|
Cholesterol:
441
mg
|
Sodium:
609
mg
|
Potassium:
282
mg
|
Sugar:
1
g
|
Vitamin A:
1465
IU
|
Vitamin C:
4.5
mg
|
Calcium:
425
mg
|
Iron:
2.7
mg
(Recipe Source: Cooking with Mamma C)