These Fluffy Banana Pancakes taste like banana bread! You'll love this cinnamon-banana pancake recipe!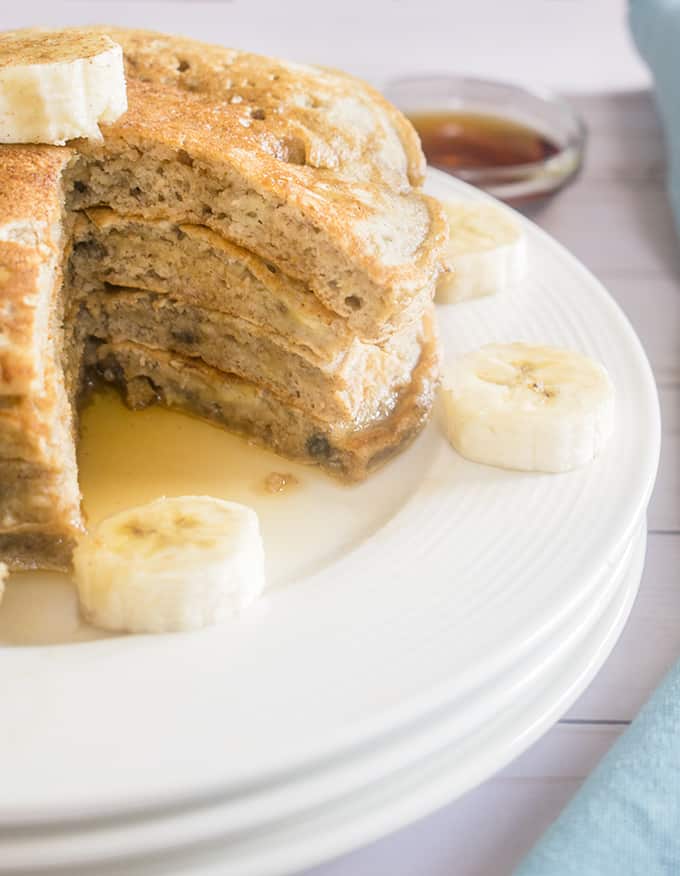 Let me introduce you to my weekend date. These fluffy banana pancakes and I have been going steady for a month.
It started when I was wondering what to do with my ripe bananas. Since I make banana smoothies 5-6 days a week for breakfast, I typically buy 10-12 bananas at a time, in case someone else in my household wants some, too.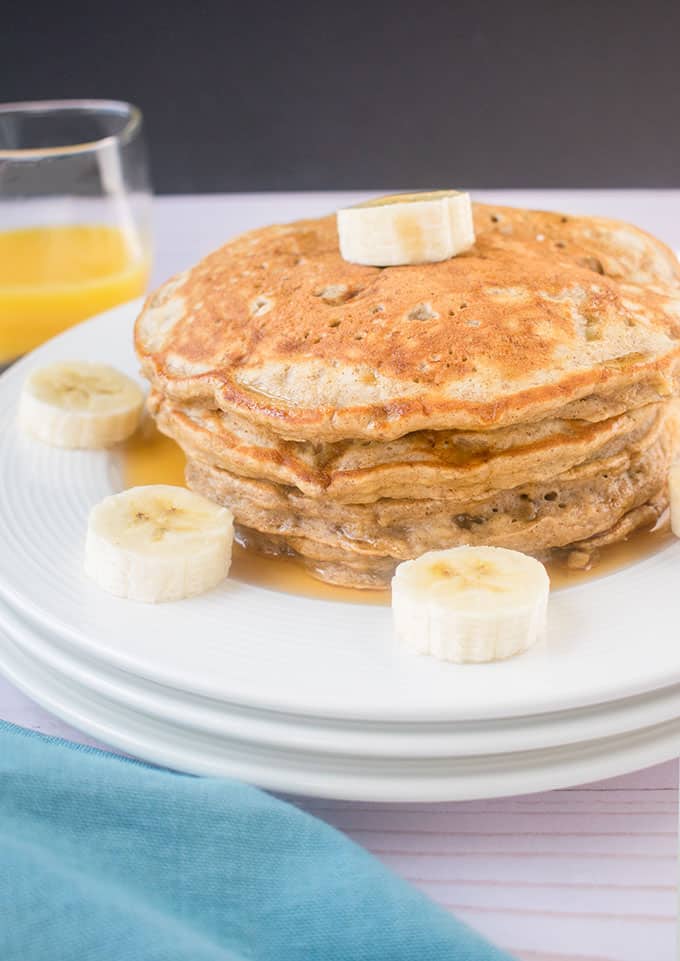 We usually end up with 3-4 overripe bananas each week. I always freeze some for my smoothies, but kept craving banana pancakes.
So, I began experimenting with my banana pancake recipe every weekend. I'd eat some pancakes, share a little with my hubby and son and take notes about what I should try differently next time.
Each week, my pancake breakfast got better and better. Then, one recent Saturday, I hit the jackpot.
I knew -- and my guys agreed -- these are the best banana pancakes! They're basically like banana bread, in pancake form.
'Banana bread' pancakes
If you want to take banana pancakes from bland to brilliant, you need a little salt, sugar, flavoring and spice. I went with vanilla extract and cinnamon...yum!
Combining them with the other banana pancake ingredients -- mashed bananas, flour, eggs, almond milk, baking powder and baking soda -- produces a banana bread taste and aroma that'll summon anyone in your household to the kitchen.
Hey, Good Lookin'!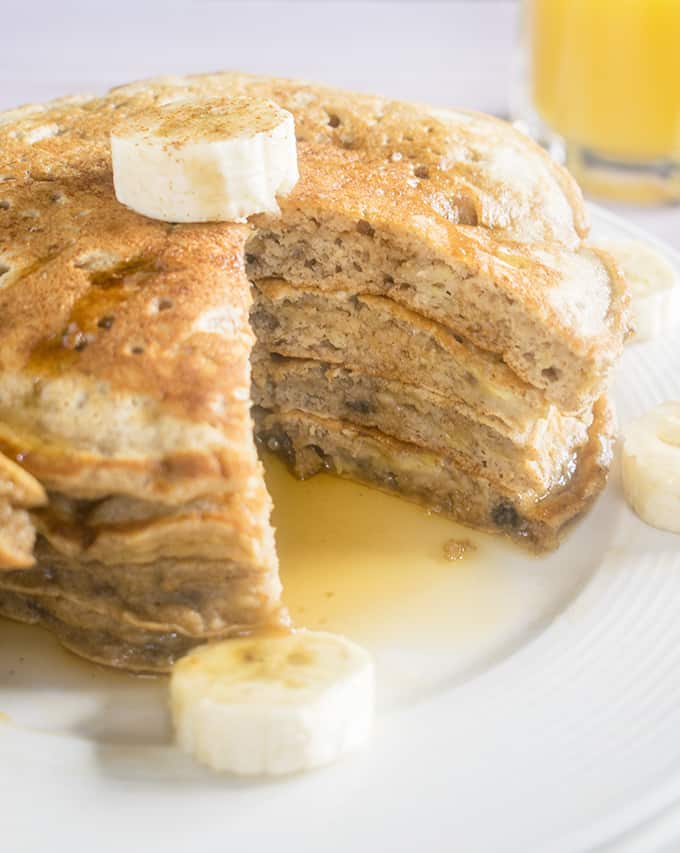 How to make banana pancakes
The process is very similar to most of my pancake recipes, but you'll have to mash a couple of bananas to include in the batter. Once you've done that and beaten your eggs with a fork or whisk, you'll combine the wet ingredients, then the dry ingredients. Then, you'll whisk everything together.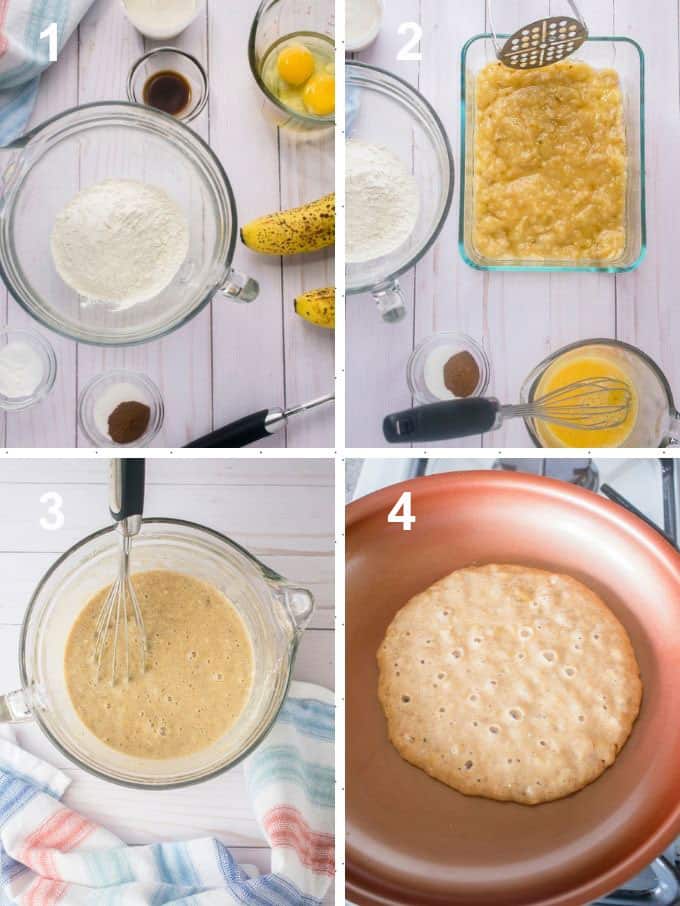 You'll heat a greased pan or griddle (affiliate link) over medium heat, spoon in your batter and cook it for three minutes per side.
When it's time to flip a pancake, it helps to use your spatula to lift up all the edges first, then slide your spatula underneath, until it's in the center. Then, you'll carefully flip!
How to make pancakes fluffy
Here are the secrets to fluffy banana pancakes:
Use baking powder and baking soda, which each

leaven the batter and cause the dough to expand.

Beat the eggs with a fork for a minute before adding them to the batter. This adds volume.
Use almond milk instead of regular milk, which produces fluffier results.
Cook the banana pancakes over medium heat (instead of medium-high), for three minutes per side, to allow time for the insides to cook without burning the outsides.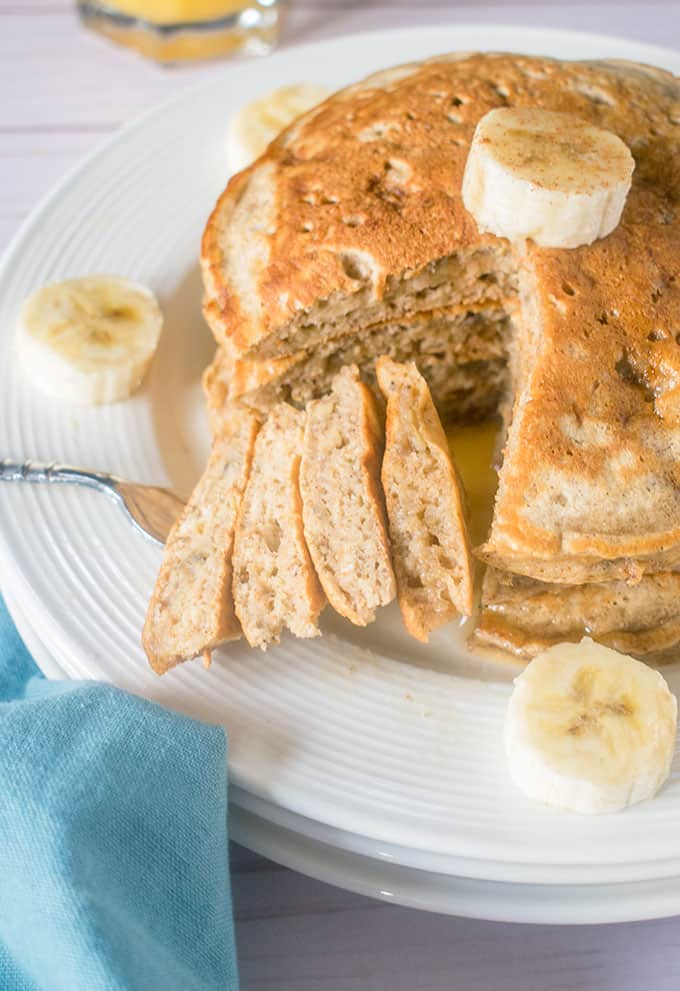 Can you store the batter?
Normally, pancake batter can be refrigerated for two days, but I don't recommend it for banana pancake batter. The mashed bananas will continue to ripen and result in soggy, rather than fluffy, pancakes.
It's better to cook all the banana batter the day you make it. This recipe yields four large pancakes, so it's not a huge amount.
How to store leftover pancakes
You can store leftover pancakes covered in the refrigerator for up to four days. Let them cool off first.
To freeze pancakes, stack them with a layer of wax paper or parchment in between them. Place the pancakes in a freezer bag and freeze them for up to two months.
More recipes to enjoy
If you love bananas, don't miss this white chocolate pizza with bananas. If flapjacks are your jam, be sure to check out my other pancake recipes, starting with fluffy dairy-free pancakes, featuring delicious almond flavor.
And, you have to try this Lemon Ricotta Pancakes Recipe! Wait...there's more...
And don't miss these crispy waffles with almond milk!
Enjoy!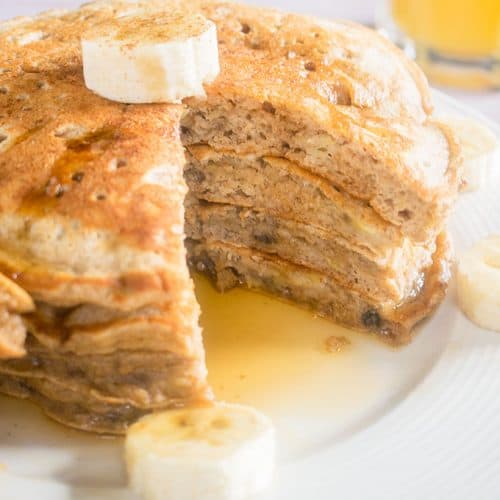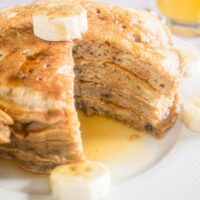 Ingredients
Wet Ingredients
2

medium bananas

(ripe & peeled)

2

eggs

½

cup

unsweetened almond milk

(or dairy milk; see notes for sweetened almond milk)

1 ½

teaspoons

vanilla extract
Dry Ingredients
1

cup

all-purpose flour

(Use a spoon to lightly scoop flour into a measuring cup and level off the top.)

1

tablespoon

sugar

1

teaspoon

cinnamon

1

teaspoon

baking powder

½

teaspoon

baking soda

⅓

teaspoon

salt
Instructions
In a small mixing bowl, mash the bananas with a potato masher or fork.

Beat the eggs in a liquid measuring cup for one minute with a fork or whisk. Add the eggs to the bowl with the bananas.

Add the remaining wet ingredients (almond milk and vanilla) to the bananas and whisk to blend.

In a medium mixing bowl, whisk all the dry ingredients (flour, sugar, cinnamon, baking powder, baking soda and salt).

Add the banana mixture to the dry ingredients and whisk everything just until blended. Be sure to scrape along the bottom of the bowl to mix in the flour. Lightly stir in chopped walnuts, if using.

Heat an 10-inch, non-stick skillet (or a pancake griddle) over medium heat (this is important to ensure the inside of the pancakes will cook without letting the outsides burn.) When the pan is hot, grease the pan with cooking spray.

Use a large serving spoon to pour some batter into the center of the pan, using two full spoons for each pancake. (You can cook more than one pancake at a time if you have room on your griddle, or use two pans.) The pancakes will be about 6 inches in diameter. Cook the first side for three minutes.

To flip the pancakes, use a silicone spatula to lift up all the edges, then slide the spatula under the pancake until the spatula is in the center. Carefully flip the pancake over. Cook the second side over medium heat for three minutes.

Serve the pancakes with butter, syrup, and extra cinnamon, if you wish. You also may slice an extra banana for garnish.

The recipe yields 4 large pancakes. The batter doesn't keep well due to the ripened bananas, so it's best to cook all the pancakes at once. Store any leftover pancakes in the refrigerator for up to four days or freeze cooled pancakes in a stack, separated by wax paper or parchment paper and placed in a freezer bag.
Notes
Almond milk produces a fluffier result than regular milk, but use what you have.  If your almond milk is sweetened, you'll need to reduce the sugar.
Walnuts are a delicious addition, if you can have them. Nutrition information doesn't include the walnuts.
Nutrition
Calories:
440
kcal
|
Carbohydrates:
83
g
|
Protein:
14
g
|
Fat:
6
g
|
Saturated Fat:
2
g
|
Cholesterol:
164
mg
|
Sodium:
810
mg
|
Potassium:
752
mg
|
Fiber:
5
g
|
Sugar:
21
g
|
Vitamin A:
313
IU
|
Vitamin C:
10
mg
|
Calcium:
212
mg
|
Iron:
4
mg
(Recipe Source: Cooking with Mamma C)