Here's a delicious recipe for Lemony Whole Wheat Zucchini Bread. It's made with 100% whole wheat flour and is a great way to get more whole grains in your diet. But you can substitute all-purpose flour!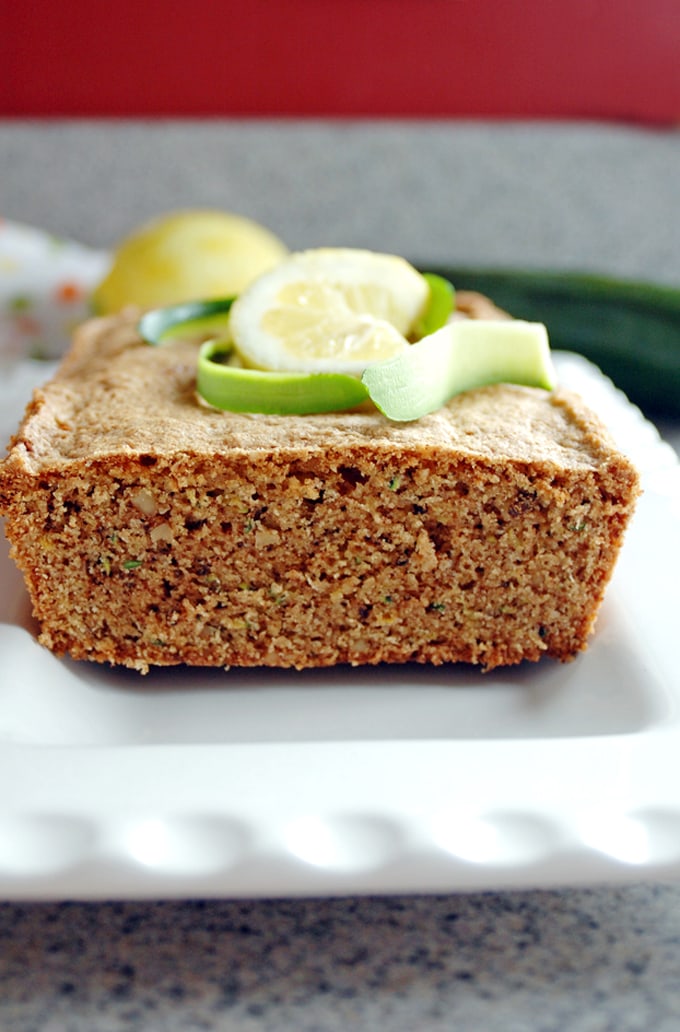 Some foods are like cozy blankets that wrap us in comfort. Zucchini bread is one of them. I've been making it for years.
This summer though, I decided to tweak things a bit. Not in a just-because-I-have-a-food-blog-I-must-change-everything way. More like, now-that-I'm-more-confident-in-the-kitchen-I-should-consider-how-to-make-this-even-better way.
So, I approached this recipe trying to solve for three things:
Incorporating whole wheat flour for a healthier zucchini bread
Reducing/eliminating the nutmeg, since my daughter doesn't care for it
Making the lemon flavor really pop.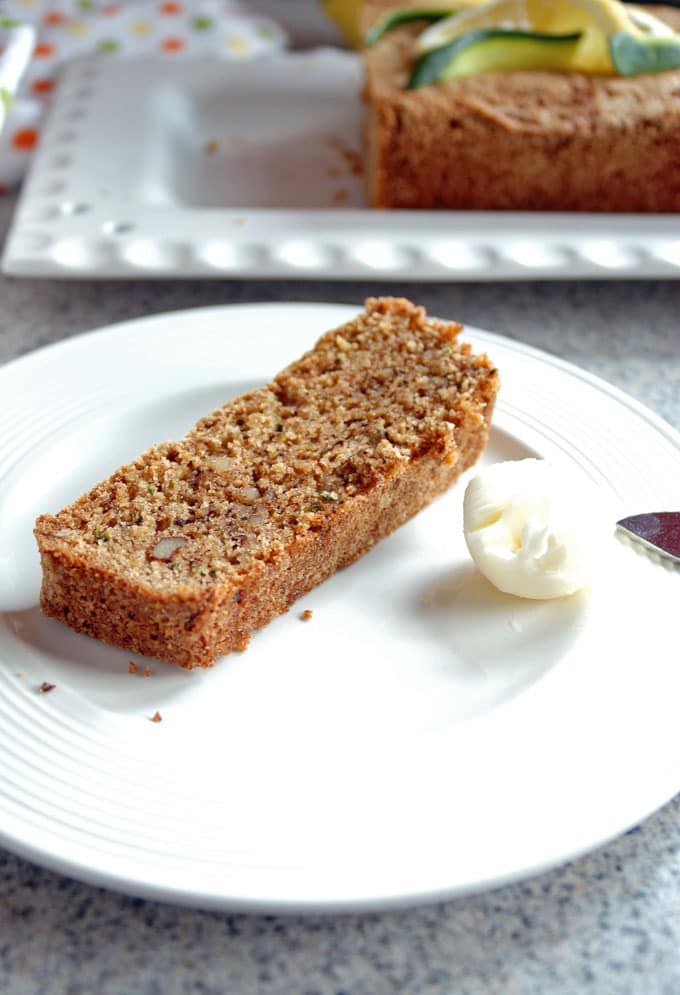 First, I simply replaced the all-purpose flour with white whole wheat flour. It worked really well, but you could try a 50/50 combination or use only all-purpose flour, if you prefer.
But, if you'd like to include more whole grains in your diet, quick breads like this one (or banana bread, no-yeast beer bread and whole wheat blueberry muffins with olive oil), provide the perfect opportunity. The bread will look darker, but still taste delicious.
Second, I tried using half the amount of nutmeg in the recipe. My daughter took one bite, and....no. It was still overpowering the bread.
And, since I can take or leave nutmeg, I decided to leave it out. There's still a teaspoon of cinnamon to provide that warm, spice flavor.
Third, I addressed the lemon issue. The original recipe from my Better Homes and Gardens New Cook Book called for just a teaspoon of zest, which was barely noticeable in the finished product.
So, I tried doubling the zest. Still not enough.
I knew it was time to triple the lemon zest to a tablespoon...and bring out my pantry's heavy hitter — lemon extract. I stock it at all times, because it works wonders for lemon cakes and other baked goods.
And, just a little goes a long way.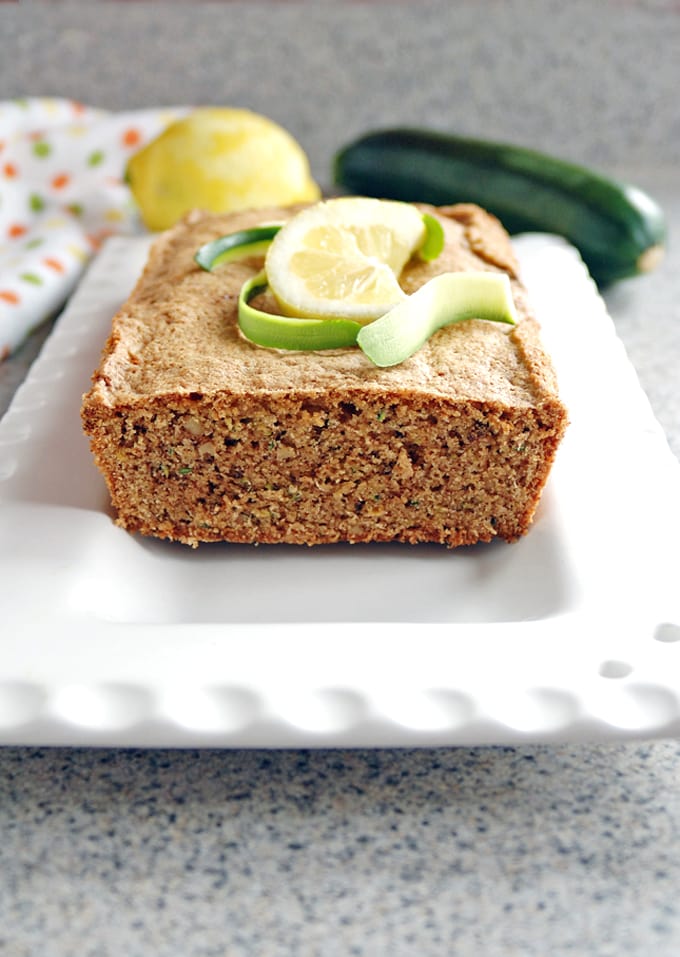 All I needed was ½ teaspoon to bring out the X-factor, to put the "lemony" in my whole wheat zucchini bread.
It's just like Say Yes to the Dress, when they bring out the belt and veil to seal the deal for the bride-to-be. You know it's a winner when they bring out the accessories.
So, are you ready to say "yes" to my Lemony Whole Wheat Zucchini Bread? It's only $6.99!
More ways to use zucchini
Enjoy!
(Recipe Source: Inspired by the Zucchini Bread recipe in Better Homes and Gardens New Cook Book, 1989, p. 56)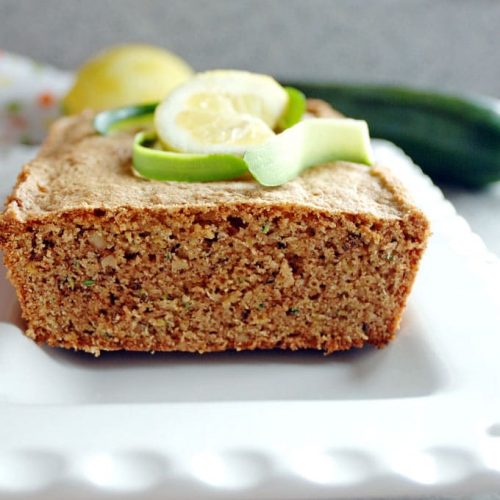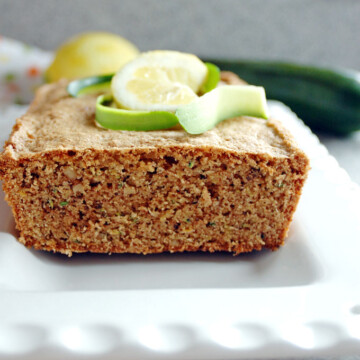 Lemony Whole Wheat Zucchini Bread
A delicious recipe made with 100% whole wheat flour. It's a great way to get more whole grains in your diet, but you can substitute all-purpose flour or use a 50/50 combination.
Print
Pin
Rate
Save
Go to Collections
Servings:
8
(makes 1 loaf)
Ingredients
1

cup

shredded unpeeled zucchini

(from 1 small zucchini)

1

tablespoon

lemon zest

(from about 2 lemons)

1

cup

sugar

¼

cup

cooking oil

1

egg

½

teaspoon

lemon extract

1 ½

cups

white whole wheat flour

1

teaspoon

cinnamon

½

teaspoon

baking soda

¼

teaspoon

salt

¼

teaspoon

baking powder

½

cup

chopped walnuts
Instructions
Preheat your oven to 350 degrees F. Grease an 8x4x2 loaf pan with cooking spray.

To shred your zucchini, first rinse the zucchini and pat it dry. Trim off and discard the ends. Shred the zucchini in a food processor or using a box grater, until you have enough to measure one cup.

For the lemon zest, rinse and pat dry two lemons. Use a lemon zester to scrape the lemon peel until you have one tablespoon.

Add your shredded zucchini and lemon zest to a large mixing bowl. Add in the sugar, oil, egg and lemon extract. Stir until mixed.

In a small mixing bowl, add your flour, cinnamon, baking soda, salt and baking powder. Whisk them to blend.

Add your flour mixture to your large bowl with the zucchini batter. Gently stir to combine. Chop up some shelled walnuts until you have ½ cup. Stir the chopped walnuts into your batter.

Transfer the batter to your loaf pan and bake, uncovered, for 50-55 minutes, or until a toothpick inserted in the center comes out clean. Let the pan rest for ten minutes on a wire rack before inverting the zucchini bread onto a cooling rack (wear oven mitts.) Flip the zucchini bread over so that it is right-side up and let it finish cooling off. The bread tastes best when it has cooled to room temperature.

Once cooled off, store the zucchini bread at room temperature, wrapped in plastic.
Nutrition
Calories:
292
kcal
|
Carbohydrates:
42
g
|
Protein:
5
g
|
Fat:
12
g
|
Saturated Fat:
1
g
|
Cholesterol:
20
mg
|
Sodium:
150
mg
|
Potassium:
117
mg
|
Fiber:
3
g
|
Sugar:
25
g
|
Vitamin A:
60
IU
|
Vitamin C:
3.7
mg
|
Calcium:
36
mg
|
Iron:
0.9
mg