Learn to make Fried Zucchini Flowers! They'll be ready in about 30 minutes. Don't miss this delicious recipe and information about buying, picking and storing squash blossoms. This will be one of the best Italian appetizers of your life!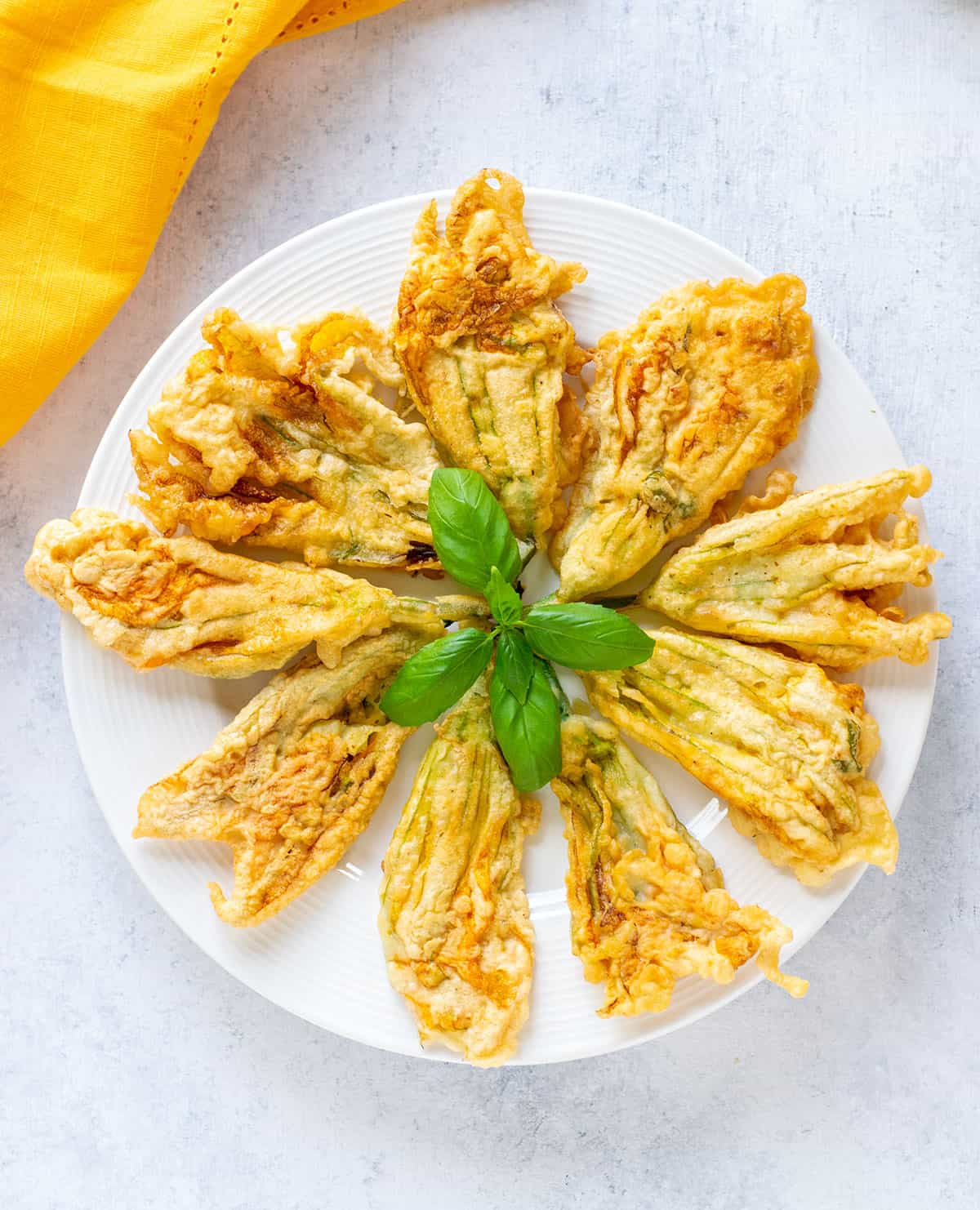 If you know, you know. And if you don't, I'm about to tell you about one of the best things in life ― Fried Zucchini Flowers.
Known as "fiori di zucca" in Italian, zucchini flowers are the blossoms from zucchini plants. They make their appearance for a brief window of time during zucchini season, from late spring to early fall.
They're as gorgeous to look at as they are delicious to eat when doused in a simple batter of flour, egg, water, basil and seasonings and pan-fried to crispy perfection.
They're incredibly delicate and hard to find outside of someone's garden, but read on for all of the info. And be sure to make Nonna's zucchini fritters using the actual squash!
Recipe ingredients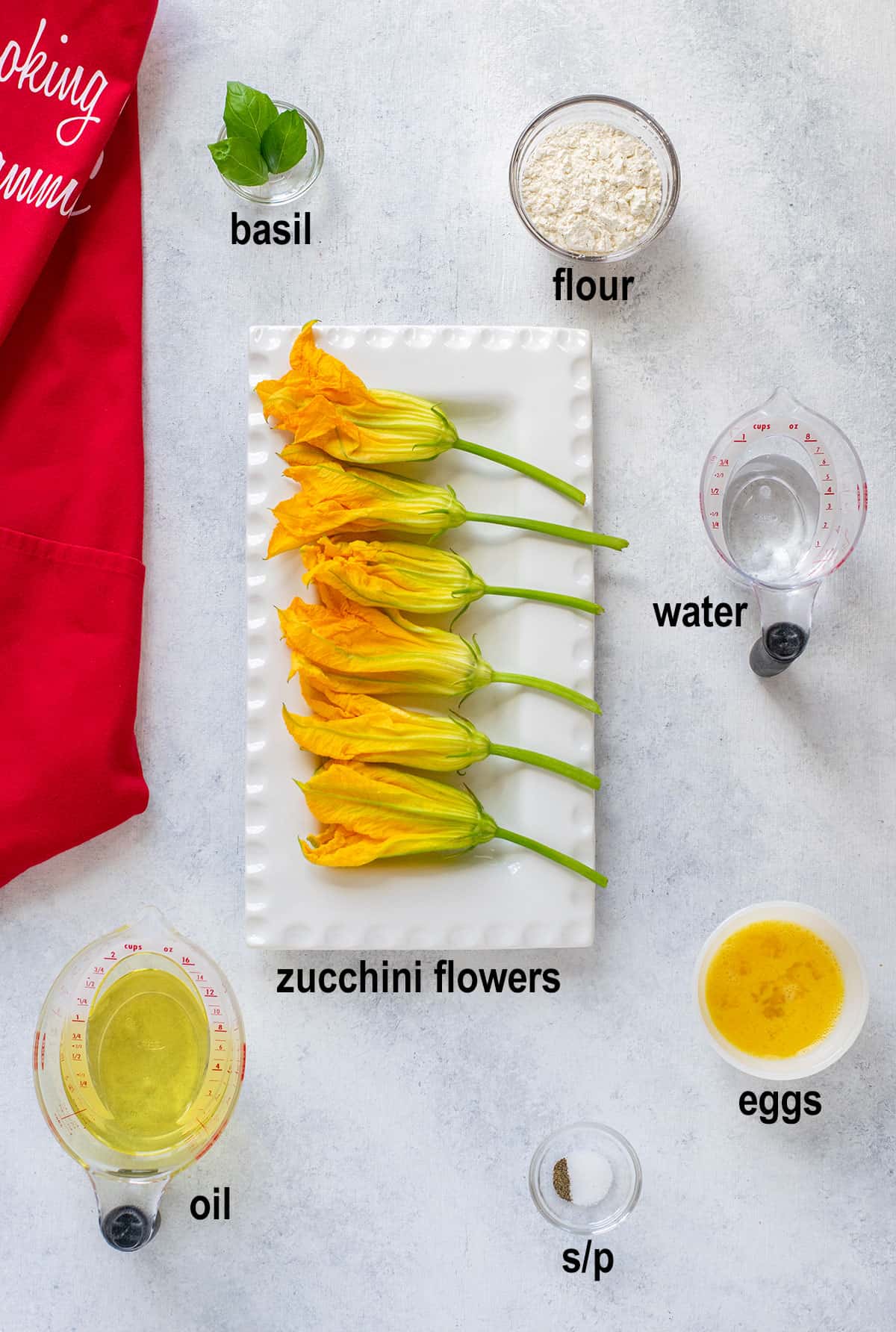 Zucchini Flowers: Did you know there are male and female zucchini flowers? The male ones are ideal for cooking because they have a stem (see the photos) and are easier to handle.
Plus it's best to save the female blossoms so they can produce squash. But you can use female flowers if you have them.
Scroll down to the Frequently Asked Questions (FAQ) section for more information about buying/picking zucchini flowers, how to store them, etc.
Egg: Make sure to use at least an extra-large egg, or even a jumbo egg. If you only have a large egg, you'll need to add a bit more water so the batter is the right consistency.
Oil for Frying: You'll need oil with a high smoke point, such as canola or avocado oil. I don't recommend using olive oil, because it will turn brown quickly.
Basil: Fresh basil leaves provide the X-factor here! Don't skip them. You can try using another fresh herb, such as mint though.
How to make them
See the card at the end of this post for the full recipe, but here's an overview.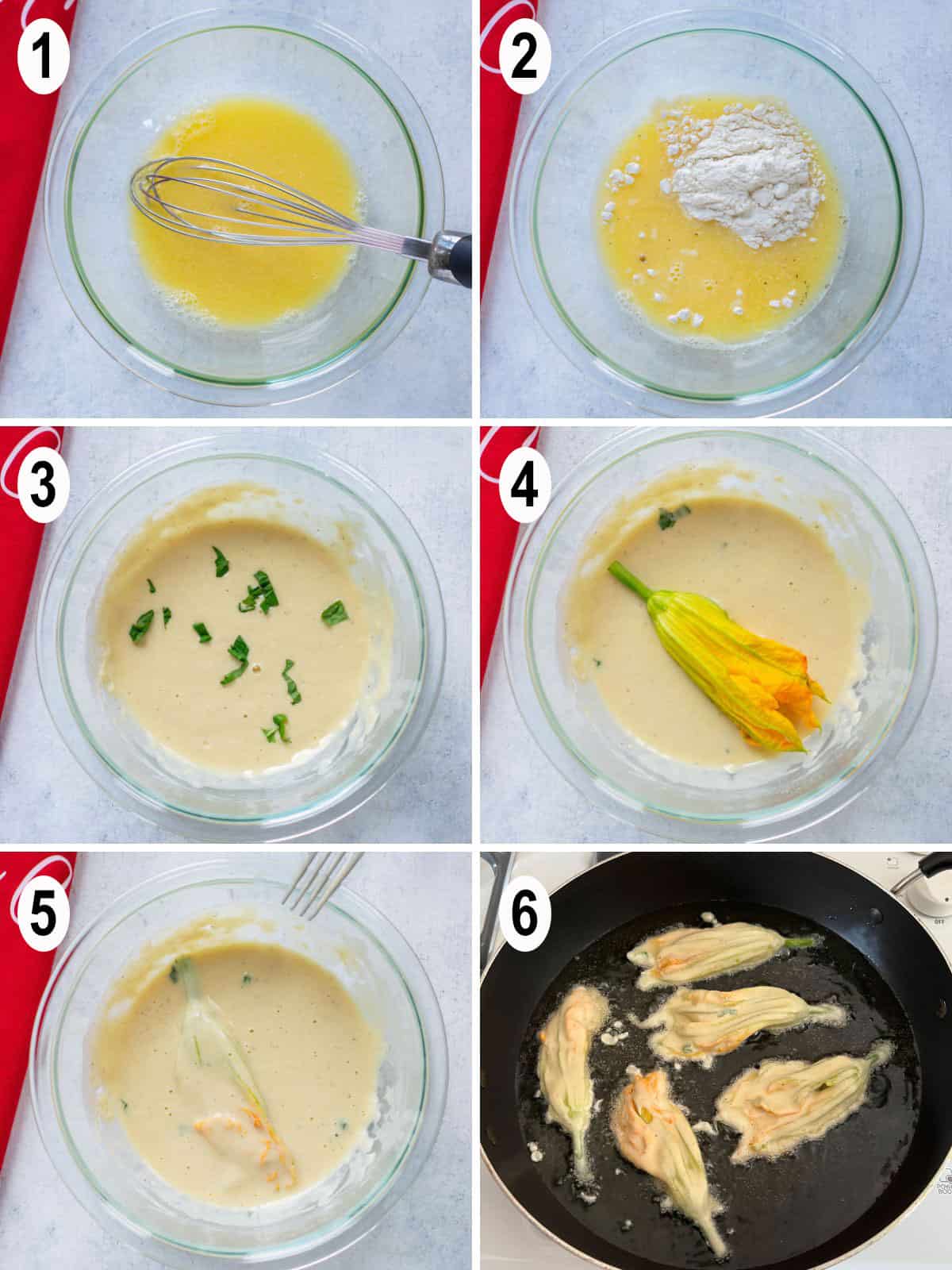 Whisk an egg with water in a medium bowl.
Add the flour and seasonings and whisk to combine.
Stir in the basil leaves.
Place 1-3 blossoms at a time in the batter. Use tongs (affiliate link) to flip them over to coat the other side.
Fry the zucchini flowers in a single layer in a 12-inch frying pan (affiliate link) until golden brown on both sides. (You'll need to flip them over when the first side is done.)
Recipe tips
Leave at least an inch of stems on the male zucchini flowers so that you can use them as handles when adding them to the batter. It's best to avoid touching the delicate petals.
The batter needs to be goopy. If your batter is too thick, add a little extra water. If your batter seems very runny, add a bit more flour.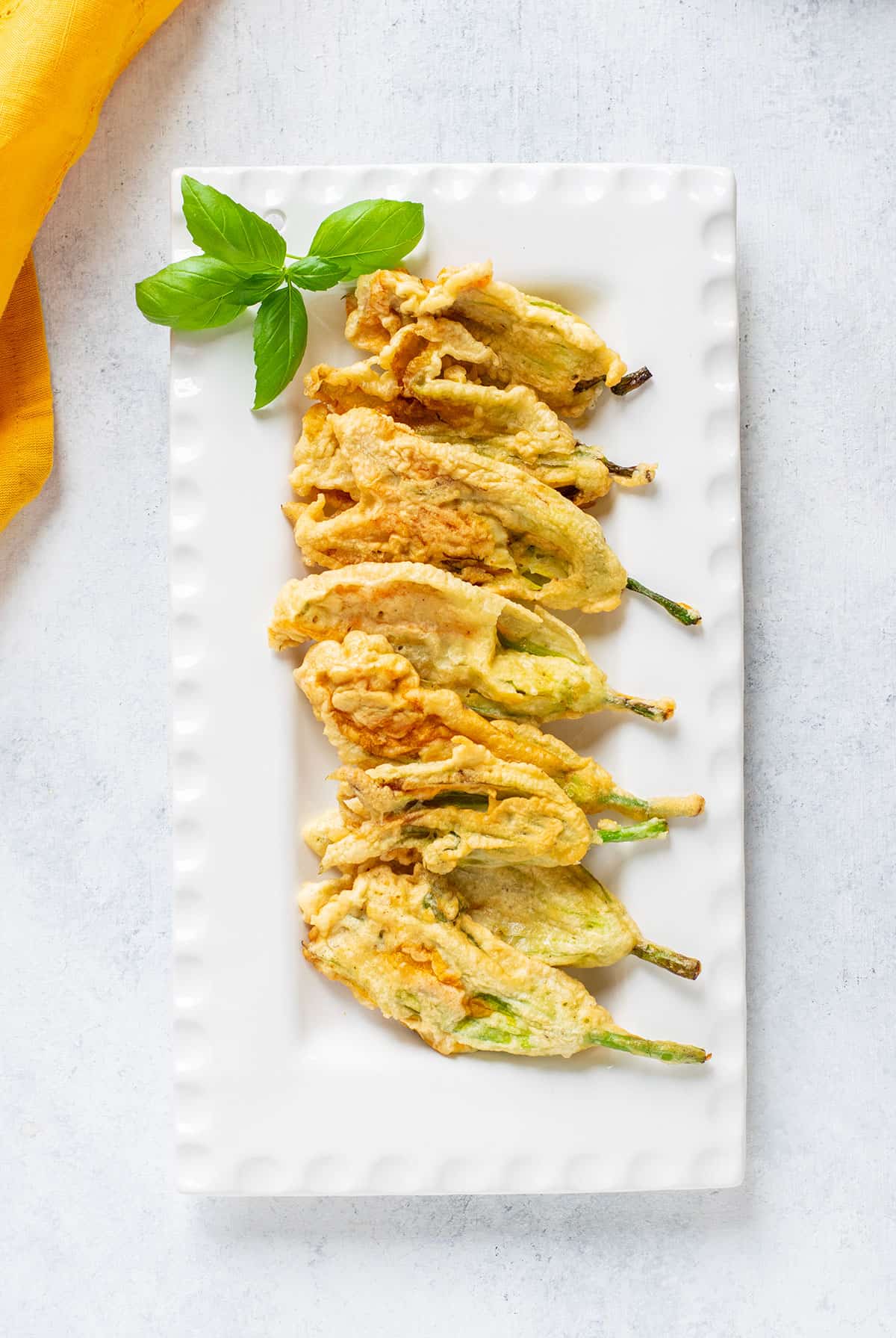 What to serve with them
We love eating these plain because they're so flavorful! But feel free to dip the Fried Zucchini Flowers in basil-garlic mayo.
These squash blossoms make a great appetizer before a dinner of pasta with crushed tomato sauce, crispy breaded cod, and sautéed broccoli rabe.
Frequently asked questions
Where can you find zucchini flowers?
The best (and cheapest) way to get zucchini flowers is from someone's garden. If that's not an option, look for them at farmer's markets in mid-to-late summer.

You also can call the best grocery stores in your area to see if they carry them. Speak to the produce department and ask if you can order zucchini blossoms if they're not in stock. I live in the Cleveland area and ordered mine from Heinen's.
How do you store raw zucchini flowers?
Once picked, zucchini flowers must be refrigerated. They're very delicate, so store them in a sealed container, making sure they're not getting smashed by the cover. Use them within a couple of days.

Don't use any flowers that are turning brown and getting mushy.
Male vs. female zucchini blossoms

Male zucchini flowers have long, thin stems and no zucchini attached to them. In the center of each blossom, you'll find the stamen, a stalk that produces pollen.

Male zucchini blossoms are best for cooking and are pictured in this post. (Pluck out the stamen first.)

Female squash blossoms grow right at the tips of the fruit, or what looks like miniature zucchini. You can cook them too, but they're delicate to handle.

How to harvest zucchini flowers from the garden
It's best to harvest edible flowers like zucchini blossoms early in the morning when they're likely to be open.

Use scissors (affiliate link) or a knife to cut the stem of the male flowers a couple of inches below the blossom. Pluck out and discard the stamen while the flower is still open, so it's easier to remove.

To pick female flowers, you can just pinch them off the fruit.

Gently shake the blossoms upside down to get rid of any bugs that may be inside.

As Taste of Home points out, you need to leave a few male flowers on the plants to pollinate the female flowers. It's also best not to harvest all of the female flowers, or your plant won't have any squash.
More recipes to try
If you try this Fried Zucchini Flowers Recipe, please leave a comment and a rating!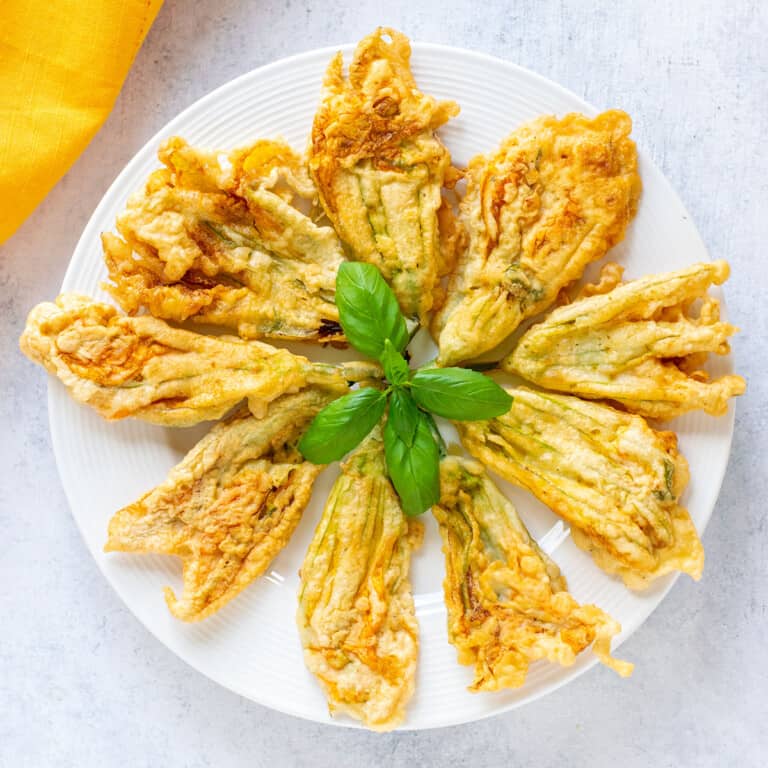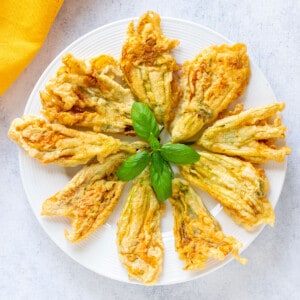 Ingredients
12

zucchini flowers

(Ideally male flowers with stems. See notes.)

1

extra large egg

(or jumbo)

½

cup

water

½

cup

all-purpose flour

⅓

teaspoon

salt

1

dash

black pepper

4

basil leaves

1 ½

cups

canola oil for frying

(enough to be ½ inch high in the pan)
Instructions
Prep the Zucchini Flowers
If you buy the flowers at the store, they should be clean. If they're from the garden, you'll need to turn them upside down to gently shake out any bugs. If you have male flowers with the stamens still in the middle of the blossoms, wear food-safe gloves to pluck out the stamens and discard them. (Otherwise, the pollen will stain your fingers yellow.)

I recommend not rinsing the flowers since they're so delicate. (But if you insist, gently rinse them and carefully pat them dry with paper towels.)

If the stems are long, use kitchen scissors to snip the stems two inches below the flowers. Pull off the green leaves under the base of the flowers.
Make the Fried Zucchini Flowers
Crack the egg into a medium mixing bowl. Add the water and use a whisk to beat the egg and water until blended.

Add the flour, salt and pepper to the bowl and whisk to combine, making sure to mix in any flour from the bottom of the bowl. Rinse the basil leaves and pat them dry. Cut up the basil leaves with kitchen scissors (or chop them with a knife) and stir them into the batter.

Line a platter with paper towels and place it near the stove with a slotted spoon and tongs.

Add the oil to a 12-inch frying pan. Heat the pan on the stove over medium-high heat. If the oil splashes out of the pan, lower the heat a bit.

Grasp a zucchini flower by the stem (if there is one) and place it into the batter. Use tongs to flip the blossom to coat the other side with batter. Continue with up to two more flowers at a time, so you don't crowd the bowl.

To test if the oil is hot enough, drop a tiny bit of batter into the pan and see if it sizzles. When the oil is sizzling, use tongs to pick up a battered zucchini flower, let any excess batter drip off, and then gently lay the flower down in the pan. Continue adding as many blossoms as will fit in a singer layer.

Fry the first side for 2 minutes, or until you see the edges of the zucchini flower fritter turning golden. Use the tongs to lift up the flower to see if the bottom is golden brown. If so, flip the fritter over to fry the second side for another two minutes or so.

Use a slotted spoon to remove cooked zucchini flowers from the pan and place them on a paper towel-lined platter to absorb excess oil. Continue battering and frying the flowers until all of them are cooked. Use a slotted spoon to remove any bits of fried batter from the oil as you go.

When all of the flowers are fried, if you have extra batter, spoon it into the pan to fry. It will be delicious! See the notes for how to discard the oil used for frying.

Let the fried zucchini flowers cool slightly and serve them immediately, so they're crispy. Store any leftovers covered with foil (not plastic or they'll become too moist) in the refrigerator for up to three days. You can reheat them in a toaster oven or air fryer for crispy results. Otherwise, try eating them cold or at room temperature. They'll get soggy if reheated in the microwave.
Notes
Male vs. Female Zucchini Flowers
Male zucchini flowers have long, thin stems and no zucchini attached to them. In the center of each blossom, you'll find the stamen, a stalk that produces pollen.
Male zucchini blossoms are best for cooking and are pictured in this post. (Pluck out the stamen first.)
Female squash blossoms grow right at the tips of the fruit, or what looks like miniature zucchini. You can cook them too, but they are delicate to handle.
See the article for more information about where to find zucchini flowers and how to harvest them.
Disposing of Used Oil - Don't pour the oil down your drain, or it can damage the plumbing.

Wait until the used oil has fully cooled, then pour it into a container (such as an empty canola bottle). Throw away the container with the oil.
Nutrition
Calories:
214
kcal
|
Carbohydrates:
8
g
|
Protein:
2
g
|
Fat:
19
g
|
Saturated Fat:
2
g
|
Polyunsaturated Fat:
5
g
|
Monounsaturated Fat:
12
g
|
Trans Fat:
0.1
g
|
Cholesterol:
27
mg
|
Sodium:
141
mg
|
Potassium:
29
mg
|
Fiber:
0.3
g
|
Sugar:
0.1
g
|
Vitamin A:
132
IU
|
Vitamin C:
1
mg
|
Calcium:
8
mg
|
Iron:
1
mg
(Recipe Source: Cooking with Mamma C)