Zucchini with Mint (zucchine alla menta) is a summer dish from Naples. Zucchini are fried in oil, then topped with chopped garlic, fresh mint leaves and red wine vinegar. Vegan, gluten free and delicious!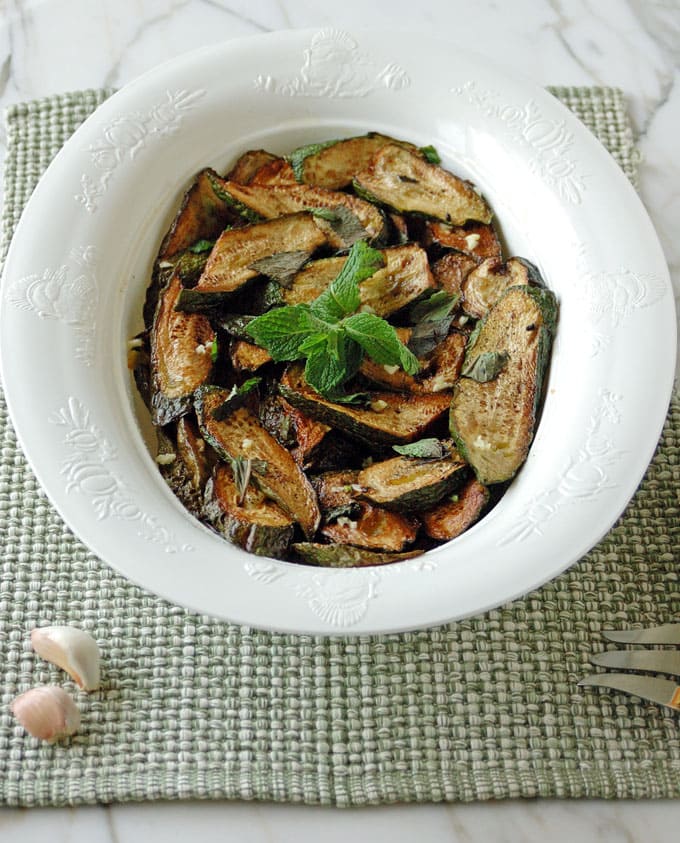 The telltale signs of summer for me include lush green grass and trees, warmer temperatures, the sound of the ice cream truck, and these zucchini with mint on our table. I had to document this beloved family recipe that comes straight from Naples.
Mom insisted she needed to show me how it's done, so I headed over to my parents' house for a kitchen lesson.
The first step was to bias cut the zucchini into planks about three inches long. I suppose they'd still taste good sliced into rounds, but tradition mandates there be a nice surface area of zucchini.
Mom frowned disapprovingly at my first few attempts at cutting them, noting I wasn't making long enough slices. So, she grabbed the knife…I mean, I asked her to demonstrate.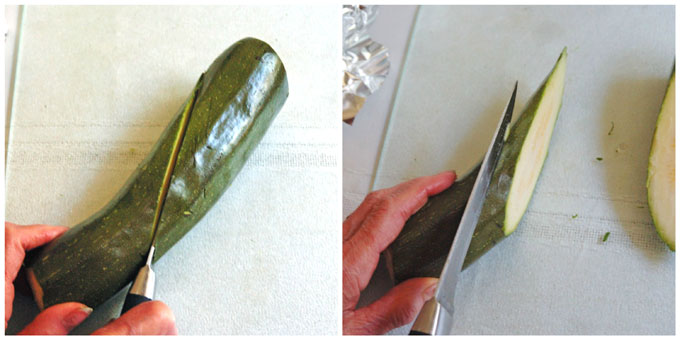 So that's how it's done.
I tried my hand again, this time winning Mom's approval. What a relief!
Next, Mom fried the zucchini planks (without eggs, just plain zucchini) in corn oil. Olive oil wouldn't work, since it can't withstand the high heat. Canola would be a good alternative, though.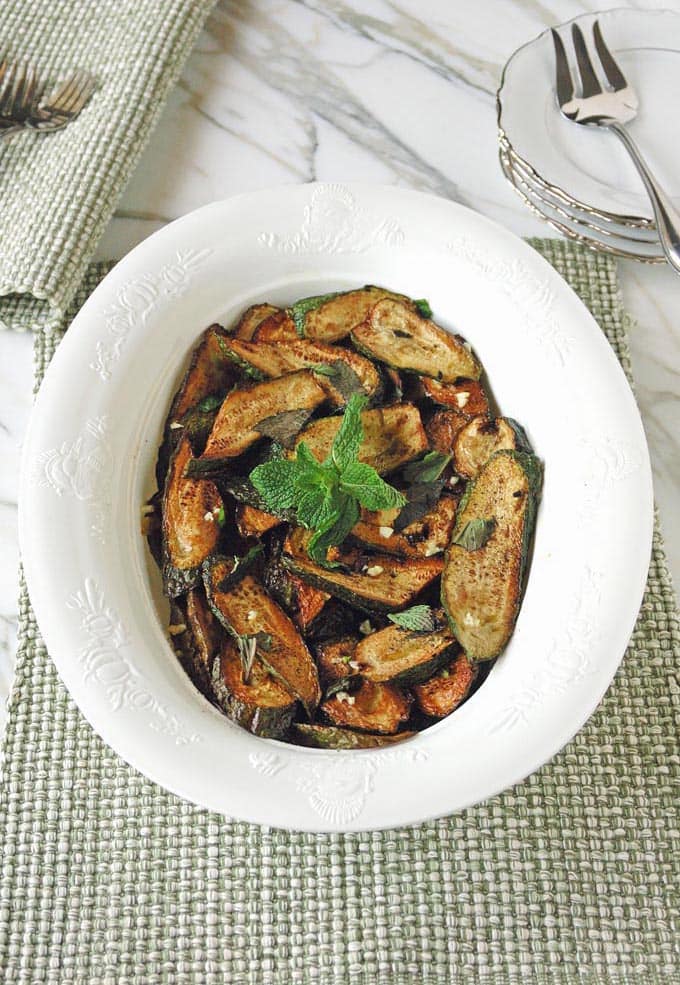 When the zucchini were browned on both sides, Mom let the oil drip off, then arranged a layer of slices in a bowl. (A platter wouldn't have worked, because we needed something that could hold the vinegar that would be added.)
Mom sprinkled on salt and pepper. I tossed on a little finely chopped garlic, then Mom added some snipped mint leaves.
We repeated the layers.
Finally, it was time to drizzle on some red wine vinegar. I insisted we document how much, so Mom grabbed a large kitchen spoon.
I suggested perhaps we should use a measuring spoon, since I needed to blog the recipe. That went over really well..but hey, she did it!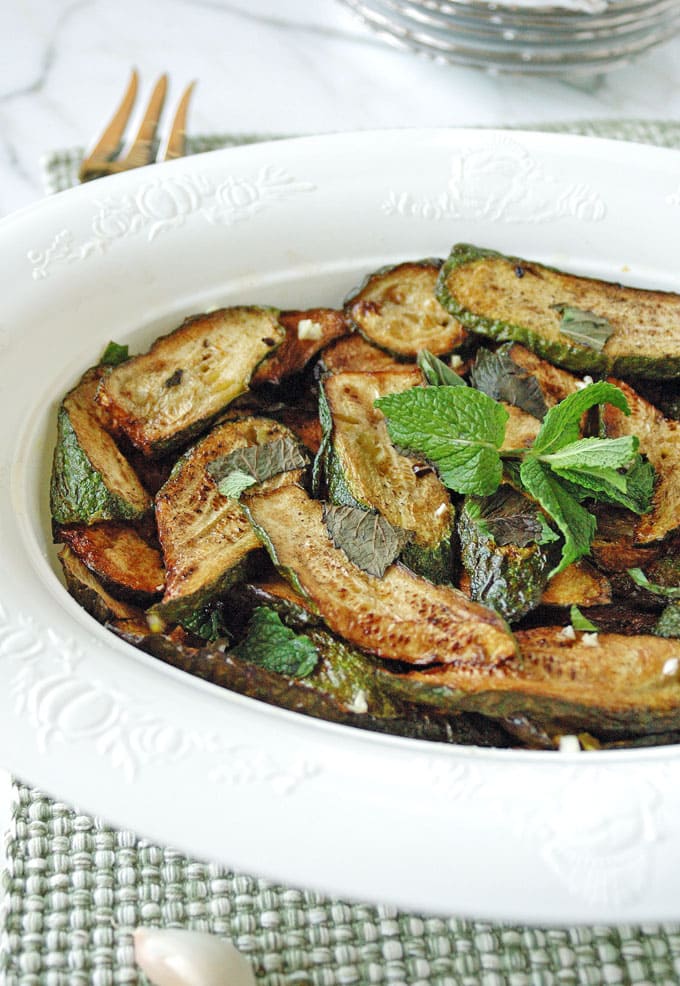 We let the bowl sit at room temperature for a while to let the flavors meld. Then, we were rewarded with sturdy, yet soft zucchini that have taken on the refreshing flavor of mint with savory garlic and vinegar…yum!
If you like fresh mint (hello mojitos), you need to try this! And if raw garlic bothers you, just brush it off, like I do.
Other zucchini recipes to try
Enjoy!
P.S. Please excuse the turkey bowl being used for this vegan dish. Mom said no one would notice.
(Recipe Source: My Mom, who adapted this from Nonna's version.)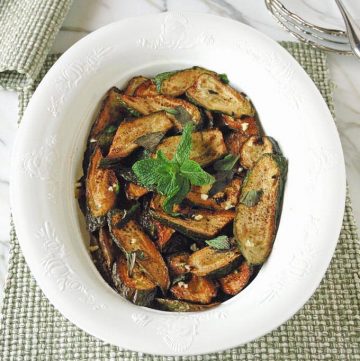 Zucchini with Mint
Zucchini with Mint (zucchine alla menta) is a summer dish from Naples. Zucchini are fried in oil, then topped with chopped garlic, fresh mint leaves and red wine vinegar. Vegan, gluten free and delicious!
Print
Pin
Rate
Ingredients
1

large clove garlic

.75

ounces

fresh mint leaves

(about 17 leaves)

2

pounds

zucchini

corn oil

(or canola for frying; enough to come up 1/4 inch high in your pan)

salt

pepper

2

tablespoons

red wine vinegar
Instructions
Peel your garlic and finely chop it. Set it aside.

Rinse your mint leaves and pat them dry. Snip most of them into pieces, but keep a sprig intact for garnishing your dish later.

Rise and pat dry your zucchini. Trim off the ends diagonally. Cut each zucchini in half by making a long, diagonal slice through the zucchini. (See photos in the blog post). Then, diagonally slice each half into planks about 3 inches long and 1/2 inch thick.

Heat your oil in a large frying pan on high. When the oil is hot, drop in some zucchini in a single layer. When you see that the top side of the zucchini is starting to get brown on the edges, flip it over. The zucchini are done when both sides are golden brown. Let the oil drip off each zucchini plank as you lift it out of the pan with a fork. Place the cooked zucchini in a dish temporarily, until you are ready to assemble layers in your serving bowl.

When all the zucchini is fried, arrange a layer of zucchini in the bottom of your serving bowl (not a platter, since you need something that can hold liquid). Add salt and pepper, toss on a little garlic and some mint leaves. Make another layer on top, in the opposite direction. Add your salt and pepper, garlic and mint. Continue making these layers, using all of your zucchini.

Drizzle on your red wine vinegar and arrange a sprig of mint on top. Let the zucchini sit at room temperature for at least 30 minutes to an hour before serving, to allow the flavors to meld.

Store leftovers in the refrigerator for up to five days, eating them cold or at room temperature.
Notes
We made four pounds of zucchini for the photos, so you can use a smaller bowl if making just two pounds. Also, when making multiple batches of this recipe, be sure to discard your oil when it gets brown and replace it with fresh oil for frying.
Nutrition
Calories:
44
kcal
|
Carbohydrates:
8
g
|
Protein:
2
g
|
Sodium:
20
mg
|
Potassium:
622
mg
|
Fiber:
2
g
|
Sugar:
5
g
|
Vitamin A:
680
IU
|
Vitamin C:
42.5
mg
|
Calcium:
49
mg
|
Iron:
1.1
mg