Use up your zucchini in this fabulous Shrimp Stew with Bacon served over rice! With warm chili spices, a hint of smoky sweetness and a New Orleans flair. Gluten free.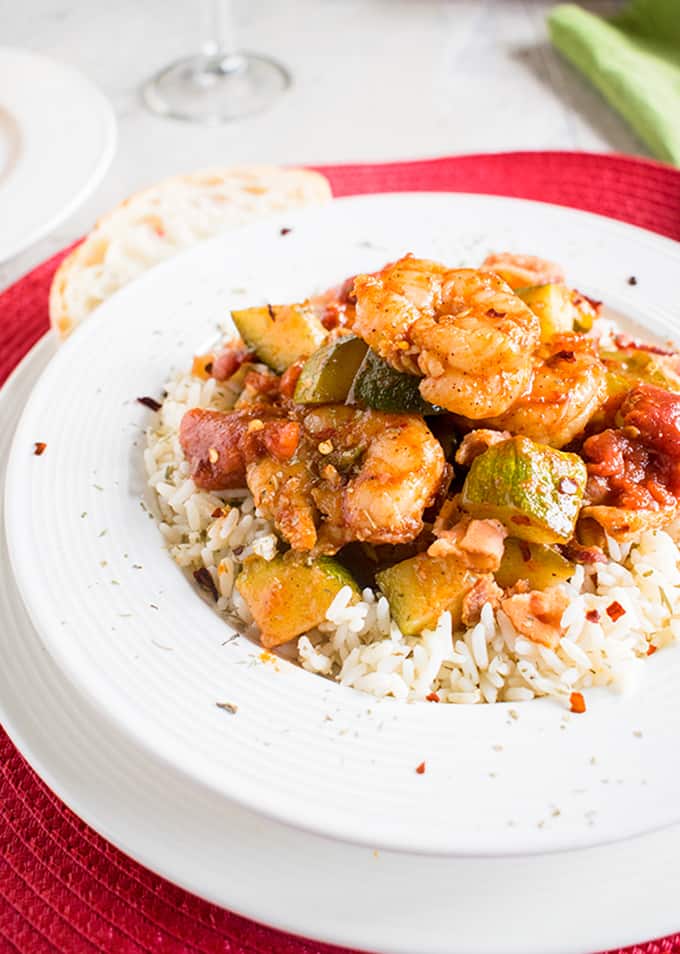 This shrimp stew with bacon makes me happy. There's just something festive about shrimp, bacon and zucchini simmering in a tomato-based stew with warm chili spices and a hint of smoky sweetness.
It all started when I had an intense craving for some type of New Orleans-style dish with shrimp and bacon over rice. It's probably because my hubby and I are planning a spring trip to NOLA for our 25th wedding anniversary.
Yes!
We've never been there. But, we've heard a thing or two about the fabulous food, music and architecture.
Do you have recommendations for us?
Anyway, one evening I decided to try to make something like shrimp etouffée. But, after perusing a few recipes online, I realized I lacked some key ingredients.
Feeling adventurous, I decided to just make up a shrimp stew with bacon, using what I had.
"Who cares if it's not authentic or blog worthy?" I thought. "I'm going to have fun with this."
And I did. It was so freeing, and as it turned out, delicious!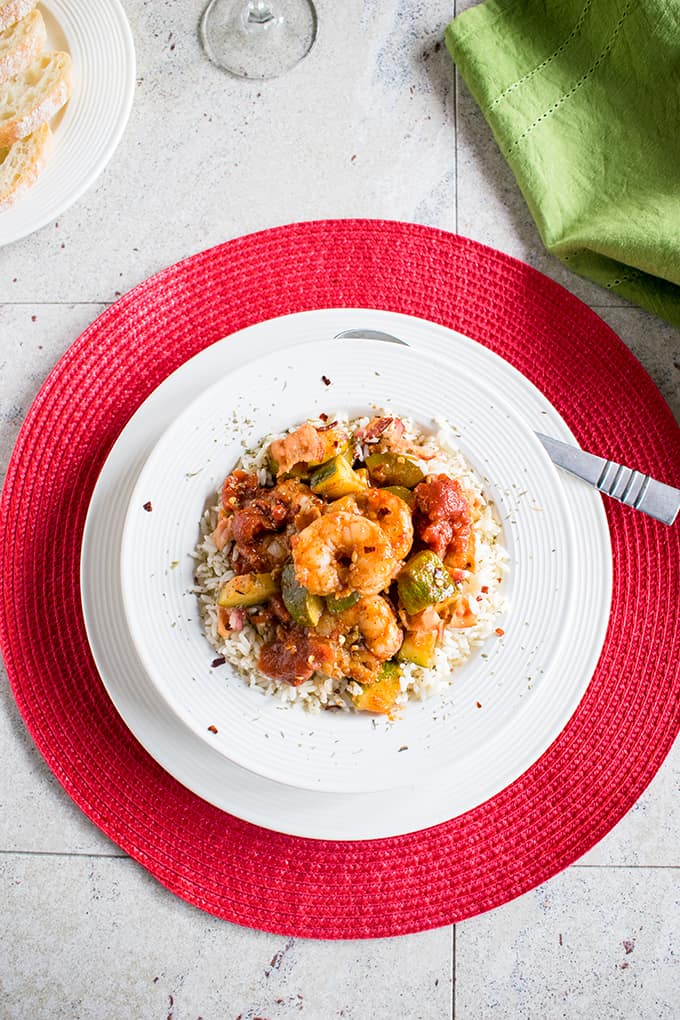 I still had extra zucchini from experimenting with this Cheesy Zucchini Bake. Could I incorporate them in a shrimp and bacon dish using spices and seasonings from my go-to chili recipe? Would a large can of peeled tomatoes work as the base?
Most definitely, yes! This shrimp stew almost has a gumbo feel to it. There's no flour involved, though, so it's gluten free.
My hubby and I were thrilled to dig into this meal, served over rice.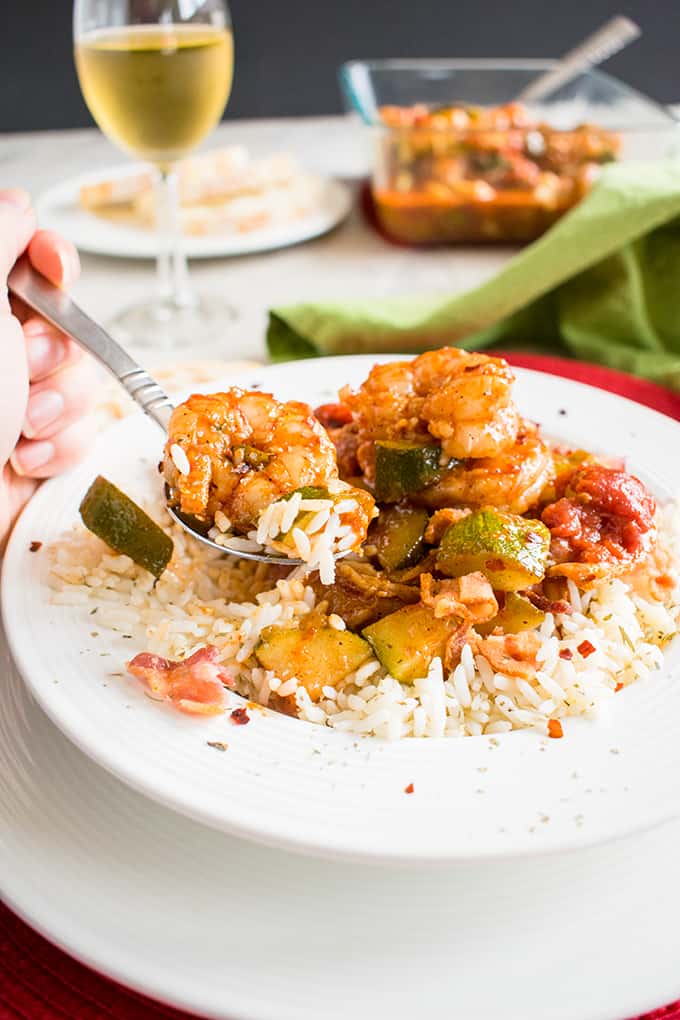 We decided this shrimp stew with bacon was a keeper and deserved to be shared with all of you. So, I gleefully put it on the menu again this week, tweaking the ingredient amounts and making sure to capture some photos.
This makes a generous amount of food, but the leftovers are delicious. (Make sure to eat them within two days.)
I hope this meal makes you happy, too.
More shellfish recipes
And if you love zucchini, don't miss this zucchini pasta!
Enjoy!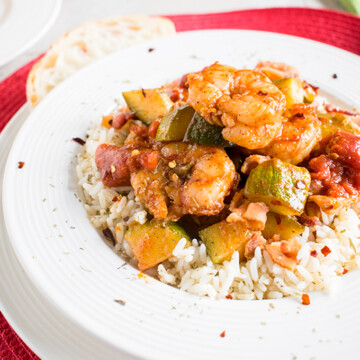 Ingredients
2

pounds

frozen raw peeled & deveined shrimp

(13/15 count; thawed)

6

strips bacon

(plus extra for garnish, if desired)

3

or 4 medium zucchini

1

shallot

3

tablespoons

olive oil

½

teaspoon

salt

1

28-oz can whole, peeled tomatoes

3

tablespoons

barbecue sauce

1

tablespoon

chili powder

¾

teaspoon

cumin

½

teaspoon

garlic powder

¼

teaspoon

cayenne pepper

red pepper flakes for serving

(if desired)

8

cups

cooked buttered long-grain rice

(see notes)
Instructions
Note, you will need cooked rice for serving, so start cooking your rice first, if needed.

To thaw your shrimp, place them in the refrigerator the morning of the day you are making the stew. Then, place the partially thawed shrimp in a colander in your sink and run cold water over them to thaw any remaining ice. Let the shrimp sit in the colander while you prepare the stew. (If you need the same colander for your rice, transfer your shrimp to a bowl and rinse the colander before draining your rice.)

Cook six strips of bacon in the microwave. (It helps to line a dinner plate with paper towels, place the bacon on them, and cover the strips with another paper towel. I cook mine for four minutes, but it will depend on your microwave.)

While the bacon is cooking, rinse your zucchini and pat them dry. Cut off the stem and root ends. Cut the zucchini into one-inch pieces. (Cut each zucchini in half the short way, then cut those pieces in half the long way, (and again, if they're thick.) Then slice the planks into smaller pieces. Set your zucchini aside in a bowl.

Peel your shallot and chop up all of it.

Make your stew in an extra-large skillet (14-inches), if you have one, or else a large pot. Heat the olive oil in your pan over medium-high heat. Add the chopped shallots and stir them a bit. When they are starting to soften, add your zucchini to the pan, along with salt. Stir to combine.

Let the zucchini cook until they're crisp-tender, at least 10 minutes.

Add your canned tomatoes with their juice. Use a potato masher to gently smash the tomatoes and break them up.

Pat the grease off your bacon with a paper towel and cut the bacon into small pieces (use kitchen scissors if you have them.) Stir the bacon into your pan.

Stir in your barbecue sauce, chili powder, cumin, garlic powder and cayenne pepper. Let the mixture cook for 15 minutes, lowering the heat a bit if needed, but keep it simmering.

While the stew is cooking, remove the tails from your shrimp by pinching them and pulling them off. Discard the tails.

After the stew has been cooking for 15 minutes, add your shrimp to the pan and stir to combine. Raise the heat to high and let the shrimp cook for five minutes, or until fully cooked. Stir and flip over the shrimp as needed, making sure each one is no longer translucent. (When fully cooked, the shrimp will curl, and turn white. Cut one open to check if it's done.)

When the shrimp is done, turn off the heat. Serve the stew over rice, with extra bacon pieces and red pepper flakes, if desired.

Store leftovers in the refrigerator (keep the rice separate) for up to two days.
Notes
Two cups of raw rice will yield 8 cups of cooked rice, which will allow for generous servings. You can follow the method described in How to Cook Long-Grain Rice Like Pasta, using 1 ¼ teaspoons of salt and two tablespoons of butter.
Nutrition
Calories:
592
kcal
|
Carbohydrates:
63
g
|
Protein:
40
g
|
Fat:
19
g
|
Saturated Fat:
4
g
|
Cholesterol:
395
mg
|
Sodium:
1827
mg
|
Potassium:
800
mg
|
Fiber:
3
g
|
Sugar:
9
g
|
Vitamin A:
800
IU
|
Vitamin C:
36.4
mg
|
Calcium:
303
mg
|
Iron:
6
mg
(Recipe Source: Cooking with Mamma C)