Our family's Italian Fried Calamari Recipe is so easy and delicious! Calamari rings are dusted with seasoned flour, fried, then topped with lemon. Dip them in marinara sauce if you wish!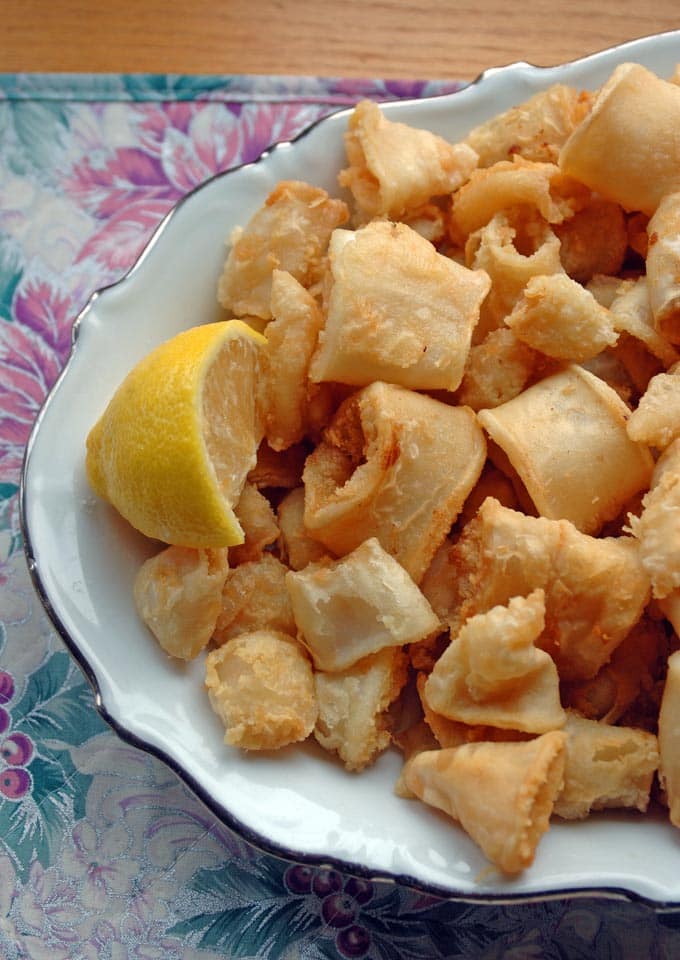 I'm pretty sure we were eating calamari before it was trendy.
It's always been a traditional, no...mandatory, part of our seafood feast on Christmas Eve. I remember a time when any newcomer to our table would look askance at the squid on his or her plate, especially if there were squiggly tentacles involved. (Haha!)
But now, I think it's widely accepted that Italian Fried Calamari is one of the best dishes in the world. (I have no bias whatsoever.)
Read on to learn how to prepare this appetizer (or main course) and don't miss these 63 Italian Appetizer Recipes!
So, how does this compare with most calamari you'll find in restaurants? There are no bread crumbs here.
Just flour. And more than a mere dusting.
These babies get dredged in it, to absorb any moisture left over from rinsing them clean.
Then, just to make sure they're dry, they get plopped into a clean brown bag filled halfway with more flour, and shaken up. (That was Nonna's clever solution, which Mom still uses.)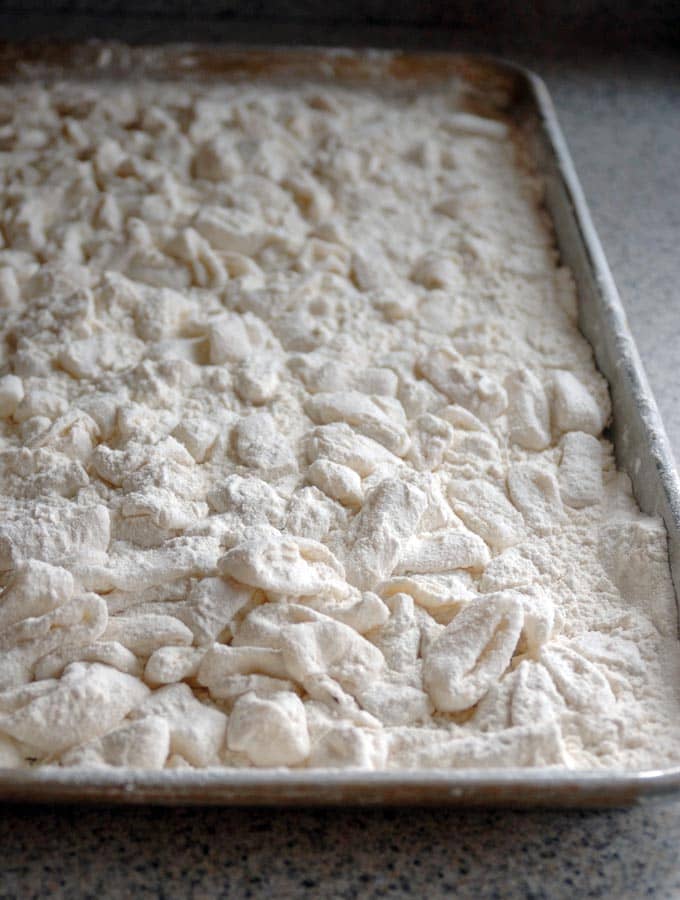 I made some Italian Fried Calamari the other day for the first time. (So exciting!)
I had bought a couple packages of rings, and they were mostly less than an inch wide, as you can see above. The cooked ones in the photos are the larger ones that Mom and I made at her house yesterday.
Calamari shrinks quite a bit during frying, so Mom recommends buying large tubes (the body of the squid is tubular) and slicing them into rings yourself. I'd go with two inches wide, but Mom cuts hers even wider.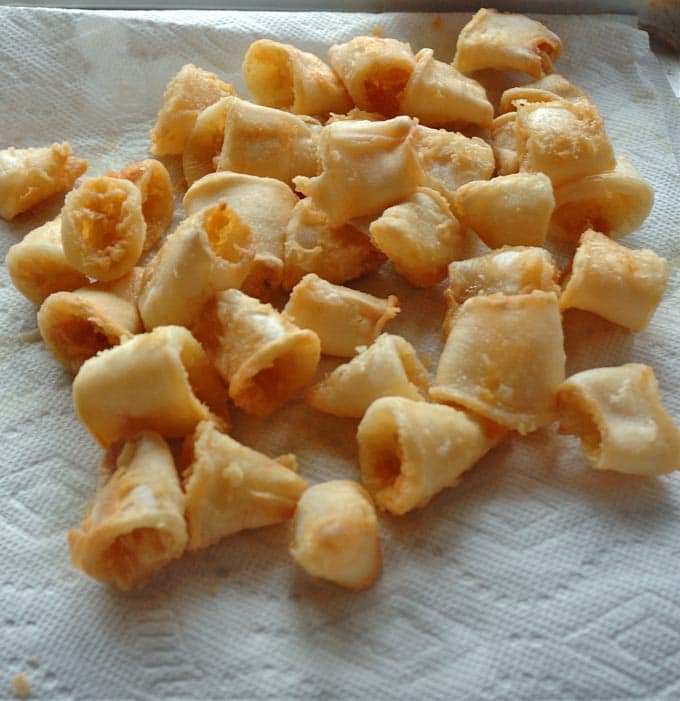 And really, there's no recipe to memorize. It's more of a method.
You'll need lots of paper towels to pat the calamari dry after rinsing and to absorb the oil after they've been fried. You'll want at least two cups of flour per pound of calamari, keeping in mind that you'll discard whatever flour's left afterward.
You can use canola or corn oil, enough to come ½ inch up the sides of your pan. (If you're making more than one pound of squid, you'll need to change out the oil when it gets filled with too much flour.)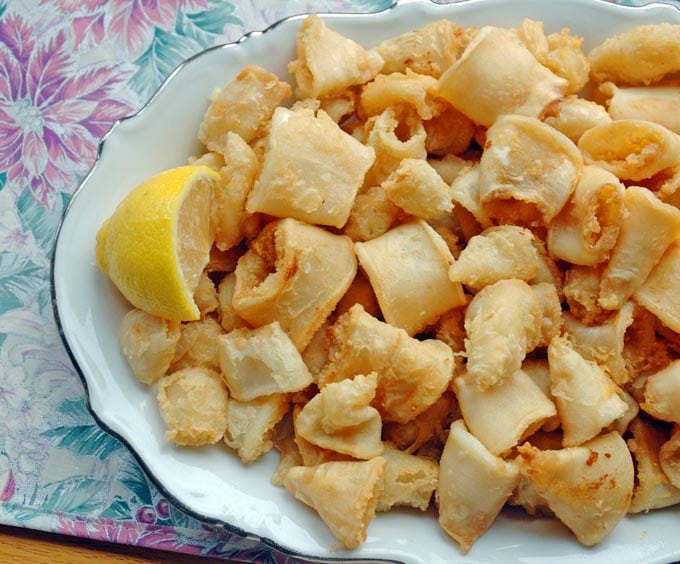 Then, just have salt, pepper, and fresh lemon on hand for serving. In our family, we don't even dip our calamari in marinara.
Like Mom says, "This is how we do it in Naples."
More shellfish recipes
Enjoy!
(Recipe Source: My Mom, who learned from Nonna)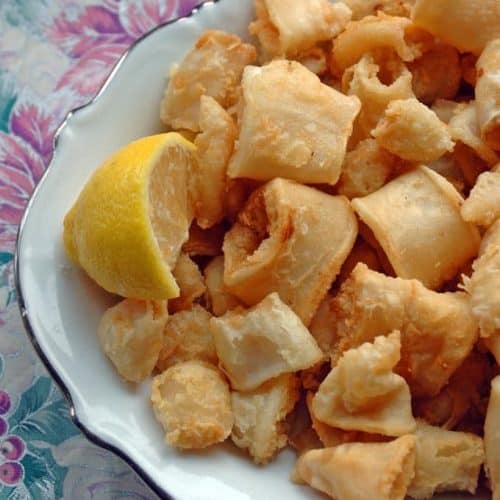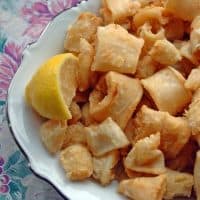 Italian Fried Calamari Recipe
One of the best dishes in the world! Fresh calamari is dredged in flour and fried until crispy. All it needs is salt, pepper and a squeeze of lemon!
Print
Pin
Rate
Save
Go to Collections
Ingredients
1

pound

calamari

(sliced into rings)

2

cups

all-purpose flour

canola or corn oil

(enough to fill ½ inch up the sides of your pan)

salt to taste

pepper to taste

lemon wedges for serving
Instructions
Rinse your calamari well to remove the solution it was packed in. Feel for any cartilage and remove it. (If you are starting with tubular calamari, slice it into rings two inches wide. If the tentacles are attached, cut them off and remove any cartilage. Keep the tentacles to cook with the rings.)

Pat the calamari dry with paper towels and set them on a sheet pan lined with more paper towels.

Add a thick layer of flour to another sheet pan. Dredge the calamari in the flour, in batches if necessary. Make sure to get some flour inside the rings, to absorb any excess moisture.

Add the oil to your frying pan and heat it on the stove, on high. (If making several batches, you may want to use two frying pans.)

Fill a small brown lunch bag halfway with clean, dry flour. Add the flour-dredged calamari to the bag, fold it closed, and shake. This second coating of flour is to ensure the calamari is dry. (If you don't have a paper bag, add clean, dry flour to a dinner plate and dredge the calamari in that.)

When your pan is sizzling hot, gently drop the calamari into the oil in a single layer. (You can use a fork, if you wish, but I found it easier to use my hands.) If your calamari is small, it might be fully submerged in the oil, and you won't need to flip it. Otherwise, the oil will cover the calamari halfway, and you can use a slotted plastic spoon to flip them over when the first side is golden.

Cook the calamari until they are golden and crispy on the outside (it will take a few minutes.) Remove the cooked pieces with a slotted spoon and place them on a paper-towel-lined platter or sheet pan to absorb the oil. Continue frying the calamari in batches. (If you are making more than a pound, you will need to change out your oil when the pan gets too filled with excess flour.)

Add salt and pepper to taste and serve with lemon wedges. If not serving them right away, you can cover the fried calamari with foil and keep them in the oven on warm, no more than an hour, until you are ready to eat. Store leftovers in the refrigerator for up to three days.
Notes
It just takes a few minutes to fry each piece of calamari, but you'll need about 30 minutes to fry all of it in batches. If making three or more pounds of calamari, it helps to have two frying pans going at the same time.
Nutrition
Calories:
221
kcal
|
Carbohydrates:
34
g
|
Protein:
16
g
|
Fat:
1
g
|
Cholesterol:
176
mg
|
Sodium:
34
mg
|
Potassium:
230
mg
|
Fiber:
1
g
|
Vitamin A:
25
IU
|
Vitamin C:
3.5
mg
|
Calcium:
30
mg
|
Iron:
2.4
mg