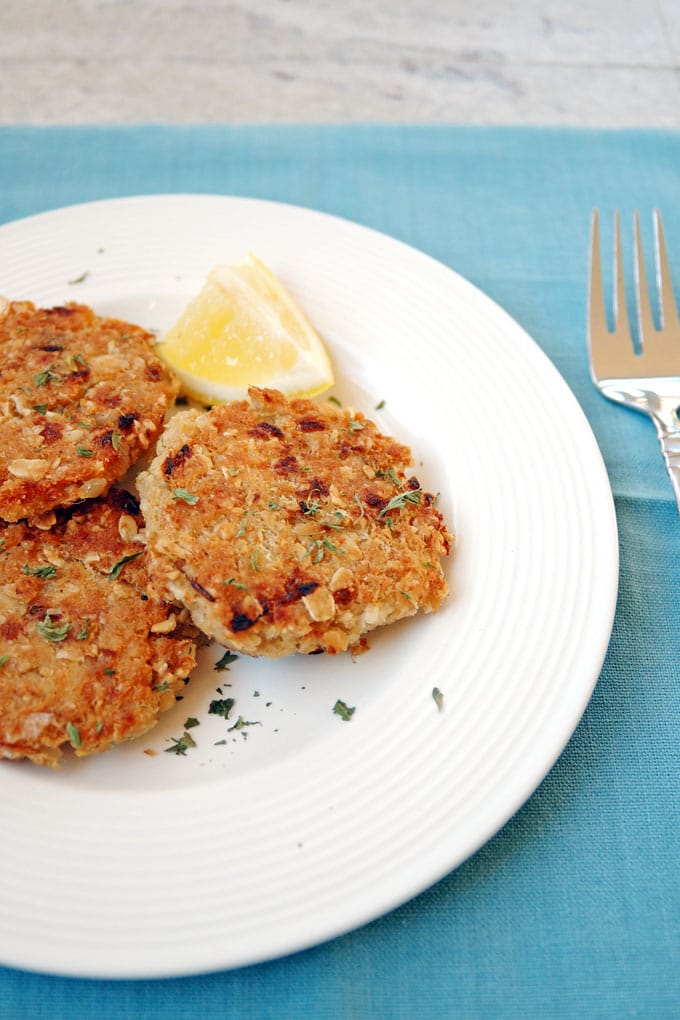 Oh, how I love these crispy crab cakes! Crunchy on the outside, tender on the inside, they're bursting with buttery, savory flavor from sautéed shallots that complement, rather than overwhelm, the delicious crab. Don't look for any bits of pimento here, because there are none. I'm firmly in the camp that believes crab cakes shouldn't be chunky. As a bonus, these are gluten free, using oats instead of bread crumbs. (Make sure to use gluten-free oats, if needed.)
I used to make a version of these crab cakes when my kids were little, and my family would devour them. I don't know why I stopped preparing them at home, but whenever I eat out, I have to investigate whether the crab cakes are made the way I like them. (Sorry to every server I've interrogated over the years.)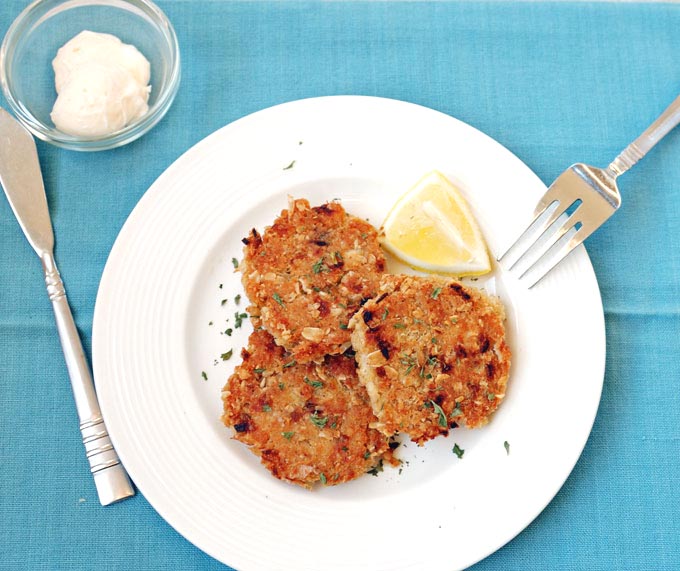 While I've often been disappointed by restaurant crab cakes, I was blown away by the ones featured at an unassuming local bar during Lent. (They were so good, I felt like I was indulging myself rather than sacrificing by skipping meat.) I decided then and there I needed to revisit my crab cake recipe.
It's taken me awhile, but I finally got to work tweaking and testing this week. My hubby was practically tripping over himself running to the stove every time I called him to give the next iteration a try. (Poor guy. I'll pass along your thanks for his contribution to this important cause.)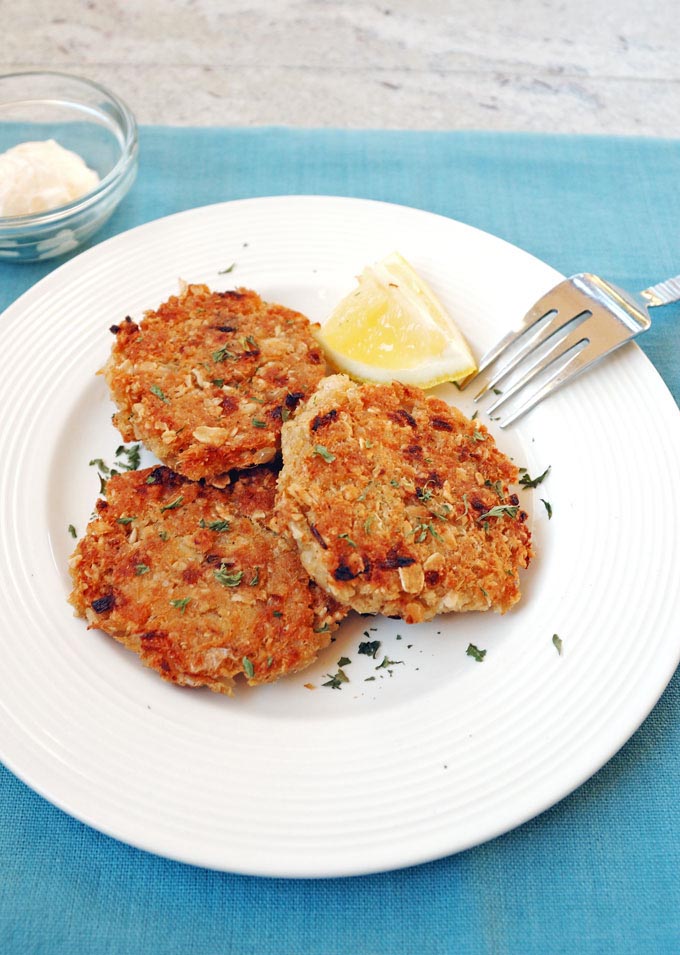 We're very, very pleased with the results. If you love crab, you've got to try these!
Enjoy!
(Recipe Source: Cooking with Mamma C)

Cooking with Mamma C
Serves Makes 6 crab cakes
Crispy Crab Cakes (Gluten Free)
Crunchy on the outside, tender on the inside, these crispy crab cakes (gluten free) are bursting with buttery, savory flavor from sautéed shallots.
20 minPrep Time
6 minCook Time
26 minTotal Time
5 based on 1 review(s)
Ingredients
2 (6-ounce) cans crab meat, drained and pressed dry
1/2 cup oats (use gluten free if needed)
1/4 cup minced shallot
2 Tablespoons salted butter
1 egg, beaten
1/4 teaspoon black pepper
2-3 Tablespoons canola oil
parsley for garnish (optional)
lemon wedges for serving
mayonnaise for serving (optional)
Directions
Drain the crab in a fine mesh strainer and check for any bits of shell to remove. While it's in the strainer, press the crab with your fingers or a potato masher to release excess liquid. Transfer the crab to a small mixing bowl.
If using rolled oats instead of quick oats, measure out 1/2 cup and pulse them in a food processor or blender to make them more fine. Gently stir the oats into the crab.
Peel a shallot and finely chop about 2/3 of it, until you have 1/4 cup chopped shallot. Melt the butter in a large skillet over medium-high heat and cook the shallots in it until they are soft. Add the buttery shallots to your crab mixture.
Beat an egg in a tiny bowl or measuring cup and add it to the bowl with the crab. Add the pepper and gently stir to combine.
With clean hands, shape the crab mixture into 6 patties about 2 1/2 inches wide. Add enough oil to your skillet to cover the bottom of the pan. Heat it on medium high until hot and then carefully add the crab cakes to the pan in a single layer, without any touching the others. (You might need to do this in two batches, if your pan isn't large enough to fit them all comfortably. If so, add more oil for the second batch if there isn't enough oil to cover the bottom of the pan.)
Cook the crab cakes for three minutes on the first side, and gently nudge them to see if they slide over easily. If so, the bottom is cooked and crispy enough to flip them over. Cook the second side for about three minutes, until the bottom is crispy. Drain the crab cakes on a plate lined with paper towels.
Serve the crab cakes with lemon wedges, and mayo, if desired. Garnish with parsley (optional).
Store leftovers in the refrigerator for up to three days.
7.6.8
275
https://cookingwithmammac.com/crispy-crab-cakes/