Blueberry Pie with Sugar Cookie Crust will become your go-to summer dessert! It's the best blueberry pie recipe, and even people who don't like blueberries will rave about it! I've been making this for years.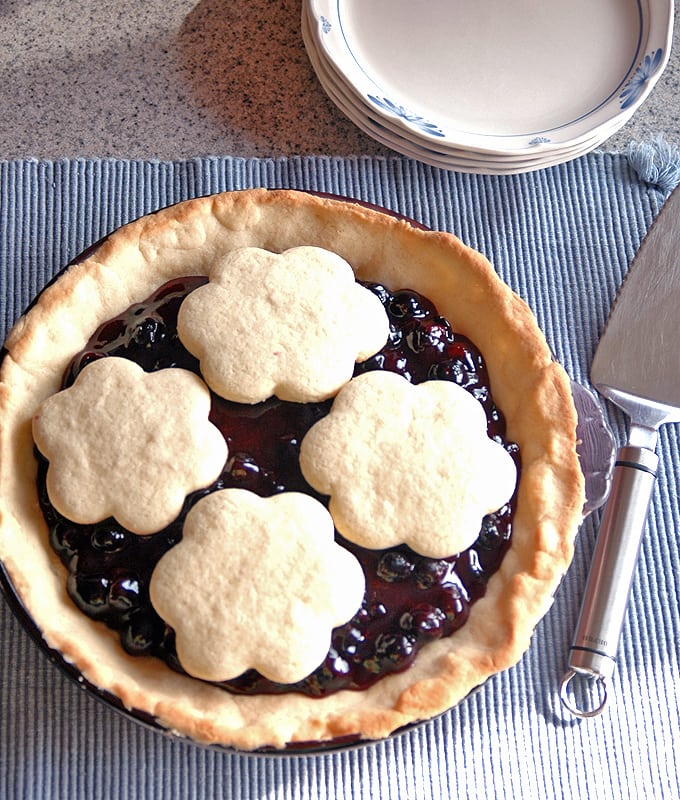 I'd like to introduce you to our favorite pie. In fact, it's our favorite summer dessert, ever.
Think delicious sugar cookie crust topped with fresh blueberry pie filling, topped with sugar cookies in fun shapes, topped with whipped cream.
Yes!!!
I've been making this pie for several years, after I cut out a tiny recipe from The Plain Dealer. This pie has brought so many smiles to people's faces, it's like serving up a slice of happiness.
Even kids who say they don't like blueberries will become hooked. Adults who say blueberry pie is their favorite will break into huge grins because they haven't had it for years and then they'll swoon after each bite.
It's perfect for the Fourth of July, and I've even been known to serve it on Easter.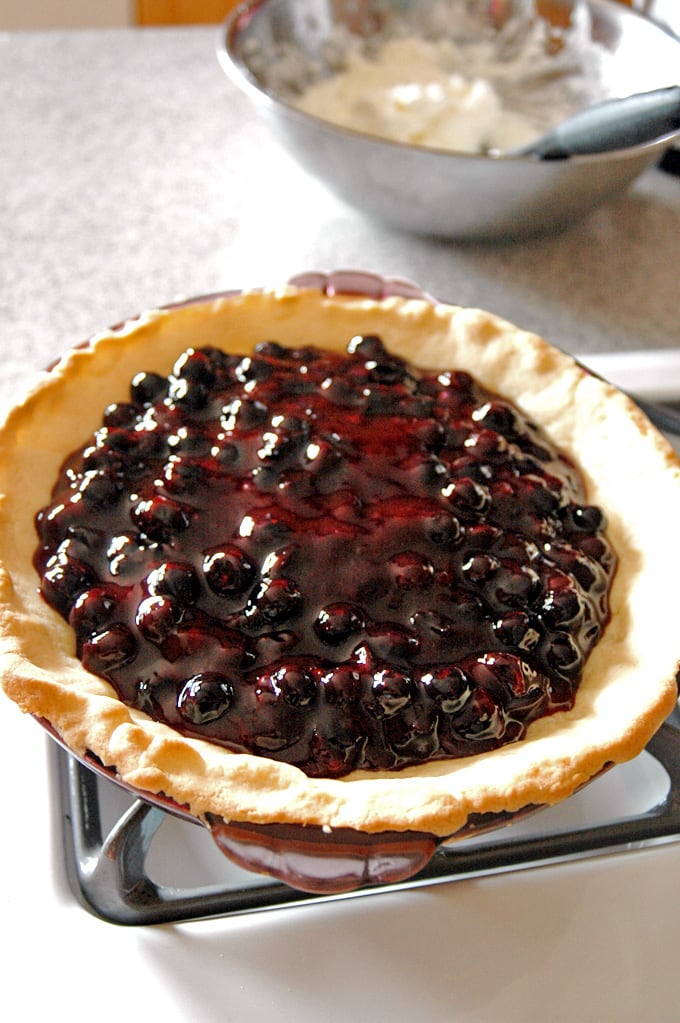 But now, it's even better, because I've given the crust a from-scratch makeover. You see, the original recipe called for using the canned sugar cookie dough you find in the dairy aisle.
When I began eliminating most processed foods from my diet (see My Recipe to Lose Weight without Dieting) I was concerned I wouldn't be able to enjoy this pie again. I needed to take action, to figure out a way to make the crust from scratch.
After several attempts, I've finally hit the jackpot. Even my kids have given it their seal of approval, which is no small feat.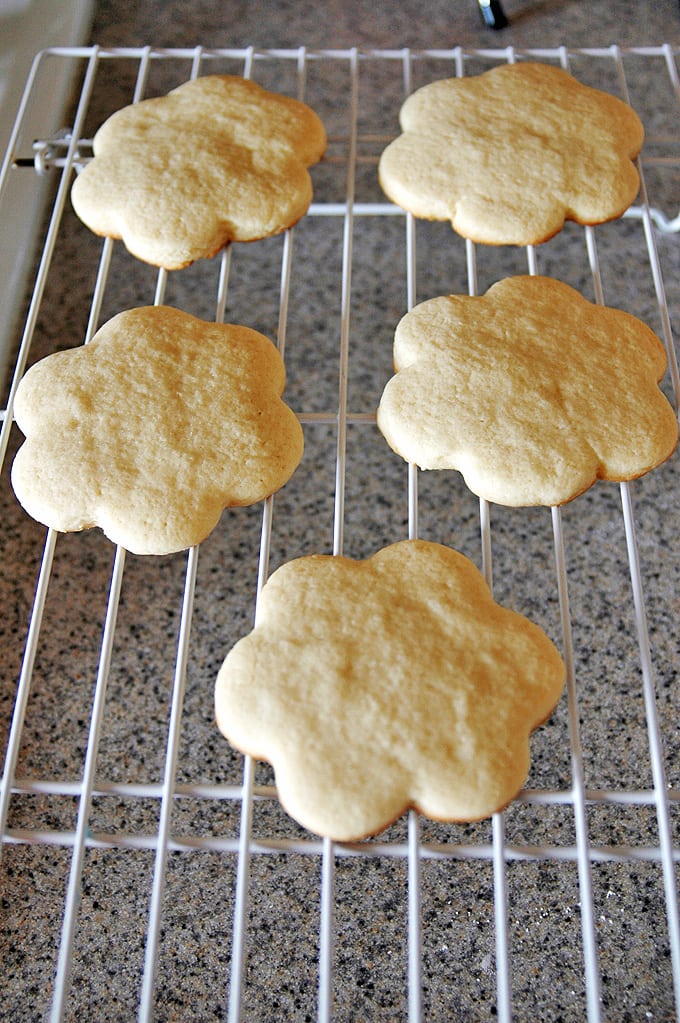 To tell you the truth, I always thought the original pie crust was a bit too sweet. My version is just right, accented with a touch of almond extract (I love adding almond flavor to things) and rolled out to a uniform thickness for an ideal crust-to-filling ratio.
And making the whipped cream instead of spraying it from a can just adds another level of to-die-for goodness.
There's something so homey and inviting about having a made-from-scratch pie sitting on my counter for family and guests. Make it blueberry pie, and I'm over the moon.
Make it with a sugar cookie crust that's delicious on its own instead of just "meh," and I'm in heaven.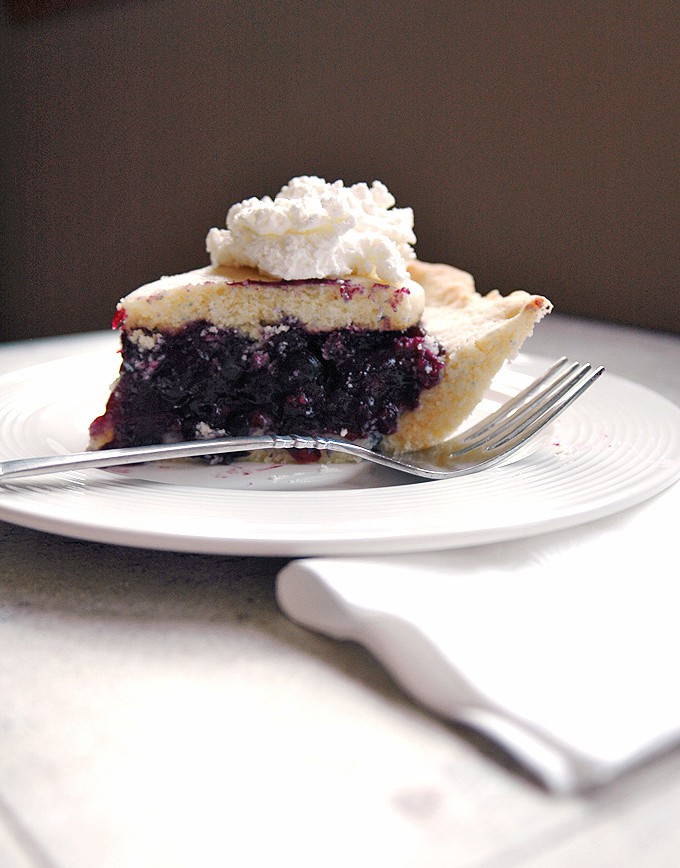 I may or may not have eaten that huge piece right there for lunch. It's vegetarian, right?
Enjoy!
P.S. If you love pies, don't miss this Fresh Strawberry Pie with Amaretto or this Lemon Meringue Pie!
(Recipe Source: Crust adapted from Linda Z's Chanukah Cookies. Filling from a recipe for double blueberry cookie pie clipped from The Plain Dealer years ago.)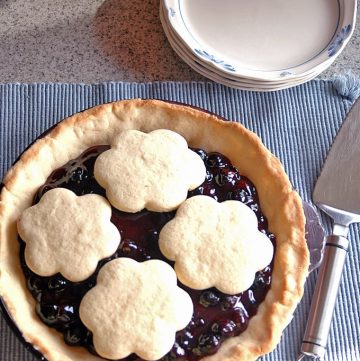 Blueberry Pie with Sugar Cookie Crust
Blueberry Pie with Sugar Cookie Crust will become your go-to summer dessert! It's the best blueberry pie recipe and a hit with kids and adults! I've been making this for years.
Print
Pin
Rate
Prep Time:
1
hour
10
minutes
Total Time:
1
hour
40
minutes
Ingredients
Crust (See notes)
8

tablespoons

salted butter

(softened)

1

cup

sugar

1

egg

(beaten)

1/4

cup

milk

(1% is fine)

1/2

teaspoon

almond extract

2 1/3

cups

flour

(sifted)

2

teaspoons

baking powder
Blueberry Filling
3

cups

fresh blueberries

(divided use)

3/4

cup

sugar

3

tablespoons

cornstarch

dash salt

2/3

cup

water

1

teaspoon

lemon juice
Whipped Cream
1

cup

heavy whipping cream

2

teaspoons

sugar

1/2

teaspoon

vanilla extract
Instructions
For the crust, beat the butter and sugar until creamy. Add the egg, milk and almond extract and mix. Add the sifted flour and baking powder, and beat on low, then medium.

When the dough is smooth and combined, shape it into a ball, wrap it in plastic wrap, and freeze it for 25 minutes.

Preheat the oven to 375 degrees. Grease a 9-inch pie plate and a rimmed baking sheet with cooking spray.

Unwrap the chilled dough and cut away about 1/4 of it to set aside for the cookie topping. If you have a kitchen scale, use it to weigh the larger portion of dough. You will need 16 ounces of dough for the bottom crust.

On a work surface dusted with powdered sugar, use a rolling pin to roll out the 16 ounces of dough into an 11-inch circle about 1/2 inch thick. (See notes.) Transfer the dough into the pie plate by wrapping one half of the dough around the rolling pin, and carrying the rolling pin with the dough over to the pie plate. Gently set the dough into the pie plate and use two fingers to flute the edges along the inside rim of the pie plate. Use your fingers to press the dough into place if you have any uneven spots. Use a fork to poke tiny holes in the bottom of the crust and where it meets the sides of the pan. Freeze the crust for 10 minutes before baking.

Bake the crust for 13-15 minutes, or until it is golden around the edges, and a toothpick inserted in the center comes out clean. Let the crust cool on a wire rack.

While the bottom crust is baking, prepare the cookie topping. Roll out the small portion of dough into a circle about 1/4-inch thick. Use a large cookie cutter to cut out shapes. Bake the cookies on the greased baking sheet for 9 minutes, or until just barely turning golden at the edges. Cool the cookies on a wire rack.

For the blueberry filling, in a medium saucepan, combine 1 cup of blueberries with the sugar, cornstarch and salt. Stir in the water and lemon juice. Bring to a boil over medium-high heat. Boil, stirring constantly, until the mixture thickens. Crush the blueberries with a potato masher and turn off the heat. Stir in the remaining blueberries and chill the filling in the refrigerator.

For the whipped cream, use a clean, cold stainless steel bowl and beaters to beat the whipping cream, starting on low, then increasing to high. Beat for 1-2 minutes. Add the sugar and vanilla. Beat until soft peaks form.

Spoon the chilled blueberry filling into the cooled pie crust. Place the cookies on top in a decorative pattern. Serve with whipped cream. You can store the pie covered at room temperature or in the refrigerator. (It's delicious when chilled.) Store whipped cream covered in the refrigerator for up to two days.
Notes
Update July 2015: The dough is very sticky. When rolling, don't press down too hard, or the dough will stick to the work surface. Keep the dough for the top crust cookies in the freezer while you work on rolling the bottom crust. If there is a lot of humidity while you're working, and you still find it hard to get the dough to roll nicely, you can just press the dough into place in your pan, as evenly as possible. It will turn out a bit puffy in the middle, but you can poke a couple holes in it when it comes out of the oven.
You can use smaller cookie cutters, but it will be difficult to slice the pie neatly. Try not to make more than one cut into each cookie.
Nutrition
Calories:
565
kcal
|
Carbohydrates:
85
g
|
Protein:
5
g
|
Fat:
23
g
|
Saturated Fat:
14
g
|
Cholesterol:
91
mg
|
Sodium:
126
mg
|
Potassium:
223
mg
|
Fiber:
2
g
|
Sugar:
50
g
|
Vitamin A:
860
IU
|
Vitamin C:
5.8
mg
|
Calcium:
87
mg
|
Iron:
2
mg