This refreshing Strawberry Amaretto Pie has a no-roll amaretto crust, a strawberry-amaretto filling and is served with almond whipped cream. It's so delicious! Get yourself some berries and get baking!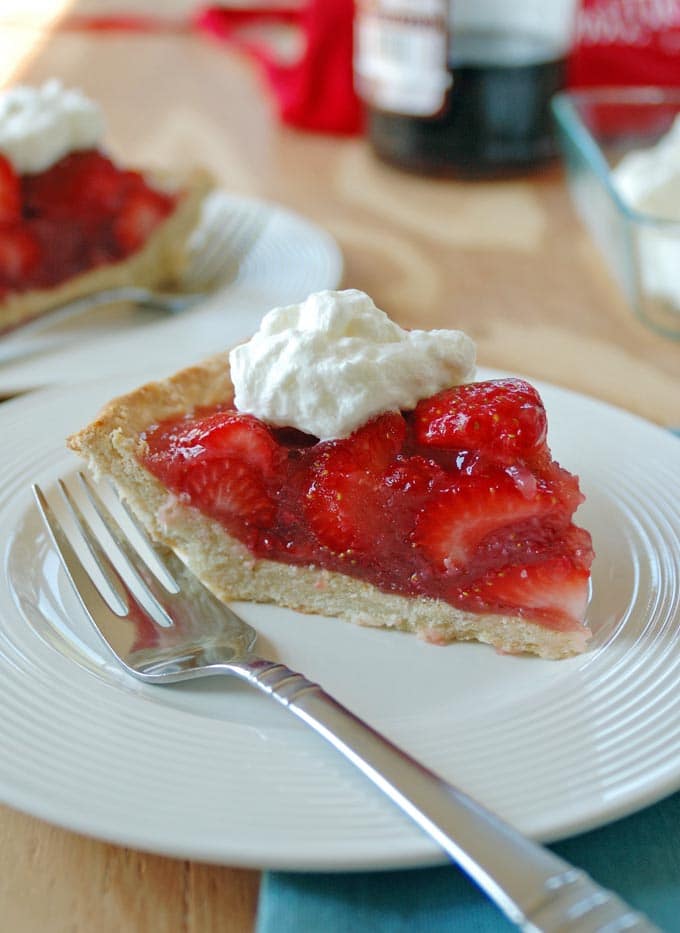 This was supposed to be a post about strawberry amaretto pie and how pie in general makes me happy. But, since I was born in Cleveland and have lived here most of my life, I must say, WE WON!!!! WE WON!!! The Cavs are the 2016 NBA Champions!
If you're a Warriors fan, I know it's disappointing your team lost. Trust me, I know the feeling. But, I hope you can appreciate what this victory means for Cleveland. It's our first championship in any major league sport in 52 years. I missed the last one by five years, since I wasn't even born yet.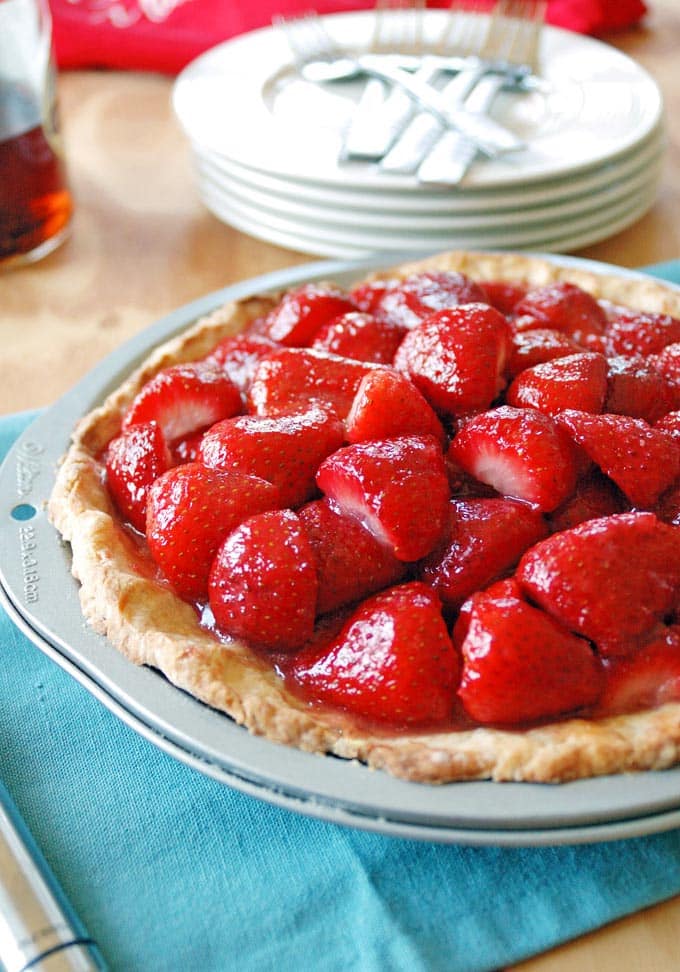 And, sports aside, Cleveland has endured years of jokes and jeers. It's gotten much better in the last decade, but anyone my age who grew up here knows the sting of settling in for a night of comedy on TV and hearing our beloved hometown being used as fodder for everyone else's entertainment. We're the city that got bullied on life's playgrounds. We had to be tough.
But, our story has a happy ending, or better yet, a new beginning. We no longer have to assume we'll lose. We can see possibilities where we once saw problems. We are the champions, and we'll learn to think like champions.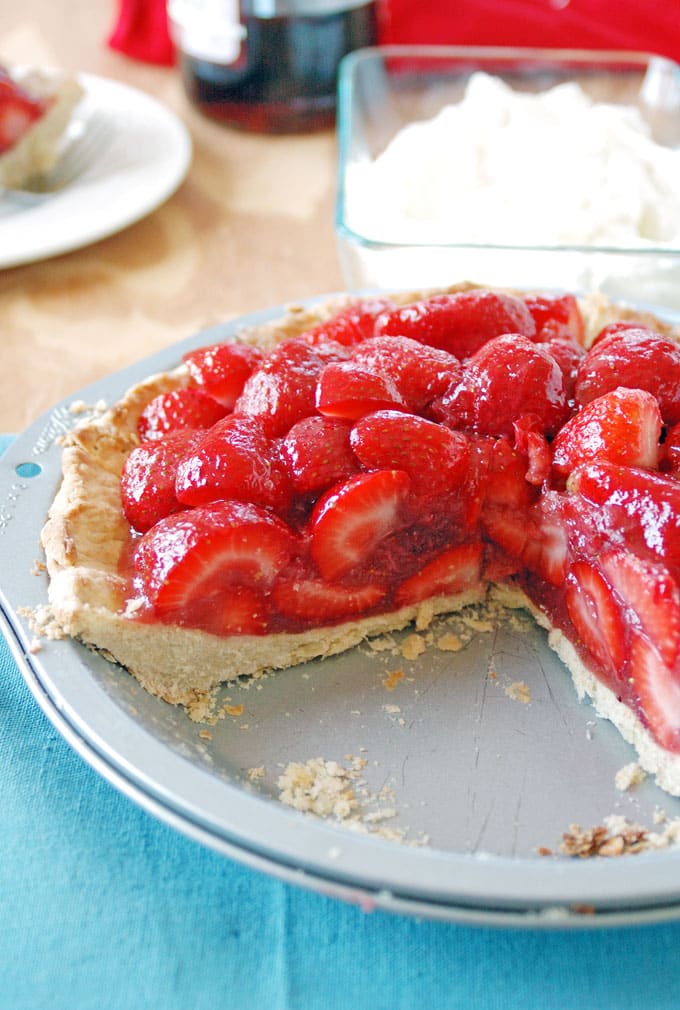 I hope you enjoy this strawberry amaretto pie. I worked on the recipe for the past few weeks to get it right. Some things are worth the wait!
(Recipe Source: Cooking with Mamma C, with crust adapted from King Arthur Flour)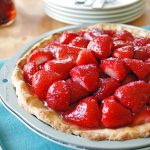 Strawberry Amaretto Pie
This refreshing Strawberry Amaretto Pie has a no-roll amaretto crust made with olive oil, a strawberry-amaretto filling and is served with almond whipped cream! Note that you will need to let the pie chill for four hours before serving.
Keyword:
amaretto, strawberry amaretto pie, strawberry pie
Ingredients
Crust for 9-inch pie
2

cups

all-purpose flour

1

tablespoon

sugar

1/2

teaspoon

salt

3/8

teaspoon

baking powder

1/4

cup

milk

(low-fat is fine)

1/4

cup

plus 3 tablespoons olive oil

(not extra virgin)

1

tablespoon

amaretto
Strawberry-Amaretto Filling
2

pounds

fresh strawberries

1

cup

sugar

2

tablespoons

corn starch

2

tablespoons

corn syrup

2

sprinkles of salt

1/4

cup

amaretto

1

packet unflavored gelatin

(I use Knox)
Almond Whipped Cream
1

cup

heavy whipping cream

1

teaspoon

almond extract

3

tablespoons

confectioners sugar
Instructions
Preheat the oven to 450 degrees F. For the crust, whisk the flour, sugar, salt and baking powder in a 9-inch pie dish. Whisk the milk, olive oil and amaretto in a measuring cup and add the liquid to the pie dish. Toss with a fork to blend. When the dough is mixed, form it into a ball and pat it into a disk. Press the dough evenly along the bottom and up the sides of the dish to form a crust. Crimp the edges with two fingers.

Use a fork to poke holes in the bottom of the crust and where it meets the sides, so it won't puff up while baking. Bake for 10 minutes or just until golden. (Overbaking will make the crust tough.) If you see your crust puffing in the oven, just open the door and poke more holes. Let the crust cool on a wire rack when it's done.

Place 1/4 cup amaretto in a small bowl or cup and chill it in the refrigerator.

While the pie is baking, rinse your strawberries in a colander in the sink. Cut off and discard the green tops and cut each strawberry in half. Let the strawberries drain and pat them dry with a paper towel.

Take out your chilled amaretto and whisk in the gelatin. Set it aside.

To make the filling, place 1 cup of halved strawberries in a medium sauce pan. Mash them with a potato masher. Off the heat, whisk in the sugar, corn syrup, corn starch and salt until blended. Switch to using a wooden or plastic spoon, and over medium-low heat, gently and slowly stir the strawberry mixture until it thickens. It will boil and foam first, then start to thicken and become goopy. It will take at least five minutes. When the glaze has thickened, turn off the heat. Stir in the amaretto gelatin until blended.

Transfer your glaze to a medium mixing bowl and let it cool off at room temperature for 30 minutes. Then, pat dry your remaining strawberries again and stir them into the glaze.

Pour the filling into your pie crust and arrange the top strawberries cut-side down for nice visual appeal. Chill the pie in the refrigerator, uncovered, for four hours to allow it to set.

A few minutes before you are ready to serve the pie, make your almond whipped cream. In a medium mixing bowl add your cream and almond extract. Beat on low to get it a bit frothy. Gradually add in your confectioners sugar and beat at a medium speed or as high as you can without splashing, until the cream is thickened and has stiff peaks.

Serve the pie with a dollop of whipped cream on top of each slice. Store the pie and whipped cream separately in the refrigerator. The whipped cream will be OK for about three days, and the pie should stay for five days.
Nutrition Facts
Strawberry Amaretto Pie
Amount Per Serving
Calories 528
Calories from Fat 207
% Daily Value*
Total Fat 23g 35%
Cholesterol 41mg 14%
Sodium 167mg 7%
Potassium 259mg 7%
Total Carbohydrates 72g 24%
Protein 4g 8%
* Percent Daily Values are based on a 2000 calorie diet.