You'll love this Cranberry Pie with Sugar Cookie Crust! It's accented with orange and is delicious plain or topped with whipped cream!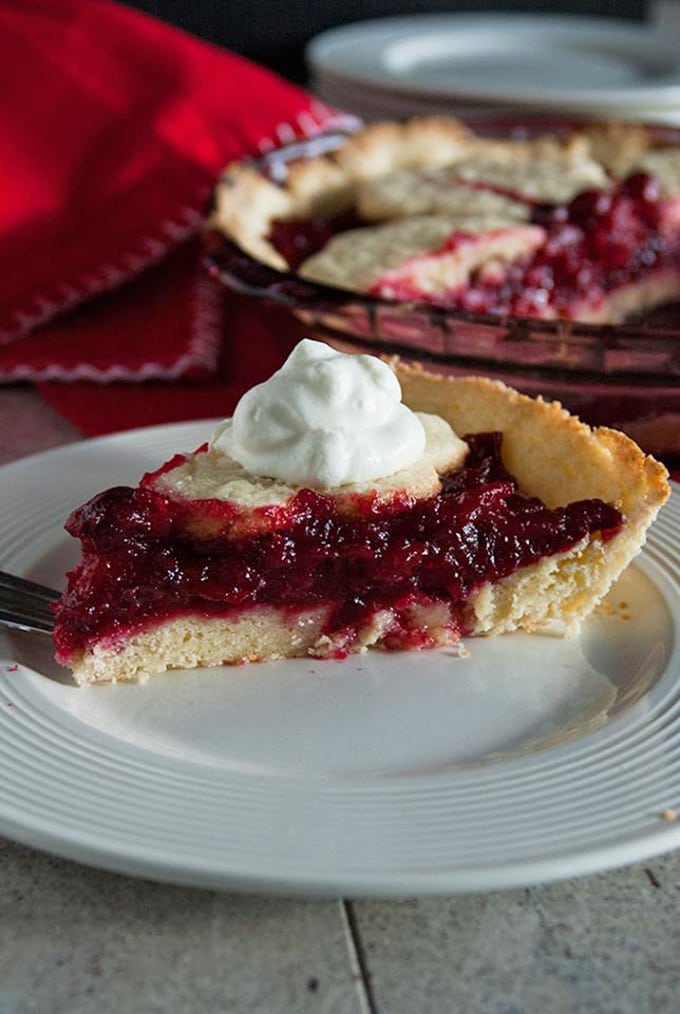 I'm absolutely giddy about sharing this recipe with you. If you cringe at the idea of tart cranberry sauce for Thanksgiving dinner but would rather not serve that sweet, jiggly stuff in the can, I've created the perfect solution: cranberry pie with a sugar cookie pie crust.
All from scratch. With homemade whipped cream. Or maybe vanilla ice cream. Yesss!
If you've been reading Cooking with Mamma C awhile, this pie might sound familiar. That's because I modeled it after this beloved Blueberry Pie, a huge family favorite I've been making for years.
This time, I replaced the blueberries with fresh, tart cranberries, increased the sugar to compensate and added orange extract instead of almond to the cookie crust and cranberry pie filling. Oh. My. Goodness.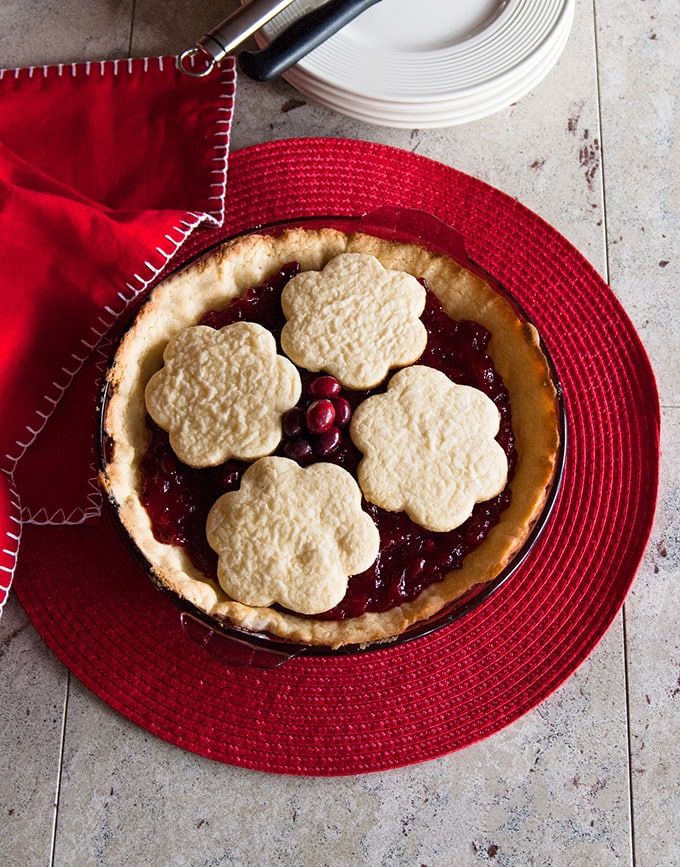 My Thanksgiving dreams have come true.
I'm officially thankful for this pie, and for the divine inspiration to make it. (I was staring at my computer screen with cranberries on my mind, when, suddenly, "cranberry pie with sugar cookie crust" popped into my head.)
I knew immediately it'd be a winner!
Now, a note about the sweetness level.
Cranberries are tart, baby. I cooked them and added enough sugar to make them sweet-tart, knowing the sugar cookie crust and sweetened whipped cream would envelope the pie filling and create a lovely balance.
I think it's perfect.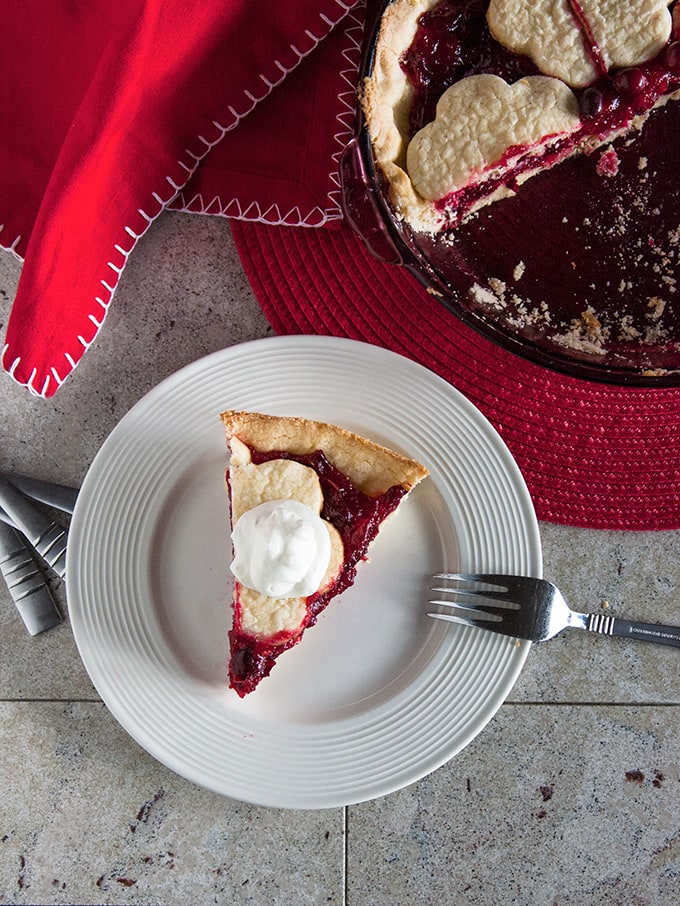 However, when you make this, I'm going to have you taste the cranberry pie filling with one of the extra sugar cookies you'll end up with (so sad, I know) and decide if you need to add more sugar. Because I want you to love this pie.
More pie recipes
Enjoy!
P.S. If you're a fan of cranberries, you need to try my healthy Banana-Cranberry Smoothie. It tastes like sherbet!
(Recipe Source: Cooking with Mamma C, adapted from this Blueberry Pie with Sugar Cookie Crust)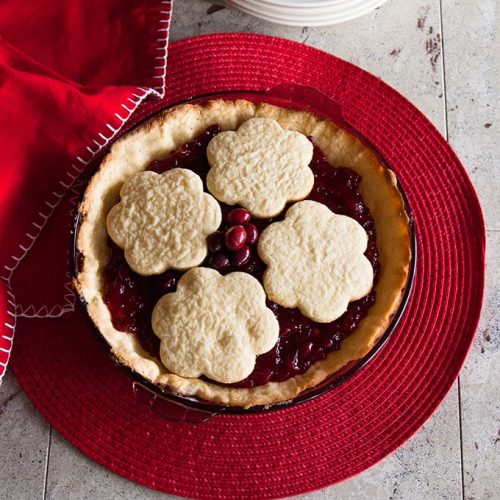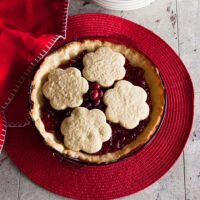 Ingredients
Sugar Cookie Crust
8

tablespoons

salted butter

(softened)

1

cup

sugar

1

egg

(beaten)

¼

cup

milk

(1% is fine)

½

teaspoon

orange extract

2 ⅓

cups

flour

(sifted)

2

teaspoons

baking powder
Cranberry Pie Filling
3

cups

fresh cranberries

(plus a few for garnish)

1

cup

plus 3 tablespoons sugar

(or more to taste)

3

tablespoons

cornstarch

sprinkle of salt

⅔

cup

water

1

teaspoon

orange juice

¼

teaspoon

orange extract
Whipped Cream
1

cup

heavy whipping cream

3

tablespoons

confectioners sugar

½

teaspoon

vanilla extract
Instructions
For the crust, beat the butter and sugar until blended. (Do not overbeat, or it will make the dough too soft.) Add the egg, milk and orange extract and mix. Add the sifted flour and baking powder, and beat on low, then medium.

When the dough is smooth and combined, shape it into a ball, wrap it in plastic wrap, and freeze it for 30 minutes. (You can make your pie filling while the dough is chilling.)

Preheat the oven to 375 degrees. Grease a pie plate and a rimmed baking sheet with cooking spray.

Unwrap the chilled dough and cut away about ¼ of it to set aside for the cookie topping. If you have a kitchen scale, use it to weigh the larger portion of dough. You will need 16 ounces of dough for the bottom crust.

On a work surface dusted with powdered sugar, use a rolling pin to roll out the 16 ounces of dough into an 11-inch circle about ½ inch thick. Transfer the dough into the pie plate by wrapping one half of the dough around the rolling pin, and carrying the rolling pin with the dough over to the pie plate. (If the dough tears when you try to do this, you can transfer it in sections and press it together in the pie plate.) Gently set the dough into the pie plate and use two fingers to flute the edges along the inside rim of the pie plate. Use your fingers to press the dough into place if you have any uneven spots. Use a fork to poke tiny holes in the bottom of the crust and where it meets the sides of the pan. Freeze the crust for 10 minutes before baking.

Bake the crust for 13-15 minutes, or until it is golden around the edges, and a toothpick inserted in the center comes out clean. Let the crust cool on a wire rack.

While the bottom crust is baking, prepare the cookie topping. Roll out the remaining small portion of dough into a circle about ¼-inch thick. Use a large cookie cutter to cut out shapes. (See notes.) Bake the cookies on the greased baking sheet for 9 minutes, or until just barely turning golden at the edges. Cool the cookies on a wire rack.

For the cranberry filling, rinse your cranberries and remove any stems. Place three cups of cranberries in a medium saucepan and combine them with the sugar, cornstarch and salt. Stir in the water and orange juice. Bring to a boil over medium-high heat. Boil, stirring constantly, until the mixture thickens and becomes goopy, which could take at least six minutes. Turn off the heat and crush at least half of the cranberries with a potato masher. Stir in the orange extract. When your pot is no longer hot, place it in the refrigerator to chill the filling.

(When your cookie topping is ready, taste a bite of an extra cookie with a little bit of the filling, to see if the filling is sweet enough for you. If not, add one tablespoon of sugar to the filling and taste, adding more sugar if needed.)

For the whipped cream, use a clean, cold stainless steel bowl and beaters to beat the whipping cream, starting on low, then increasing to high. Beat for 1-2 minutes. Add the sugar and vanilla. Beat until soft peaks form.

To assemble your pie, spoon the chilled cranberry filling into the cooled pie crust. Place the cookies on top in a decorative pattern. Garnish with a few raw cranberries in the center, if desired. (Don't serve the raw cranberries, since they'll be very tart.) Serve the pie with whipped cream (and vanilla ice cream, if you wish). You can store the pie covered at room temperature for a couple days, but refrigerate it if you want it to keep longer. Store whipped cream covered in the refrigerator for up to two days.
Notes
You can use smaller cookie cutters, but it will be difficult to slice the pie neatly. Try not to make more than one cut into each cookie.
Nutrition
Calories:
582
kcal
|
Carbohydrates:
89
g
|
Protein:
5
g
|
Fat:
23
g
|
Saturated Fat:
14
g
|
Cholesterol:
91
mg
|
Sodium:
126
mg
|
Potassium:
212
mg
|
Fiber:
2
g
|
Sugar:
54
g
|
Vitamin A:
855
IU
|
Vitamin C:
5.6
mg
|
Calcium:
87
mg
|
Iron:
2
mg