This Lemon Meringue Pie recipe really works! Featuring a tasty olive oil crust that you just press into place, a perfectly sweet-tart lemon filling and a toasty cloud of meringue on top. Don't miss all my tips and tricks for success!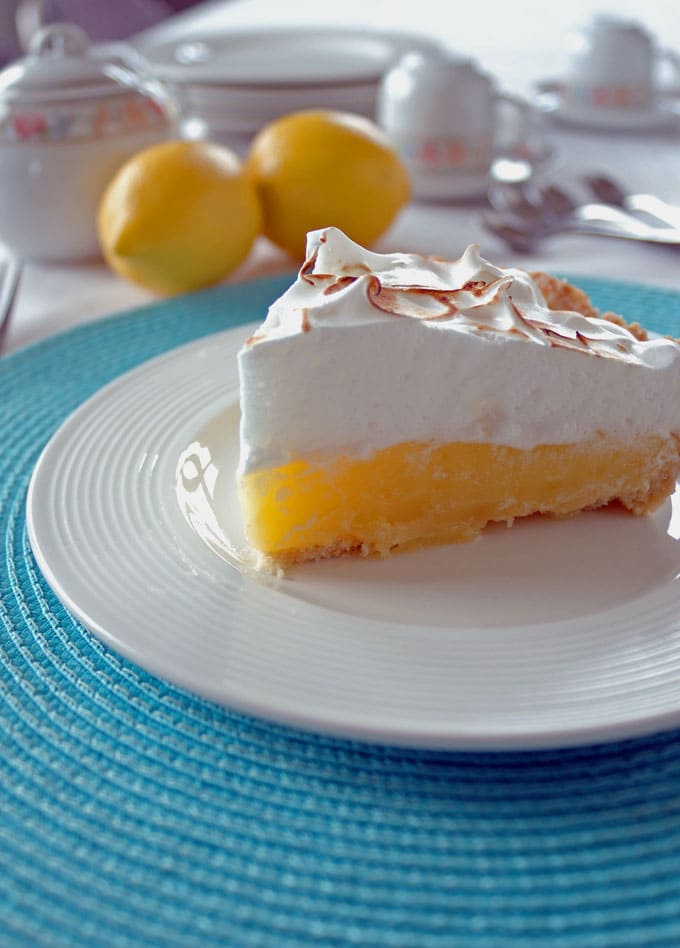 I've conquered one of the giants on my baking bucket list. I sit before you victorious, as I present you with my Lemon Meringue Pie with Easy Olive Oil Crust.
It's fantastic, if I do say so myself. It's perfectly sweet-tart with a nice lemon flavor and a delicious, no-roll, olive oil pie crust.
But, oh, what a saga!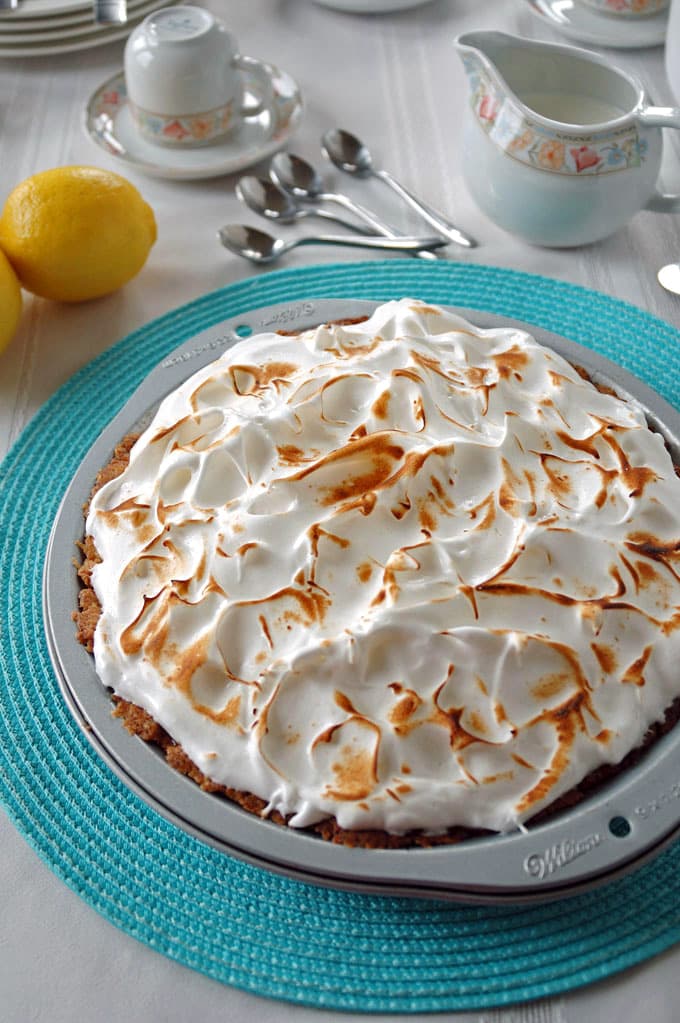 It started a year ago, when I told Mom I wanted lemon meringue pie for my birthday "cake," but I needed to prepare it myself to learn how. She offered to come over and make it with me, using a recipe she'd enjoyed before.
She was going by memory, which I've almost never been able to do. Everything seemed fine, though.
We made the pie, baked it, stored it in the fridge, and she left. But when I checked on the pie a few hours later, I found lemon soup, topped by a weepy meringue.
What?!!
Mom and I were stumped. And I was intimidated.
Apparently, the almighty lemon meringue pie (my favorite!) was not something one could just whip up with ease. It was going to take research, experimentation and great attention to detail.
I couldn't even think about attempting another one for a year. But, I did buy a kitchen torch, knowing that next time, I wasn't going to brown the pie in the oven.
I wanted to achieve those gorgeous, bronzed, meringue swirls I had seen elsewhere.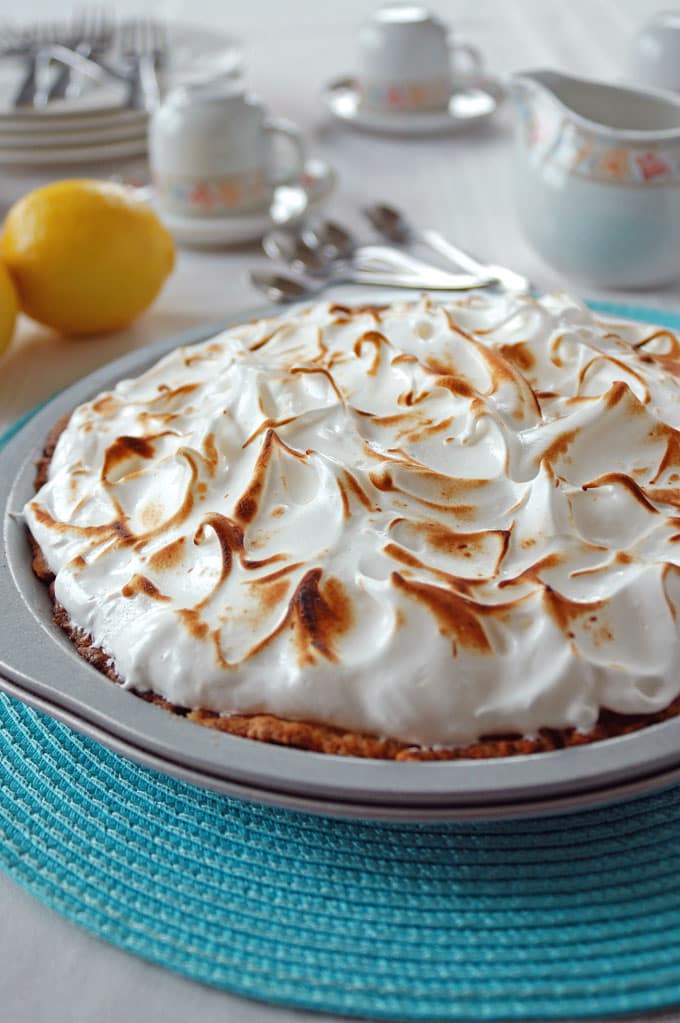 Fast forward to a week ago, when I decided it would be great to feature lemon meringue pie on my blog for Pi Day, March 14.
Ha! I did so much research, I could've written a term paper.
Then, it was time to experiment. I adapted a recipe from a well-known, 1950s cook book.
But...the filling turned out runny and way too sweet. Ugh!
I think you know by now I would never publish a recipe I'm not happy with, just for the sake of posting. So, it was back to the drawing board — or the cutting board, I should say.
I switched to another filling recipe, cut down the sugar to 1 ⅛ cups, instead of 1 ½ cups, and stirred the pot ever so gently. I consulted with my niece, the pastry chef, who confirmed my suspicion that I should let the lemon filling cool and set before adding the meringue and torching it.
She recommended flash freezing it to speed up the process. Done!
This time, I got the pie of my dreams. I added lemon extract to the meringue, so the first thing that greets your taste buds is a fluffy, slightly sweet, cloud of lemon accented by a toasted marshmallow flavor, thanks to the torching.
Then, the filling hits you with its tart, lemony hello. Finally, the olive oil crust (that you just press into place!) provides a tender, oh-so-tasty finish to every bite.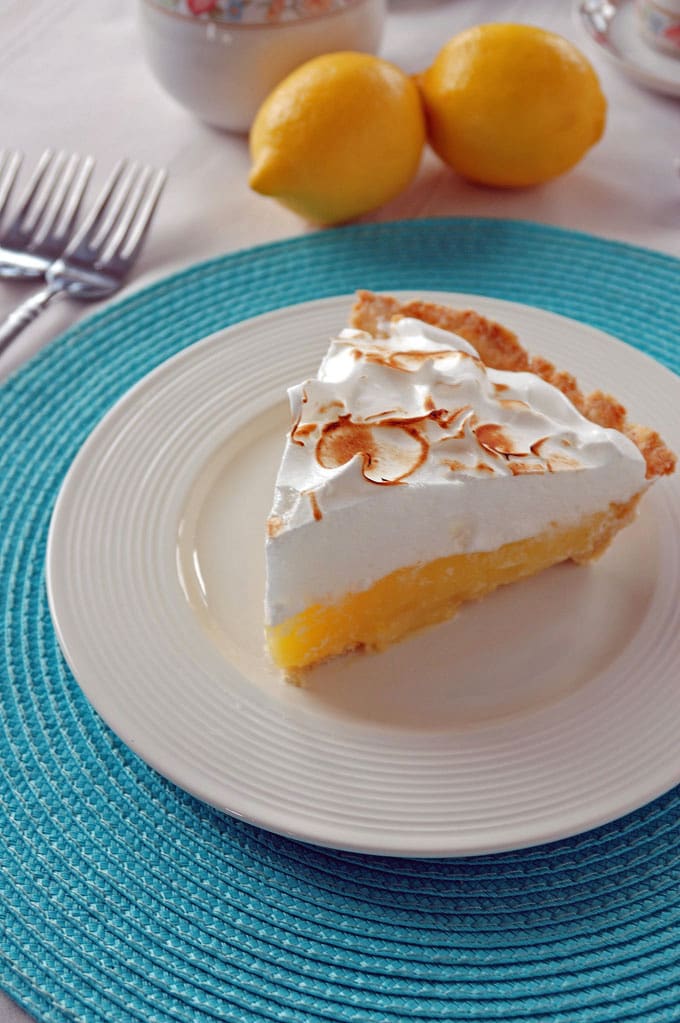 We all loved it. I was so excited, I drove to Mom and Dad's with half a pie to let them taste it.
They promptly ate two pieces each, and Mom saved another slice for Dad. Then, she handed me the empty pie dish.
At least she washed it first.
Here are my tips for a successful Lemon Meringue Pie with Easy Olive Oil Crust:
Separate the eggs when they're cold (it's easier), but beat the egg whites when they're at room temperature for a fluffier meringue in less time.
Stir your filling gently but thoroughly. If you mix it too vigorously, you'll break down the starch molecules and get a runny result. You can start with a whisk to combine the water and corn starch mixture off the heat, but once your pan gets heated on the stove, switch to a silicone spatula for stirring. When you add the lemon juice gradually, make sure all of it is incorporated.
Freeze your filling in the pie crust for 10-20 minutes to make sure it's set before topping it with meringue.
Spread the meringue by starting at the edges of the pie, making sure to completely seal the filling so that your meringue doesn't slide off later.
Use a kitchen torch (or a blow torch from your garage!) to brown your meringue instead of baking it. Overbaking causes the meringue to weep. Besides, the torch (affiliate link) is the most fun kitchen tool I've ever used!
Enjoy!
More recipes to enjoy
(Recipe Source: Crust adapted from King Arthur Flour. Pie ingredients and method adapted from Better Homes and Gardens New Cook Book, 1989.)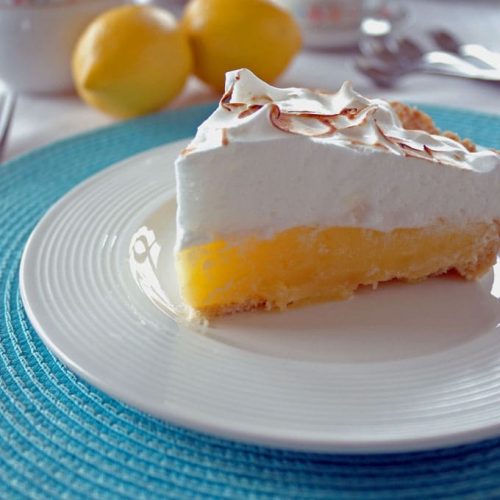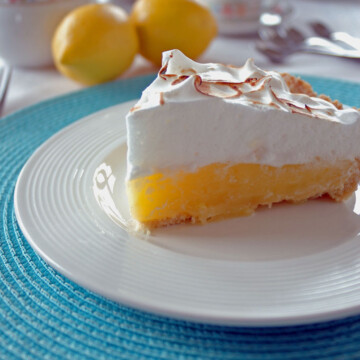 Ingredients
Crust for 9-inch pie
2

cups

all-purpose flour

1

teaspoon

sugar

½

teaspoon

salt

⅜

teaspoon

baking powder

½

cup

olive oil

(not extra virgin)

¼

cup

milk

(low-fat is fine)
Lemon Filling
3

egg yolks

(I use extra large)

2

teaspoons

lemon zest

⅓

cup

lemon juice

(from 2 ½ lemons)

1 ⅛

cups

sugar

3

tablespoons

all-purpose flour

3

tablespoons

corn starch

1

dash salt

1 ½

cups

water

2

tablespoons

salted butter
Meringue
3

egg whites

½

teaspoon

lemon extract

¼

teaspoon

cream of tartar

6

tablespoons

sugar
Instructions
Preheat the oven to 450 degrees F. For the crust, whisk the flour, sugar, salt and baking powder in a 9-inch pie dish. Whisk the milk and olive oil in a measuring cup and add the liquid to the pie dish. Stir with a fork to blend. When the dough is mixed, press it evenly along the bottom and up the sides of the dish to form a crust. (It will feel soggy.) Crimp the edges with two fingers.

Use a fork to poke holes in the bottom of the crust and where it meets the sides, so it won't puff up while baking. Bake for 10-12 minutes or until golden. (If you see your crust puffing in the oven, just open the door and poke more holes.) Let the crust cool on a wire rack.

While the crust is baking, separate your eggs, placing the yolks in a large mixing bowl and the whites in a medium mixing bowl. Beat your yolks slightly with a fork. Set the yolks and whites aside, letting them come to room temperature.

For the filling, rinse and dry two lemons. Zest the lemons until you have 2 teaspoons. Cut your lemons in half (you will probably need half of a third lemon) and squeeze them until you have ⅓ cup of lemon juice. Set it next to your stove.

In a medium, heavy-bottomed saucepan (I use my stainless steel one) whisk together your sugar, flour, corn starch and salt. Gradually whisk in the water. Make sure your corn starch mixture is fully incorporated before placing the pan over heat. Use a silicone spatula for gently stirring from this point forward. Place the pan over medium-high heat and gently stir until thickened and bubbly. Reduce the heat. Cook and stir gently for two more minutes, and remove the pan from the heat.

To temper your egg yolks so they don't scramble, gradually mix in one cup of the hot filling into your bowl of yolks. Then, add the yolk mixture to your pot with the rest of the filling. Stir gently over medium-high heat and bring to a gentle boil. (Lower the heat if needed.) Cook and stir gently two minutes more. Remove from the heat. Your filling should be very thick.

Carefully stir in the butter and lemon zest. Gradually stir in the lemon juice (gently!), making sure the liquid is fully incorporated before adding more. Stir until there is no liquid pooling at the sides of your pan.

Pour the hot filling into your pie crust. Freeze the filling and crust for 10-20 minutes, until the filling is firm to the touch and set.

While the filling is chilling in the freezer, make your meringue. Add the lemon extract and cream of tartar to your egg whites in the medium mixing bowl. Using clean beaters, beat the egg whites with an electric mixer on medium speed until soft peaks form. (The tips will curl.) Gradually add your sugar, one tablespoon at a time, beating at high speed until the sugar is dissolved and stiff, glossy peaks form. (When you turn off your mixer and lift up your beaters, the peaks should stand up firmly without falling over.)

Spoon the meringue over your chilled filling, starting at the edges of the filling, where it meets the crust. Completely cover the filling and seal it by pressing down slightly at the edges. When all of your meringue is spooned on top, you can make decorative swirls using the back of your spoon to smooth and lift the peaks. Use a kitchen torch (or a blow torch from your garage) to brown the meringue.

Let the pie sit at room temperature for at least half an hour before slicing it, making sure the bottom of the pie is cool first. Store leftover pie in the refrigerator. You can leave it uncovered so as not to mess up the meringue.
Nutrition
Calories:
444
kcal
|
Carbohydrates:
67
g
|
Protein:
6
g
|
Fat:
16
g
|
Saturated Fat:
4
g
|
Cholesterol:
81
mg
|
Sodium:
199
mg
|
Potassium:
114
mg
|
Sugar:
38
g
|
Vitamin A:
190
IU
|
Vitamin C:
4.5
mg
|
Calcium:
32
mg
|
Iron:
1.8
mg