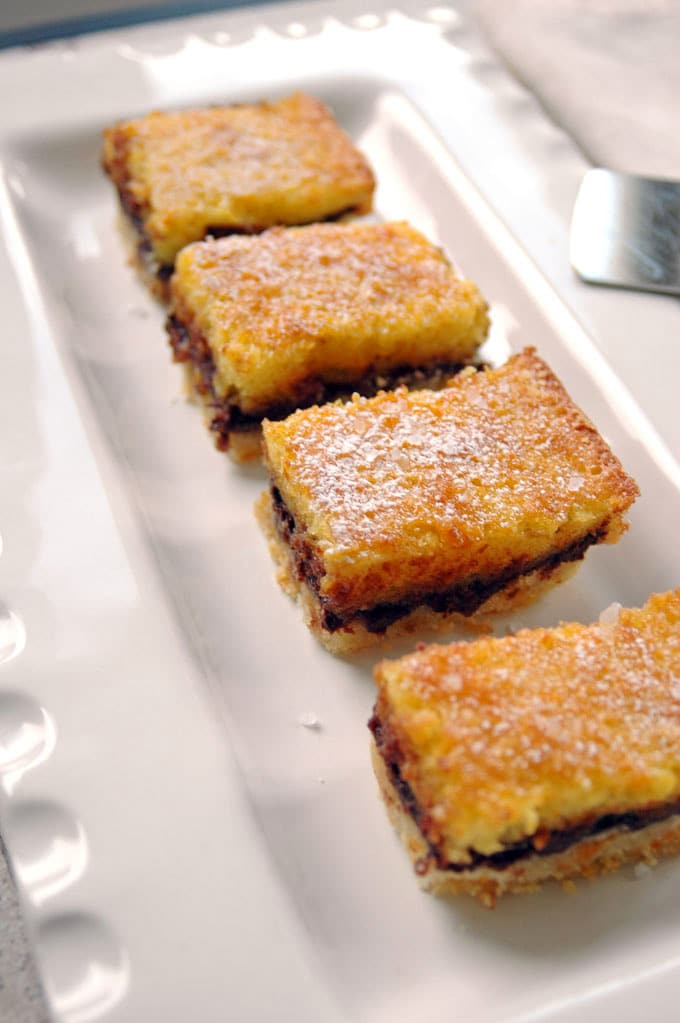 Hi, my name is Andrea, and I'm addicted to chocolate and orange. Together, I mean. I make cookies with that combination, I poured this homemade chocolate liqueur all over this orange torte, and I just had to resurrect this recipe for chocolate and orange pastry bars I used to make when I first got married.
This recipe starts with an orange zest-accented pastry crust that you mix in a bowl and just pat into place. Then, it gets pre-baked so the hot crust can help melt a generous layer of semi-sweet chocolate chips. (You might have to stick the pan back in the oven for a couple minutes to help the chips melt.) Then, you get to enjoy my favorite part of the process, which is spreading that soft, shiny, rich chocolate all over the crust. I might as well say it now: These bars are for chocolate lovers only.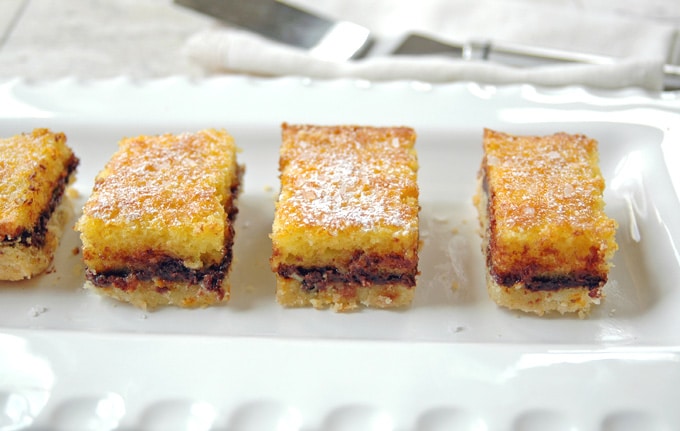 Next, you pour an orange batter (similar to that of lemon bars) over the chocolate and bake until the top layer is set. The hardest part is resisting the urge to try them warm out of the oven, with that intoxicating orange aroma tempting you. But they really taste best after a couple of hours.
However, if you, like absolutely no one I know, insist on tasting these bars warm, don't be alarmed if they seem really gooey and overwhelmingly chocolatey. The flavors will meld once the chocolate layer cools and sets. You'll be able to taste the buttery crust and notice the bright, refreshing citrus kick. And, if you're like me, you might want to sprinkle some sea salt over the top to up the ante.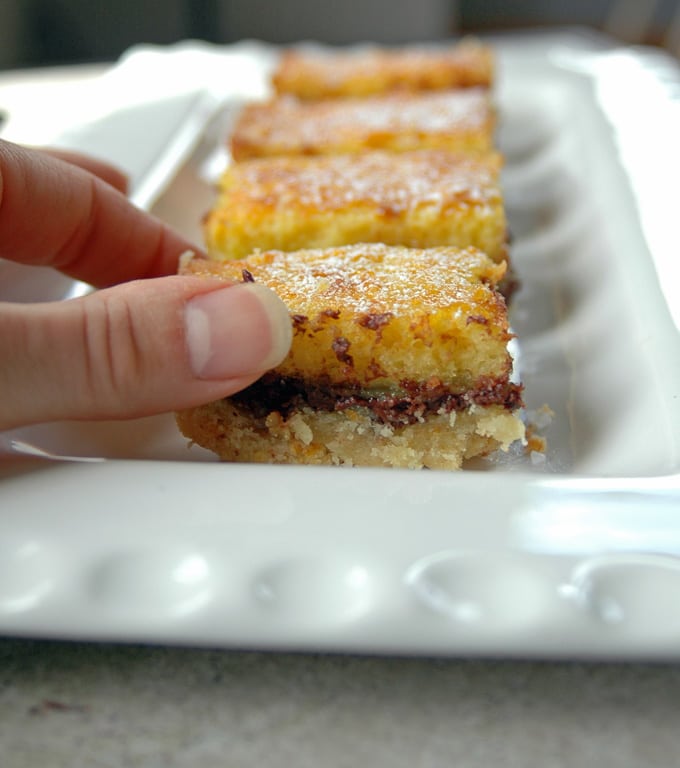 Orange and chocolate. It's a match made in heaven. Wait…why haven't I been pouring chocolate liqueur over Mom's Orange French Toast??!
Enjoy!
(Recipe Source: Adapted from Best Ever Chocolate Bars, Great American Recipes, 1988)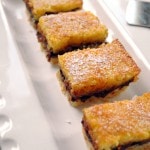 Chocolate and Orange Pastry Bars
Keyword:
chocolate, Dessert bars, orange
Ingredients
Crust
1

tablespoon

orange zest

(you will need two oranges for this recipe)

1

cup

all-purpose flour

1/2

teaspoon

baking powder

1/8

teaspoon

salt

1/2

cup

salted butter

1/4

cup

powdered sugar
Chocolate Filling
1

cup

semi-sweet chocolate chips
Orange Topping
3

tablespoons

orange juice

3

eggs

3/4

cup

granulated sugar

1

tablespoon

orange zest

3

tablespoons

all-purpose flour

1/2

teaspoon

baking powder
Garnish
powdered sugar

sea salt

(optional)
Instructions
Preheat the oven to 350 degrees F. Rinse two oranges and pat them dry. Zest the oranges until you have 2 tablespoons of zest, and set it aside. (You will need half of the zest for the crust and the other half for the orange topping.)

For the crust, in a medium mixing bowl, toss the flour, baking powder and salt together. Cut up your stick of butter and add it to the bowl. Use a pastry blender or two knives to cut the butter into the flour mixture until it resembles coarse crumbs. Stir in the powdered sugar and one tablespoon of orange zest.

Press the crust mixture evenly into the bottom of an 8x8 pan. Bake the crust for 7 minutes.

While the crust is baking, prepare your orange topping in the same bowl you used for the crust. Squeeze three tablespoons of orange juice and add it to the bowl. Whisk in the eggs, sugar, one tablespoon of orange zest, flour and baking powder until blended.

When the crust has baked for seven minutes, remove the pan from the oven and pour the chocolate chips on top in an even layer. If the chips aren't melting enough, put the pan back in the oven for two minutes. Remove the pan from the oven and use a spatula to spread the melted chips into an even layer of chocolate.

Pour your orange topping over the chocolate layer. Wearing oven mitts, place your hot pan back in the oven to bake for 35 minutes, or until the top layer is lightly browned and set. (It should not be jiggly.)

Cool the pan on a wire rack. When the dessert has cooled completely (a couple hours is best) sprinkle with powdered sugar and sea salt, if desired. Cut into 12 bars. Store in a plastic container at room temperature for up to 4 days.
Nutrition Facts
Chocolate and Orange Pastry Bars
Amount Per Serving
Calories 276
Calories from Fat 126
% Daily Value*
Total Fat 14g 22%
Cholesterol 62mg 21%
Sodium 109mg 5%
Potassium 153mg 4%
Total Carbohydrates 33g 11%
Protein 3g 6%
* Percent Daily Values are based on a 2000 calorie diet.