Pasta e Piselli (pasta with peas) is my favorite one-pot meal from Naples! It's ready in less than 30 minutes! It's the perfect vegetarian meal, or you can add bacon if you wish.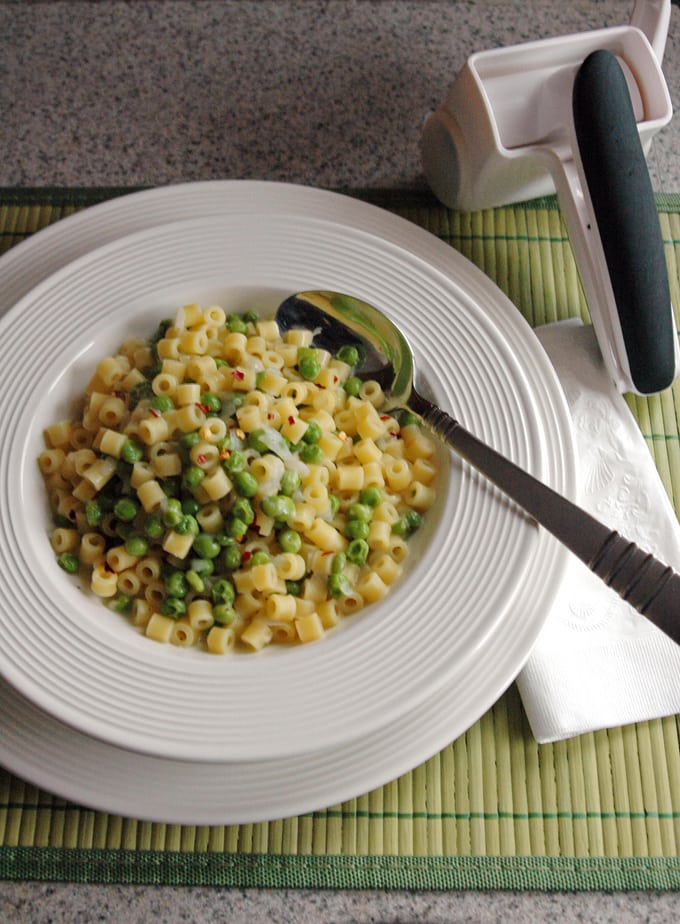 Pasta is my life. I publish other recipes to keep everyone interested, but I secretly wonder, "Can I post another pasta dish now?" I vote yes. So, behold, Pasta e Piselli (Peas), one of my all-time favorite meals.
This is a one-pot wonder from Naples that can be on your table in under 30 minutes. If it sounds similar to Pasta e Zucchini, Pasta e Broccoli and Pasta e Fagioli, you're onto something! They're each a cross between soup and a pasta dish.
Pasta e Piselli features onions but no garlic, baby peas, small pasta, and equal parts Parmesan and Romano cheeses. I think it's the Romano that takes it over the top. Mmmm.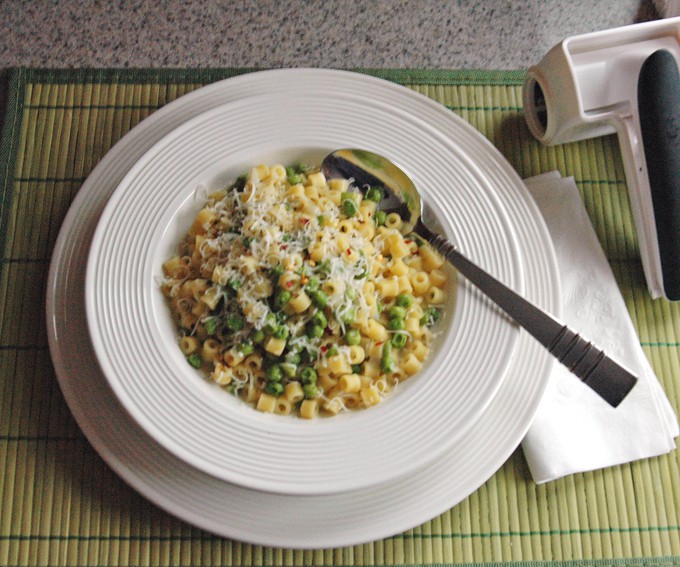 Mom used to make this with bacon, but we've kept it meatless for several years now. We don't miss it, since there's plenty of flavor going on here.
In case you're wondering, I love all of these one-pot pasta dishes that I grew up eating and now make for my family. But if I had to choose my absolute favorite…it's Pasta e Piselli (Peas) for the win!
Promise me you'll try it!
(Recipe Source: Adapted from Mom's version of this dish, which she learned from Nonna)
Cooking with Mamma C
Serves 6
Pasta e Piselli (Peas)
A delicious, one-pot wonder from Naples that can be on your table in under 30 minutes
5 minPrep Time
22 minCook Time
27 minTotal Time
5 based on 1 review(s)
Ingredients
1 medium white onion, peeled & chopped
2 Tablespoons olive oil
1 (13-ounce) package frozen baby peas
1/2 teaspoon salt
1/2 teaspoon pepper
4 1/2 cups hot water
1 pound ditalini or other small pasta
1/3 cup freshly grated Parmesan cheese, plus more for serving
1/3 cup freshly grated Romano cheese
red pepper flakes for serving (optional)
Directions
Peel and chop your onion. Heat the oil in a large pot on medium-high. Add the onions to the pot and stir to coat them with oil. Cook the onions for five minutes or until they're soft, stirring occasionally to prevent sticking. While the onions are cooking, you can grate your cheeses if needed.
Add the frozen peas, salt and pepper to the pot and stir to combine. Let the peas cook for five minutes, stirring occasionally. They should be almost fully cooked.
Add your water to the pot and increase the heat to high. Cover the pot with a lid and let the water come to a boil. When the water is boiling, add your pasta and stir it to prevent sticking. Lower the heat slightly and cook the pasta until it's al dente, stirring frequently to prevent sticking, making sure to scrape the bottom of the pot. When the pasta is cooked, do NOT drain the water.
Turn off the heat and stir in your Parmesan and Romano. Taste to see if you need any extra salt. (You may not, since the Romano is salty.)
Serve with extra Parmesan and red pepper flakes at the table. Store leftovers in the refrigerator for up to five days.
Notes
I like to use a white onion here, since it's more mild than the yellow or red ones. I always use baby peas, since they're more sweet than regular peas. If you want to make this with meat, you can add chopped bacon or pancetta when the onions are soft.
7.8.1.2
290
https://cookingwithmammac.com/pasta-e-piselli-peas/