This delicious Minestrone with Fire-Roasted Tomatoes is ready in an hour! You'll love this hearty Italian soup featuring pasta, vegetables, beans and the most flavorful broth!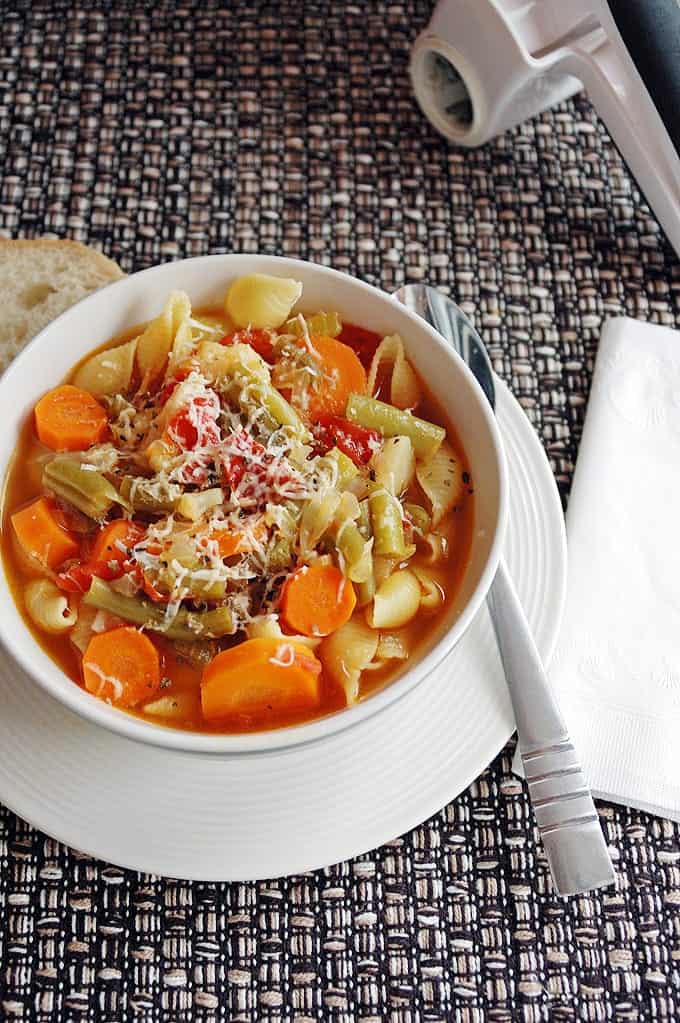 Two things: It was my birthday yesterday, and I've been sick. The only food I could think about in the last few days is soup.
So, I made some minestrone with fire-roasted tomatoes. And by "some," I mean an enormous pot.
I don't know if you've picked up on the fact that I tend to churn out food in large quantities. I try to ensure we've got leftovers for dinner, or at least lunch (we've always been a hot-lunch household), and making a big ol' pot of soup on the weekend is one of my favorite meal-planning strategies.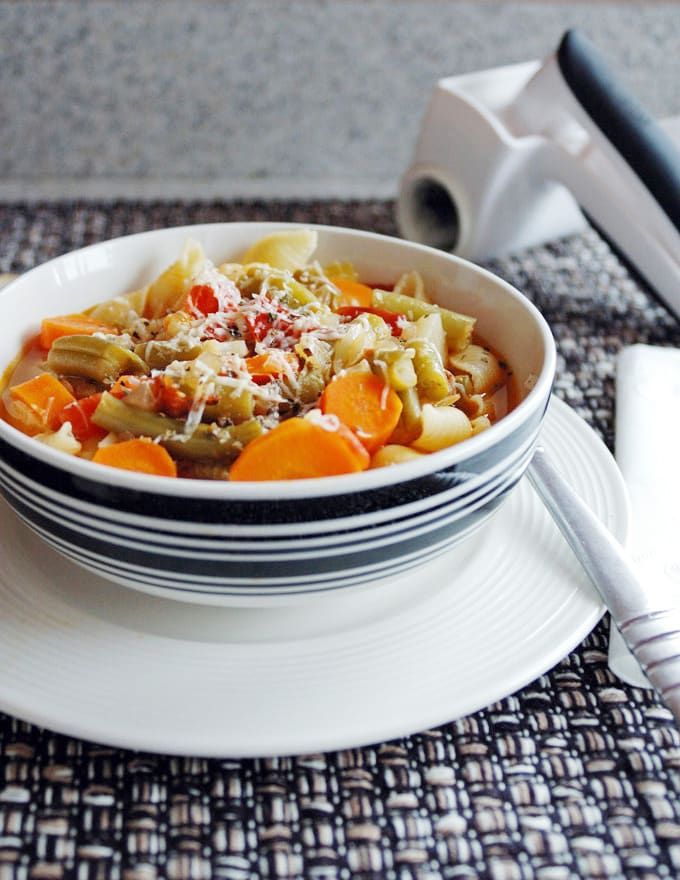 Making soup is quite simple, if you buy yourself some good stock. I prefer Kitchen Basics for chicken stock, and Rachael Ray's vegetable stock. (I have no affiliation with either.)
The key is to sauté your veggies in olive oil before adding the stock, for more flavor. That's what I do for my Chicken Pastina Soup too. For this minestrone, I used onions, carrots, celery, frozen cauliflower and green beans, and then added fire-roasted diced tomatoes, plus white beans.
I let the minestrone simmer with a nice rind of Romano cheese thrown in, cooked some pasta shells separately so they wouldn't get mushy, and then served the soup with lots of freshly grated Romano sprinkled on top. I really like the sharpness of the Romano here, but you could use Parmesan, if you prefer.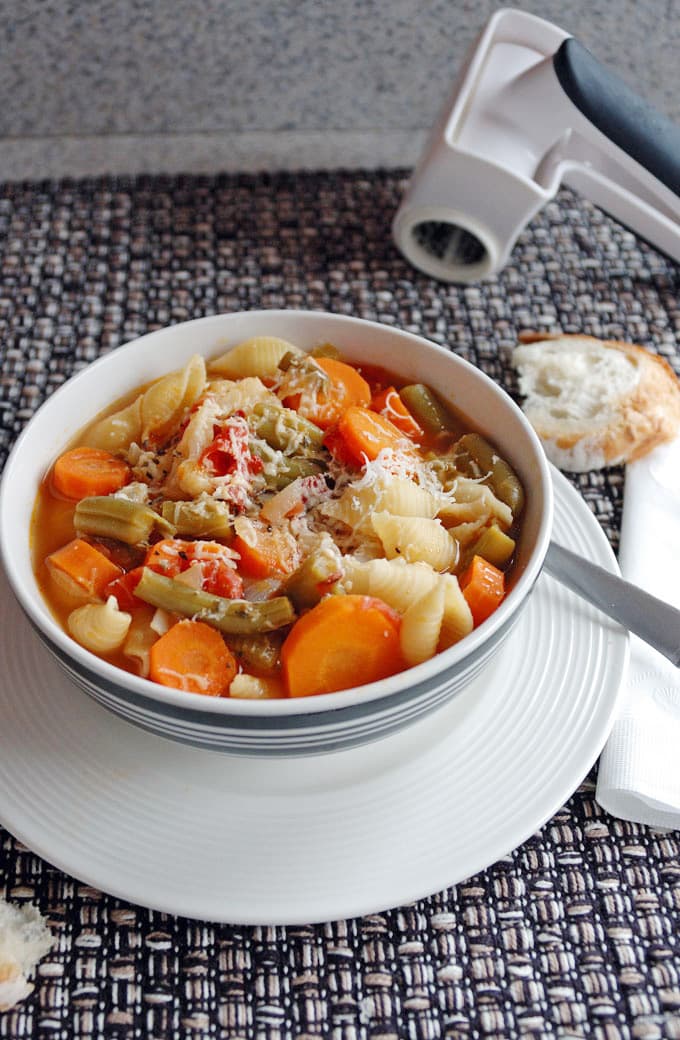 As for my birthday, I've reached the somewhat unremarkable age of 47. It strikes me as a number I'll have a hard time remembering.
It certainly doesn't share the status of 40, 45 or the big 5-0. But for reference, I'm the same age as Jennifer Aniston and J-Lo.
Except, they have stylists. And cool clothes. I'm stuck with the Petites department at Macy's.
But hey, I forgot to wear my wedding ring while running errands recently, and a balding postal clerk called me "Sweetheart." So, I've got that goin' for me.
More Italian soup recipes
Enjoy!
(Recipe Source: Cooking with Mamma C)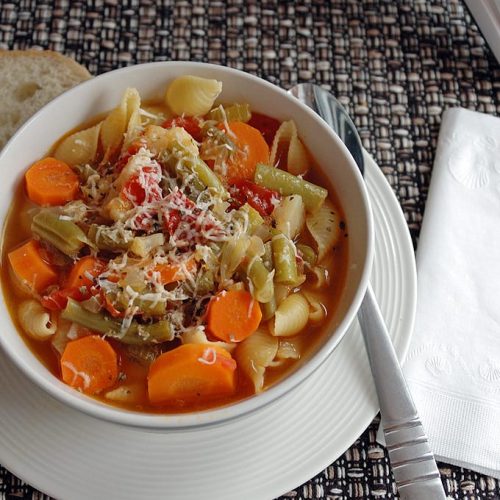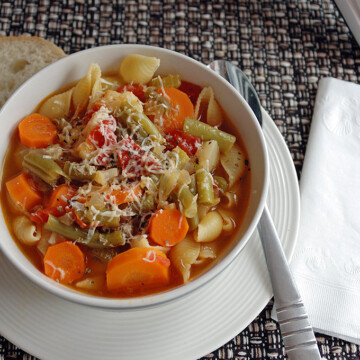 Ingredients
1

medium yellow or white onion

1

pound

carrots

2

stalks celery

3

Tablespoons

olive oil

1

14.4-ounce bag frozen cauliflower florets

1

16-ounce bag frozen cut green beans

1

15-ounce can great northern or cannellini beans

(drained & rinsed)

1

14.5-ounce can fire-roasted diced tomatoes

2

quarts

chicken stock

(or vegetable stock)

1

bay leaf

½

teaspoon

crushed red pepper flakes

(or to taste)

⅓

teaspoon

salt

⅓

teaspoon

pepper

⅓

teaspoon

garlic powder

3-4

dashes Liquid Smoke

(optional)

1

Romano cheese rind

(plus grated Romano for serving)

1

pound

small pasta shells

(or ditalini)
Instructions
Peel and chop your onion and set it aside. Rinse your celery, trim off the ends, and dice the celery. Set it aside with the onions. Rinse your carrots, peel them, trim off the ends, and slice the carrots into coins about ⅓-inch thick.

In a tall soup pot, heat your olive oil on medium-high. Add the onions, celery and carrots, and stir to combine. Let the veggies cook for five minutes, or until the onions are starting to soften. Add the frozen cauliflower and green beans to the pot, give them a stir, and cook for another five minutes. Add your beans and fire-roasted tomatoes, then the stock, bay leaf, seasonings and Liquid Smoke. (The beans added early will cook down until almost invisible, so if you prefer them intact, add the beans to the soup later, during the last several minutes of cooking.)

Cut off the rind from a triangle of Romano cheese and add it to the pot. Stir the soup and let it cook on medium high, covered, until it boils, then lower it slightly. Let the soup cook for 30 minutes, with the lid propped open by a wooden spoon.

As soon as you add in your Romano rind, you can start getting your pasta ready. Fill a pasta pot just over half-way full with hot water, add salt, and cover the pot. Heat it on high until it comes to a boil. Stir in the pasta and cook, uncovered, until it's al dente, stirring occasionally to prevent sticking. When the pasta is done, drain it in a colander in the sink and return the pasta to your cooking pot. Ladle some soup broth into your pasta to prevent it from sticking. Turn off the soup when it's done.

To serve the minestrone, ladle some pasta into each bowl and add the soup over it. Sprinkle generously with grated Romano or Parmesan. Store the soup for four days in the refrigerator (separately from the pasta) or freeze it for later.
Nutrition
Calories:
478
kcal
|
Carbohydrates:
77
g
|
Protein:
21
g
|
Fat:
9
g
|
Saturated Fat:
1
g
|
Cholesterol:
7
mg
|
Sodium:
589
mg
|
Potassium:
1082
mg
|
Fiber:
10
g
|
Sugar:
12
g
|
Vitamin A:
10160
IU
|
Vitamin C:
38.3
mg
|
Calcium:
130
mg
|
Iron:
3.7
mg