This smoky Mediterranean Lentil Soup is so delicious and good for you! It's a hearty, meatless meal, and you can easily make this vegetarian or vegan. It's ready in under an hour, but you can cook it longer for a lentil stew.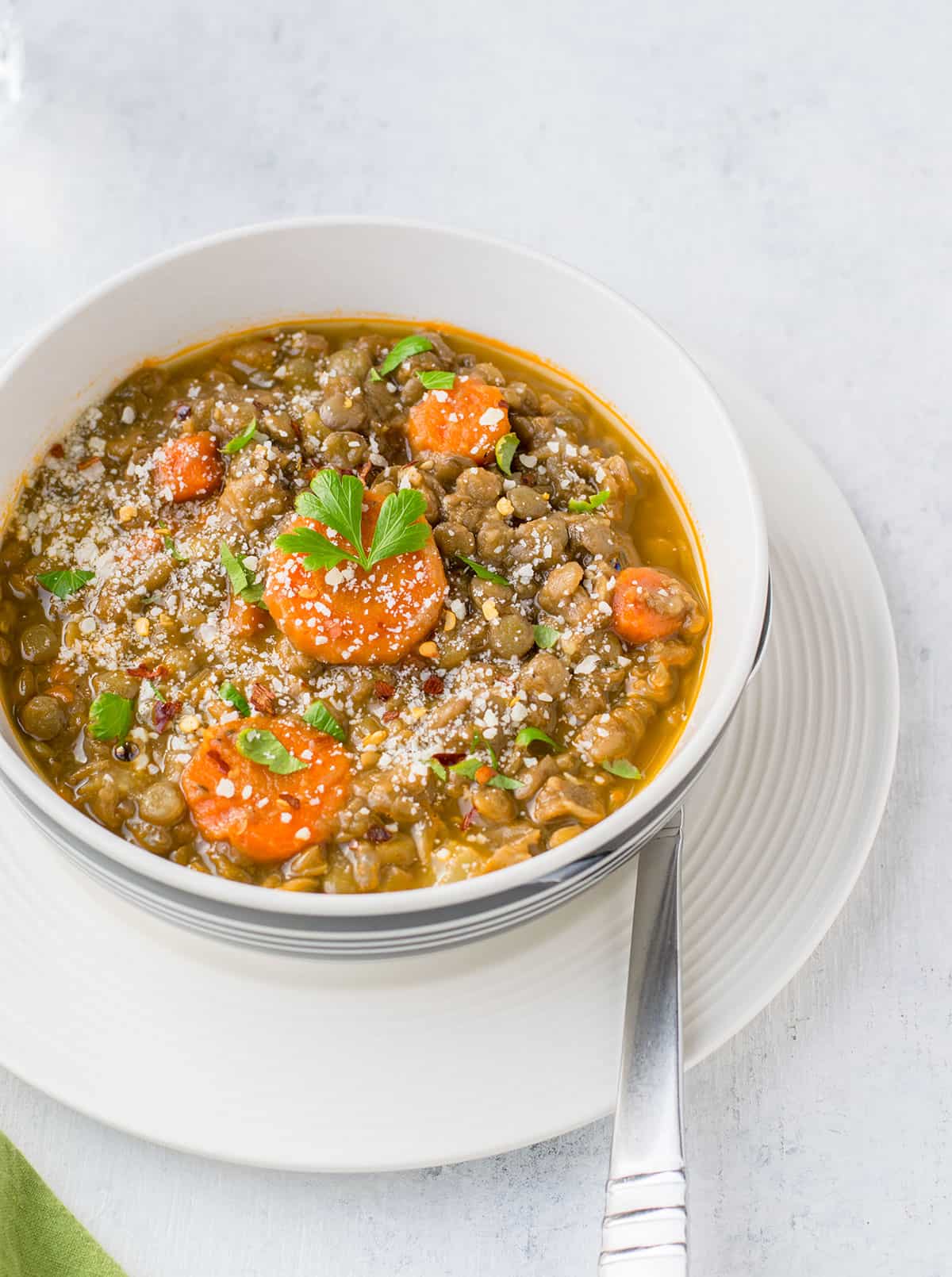 Did you know Italians eat lentils on New Year's Eve for good luck? The legumes resemble the shape of old Roman coins, so they're thought to bring wealth and prosperity.
Hmmm...it's worth a try, right?!!
Even if you're not Italian or superstitious, this Mediterranean Lentil Soup is a delicious, healthy option all year long. You can even make it as a stew if you prefer.
My version is similar to an Italian lentil soup recipe, but with a smoky accent. Yum!
It's gluten-free, meatless and perfect for a Lenten meal. It can be made vegetarian or even vegan with minor adjustments, so it's my go-to dish to serve to anyone who doesn't eat meat.
It's hearty, comforting and excellent for meal prep. Let's get to it!
Recipe ingredients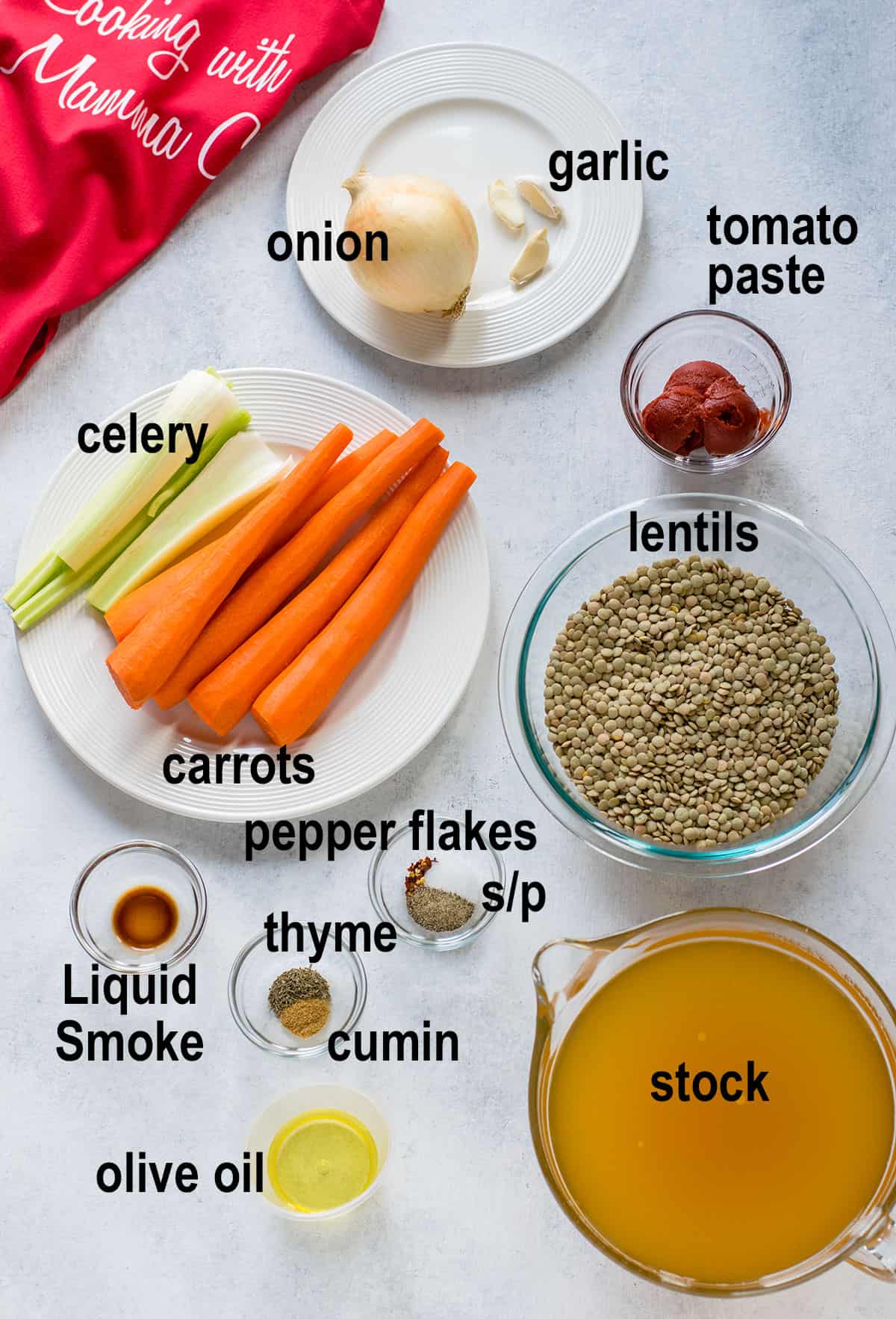 Lentils: Use green or brown lentils here, because they'll retain their shape during cooking. Red or yellow lentils will become mushy quickly and won't hold up for the amount of time needed to make this soup (or stew).
You don't need to soak the lentils before cooking them. Simply rinse them first in a fine-mesh strainer (affiliate link) and sift through them with your fingers to find any debris to remove.
Stock: This is delicious with either chicken stock or veggie stock. For a vegetarian lentil soup (or vegan), use vegetable stock.
If you only have broth instead of stock, you could use it in a pinch, but it won't be as flavorful.
Onion: Use a yellow onion for the strongest flavor. If you don't have a yellow onion, go with red. You could substitute a white onion for milder flavor.
Cumin: This warm, earthy spice brings a Mediterranean flair to our lentil soup. You can skip it if you want to make a traditional Italian lentil soup.
Liquid Smoke: This is optional, but I use it for a smoky lentil soup. It provides a wonderful, smoky flavor without using bacon.
Look for a small bottle near the condiments at the grocery store or purchase it online (affiliate link). I use the hickory one, and it's the same product I use in my Italian Minestrone Soup.
How to make lentil soup
See the recipe card at the end of this post for full instructions, but here's an overview.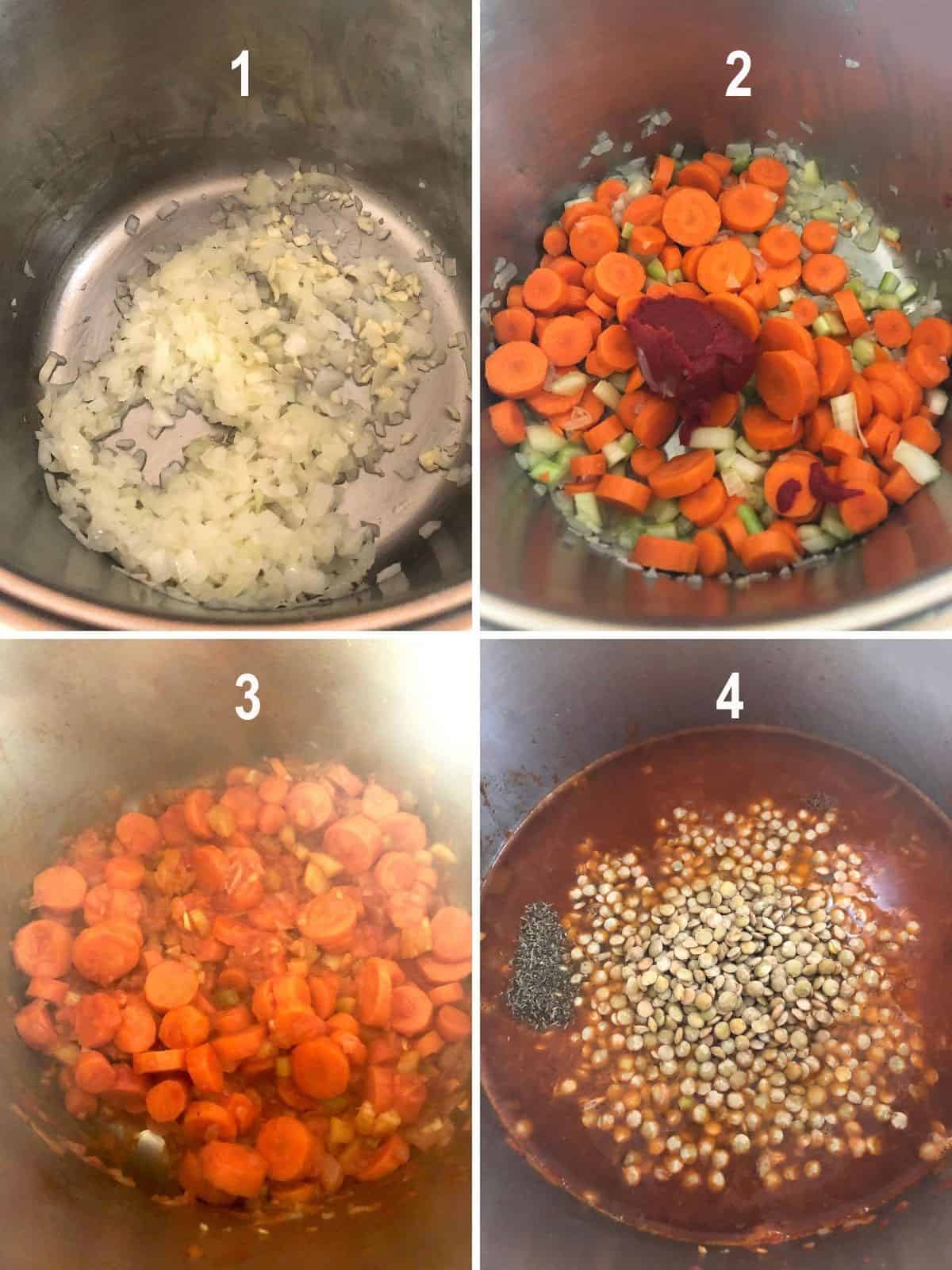 Sauté the onions and garlic in olive oil.
When the onions are cooked down, add the carrots, celery and tomato paste.
Cook the vegetable mixture for 10 minutes.
Add the stock, lentils, seasonings and Liquid Smoke. Cook for 30-45 minutes, until the lentils are done to your liking.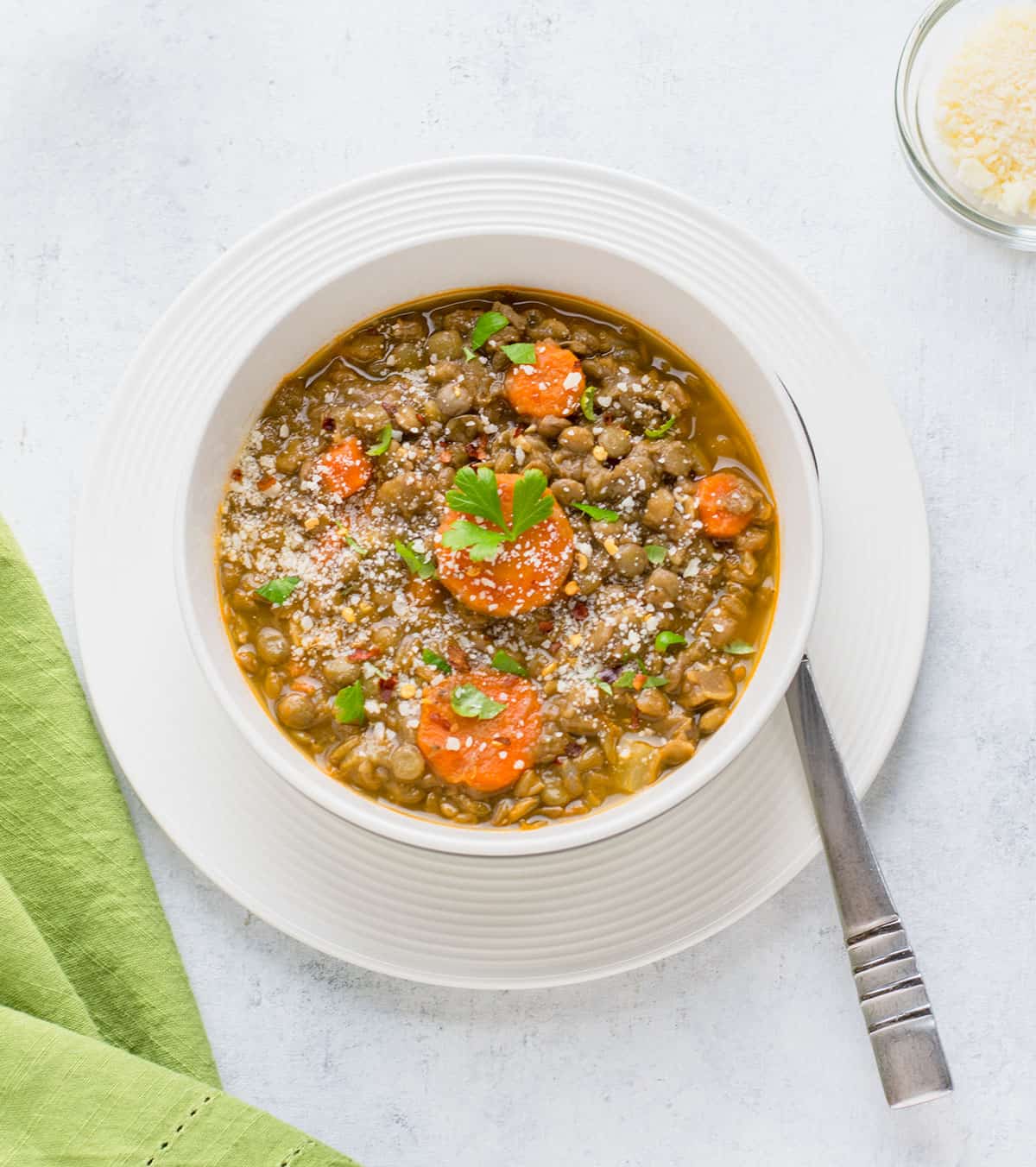 Making lentil stew instead of soup
To make lentil stew, cook the soup longer, so the liquid is mostly absorbed and the lentils are softer. I cook mine for about 1 hour and 15 minutes.
You'll wind up with an intensely flavorful stew. You can drizzle on some olive oil before serving, to provide some moisture and another layer of flavor.
Sprinkle on some fresh Parmesan, and wow. Just wow!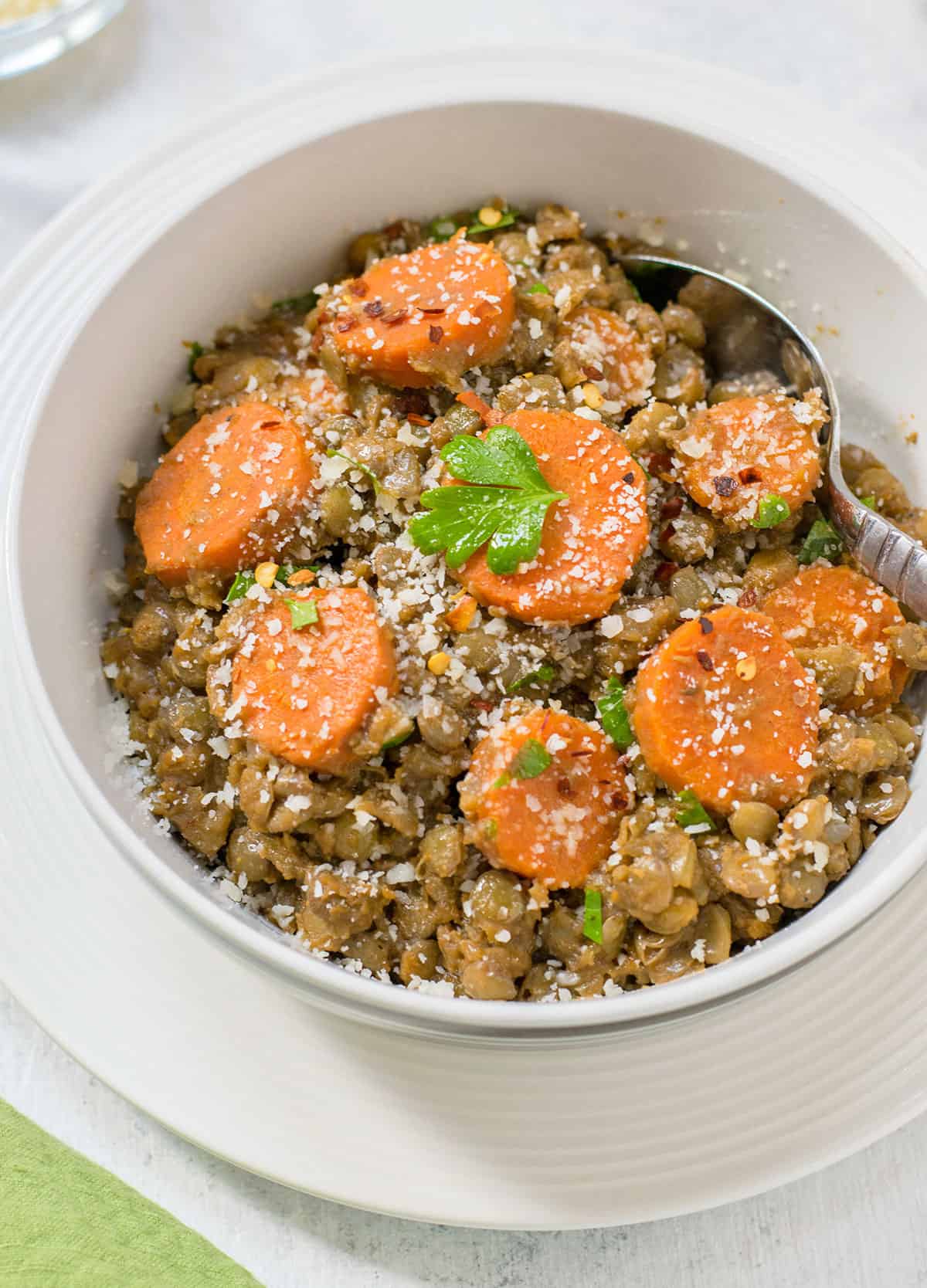 Recipe tips
Cooking the onions until they're almost starting to brown provides tremendous flavor!
If you need this to be a vegan lentil soup or stew, use vegetable stock and don't add any Parmesan on top.
If you have extra tomato paste left over, you can freeze it. Wrap 2-3 tablespoons of it at a time in plastic wrap and place the little packets in a freezer bag. There is no need to thaw it before cooking with it.
Nutrition information
When using chicken stock, each serving of this Mediterranean Lentil Soup has an estimated 493 calories, 29 grams of protein and 68 grams of carbs.
When using vegetable stock, each serving has an estimated 395 calories, 21 grams of protein and 61 grams of carbs.
The recipe card at the end of this post contains more details about the nutrition per serving.
What to serve with it
This homemade lentil soup is a meal in itself, but feel free to serve it with The Best Italian Green Salad and a hunk of Homemade Italian Bread. Baked Parmesan Crisps also would be fabulous tucked inside each bowl!
When I make this for a holiday buffet as a vegan option, it goes really well with menu items for meat-eaters, such as Super Easy Slow Cooker BBQ Ribs or Slow Cooker Carolina Pulled Pork. And, the meat-eaters love the Mediterranean Lentil Soup too!

Frequently asked questions
Is lentil soup healthy?
Yes! Lentils are a great source of protein, fiber, iron, folate, potassium and minerals. According to WebMD, green lentils are the healthiest kind.

Additionally, the carrots in this lentil soup make it a great source of Vitamin A.
How long does lentil soup last?
It will keep for up to four days in the refrigerator. Lentil soup also freezes very well. Just make sure you've allowed it to cool completely before freezing it.
More soups and stews to love
Enjoy!
If you make this Mediterranean Lentil Soup (or Stew) recipe, be sure to leave a rating and comment!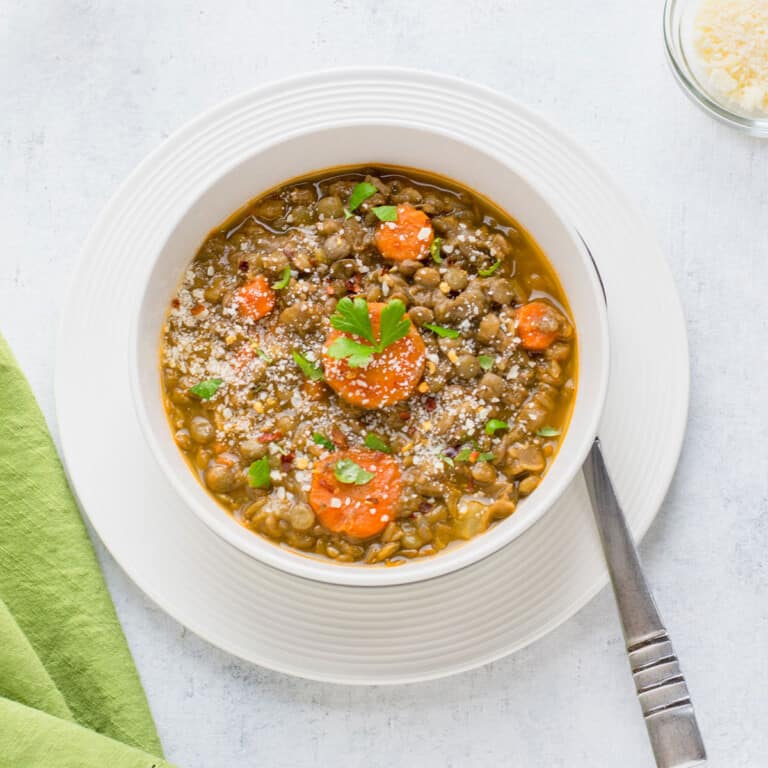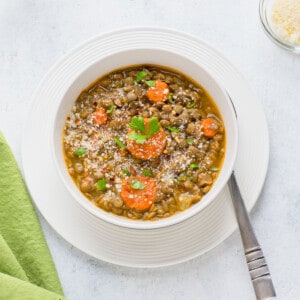 Mediterranean Lentil Soup (or Stew)
Hearty, comforting & intensely flavorful, this smoky Mediterranean Lentil Soup is a delicious meal that's good for you.
Print
Pin
Rate
Save
Go to Collections
Ingredients
1

pound

lentils

(green or brown)

3

tablespoons

olive oil

(plus extra to drizzle on each serving if desired)

1

large sweet onion

3

cloves

garlic

5-6

carrots

2

stalks celery

3

tablespoons

tomato paste

2

quarts

chicken stock

(or vegetable stock for a vegan or vegetarian version)

1

teaspoon

salt

½

teaspoon

black pepper

⅛

teaspoon

red pepper flakes

¼

teaspoon

Liquid Smoke

¼

teaspoon

cumin

¼

teaspoon

dried thyme

freshly grated Parmesan cheese for serving

(optional; omit for vegan version)
Instructions
Rinse the lentils in a fine-mesh strainer and see if there are any particles to remove. Peel and chop the onion and garlic. Heat olive oil on medium-high in a large pot and add the onion. After a couple of minutes, stir in the garlic. Cook until the onions are soft and almost starting to brown, lowering the heat a bit if needed.

While the onions and garlic are cooking, rinse and peel the carrots, chop off and discard the ends, and slice the carrots into ½-inch-thick coins. Wash the celery, trim off and discard the ends, and dice the celery (cut into small pieces).

When the onions are almost starting to brown, add the celery, carrots, and tomato paste to the pot and stir to combine. Cook for 10 minutes, adding a little of the chicken stock if the oil evaporates. Then add all of the chicken stock, salt, pepper, red pepper flakes, Liquid Smoke, cumin, thyme and lentils. Raise the heat and cover the pot until it boils.

When the pot is boiling, lower the heat and simmer uncovered for 30-45 minutes for lentil soup or up to one hour and 15 minutes for lentil stew. For soup, taste the lentils after 30 minutes to see if they're soft enough for your liking.

Serve with freshly grated Parmesan on top. Store leftovers in the refrigerator for up to four days. This freezes well.
Notes
Liquid Smoke provides great flavor without using bacon. It should be located near the other condiments in the grocery store.
The nutritional information listed is for making this with chicken stock. If using vegetable stock, each serving will have 395 calories, 61 grams of carbs and 21 grams of protein.
I store unused tomato paste in my freezer by placing a 2-3 tablespoons of it in plastic wrap and then putting those little packets in a freezer bag so they're ready for recipes like this one.
Nutrition
Calories:
493
kcal
|
Carbohydrates:
68
g
|
Protein:
29
g
|
Fat:
12
g
|
Saturated Fat:
2
g
|
Polyunsaturated Fat:
2
g
|
Monounsaturated Fat:
7
g
|
Cholesterol:
9
mg
|
Sodium:
958
mg
|
Potassium:
1408
mg
|
Fiber:
26
g
|
Sugar:
13
g
|
Vitamin A:
8730
IU
|
Vitamin C:
12
mg
|
Calcium:
93
mg
|
Iron:
7
mg
(Recipe Source: Cooking with Mamma C. Originally published on November 24, 2014 as "Smoky Lentil Stew" and updated now with new photos and title plus additional information.)