My Nonna's Sautéed Cod with Tomatoes is so delicious! Enjoy this easy fish recipe accented with garlic, olives and parsley.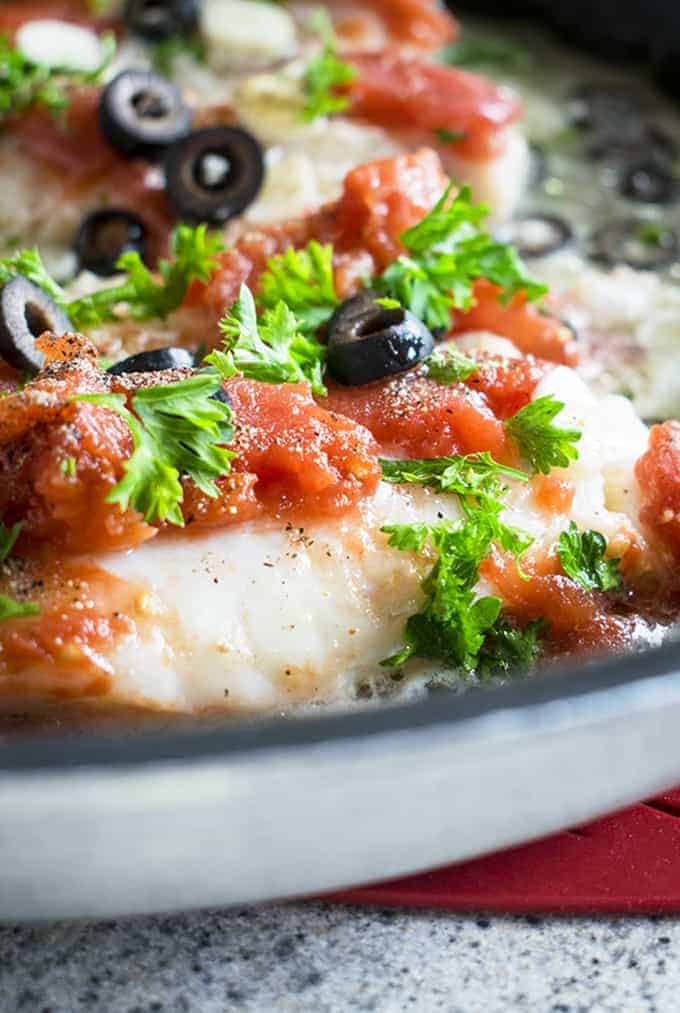 Every time I make this cod, it smells like Nonna's been cooking in my kitchen. And that makes me smile.
Nonna wasn't the typical grandmother. She had movie-star good looks, perfectly coiffed blonde hair, and nails painted red. She smoked cigarettes, told jokes, danced, and was the life of the party.
I simply adored her.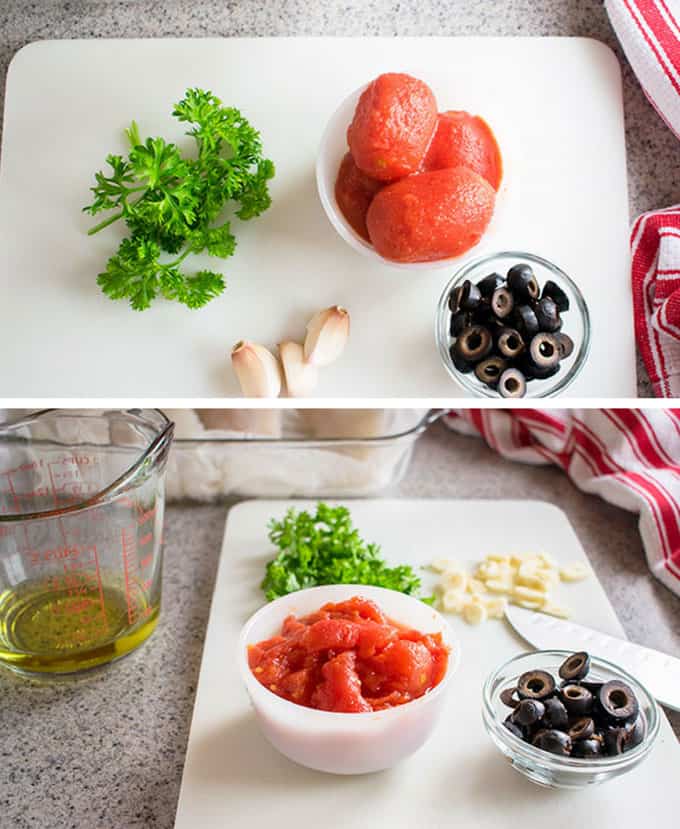 Nonna was my first roommate. She stayed with us about three nights a week when I was growing up, as she took turns visiting her daughters. She didn't drive, so there was no way to tell if she was over when my brother and I would arrive home from school.
But when Mom would answer the door and sing out, "Guess who's here!" we knew.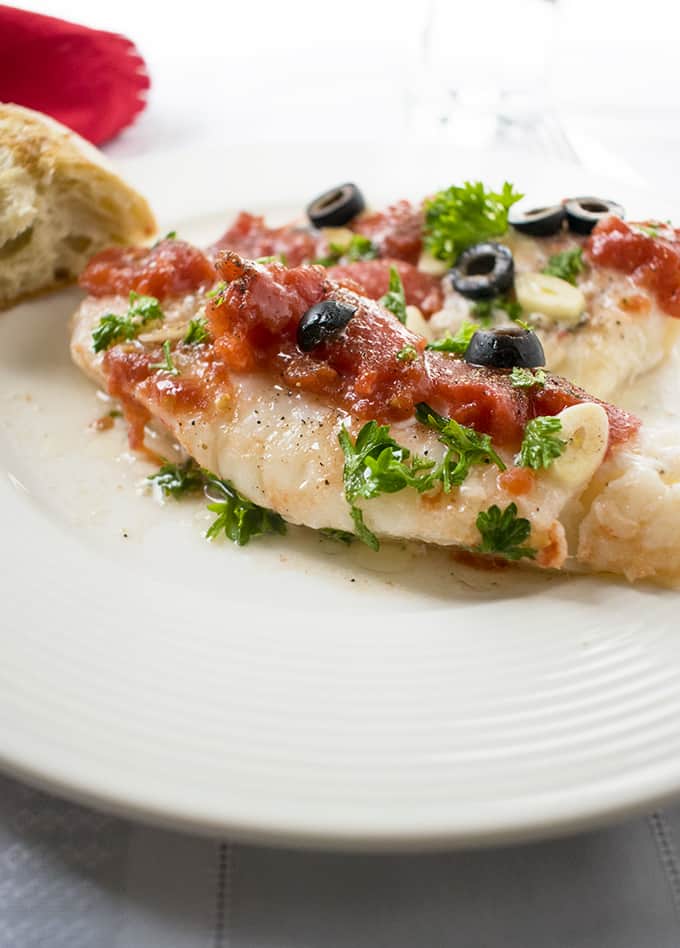 "NONNA!" we'd shout, throwing down our bags and kicking off our shoes so we could run into the family room to see her. We'd find her sitting on the carpet, leaning against the arm of the couch, watching General Hospital. (She called it "The Program," pronouncing it "prroh-grrom.")
Her whole face would light up when she saw us, the youngest of her 14 grandchildren. She'd outstretch her arms to envelope us in a hug as we'd lean over to shower her with kisses.
Then, we'd notice the scent of delicious food coming from the kitchen. Nonna was a fantastic cook, and always had dinner prepared early, believing that "The food has to wait for you," and not the other way around.
Nonna's sautéed cod with tomatoes was often waiting for us on the stove, especially if it was a Friday. Sometimes, she made this dish with halibut. It's best to use thick fish fillets, so the tomatoes have time to cook down.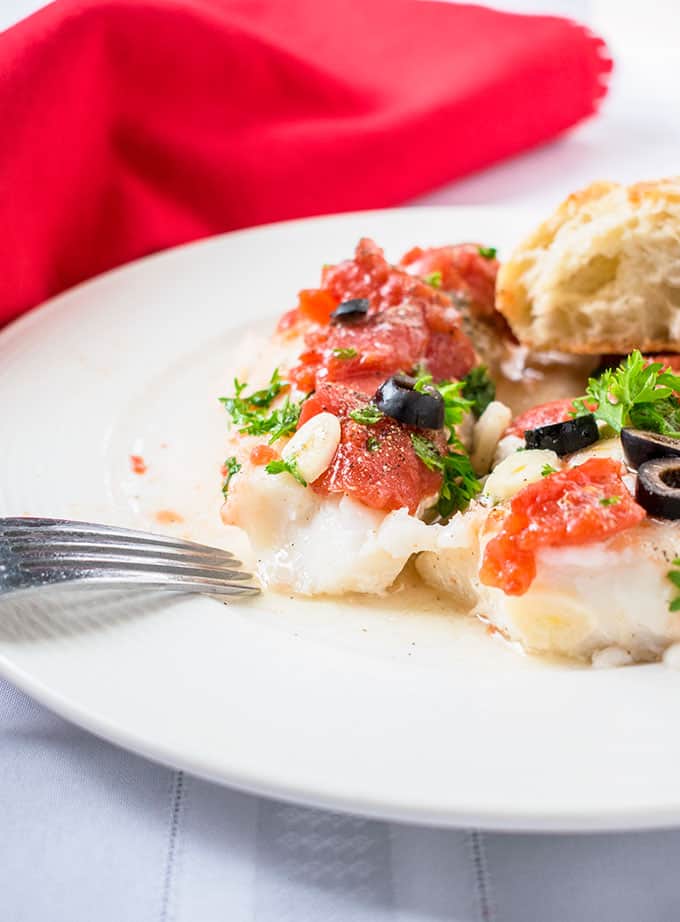 You can use fresh tomatoes or canned whole, peeled tomatoes. You'll top your cod with tomatoes, garlic, parsley, salt, pepper and olive oil, then let it cook on the stove for about 10 minutes. Add sliced olives, a little more parsley and salt to taste, and it'll be ready!
By the way, Nonna used lots of olive oil, but I'm calling for a more modest five tablespoons here. Use as much as you'd like, but don't forget some crusty bread to soak up the pan juices!
My kids have loved this dish since they were little, and that makes me so happy. I think up in heaven, it makes Nonna smile too.
More cod recipes
If you love cod, check out this keto Parmesan Baked Cod, Broiled Cod with Paprika, breaded cod, Pan-Fried Cod Fish, Baked Cod with Coffee Butter and Fried Baccalà (Salted Cod Fish)! Plus, here are all my tips on How to Cook Cod.
Enjoy!
(Recipe Source: Adapted from Nonna, who taught Mom to make this. Originally published July 22, 2014 as "Nonna's Fish with Tomatoes" and updated now with a new title, photos and added text.)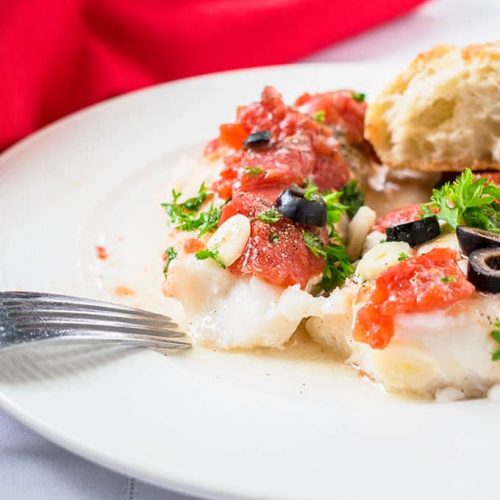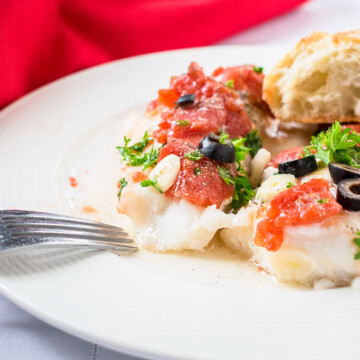 Ingredients
1 ½

pounds

fresh cod fillets

4

medium vine tomatoes

(fresh or picked from a can of peeled San Marzano tomatoes)

3

large cloves garlic

(peeled and sliced)

¼

teaspoon

black pepper

¼

teaspoon

salt

(plus more to taste, if needed)

3

tablespoons

chopped fresh parsley

(divided use)

1

ounce

sliced black olives

(drained & patted dry for garnish, optional)

¼

cup

+ 1 tablespoon olive oil
Instructions
Rinse the cod in cold water and remove any bones. Pat fish dry with a paper towel.

Rinse parsley and dry it before chopping the leaves. Set aside. Slice up the garlic.

If using fresh tomatoes, rinse, core, and peel them (optional). Cut the tomatoes into 1-inch wedges and remove the seeds. (If using canned tomatoes, just use four tomatoes from the can. Drain the juice and break the tomatoes into pieces with your hands.)

Heat a large, non-stick skillet on medium high. Add the cod and top with tomatoes, garlic, 2 tablespoons of parsley, pepper, and ¼ teaspoon salt. Pour olive oil on top and bring the pan to a boil.

When boiling, put the heat on low and cover the pan. Cook until the cod can be flaked with a fork. The cooking time will depend on the thickness of your fish, but start checking after 10 minutes of being covered. Do not flip the fish.

When the cod is just about done, add olives for the last minute of cooking. Garnish with a tablespoon of parsley and add any extra salt needed before serving.
Nutrition
Calories:
325
kcal
|
Carbohydrates:
6
g
|
Protein:
31
g
|
Fat:
19
g
|
Saturated Fat:
2
g
|
Cholesterol:
73
mg
|
Sodium:
356
mg
|
Potassium:
1019
mg
|
Fiber:
1
g
|
Sugar:
3
g
|
Vitamin A:
1375
IU
|
Vitamin C:
23.3
mg
|
Calcium:
51
mg
|
Iron:
1.3
mg