Fried Baccalà (Salted Cod Fish) is a Christmas Eve tradition for many Italians! Learn how to prepare this fried salt cod (baccala fritto) with a simple, delicious batter.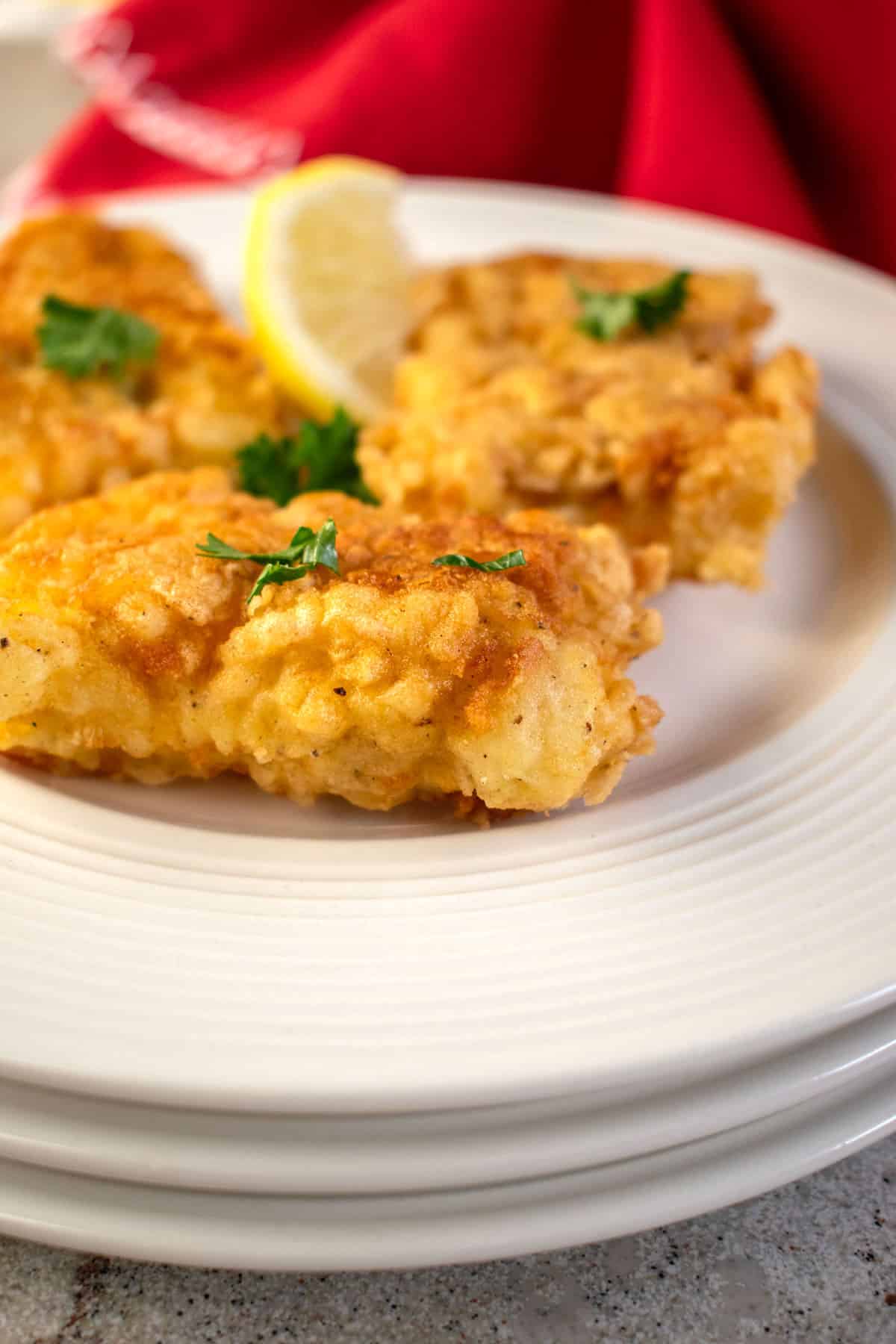 Have you heard of baccalà? In many Italian families, Christmas Eve isn't complete without this special cod fish.
It's a tradition so old, it dates back to the days of no refrigeration. A time when salt was used to preserve food.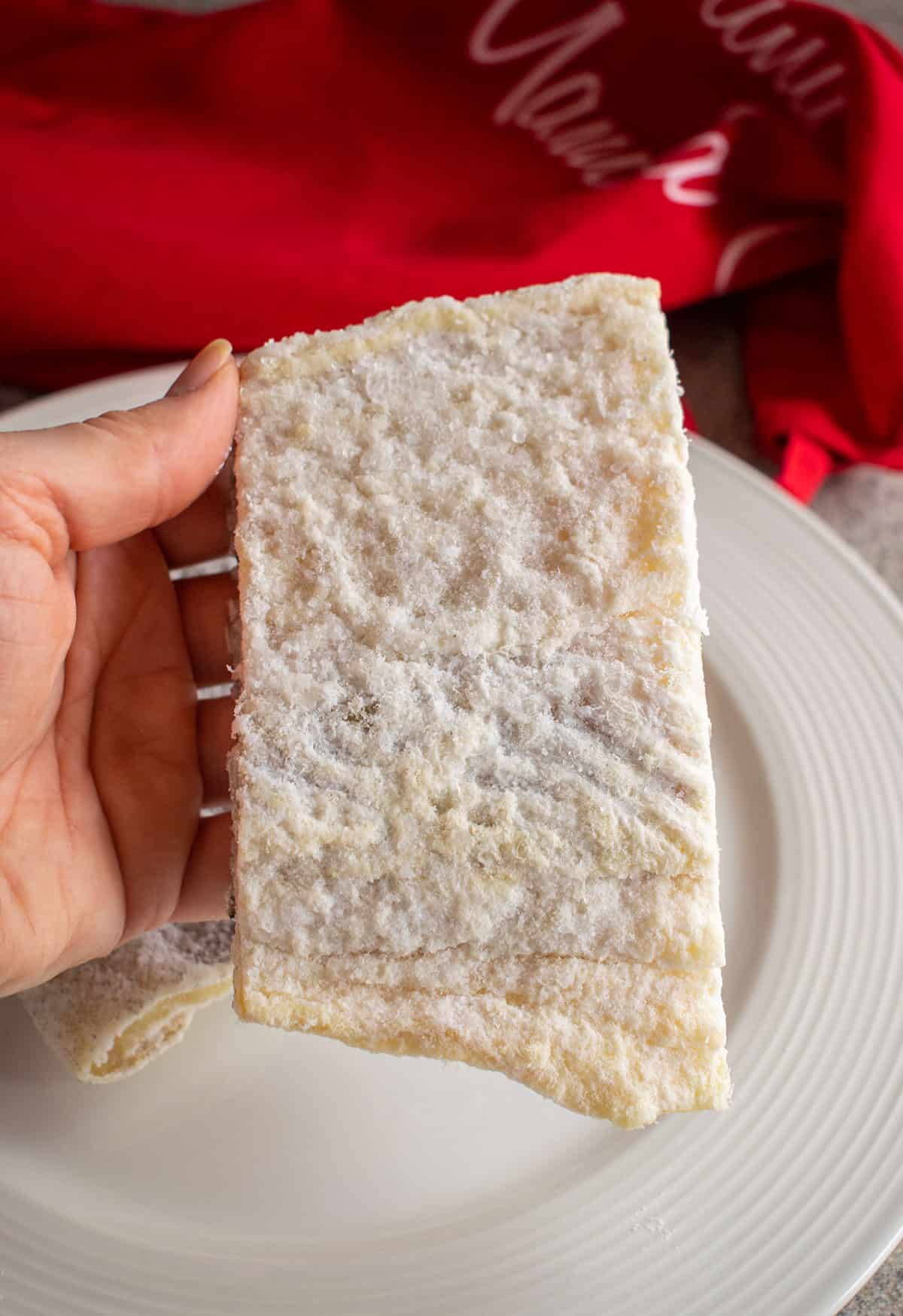 That's why baccalà (or bacalao in Spanish) is sold dried and salted. Many grocery stores carry it each December, so eager Italians (and other fish fans) can bring it home and begin the age-old process of rehydrating the cod.
This involves soaking the baccalà in water for 3-4 days, changing the water 2-3 times a day to desalt it. It's a relatively painless labor of love.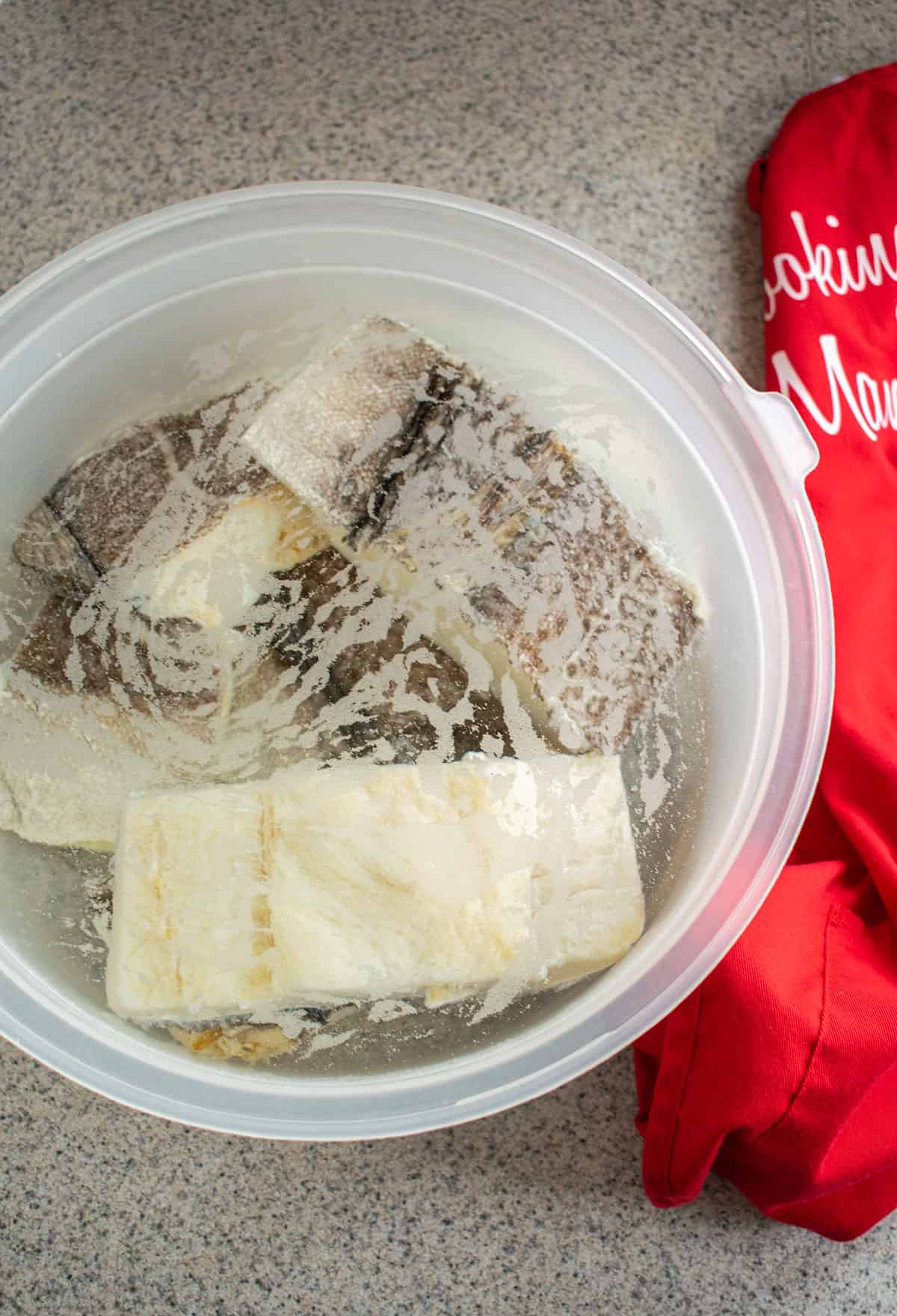 My hubby's family, hailing from Calabria, includes baccalà every year as part of its Feast of the Seven Fishes on Christmas Eve.
So, when I learned Norway is one of the largest sources of baccalà in the world, I was excited to partner with the Norwegian Seafood Council to make salt cod.
I'm so glad I did! This baccalà is delicious.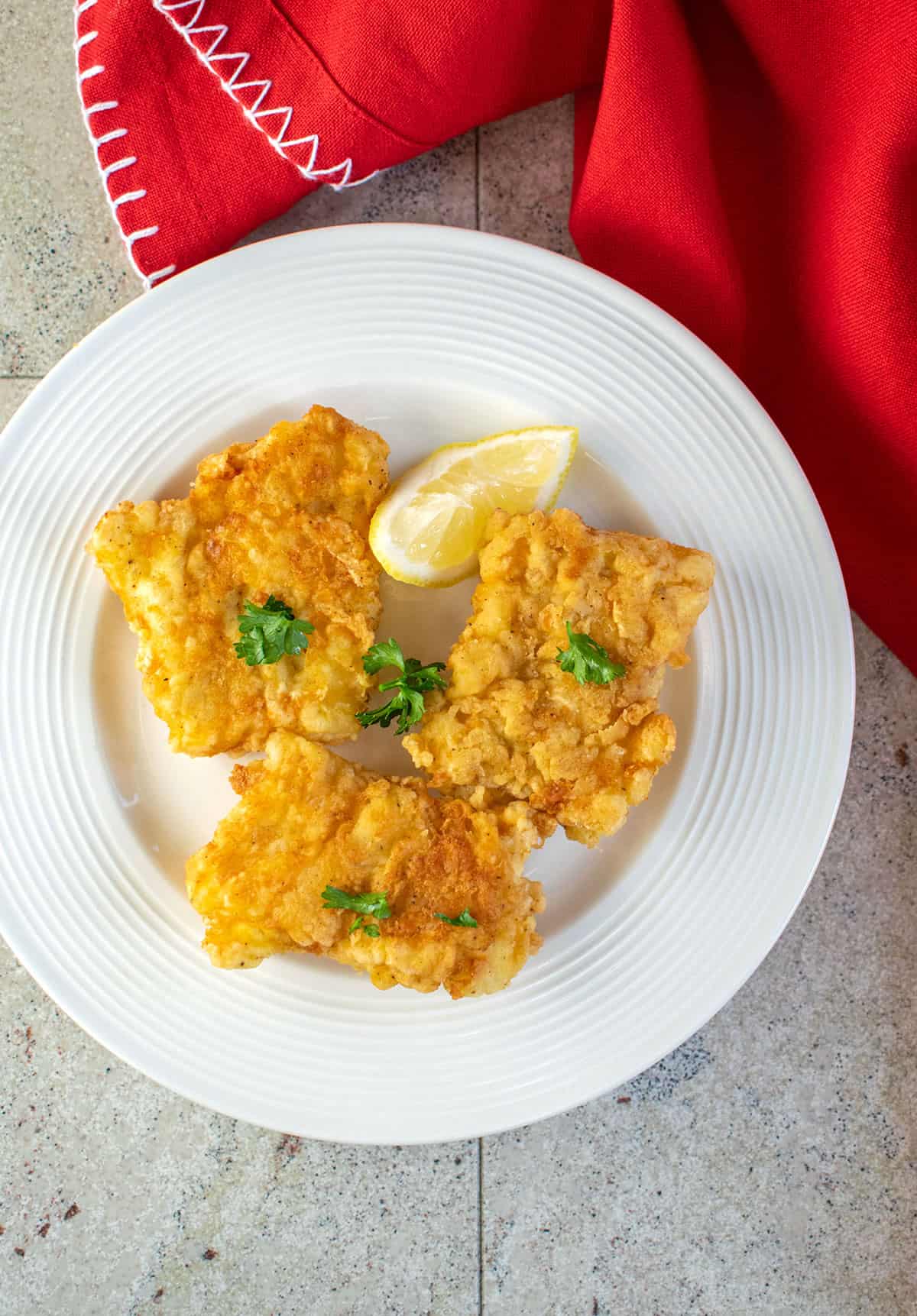 Recipe ingredients
Like my wildly popular fried cod, this pan-fried baccalà features a simple batter of seasoned flour and beaten eggs. But we're not adding any salt here, since the fish is pleasantly salty already.
See the full recipe card at the end of this post but you'll need:
Rehydrated salted cod fish
Eggs
Flour
Black pepper
Oil for frying: Use cooking oil with a high smoke point, such as canola or avocado oil. Don't use olive oil, which will burn during frying.
Lemon: Squeezing on fresh lemon juice before serving adds the perfect touch!
How to make fried baccalà
See the card at the end of this post for the full recipe, but here's an overview.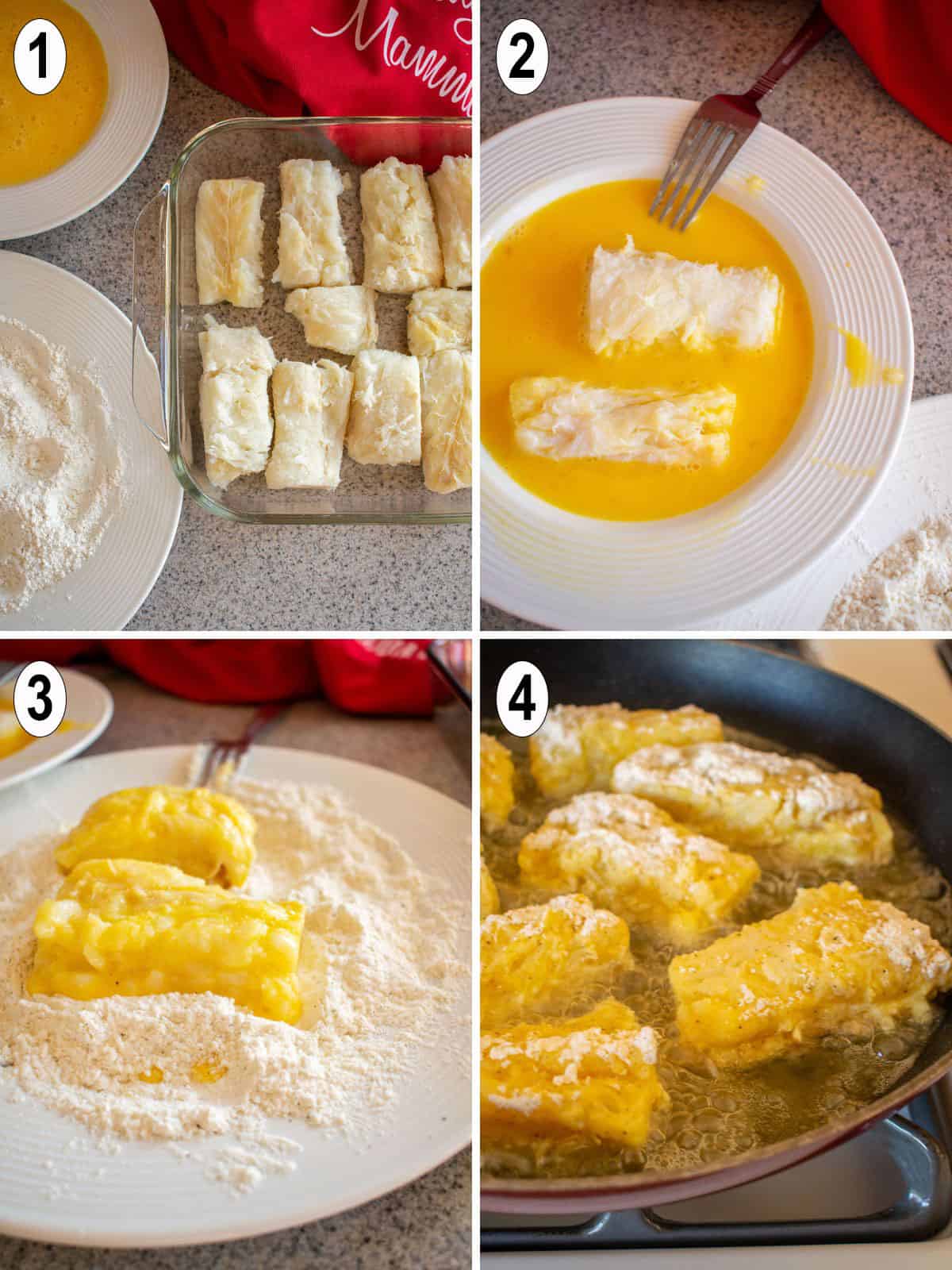 Cut the rehydrated cod into serving pieces.
Dip the fish into beaten eggs.
Dredge the baccalà in seasoned flour.
Fry the cod in a pan of sizzling oil until golden brown on both sides.
Recipe tips
The longer you soak the baccalà and change the water, the milder and less salty the cod fish will become. I find that four days is perfect, but some people only soak it for 2-3 days.
Make sure the oil is sizzling hot before starting to fry. It should measure 350 degrees F, if you have an instant thermometer (affiliate link).
Don't move the cod until it's time to flip it over. This will prevent the batter from peeling off.
To prevent sogginess, when the fish is done, place each piece on a cooling rack (affiliate link) positioned over paper towels to drain.
How to serve it
We love this fried, salted cod drizzled with lemon juice. It's also delicious dipped in basil mayo.
Add it to your Italian Christmas Eve feast with calamari fritti, fried jumbo shrimp and broiled scallops. Serve it with a side of garlic broccoli rabe and sautéed escarole.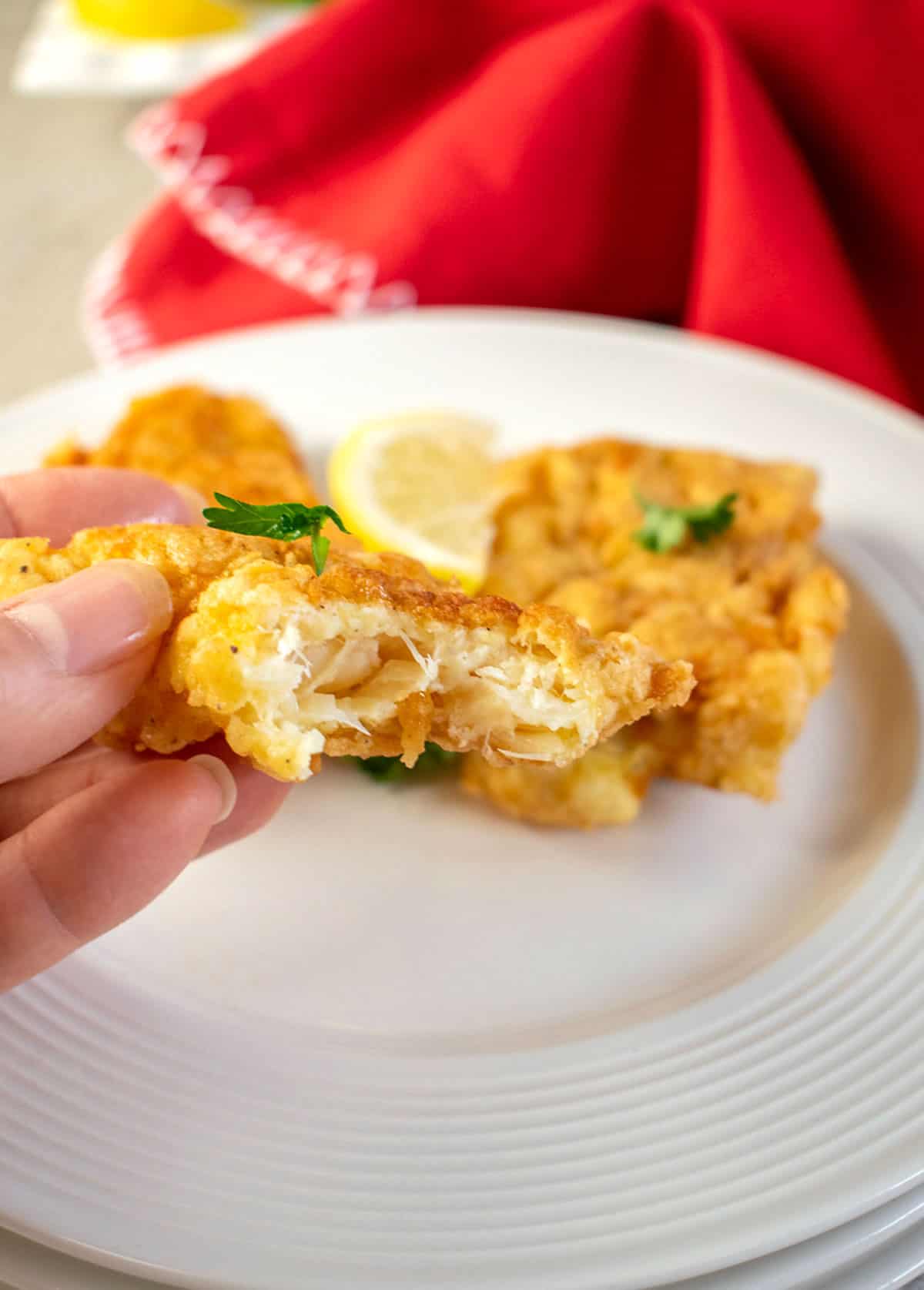 Frequently asked questions
Where can you buy baccalà?
Look for salted cod fish in grocery stores in December. You can call ahead to ask someone in the fish department if it's available. You also can check seafood markets.
How long does salted cod last?
Dried, salted cod that isn't flexible should be stored in a cool, dry place and will stay for 18-24 months. Once you start desalting the cod by soaking it and changing the water, keep it in the refrigerator and use it within four days.
Can you freeze fried baccalà?
Fried cod tends to get soggy when frozen and reheated. I recommend refrigerating the leftovers and using them within three days.

If you have a toaster oven or air fryer, use it to reheat the fried baccalà so it will be crispy. A microwave will make the fish soft.
More cod recipes to enjoy
Cod is my favorite fish! I love this buttery cod with Parmesan and these Pan-Seared Cod Loins.
You also have to try this Skillet Cod With Tomatoes and deep-fried Beer-Battered Cod. And don't miss:
Enjoy!
If you try this Fried Baccalà recipe, please leave a comment and a rating!
(This post was sponsored by the Norwegian Seafood Council. All opinions are my own. Visit fromnorway.com to learn more.)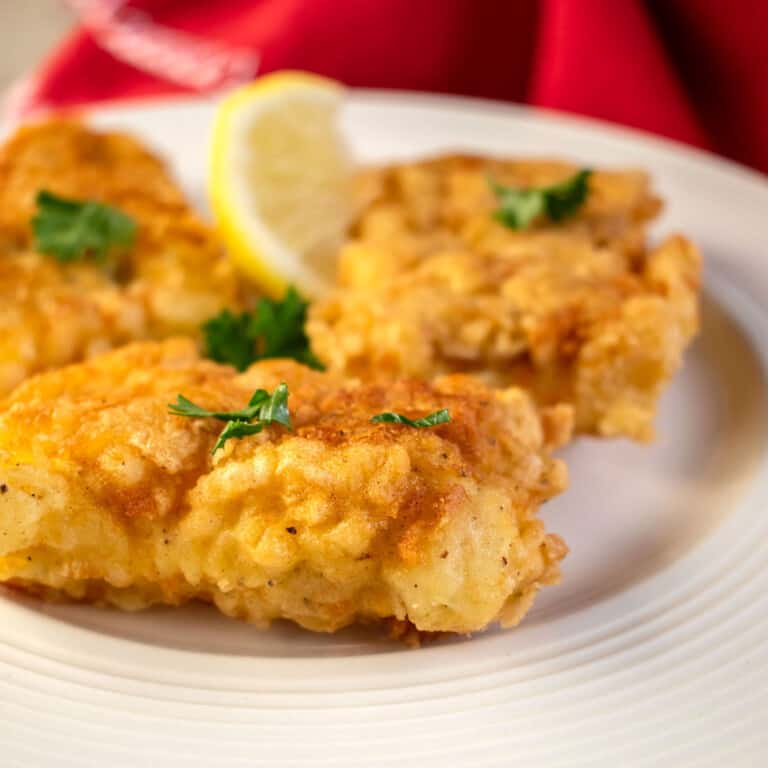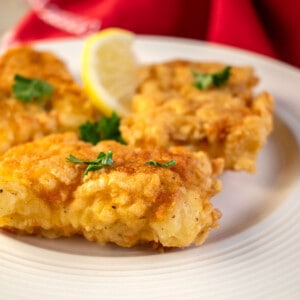 Fried Baccalà (Salted Cod Fish)
Fried Baccalà is a Christmas Eve tradition for many Italians! Note, you'll need to soak the cod for four days before starting this recipe.
Print
Pin
Rate
Save
Go to Collections
Ingredients
2

pounds

baccalà

(skin and bones removed; see notes)

2

extra-large eggs

(beaten)

¾

cup

all-purpose flour

⅓

teaspoon

black pepper

1 ½

cups

avocado oil

(or canola oil; see notes)

Lemon wedges for serving
Instructions
When you bring the dried baccalà home from the store, rinse it to remove some of the salt. Place the baccalà pieces in a large bowl and add enough cold water to cover the fish by at least two inches. Refrigerate it for four days, changing the water every 8 hours, 2-3 times a day. (See notes.)

When you're ready to cook the skinned and deboned baccalà, rinse it and pat it dry with paper towels or a lint-free kitchen towel.

Use kitchen scissors to cut the fish into smaller pieces 3-to-5 inches long and 2 or 3 inches wide.

Beat the eggs in a shallow bowl. Add the flour to a dinner plate and stir in the black pepper.

Set up an assembly line from left to right with the baccalà, the beaten eggs, the flour and a large platter or pan to hold the fish.

Dip each piece of cod in the eggs, letting the excess drip off. Then, place the baccalà in the flour, patting on the flour with the back of a fork. Flip the fish and flour the other side. Let any excess flour fall off and add the fish to your platter in a single layer.

Add the avocado oil (or canola) to a 12-inch frying pan and heat it on medium- high. When the oil temperature reaches 350 degrees F (test it with an instant thermometer or just wait until it's starting to ripple), add about half the baccalà to the pan in a single layer. (You will need to fry it in two batches.)

Fry the first side for 3-4 minutes (or less for thin pieces). Flip over the fish and fry the second side for another 3-4 minutes (or just 2 minutes for thin pieces). It's a good idea to remove a thick piece to a plate and cut it open to see if it's done. The fish should flake easily and not look shiny.

Place the fried baccalà on a cooling rack positioned over paper towels to drain. (This prevents sogginess.) If you don't have a cooling rack, you can drain the baccalà on a platter lined with paper towels.

Squeeze lemon juice onto the baccalà and serve immediately for the crispiest texture.

Store leftovers in the refrigerator for up to three days. Leftovers are delicious reheated in a toaster oven or slightly warmed in the microwave and served with mayo, or in a sandwich.
Notes
Some people only soak the salted cod for 2-3 days, but it can still taste quite salty. I find soaking it for four days makes it taste mild with the perfect level of salty flavor.
Some grocery stores sell the baccalà already skinned and deboned. If the baccalà you buy still has the skin and bones, wait until you've soaked the fish for four days before removing them.
Peel the skin off with your hands. Rub your thumbs all over the fish to feel for the bones. Use kitchen scissors to cut the flesh along each side of the bone, then pull out the bone with your fingertips or tweezers. It's easier to find the bones once the fish is cut into smaller serving pieces.
You need to use cooking oil with a high smoke point for frying the fish. Olive oil is not recommended for frying. Avocado oil is a healthy choice and lends great flavor.
Nutrition
Calories:
399
kcal
|
Carbohydrates:
9
g
|
Protein:
73
g
|
Fat:
5
g
|
Saturated Fat:
1
g
|
Cholesterol:
213
mg
|
Sodium:
265
mg
|
Potassium:
1681
mg
|
Vitamin A:
220
IU
|
Vitamin C:
4
mg
|
Calcium:
189
mg
|
Iron:
3.6
mg
(Recipe source: Cooking with Mamma C. Originally published on December 19, 2018 and updated now with additional information.)