Fried Baccalà (Salted Cod Fish) is a Christmas Eve tradition for many Italians! Learn how to prepare this pan-fried salted cod with a simple, delicious batter. It's one of my best fish recipes!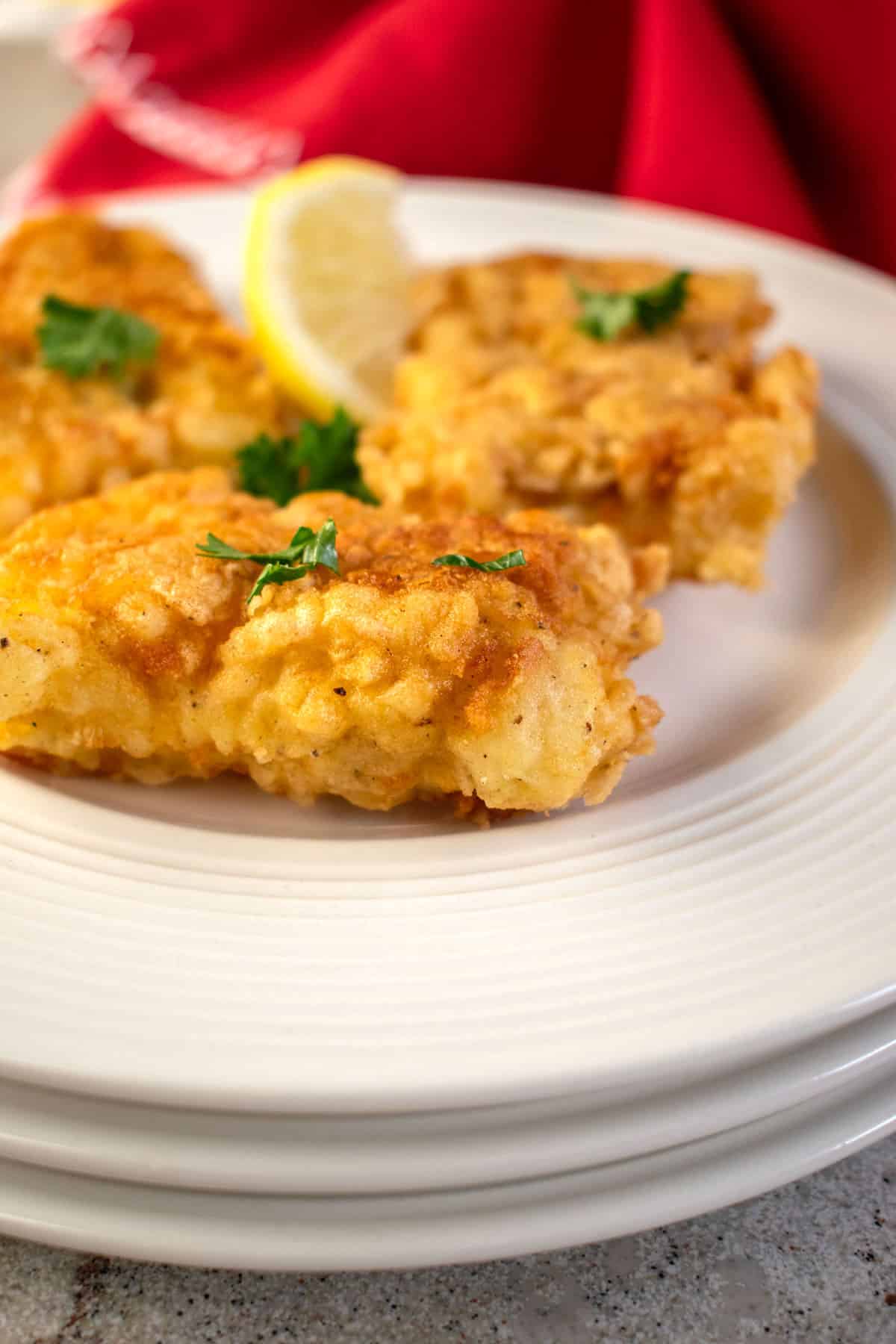 (This post is sponsored by the Norwegian Seafood Council. All opinions are my own.)
Have you heard of baccalà? In many Italian families, Christmas Eve isn't complete without this special cod fish.
It's a tradition so old, it dates back to the days of no refrigeration. A time when salt was used to preserve food.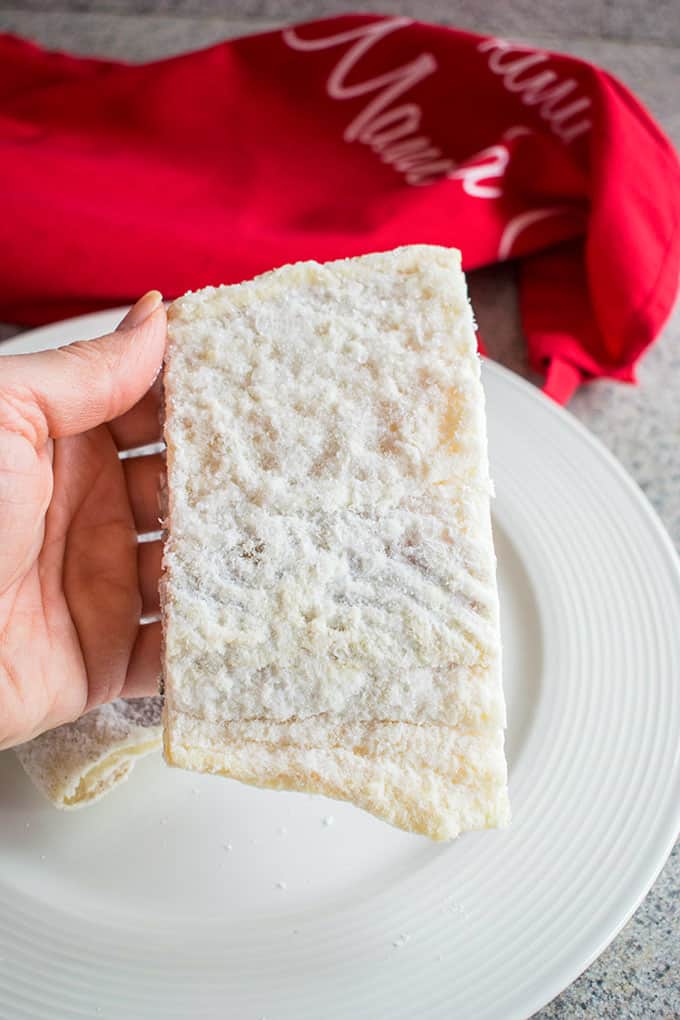 That's why baccalà is sold frozen, dried and salted. Many grocery stores carry it each December, so eager Italians (and other fish fans) can bring it home and begin the age-old process of rehydrating the cod.
This involves soaking the baccalà in water for about four days, changing the water 2-3 times a day to desalt it. It's a relatively painless labor of love, one that I've now embraced after a decades-long avoidance of baccalà.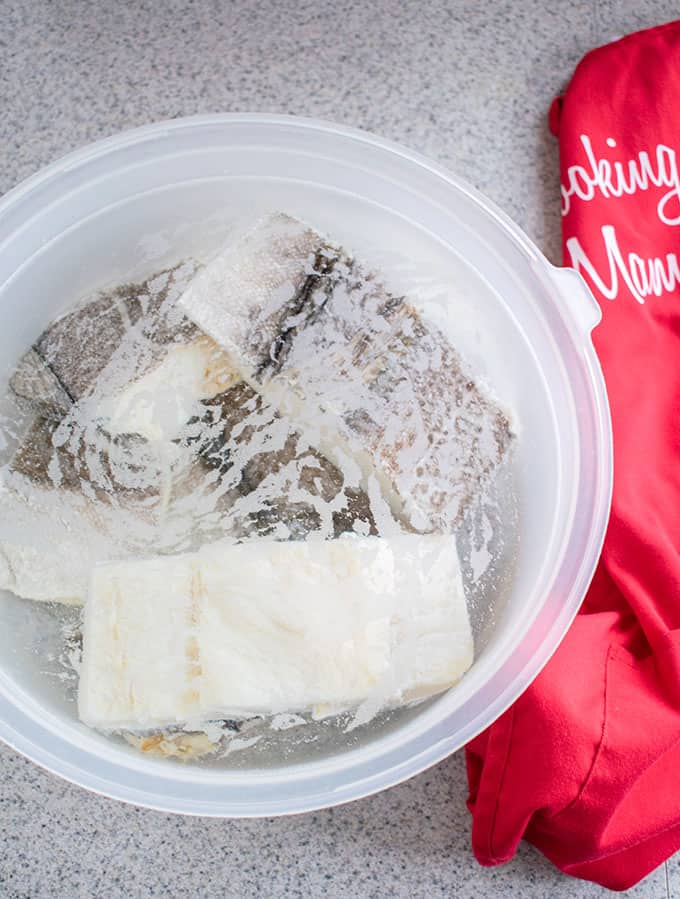 You see, my hubby's family, hailing from Calabria, includes baccalà every year as part of its Feast of the Seven Fishes on Christmas Eve.
I'd never heard of baccalà, since my family from Naples never makes it. Our Christmas Eve feast includes octopus, calamari and shrimp.
So, a long time ago, as a young twenty-something, I nervously took a bite of baccalà and decided I didn't care for it.
Maybe the piece I tried was too salty. Or maybe I was too stuffed with pasta to enjoy it.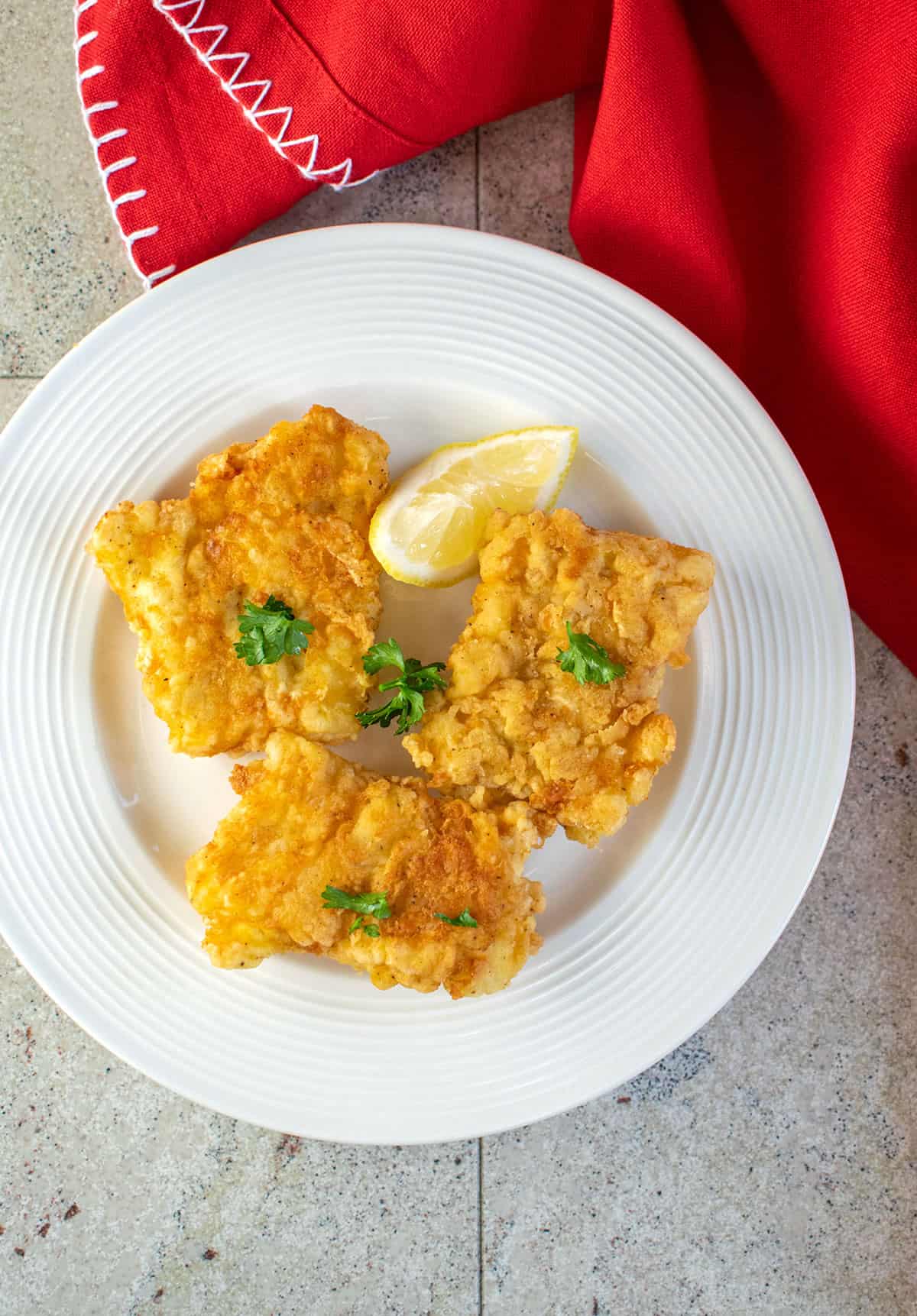 Anyway, I decide cod wasn't for me. Fast forward to 2014, when a store clerk convinced me to try fresh cod.
That's when I made this buttery cod with Parmesan and swooned. So did my family, and eventually, Cooking with Mamma C readers around the world.
Cod became my favorite fish! I began preparing it in various ways, such as Pan-Seared Cod Loins, Skillet Cod With Tomatoes and deep-fried Beer-Battered Cod.
So, when I had the opportunity to partner with the Norwegian Seafood Council and learned Norway is one of the largest sources of baccalà in the world, I had to give this salted, dried cod another chance.
I'm so glad I did!
This baccalà is delicious. It's prepared with a simple batter of seasoned flour and beaten eggs, pan-fried in avocado oil and topped with a squeeze of lemon.
And not a speck of salt is used in the recipe, since the cod is pleasantly salty already. It's perfection.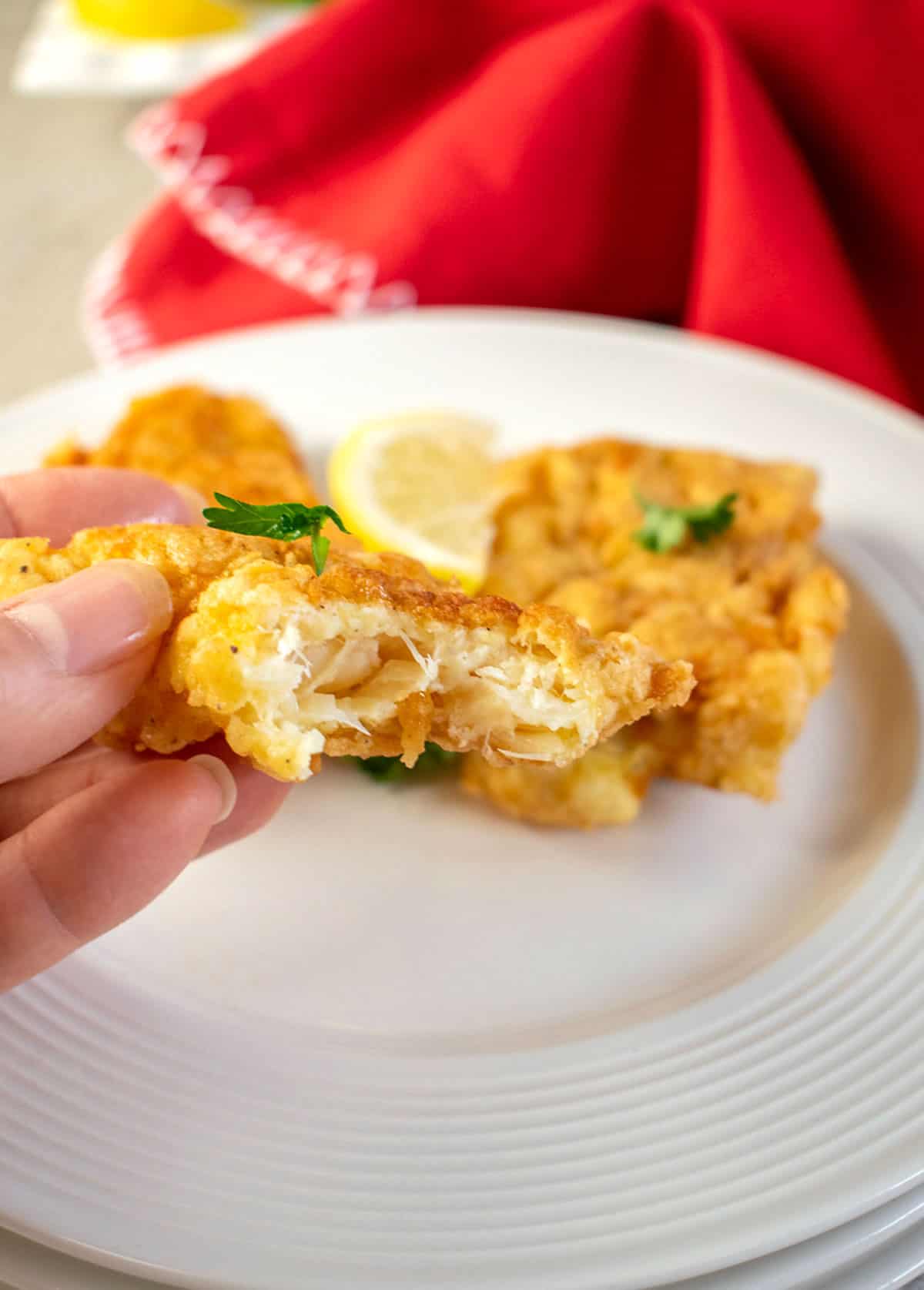 Baccalà is going to become an annual holiday tradition in our house. My hubby is so happy!
More cod recipes to enjoy
Enjoy!
P.S. The Norwegian Seafood Council offers recipes, nutritional information and tips on shopping for fish and preparing it. Visit fromnorway.com to learn more.
(Recipe source: Cooking with Mamma C)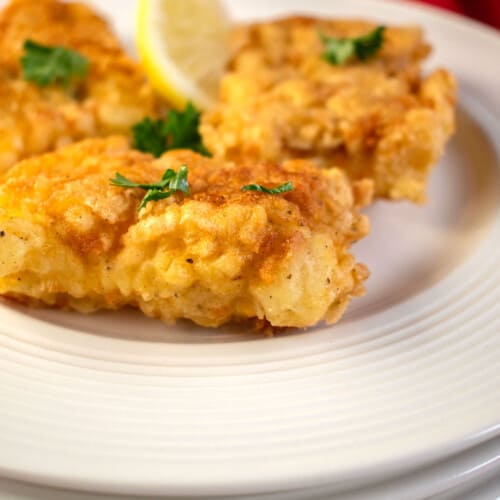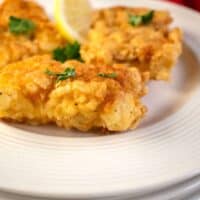 Fried Baccalà (Salted Cod Fish)
Fried Baccalà (Salted Cod Fish) is a Christmas Eve tradition for many Italians! Note, you'll need to soak the cod for 4 days before starting this recipe.

Print
Pin
Rate
Save
Go to Collections
Ingredients
2

pounds

baccalà

(skin and bones removed; see notes)

2

extra-large eggs

(beaten)

¾

cup

all-purpose flour

⅓

teaspoon

black pepper

1 ½

cups

avocado oil

(or corn oil; see notes)

Lemon wedges for serving
Instructions
When you bring the dried baccalà home from the store, rinse it to remove some of the salt. Place the baccalà pieces in a large bowl and add enough cold water to cover the fish by at least two inches. Refrigerate it for four days, changing the water every 8 hours (2-3 times a day).

When you're ready to cook the skinned and deboned baccalà, rinse it and pat it dry with paper towels or a lint-free kitchen towel.

Use kitchen scissors to cut the fish into smaller pieces 3-to-5 inches long and 2 or 3 inches wide.

Beat the eggs in a shallow bowl. Add the flour to a dinner plate and stir in the black pepper.

Set up an assembly line from left to right with the baccalà, the beaten eggs, the flour and a large platter or pan to hold the fish.

Dip each piece of cod in the eggs, letting the excess drip off. Then, place the baccalà in the flour, patting on the flour with the back of a fork. Flip the fish and flour the other side. Let any excess flour fall off and add the fish to your platter in a single layer.

Add your avocado oil to a 12-inch frying pan and heat it on medium high. When the oil temperature reaches 350 degrees F (test it with an instant thermometer or just wait until it's starting to ripple), add about half the baccalà to the pan in a single layer. (You will need to fry it in two batches.)

Fry the first side for 3-4 minutes (or less for thin pieces). Flip over the fish and fry the second side for another 3-4 minutes (or just 2 minutes for thin pieces). It's a good idea to remove a thick piece to a plate and cut it open to see if it's done. The fish should flake easily and not look shiny.

Place the fried baccalà on a cooling rack positioned over paper towels to drain. (This prevents sogginess.) If you don't have a cooling rack, you can drain the baccalà on a platter lined with paper towels.

Squeeze lemon juice onto the baccalà and serve immediately for the crispiest texture.

Store leftovers in the refrigerator for up to three days. Leftovers are delicious slightly warmed in the microwave and served with mayo for dipping, or in a sandwich.
Notes
Some grocery stores sell the baccalà already skinned and deboned. If the baccalà you buy still has the skin and bones, wait until you've soaked the fish for four days before removing them.
Peel the skin off with your hands. Rub your thumbs all over the fish to feel for the bones. Use kitchen scissors to cut the flesh along each side of the bone, then pull out the bone with your fingertips or tweezers. It's easier to find the bones once the fish is cut into smaller serving pieces.
You need to use cooking oil with a high smoke point for frying the fish. Olive oil is not recommended for frying. Avocado oil is a healthy choice and lends great flavor.
Nutrition
Calories:
399
kcal
|
Carbohydrates:
9
g
|
Protein:
73
g
|
Fat:
5
g
|
Saturated Fat:
1
g
|
Cholesterol:
213
mg
|
Sodium:
265
mg
|
Potassium:
1681
mg
|
Vitamin A:
220
IU
|
Vitamin C:
4
mg
|
Calcium:
189
mg
|
Iron:
3.6
mg