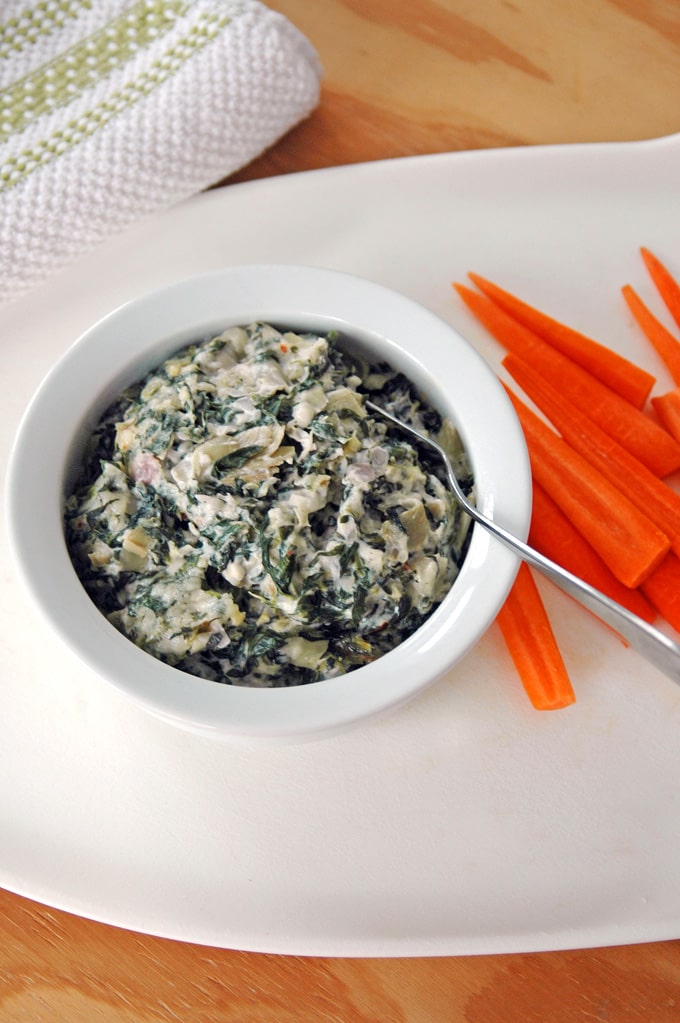 When dips are really good, they have a way of becoming the meal's centerpiece. That certainly happens whenever I make this Spinach, Artichoke and Asiago Dip. No matter what else is at the table or on the buffet, people will park themselves in front of this appetizer and declare they're happy to nosh on it all night. And Lord knows, I've made an entire meal of this on more than one occasion, with the excuse of tweaking the recipe until it's just right.
There are so many spinach-artichoke dip recipes out there, so what's different about this one? First, just as in my Creamed Spinach and Artichoke Casserole, this dip utilizes frozen artichoke hearts, which are the closest things to fresh artichoke hearts you'll ever find. When I served the appetizer on Super Bowl Sunday, I didn't mention anything about it, but my friend immediately noticed that you can really see and taste the artichokes here. She said that factor alone made it better than other dips she's tried. So, if you're an artichoke lover, like I am, you've got to ditch those soggy jarred ones and see what you've been missing.
Second, the cheese here plays a big part in the taste. There are actually three kinds in the dip — cream cheese, Asiago and Parmesan, with the Asiago lending the strongest flavor. (No, this is not a skinny recipe, but I do use a couple of low-fat ingredients. At least there are lots of veggies, right?)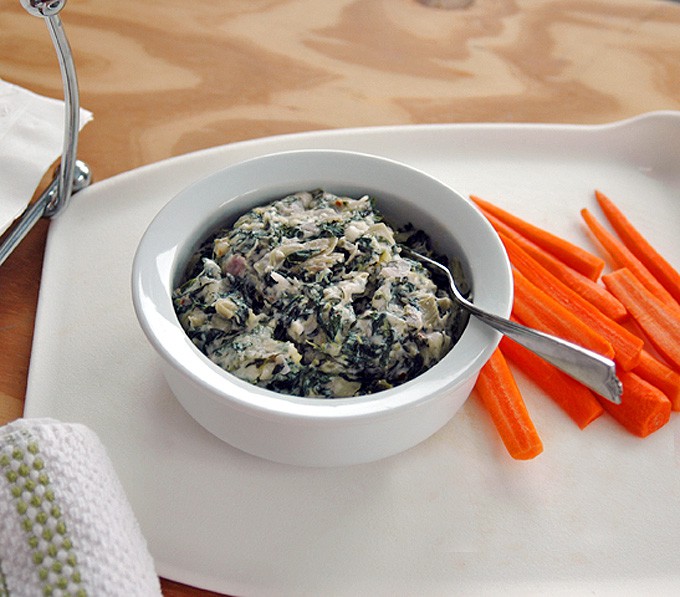 Third, (and fourth), there's a nice onion flavor, thanks to the red onions, and some heat, thanks to the red pepper flakes. I'll never be one to eat food that makes my eyes water, but I'm finding that the older I get, the more I appreciate a little spicy kick in my food. You can adjust the heat to suit your tastes, but I've found this level is just enough to be noticeable without turning anyone off.
So, I'm finally ready to share this with you, but I need to hurry up with the photos so that we can dive into this hot, cheesy, veggie goodness. I'm sure you understand.
(Recipe Source: Cooking with Mamma C)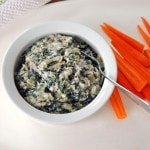 Spinach, Artichoke and Asiago Dip
A creamy, cheesy hot dip with chunks of artichokes, nice onion and Asiago flavors, and a touch of spicy heat. Serve with natural tortilla chips, carrot sticks or bread.
Cuisine:
Italian-American
Keyword:
asiago, spinach artichoke dip, spinach dip
Ingredients
2

10 ounce packages frozen chopped spinach

2

9 ounce packages frozen artichoke hearts

(Birds Eye)

1/4

large red onion

2

tablespoons

salted butter

2

tablespoons

all-purpose flour

5

ounces

whipping cream

(see notes)

7

ounces

2% milk

1

8 oz. block cream cheese

(light is fine)

1 1/4

cups

grated Asiago cheese

3/4

cup

freshly grated Parmesan cheese

(divided use)

2/3

teaspoon

red pepper flakes

1/3

teaspoon

salt

1/4

teaspoon

garlic powder
Instructions
Preheat your oven to 375 degrees F. Thaw your frozen spinach in the microwave. (I can fit the contents of two packages in a glass 9x13 pan and use high heat for 5 minutes.)

While the spinach is in the microwave, peel and chop 1/4 of a large red onion. Grate your cheeses in a blender or food processor.

When the spinach is thawed, drain out the liquid in the sink by grabbing small handfuls of spinach and squeezing them over a strainer. Set your dried spinach in a large mixing bowl.

Thaw your artichoke hearts in the microwave, again fitting the contents in a large glass pan, if you have one, and heating on high for 4-5 minutes. When the artichokes are thawed, drain any liquid and roughly chop them, leaving some chunks. Pat them dry with a paper towel and add them to your large mixing bowl.

In a sauce pan, melt your butter over medium-high heat. Add the chopped onions and cook them until they are just becoming tender. Add the flour and stir to mix. Continue stirring for another minute.

Add your whipping cream and milk, stirring (or whisking) as you go. Continue stirring, and when the mixture thickens, add your block of cream cheese. Continue stirring, until the cream cheese melts and the sauce is smooth and thick.

Turn off the heat and stir in the Asiago, 1/2 cup Parmesan, red pepper flakes, salt and garlic powder. Pour the sauce over the vegetables in your large mixing bowl and mix well. Transfer the dip to a greased 9x13 pan (or use two pie dishes or crocks). Spread the dip evenly and top with the remaining 1/4 cup Parmesan. Bake the dip for 20-25 minutes, or until the dip is bubbly and browned to your liking.

Serve with natural tortilla chips, carrot sticks, or bread. Store leftovers covered in the refrigerator for up to four days.
Recipe Notes
You can use 12 ounces of evaporated whole milk in place of the whipping cream and low-fat milk.
Nutrition Facts
Spinach, Artichoke and Asiago Dip
Amount Per Serving
Calories 284
Calories from Fat 189
% Daily Value*
Total Fat 21g 32%
Cholesterol 67mg 22%
Sodium 608mg 25%
Potassium 290mg 8%
Total Carbohydrates 12g 4%
Protein 13g 26%
* Percent Daily Values are based on a 2000 calorie diet.