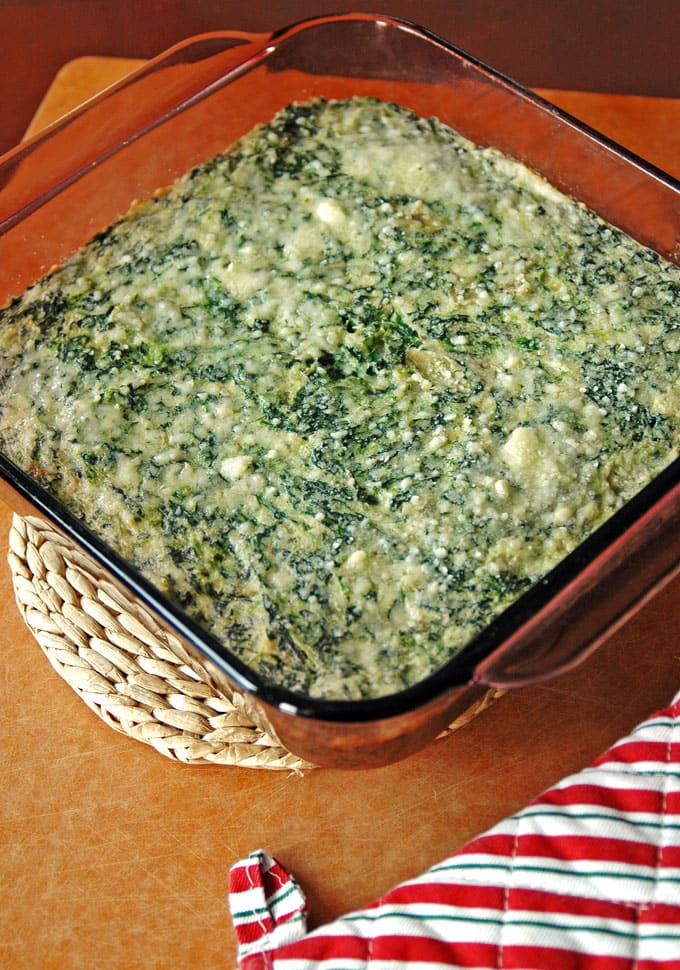 Okay, now that it's November, I feel the need to start planning our Thanksgiving menu. By popular vote (it's election week!), this creamed spinach and artichoke casserole will be gracing our table.
Unlike Mom's Spinach-Ricotta Pie, this recipe has no crust. It does have Parmesan mixed in and sprinkled on top, but the cheese is just an accent for the creamy vegetables. Like a soufflé, the dish gets its volume from beaten egg whites.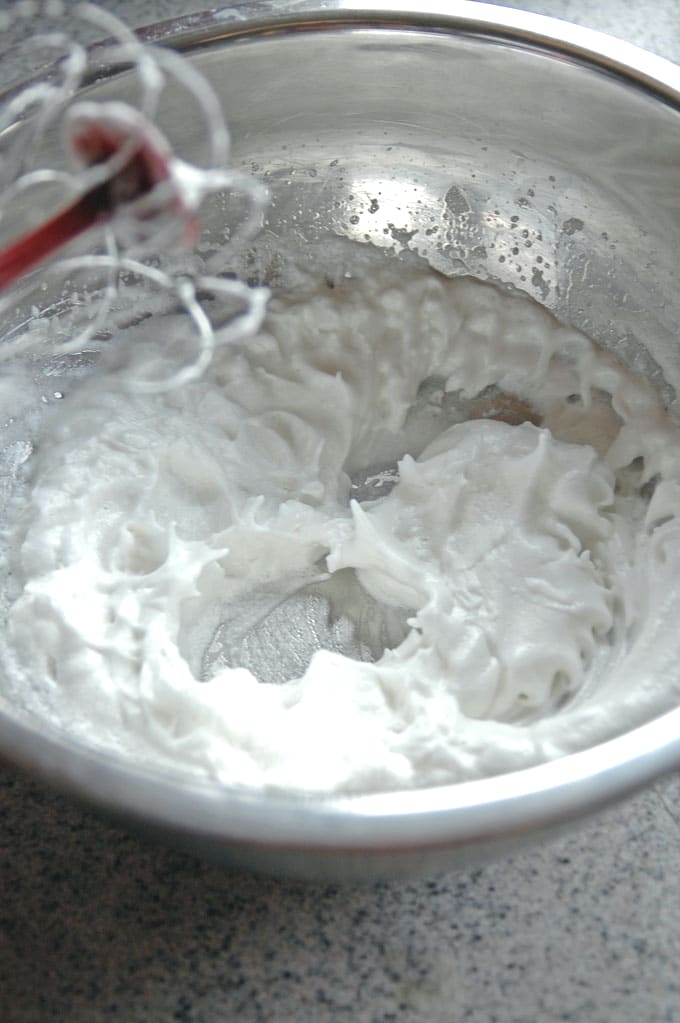 I've been making a spinach version of this for years. (I feel old when I say that, but I've been cooking for almost a quarter century…yikes!) I just had to add garlic, artichokes and more Parmesan though. Creamed spinach, artichokes and Parmesan were meant to be together, you know? And mostly using evaporated milk, plus some 2% milk, makes for a thick and creamy sauce without including actual cream.
By the way, I prefer to use frozen artichoke hearts instead of those bloated ones in the jar. I get the Birds Eye 9-ounce boxes. They were a life-changing discovery for me a couple of years ago, since artichokes are my favorite vegetable. (I have two killer recipes for fresh artichokes to share with you in the future.)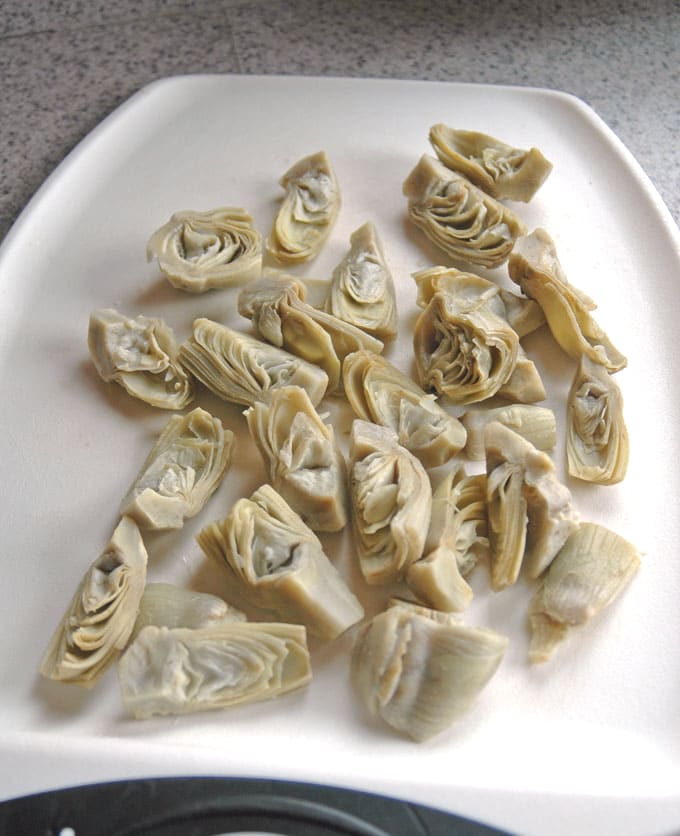 In the meantime, this creamed spinach and artichoke casserole is one of those dishes that's universally enjoyed, at least in my family. (My kids have loved spinach since they were babies, which makes this spinach-loving Mamma happy.)
So, if you're figuring out your own Thanksgiving menu, this recipe's a good option. Sometimes, I even make a big pan of it on the weekend so we can enjoy leftovers with our dinners for the next few days. I love it when that happens.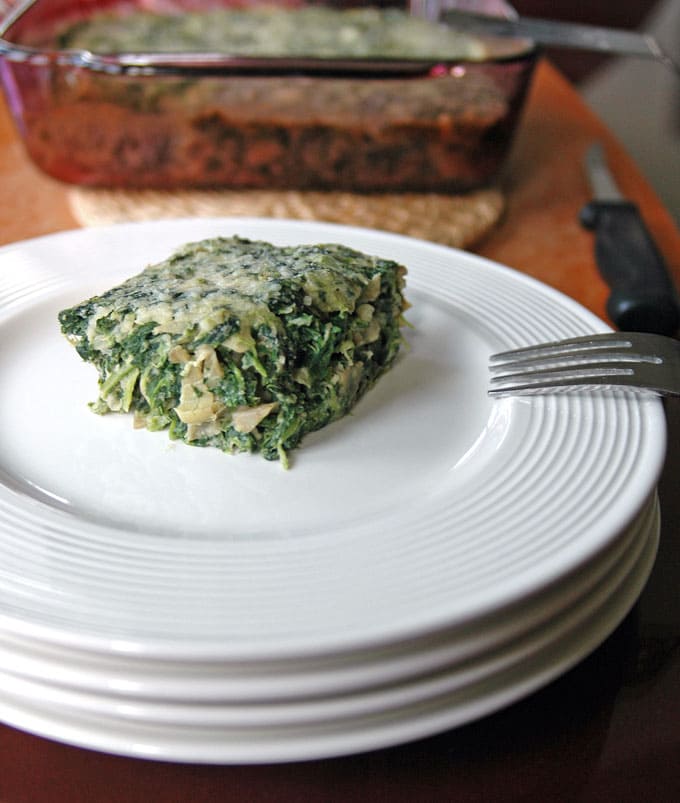 (Recipe Source: Inspired by a Baked Cream Spinach recipe in The Good Housekeeping Illustrated Cookbook, 1989)

Cooking with Mamma C
Serves 15
Creamed Spinach and Artichoke Casserole
Creamed Spinach and Artichoke Casserole is fluffy like a soufflé and accented with onions, garlic & Parmesan. The perfect side dish for gatherings!
20 minPrep Time
55 minCook Time
1 hr, 15 Total Time
Ingredients
4 (10-ounce) packages frozen chopped spinach, thawed, drained & squeezed dry
2 (9-ounce) packages frozen artichoke hearts, thawed, chopped & patted dry
2 small or 1 medium onion (white or yellow), peeled & chopped finely
4 cloves garlic, peeled & chopped
4 tablespoons butter
4 tablespoons all-purpose flour
1 teaspoon salt
1/2 teaspoon pepper
1 (12-ounce) can evaporated milk
1 cup 2% milk
4 eggs, separated
1/2 cup freshly grated Parmesan cheese, divided use
Directions
Thaw spinach in the microwave, covered. (I do a couple batches at 3 minutes on high power.) Place spinach in a colander to drain in the sink. Thaw artichoke hearts in the microwave (they will be easier to chop if they are still a bit frozen.) Chop the artichokes and pat them dry.
While the vegetables are in the microwave, chop the onions and garlic. Grease a 9x13 pan with cooking spray. Preheat the oven to 350 degrees F.
Crack eggs, separating the whites into a medium bowl and the yolks into a small bowl. Using a hand mixer, beat the egg whites, starting at low speed and increasing to high, until stiff peaks form. (It will look fluffy, like meringue.) You can chill the egg whites until they are needed.
In a 2-quart saucepan, melt butter over medium heat. Add onions, and after a couple minutes, add the garlic. Cook until the onions are soft, at least five minutes total. While they are cooking, whisk the evaporated and 2% milk together. Leaving the egg yolks in a separate bowl, beat the yolks with a fork. Place your milk mixture and egg yolks near the stove.
In the saucepan, stir in the flour, salt and pepper until blended. Gradually stir in the milk mixture, and continue stirring until the sauce boils and thickens slightly. Spoon a small amount of the sauce into the egg yolks and stir them together. Slowly pour the egg mixture into the sauce in the pan, stirring quickly to prevent lumps. Stirring constantly, cook until the sauce thickens, but do not let it boil.
Remove the sauce from the heat and stir in 1/4 cup of Parmesan. Squeeze the spinach dry (I use a clean dish towel that doesn't shed fibers; paper towels also would work.) Add the spinach and artichokes to a large bowl. Pour the sauce over the vegetables and stir to combine. Using a wire whisk, gently fold in the beaten egg whites until they are incorporated into the mixture.
Transfer the vegetable mixture to the 9x13 pan and smooth the top evenly. Sprinkle on 1/4 cup of Parmesan. Bake uncovered for 25 minutes, or until a knife inserted into the center comes out clean.
Store leftovers covered in the refrigerator for up to four days.
Notes
This recipe can be cut in half for an 8x8 pan that will make 8 servings, as shown in the photo.
7.8.1.2
215
https://cookingwithmammac.com/creamed-spinach-and-artichoke-casserole/