These Stuffed Mushrooms with Cream Cheese are meatless and gluten free! They're accented with lemon, basil, garlic, Parmesan, mozzarella and butter. A delicious appetizer!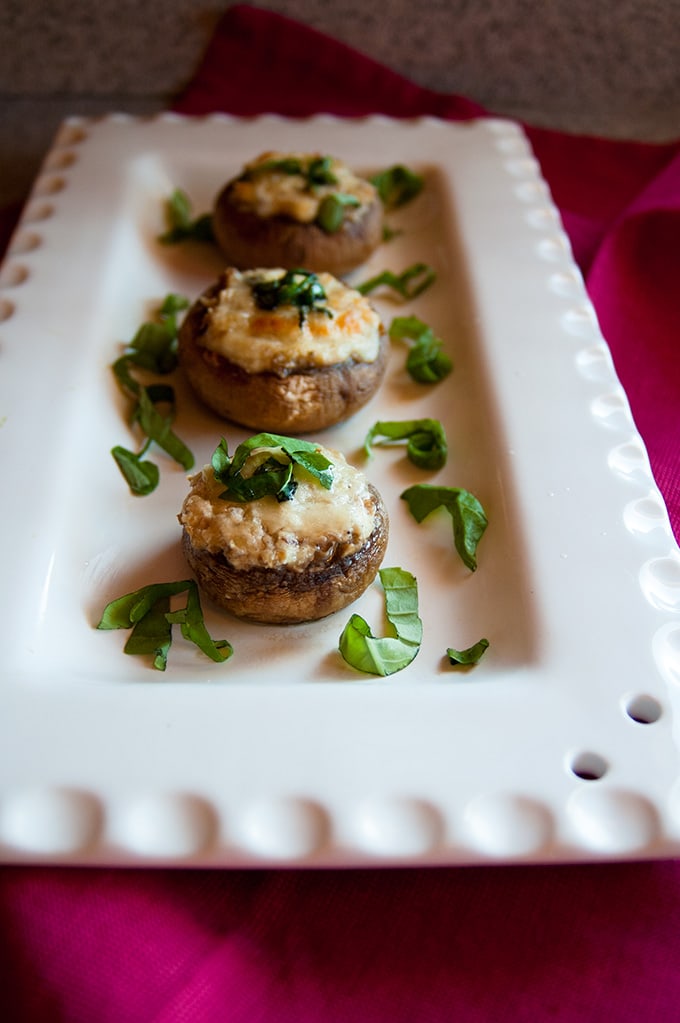 You could say these stuffed mushrooms with cream cheese were 25 years in the making.
When I worked as a newspaper reporter in Kentucky, there was a restaurant that featured a variation of these as its signature appetizer. The dish was so popular, it came with a "recipe card" that simply listed ingredients, minus the measurements.
Ha! Thanks a lot!
Can you imagine if that's all I provided here?
All I remember are "cream cheese"and "lemon zest."
I'm pretty sure I used to recall at least two other ingredients. But, hey, I'm no spring chicken anymore.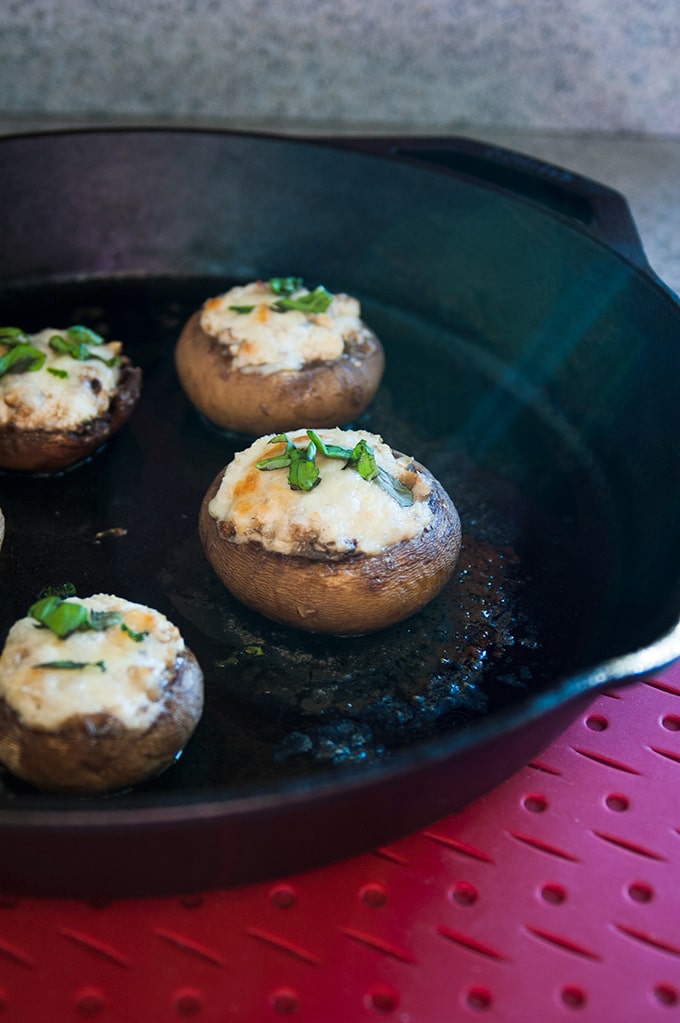 I absolutely loved those stuffed mushrooms. I've tried, every so often over the years, to replicate them, but was never satisfied.
Well, there's nothing like being a food blogger to motivate me to finally nail down a recipe. I'm sure mine is different from the original, but I've captured its essence.
I had to add ribbons of basil (you should see my plant still going strong in my kitchen), plus Parmesan, mozzarella and garlic. (Surely, there had to be garlic in those mushrooms from long ago!)
And, after a few experiments, I realized the mushrooms are better when brushed all over with melted butter before they're stuffed. Of course, I poured any extra butter on top.
Yes, that's what they needed. Yum!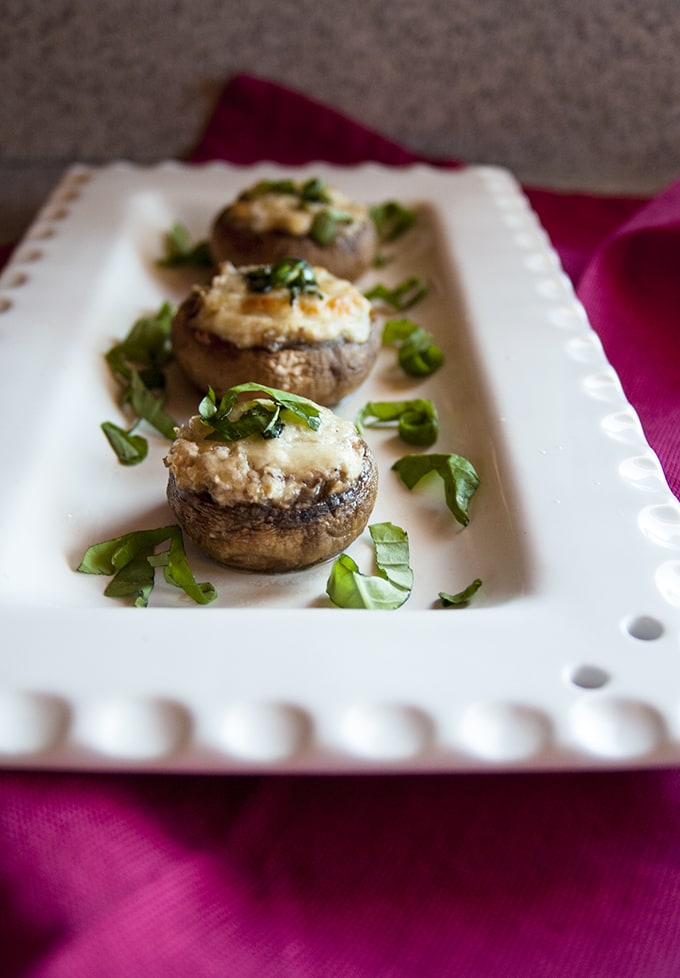 I've said it before: I adore appetizers and will gladly eat them in place of "regular food" for dinner. I'm so excited to add these stuffed mushrooms with cream cheese to my repertoire!
More recipes like this
Enjoy!
(Recipe Source: Inspired by an appetizer that used to be served at one of the restaurants in the Drawbridge complex in Ft. Mitchell, KY)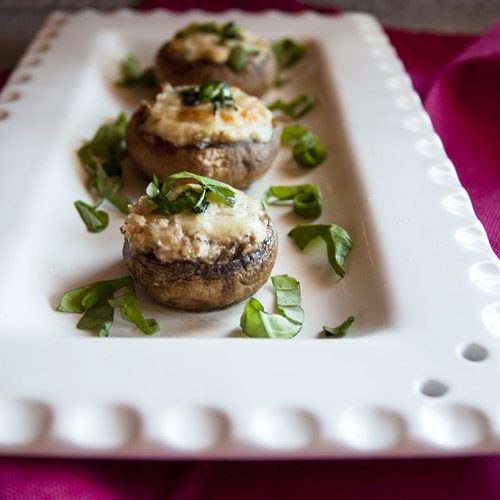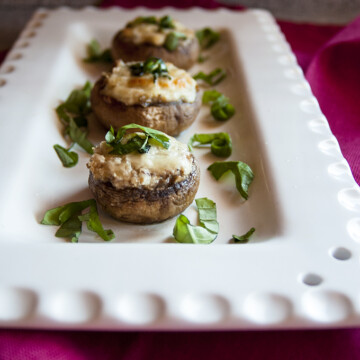 Ingredients
18

large white mushrooms

4

garlic cloves

(medium or large)

6

tablespoons

salted butter

(divided use, plus extra to grease your pan)

8

ounces

cream cheese

(low fat is fine)

¾

cup

shredded mozzarella cheese

(divided use)

¼

cup

grated Parmesan cheese

6

large basil leaves cut into ribbons

(divided use)

1

teaspoon

lemon zest

½

teaspoon

black pepper

½

teaspoon

salt

½

teaspoon

garlic powder

2

dashes Worcestershire sauce

lemon juice to squeeze on top
Instructions
Preheat your oven to 400 degrees F. Grease your baking pan with a little butter.

Gently rinse mushrooms in cold water and brush off dirt (or wipe it off with a paper towel). Pat mushrooms dry and cut out the stems with a small knife. Chop up the stems.

Peel and finely chop four cloves of garlic.

In a 12-inch skillet, melt two tablespoons of butter. Add the garlic and cook it for a minute before adding in the mushroom stems. Stir to combine and cook the mixture for five minutes or until tender. Remove the stem mixture to a plate and spread it out to cool.

In a medium mixing bowl, add your cream cheese and stir it to break it up and soften it. Add ¼ cup mozzarella, ¼ cup Parmesan, two basil leaves cut into ribbons, your lemon zest, pepper, salt, garlic powder and Worcestershire sauce. Add in your mushroom stem mixture. Stir with two spoons to mix well.

Melt four tablespoons of butter in the microwave or in a small pan on the stove. Brush some butter all over each mushroom cap, including the top, bottom and sides. (You will have extra melted butter left to pour over the top later.) Place the mushroom caps into your baking pan.

Use a small scoop or two teaspoons to scoop some cream cheese filling into each mushroom cap. Try to smooth over the top. Sprinkle your remaining mozzarella on top of the mushroom caps. Pour your remaining melted butter over the mushrooms.

Bake for 15-17 minutes, or until the tops are just starting to get golden.

Top the mushrooms with ribbons of basil and squeeze a little lemon juice over them. Let the mushrooms rest for five minutes before serving.

Store leftovers in the refrigerator for up to five days. To prepare these ahead of time, stuff your mushrooms and refrigerate them, but hold off with the melted butter until just before baking them.
Nutrition
Calories:
230
kcal
|
Carbohydrates:
3
g
|
Protein:
6
g
|
Fat:
21
g
|
Saturated Fat:
12
g
|
Cholesterol:
64
mg
|
Sodium:
430
mg
|
Potassium:
196
mg
|
Sugar:
2
g
|
Vitamin A:
755
IU
|
Vitamin C:
1.7
mg
|
Calcium:
122
mg
|
Iron:
0.4
mg