We love these Baked Parmesan Gluten-Free Onion Rings! They're crispy (thanks to a secret ingredient), garlicky and delicious! Great plain, dipped in melted butter or dunked in marinara! See video.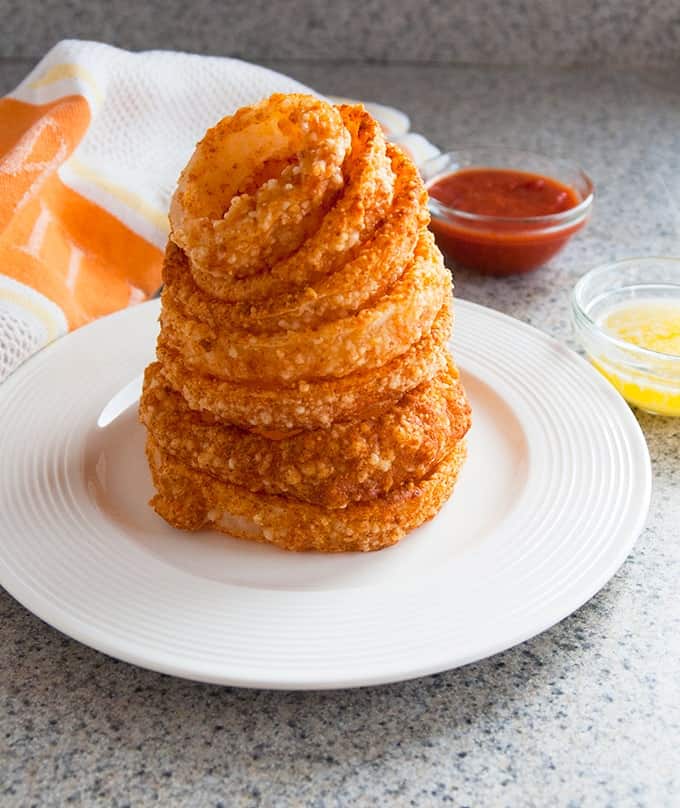 Without question, this is the most tested recipe on Cooking with Mamma C. I stopped counting after nine versions.
You see, I had a vision for baked, gluten-free onion rings using seasoned Parmesan as the "breading." And I wanted them in time for the Super Bowl. And I wasn't giving up until I got it right.
"Must.Have.Baked.Onion.Rings for the Super Bowl," I told myself over and over, like the robot from Lost in Space. (Whoa! I'm old!)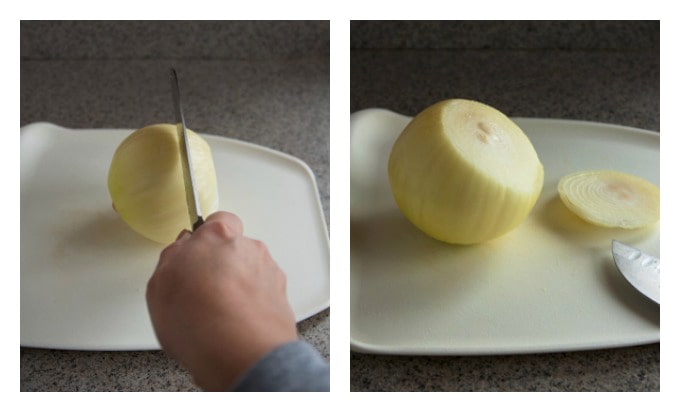 So, I kept going, sometimes baking just one or two rings at a time to test my latest theory of how to get the coating to adhere, how to make the onion rings crispy, how to prevent the Parmesan from burning on the bottom...and how to incorporate melted butter. I wanted to model these after our beloved Parmesan Chicken Drumsticks with Garlic Butter, Lemon Parmesan Cod with Garlic Butter and Baked Parmesan Shrimp with Garlic Butter.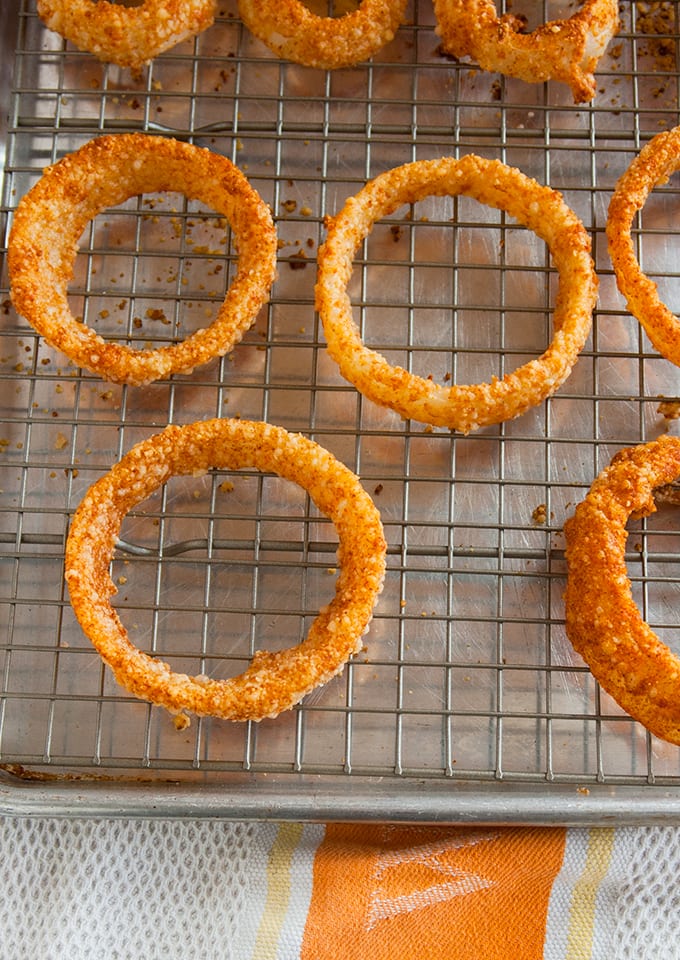 I savored every taste test — even the "fails" were delicious. My hubby was there for the first stretch, as he happened to come home early one day, just as I was firing up the oven. (It must have been his taste-testing radar alerting him.)
"Did somebody say, 'ONION RINGS??!!'" He was more than willing to fulfill his food-blogger-spousal duties.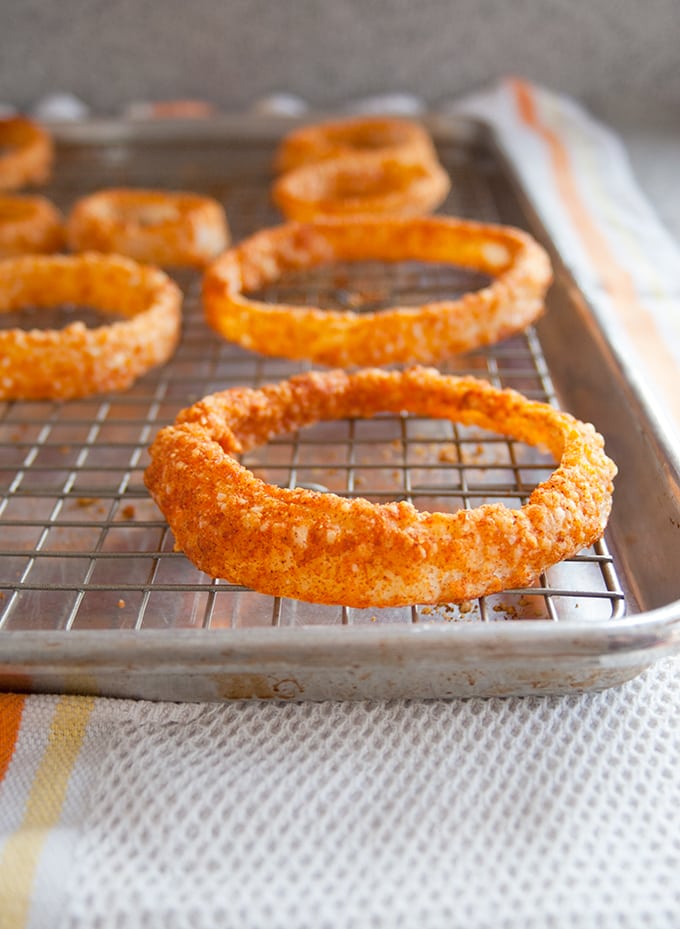 And, apparently, I was a little too enthusiastic about all the sampling that day. (Scroll down two paragraphs if you don't want to get grossed out.) The next morning, during cycling class, where I usually log in 17-19 miles but once did 20...last chance to bail...I used my clean towel to wipe the sweat off my face...and the towel reeked of onions!
THE SMELL OF ONIONS WAS SEEPING THROUGH MY PORES. How embarrassing! (To the guy next to me in class: I'm so sorry!) #foodbloggerproblems
I really took one for the team. OK, I guess my classmate suffered the most.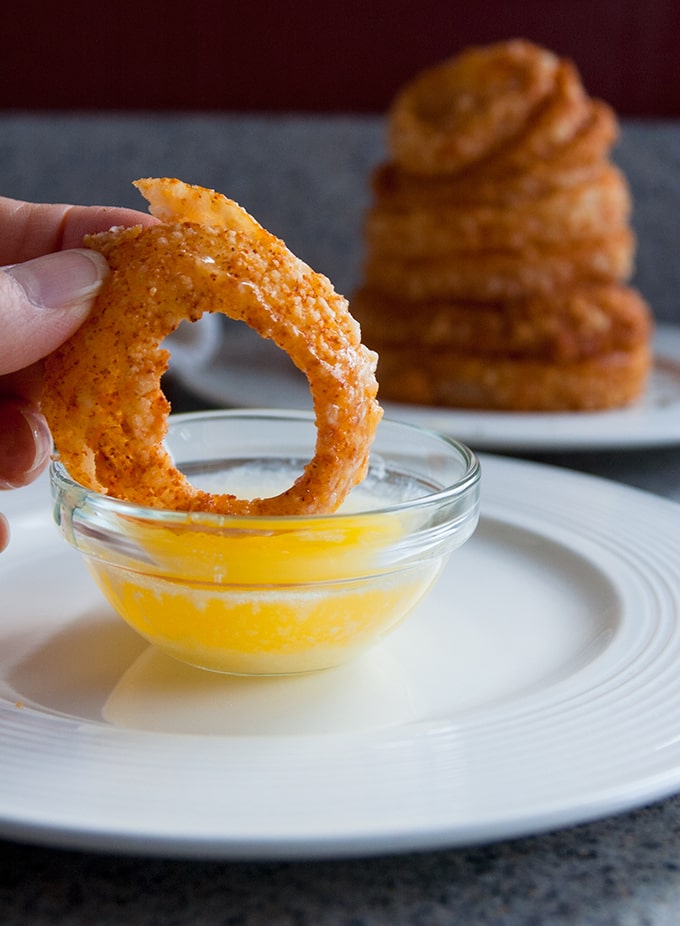 After all that, here's what I came up with to make these baked Parmesan gluten-free onion rings work:
Corn starch (my secret ingredient) makes them crispy
Frothy egg whites help the coating to adhere
A mesh cooling rack placed on the baking sheet and topped with the rings allows the air to circulate and prevents burning
Melted butter is best incorporated as a dipping sauce (my favorite way to enjoy these!) or use marinara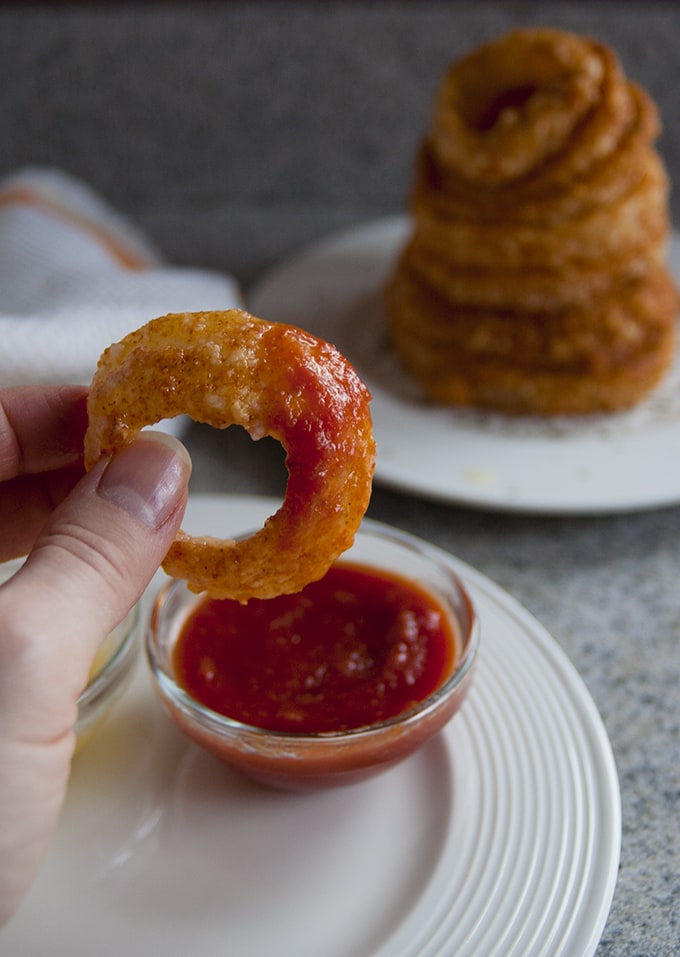 That's all, folks. You've got to try these!
Must.Have.Baked.Onion.Rings for the Super Bowl. Just don't go to the gym the next morning.
"Danger, Will Robinson! Danger!"
More appetizers to love
(Recipe Source: Cooking with Mamma C)
Watch the video to learn how to make Baked Parmesan Gluten-Free Onion Rings!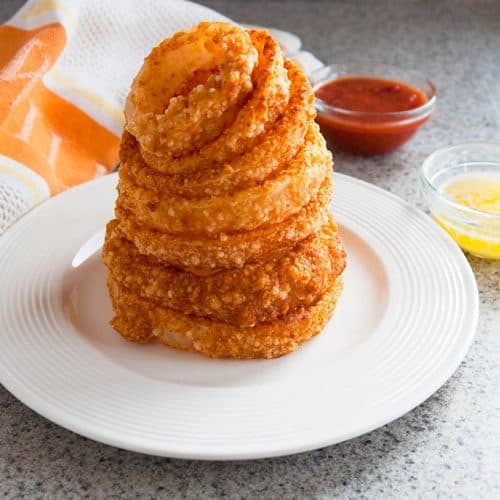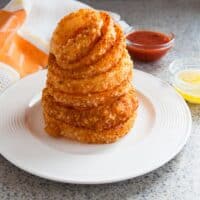 Baked Parmesan Gluten-Free Onion Rings
Crispy & delicious! Note that you'll need five Ziploc bags (quart or gallon sized) to make it easier to coat the rings.
Print
Pin
Rate
Save
Go to Collections
Ingredients
Onions
1

pound

sweet onion

(1 large)

½

cup

cornstarch

4

egg whites

(don't use the liquid ones in a carton)
Parmesan Coating
2

cups

grated Parmesan cheese

(finely grated fresh Parmesan)

4

teaspoons

paprika

1 ½

teaspoons

garlic powder
Instructions
Heat your oven to 400 degrees F. Peel your onion, rinse it and pat it dry. Slice off the root and stem ends. Slice the onion into circles ½-inch thick (see photos). Separate the onion into rings by gently pushing through the center of each slice.

Place your corn starch in a quart- or gallon-sized plastic Ziploc bag. Stir your Parmesan coating ingredients together in a small mixing bowl. Place about a fourth of the Parmesan mixture into another Ziploc bag. (Later, when the cheese coating gets soggy and is almost gone, you will get a clean bag and add more of the Parmesan blend from your mixing bowl.)

Place two egg whites into a liquid measuring cup or a soup bowl. Use a fork to beat the egg whites until they are a little frothy.

Set up an assembly line from left to right with your onion rings, the corn starch, the cup or bowl of egg whites, the bag of Parmesan coating, and your baking sheet that has a wire mesh cooling rack placed on it. (See photos.) Have three forks ready: one for the corn starch, one for the egg whites and one for the cheese coating.

To dip, place an onion ring into the bag of corn starch, hold the bag closed, and shake it a bit until the onion ring is coated inside and out. Use a fork to loop inside the ring and lift it out, shaking off excess corn starch into the bag.

Drop the onion ring into the egg whites. With your egg white fork, scoop the egg whites over and inside the onion ring to coat it. Lift the ring out of the egg whites, letting any excess drip off.

Next, transfer the onion ring to the bag of Parmesan coating. Close the bag and shake it until the ring is coated inside and out. Use your Parmesan fork to lift out the onion ring and shake off excess cheese into the bag.

Place your coated onion ring onto the rack in your baking pan. Continue the process, adding two onion rings at a time (or a little more if they fit) to your corn starch bag. Remove one ring at a time from the corn starch and continue dipping that ring until it's ready to be placed on the rack. It helps to place rings of similar size next to each other on the rack, and you should be able to fit about 12 rings at a time on the rack.

Bake the onion rings for 11-14 minutes, or until they are crispy and reddish golden. Mine take 13 minutes, but it will depend on your oven. Don't let them burn.

While the first pan is baking, you can proceed to dip and coat the rest of your onion rings. You will need to use your other two fresh egg whites to replenish your cup or bowl of whites. You also will use a clean bag for more of the Parmesan mixture. (Change the bag as needed.)

Discard your bags with leftover corn starch or Parmesan mixture. If you have any leftover Parmesan blend from your mixing bowl, and it has not touched the raw egg whites, you can save it for another use.

Serve the onion rings plain or with melted butter for dipping, if desired, or marinara. (We love them plain or with the butter.)

Store leftovers in a tightly closed container in the refrigerator for up to five days.
Notes
I'm counting four onion rings as an appetizer serving.
The onions themselves (inside the crisp coating) are crisp-tender after being baked. If you want soft onions on the inside, you have to soak them for 30 minutes in ice water, then pat them dry before dipping them. I found them too soft that way.
Nutrition
Calories:
225
kcal
|
Carbohydrates:
18
g
|
Protein:
15
g
|
Fat:
9
g
|
Saturated Fat:
5
g
|
Cholesterol:
29
mg
|
Sodium:
551
mg
|
Potassium:
203
mg
|
Fiber:
1
g
|
Sugar:
4
g
|
Vitamin A:
945
IU
|
Vitamin C:
3.6
mg
|
Calcium:
388
mg
|
Iron:
0.9
mg