If you don't speak French, coq au vin (coke-oh-ven) refers to chicken cooked in wine. Generally, I don't toss around fancy French terms, although I did study the language for several years. Even the simplest of dishes sounds fancy in French though.
Just imagine ordering a burger at a fast food joint, and being asked, "Would you like pommes frites with that?" No, thanks, but I'll take some fries.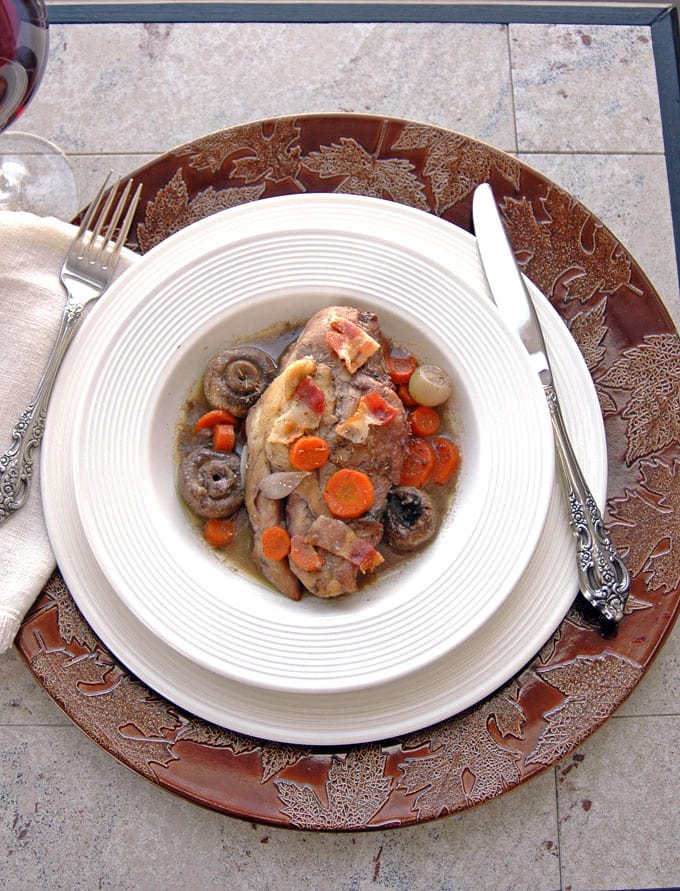 What I'm trying to say is, don't let coq au vin intimidate you. Yes, it happens to be a classic dish in French cuisine, something you may have watched Julia Child prepare on TV, but you can make it in roughly an hour.
And let me tell you, there's a reason it's a classic. It's probably the most tasty chicken I've ever had, and when paired with this risotto, it ranks as one of the top five meals of my life.
Think tender chicken simmered in red wine with mushrooms, carrots, garlic and pearl onions, finished with butter, plus flour to thicken the sauce, and topped with bacon. Yes!
Given that I never really watched Julia Child on TV (unless Dan Aykroyd's Saturday Night Live impersonation counts) it's possible that I wouldn't know about coq au vin if I weren't such a voracious reader. (Before social media, I used to read about 30 books a year.)
I read the 1999 memoir Tender at the Bone: Growing up at the Table, by Ruth Reichl, who was a New York Times food critic then. She wrote with such passion about this dish, and other culinary classics, that I felt compelled to try making coq au vin myself.
Fortunately, my Better Homes and Gardens New Cook Book, which many early-'90s brides owned, included a recipe, and that's the one I've tweaked and still use today. A note about the wine: it calls for more than a cup of burgundy. That's simply wine made from Pinot Noir grapes and grown in the Burgundy region of France.
You could substitute Pinot Noir or Cabernet. And while chefs say it's always best to use quality drinking wine in recipes, I'm not ashamed to admit I used to grab a small bottle of cooking wine at the grocery store, before my husband started making his own vino. The coq au vin still turned out delicious, despite my faux pas.
If you're okay with using wine in cooking, this is one meal you must try. Bon appétit!
(Recipe Source: Adapted from Better Homes and Gardens New Cook Book, 1989)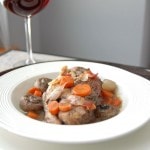 Coq au Vin
A delicious, French classic featuring chicken cooked in red wine with vegetables and finished with butter and bacon, Coq au Vin can be made in roughly an hour. Serve with crusty bread for dipping in the gravy, and it is fantastic with risotto. Adapted from Better Homes and Gardens New Cook Book, 1989
Keyword:
coq au vin, french
Ingredients
1 1/2

cups

sliced carrot rounds

(from about four carrots)

2

tablespoons

olive oil

2 1/2 to 3

pounds

chicken pieces

(thighs, drumsticks, breasts)

salt

pepper

4

cloves

garlic

(peeled and pressed; or minced)

1

pound

whole white mushrooms

20

pearl onions

(peeled)

1 1/4

cups

burgundy wine

(or Pinot Noir or Cabernet)

1

tablespoon

fresh parsley

(or 1 teaspoon dried)

1/2

teaspoon

dried crushed marjoram

(optional)

1/2

teaspoon

dried crushed thyme

1

bay leaf

2

tablespoons

softened butter

4

slices

lean bacon

(cooked and cut into pieces)

2

tablespoons

all-purpose flour

fresh crusty bread for serving
Instructions
Rinse your carrots and slice off the ends. Peel the carrots with a vegetable peeler and slice them into rounds about 1/2-inch thick. Set them aside.

Skin the chicken, if desired, using paper towels to pull off the skin. Discard the skin and pat the chicken dry. Wash your hands well.

If you are using fresh pearl onions, it helps to boil them briefly to take the skins off easily. Set a small saucepan filled 2/3 full with hot water on the stove to boil. While the water is heating, heat olive oil in your largest skillet over medium high heat. Add the chicken to the skillet and brown it for 15 minutes, flipping it at the halfway point.

While the chicken is cooking, boil your 20 pearl onions for 3 minutes and drain them. Let them cool off in a strainer.

Prepare your garlic and mushrooms. If you have a garlic press, use it to press the garlic. Otherwise, peel the garlic and mince it with a knife. Rinse your mushrooms in a stream of cold water and use a vegetable brush or paper towels to get rid of the dirt. Pat the mushrooms dry.

To peel the onions, slice off the root end and use your fingers to peel off the skin.

When the chicken is browned, sprinkle it with salt and pepper. Add the onions, wine, garlic, parsley, marjoram, thyme and bay leaf to the skillet. Bring the pan to boiling and then reduce the heat. Cover and simmer for 30-35 minutes, or until the chicken is no longer pink inside. (Note that the outside of the chicken will take on the purplish hue of the wine.)

While the chicken and vegetables are simmering, set out your butter to soften. Cook your bacon in a pan on the stove or in the microwave. Pat the bacon with paper towels to absorb the grease and use kitchen scissors, if you have them, to cut the bacon into small pieces.

When the chicken is nearly done, stir your softened butter and flour together in a small bowl until a smooth paste forms. When the chicken is done, stir the paste into the wine mixture in the skillet. Cook and stir until it is thickened and bubbly, then cook it for one minute longer. Add salt and pepper if needed.

To serve, pour some wine sauce over the chicken and top with bacon. Serve with bread for dipping, and with risotto, rice, mashed potatoes or polenta.
Nutrition Facts
Coq au Vin
Amount Per Serving
Calories 483
Calories from Fat 180
% Daily Value*
Fat 20g31%
Cholesterol 152mg51%
Sodium 306mg13%
Potassium 958mg27%
Carbohydrates 18g6%
Protein 46g92%
Vitamin A 5615IU112%
Vitamin C 16.7mg20%
Calcium 62mg6%
Iron 2.7mg15%
* Percent Daily Values are based on a 2000 calorie diet.