This is an authentic Purto Rican recipe for Coquito, a Coconuto-Rum Drink for the holidays! It's like eggnog, but better!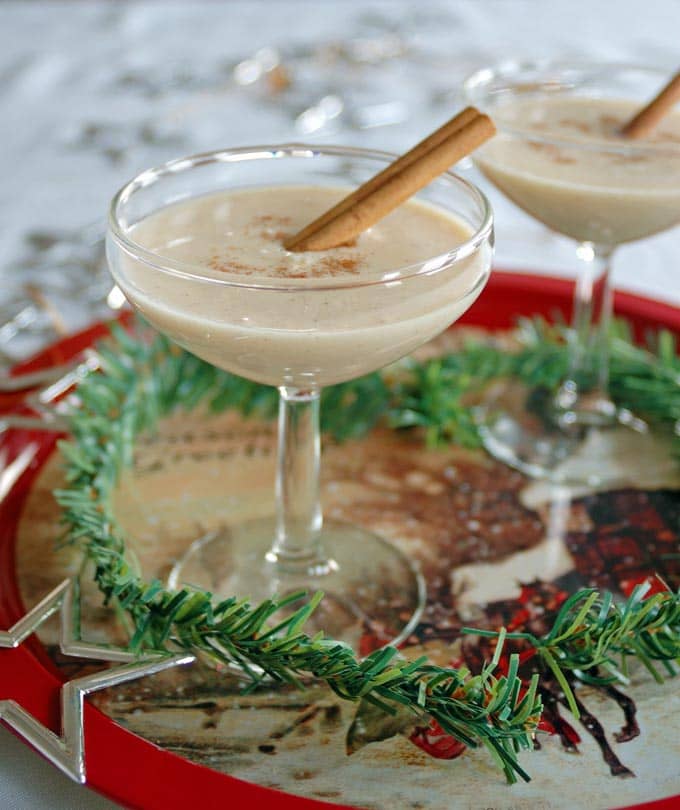 Well, hello there, Sunshine. Please have a seat while I tell you about my favorite cocktail from our collection of Drinks Recipes.
It's called coquito (koh-kee-toh), and it's a Puerto Rican coconut-rum drink that's traditional for the holidays. I first tasted it a few years ago when a dinner guest brought me a bottle of his homemade coquito as a gift.
My immediate reaction was, "Shut the door, hold the phone, get out of town, where has this been all my life?!!"
If you've never tried it, coquito is similar to eggnog, but so much better! There are no eggs in this version, although some non-traditional recipes might call for a couple of yolks.
Instead, this coquito gets its decadent richness from cream of coconut, evaporated milk, and sweetened condensed milk. It all gets blended with white rum, vanilla, and cinnamon and needs to chill for at least a few hours in the refrigerator to thicken and allow the flavors to develop.
Yum!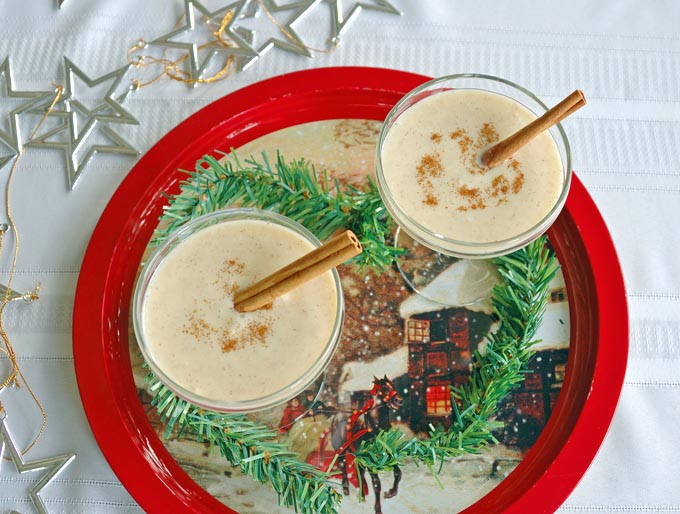 This year, I decided I to make my own coquito, but I wanted it to be authentic. So, I contacted my friend Zaida, who hails from Puerto Rico, and asked if she had a recipe to share.
She generously offered a couple different versions, and after dutifully testing them out with my hubby and making minor adjustments...I went to bed feeling very sleepy but happy.
"Smiling's my favorite..." when I'm drinking coquito.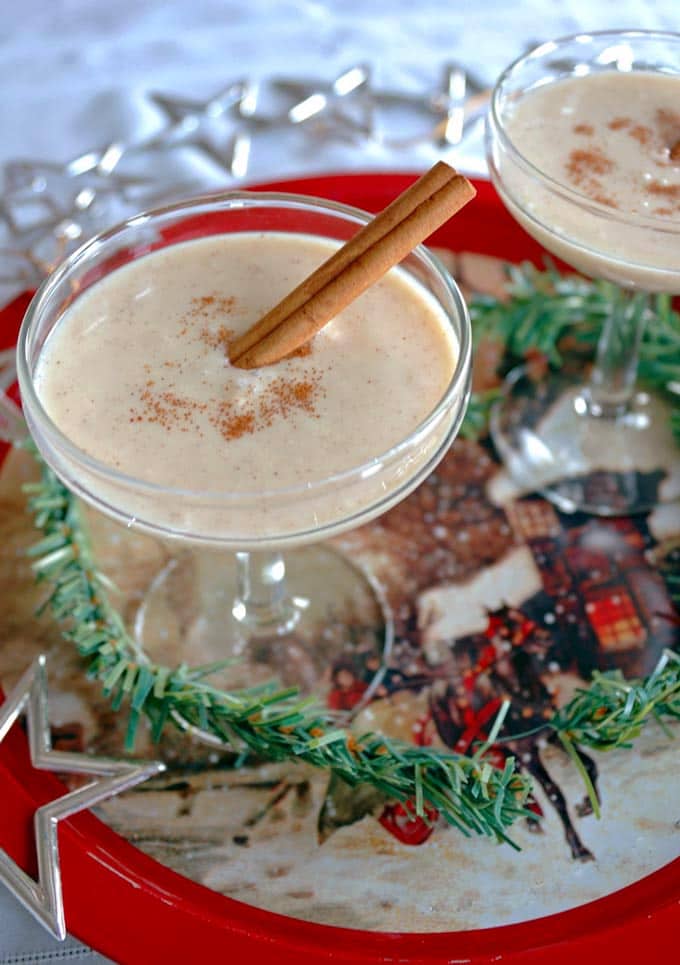 After chilling overnight, the coquito was fabulous first thing in the morning. I mean...I'm guessing it would taste fabulous first thing in the morning...(shifting my eyes from left to right)...okay, you got me!
Just give it enough time to chill, all right?
In full disclosure, I have to tell you the cream of coconut can listed three ingredients I wasn't wild about, given my efforts to cut down on processed foods. I tried using coconut milk instead, but the consistency was too runny here.
However...it's the holidays, and this drink is so delicious. (I heart coquito, in case you didn't notice my evergreen design in the top photo.)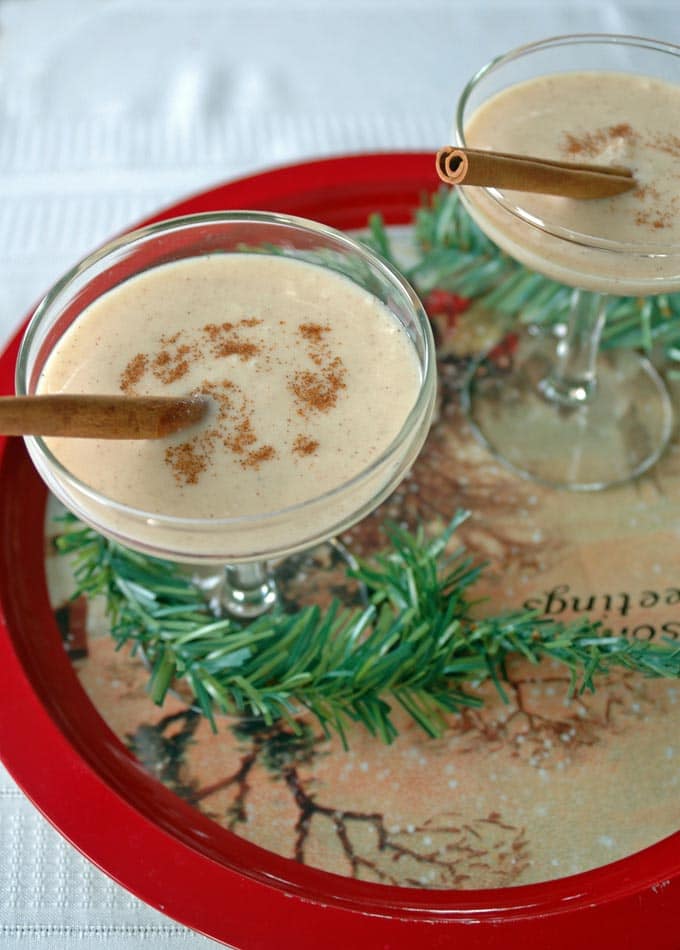 And really, this coconut-rum drink is dessert in a glass. I don't even want to know how many calories are involved.
But I probably should eat salad for the next couple of days.
More drinks to try
If you want something simple, don't miss this easy rum cocktail.
And, if you like frozen drinks, you have to try these easy Red Wine Slushies. If you enjoy holiday drinks, don't miss this Apple Pie Moonshine, Chocolate Liqueur or Black Cherry Amaretto Sour!
And if you love coconut, don't miss this alcohol-free Pineapple-Banana Smoothie with Coconut. It tastes like a piña colada!
Enjoy!
(Recipe Source: Adapted slightly from a recipe given to me by my friend from Puerto Rico.)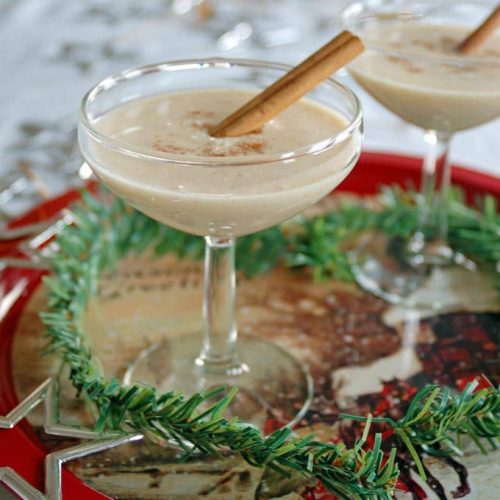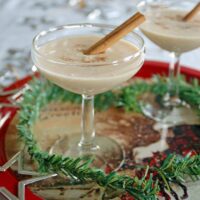 Coquito (Coconut-Rum Drink)
A deliciously rich and creamy Puerto-Rican holiday drink. Mix it in the blender and make sure to allow a few hours for it to chill and develop its flavors.
Print
Pin
Rate
Save
Go to Collections
Servings:
48
(Makes 6 cups)
Ingredients
12-

ounce

can evaporated milk

14-

ounce

can sweetened condensed milk

15-

ounce

can cream of coconut

(see notes)

8

ounces

white rum

1

tablespoon

vanilla extract

½

teaspoon

cinnamon

cinnamon sticks for serving

(optional)
Instructions
Place all ingredients in the blender and mix until smooth.

Place in a pitcher or bottles and refrigerate for at least three hours or overnight.

Shake well before serving. Serve with a cinnamon stick in each glass, if desired.
Notes
Recipe slightly adapted from a friend.
Look for cream of coconut in the booze section of your grocery store.
Nutrition
Calories:
86
kcal
|
Carbohydrates:
11
g
|
Protein:
1
g
|
Fat:
2
g
|
Saturated Fat:
2
g
|
Cholesterol:
4
mg
|
Sodium:
22
mg
|
Potassium:
52
mg
|
Sugar:
11
g
|
Vitamin A:
40
IU
|
Vitamin C:
0.3
mg
|
Calcium:
42
mg