It's so easy to make Lemonade Moonshine! You're going to love this delicious, refreshing drink!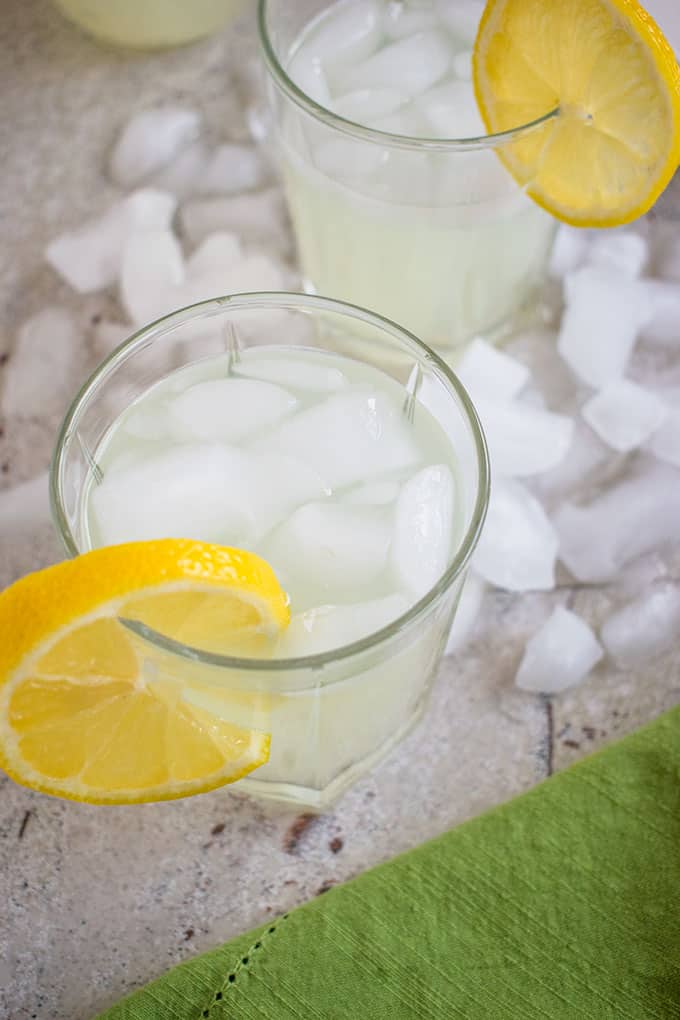 Papa C is in the house!
Of course, Mamma C is writing this post. But when it comes to homemade moonshine or cocktails, you know my hubby is involved.
And by involved, I mean he developed the recipe and typed it out for me. I love when that happens!
My hubby always has some homemade drink concoction going in our basement kitchen, along with his wine. It's not unusual for me to be cooking on the main floor while he's tinkering with flavored booze downstairs.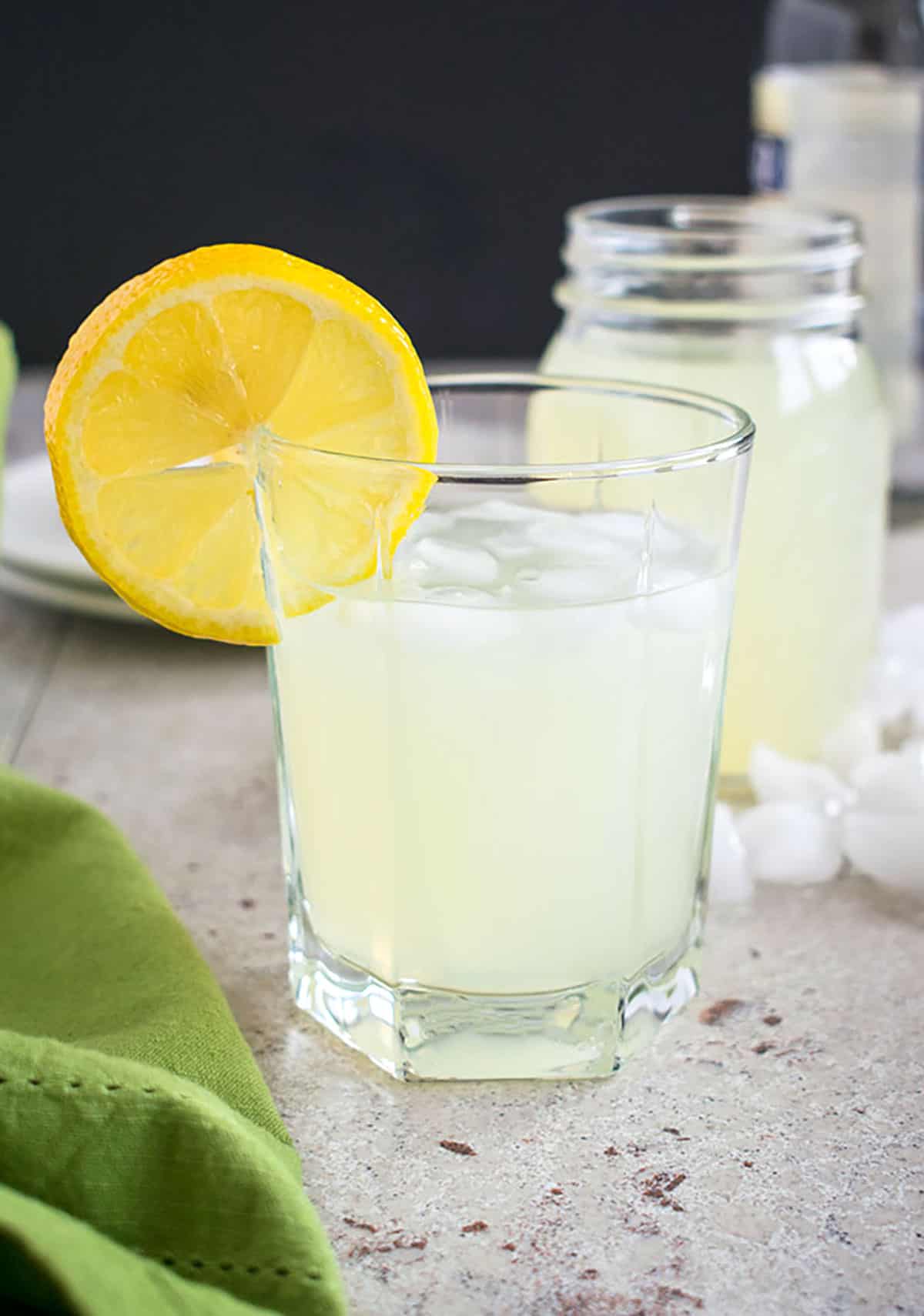 We'll be celebrating our 25th wedding anniversary soon and have learned that separate hobbies make for a happy marriage. Plus, we always have something good to eat and drink.
But, we were out of lemonade moonshine, so I ended up in the liquor store in the middle of the afternoon, awkwardly asking for the Everclear. (#foodbloggerproblems)
But, hey, I did it for you! (Hiccup!)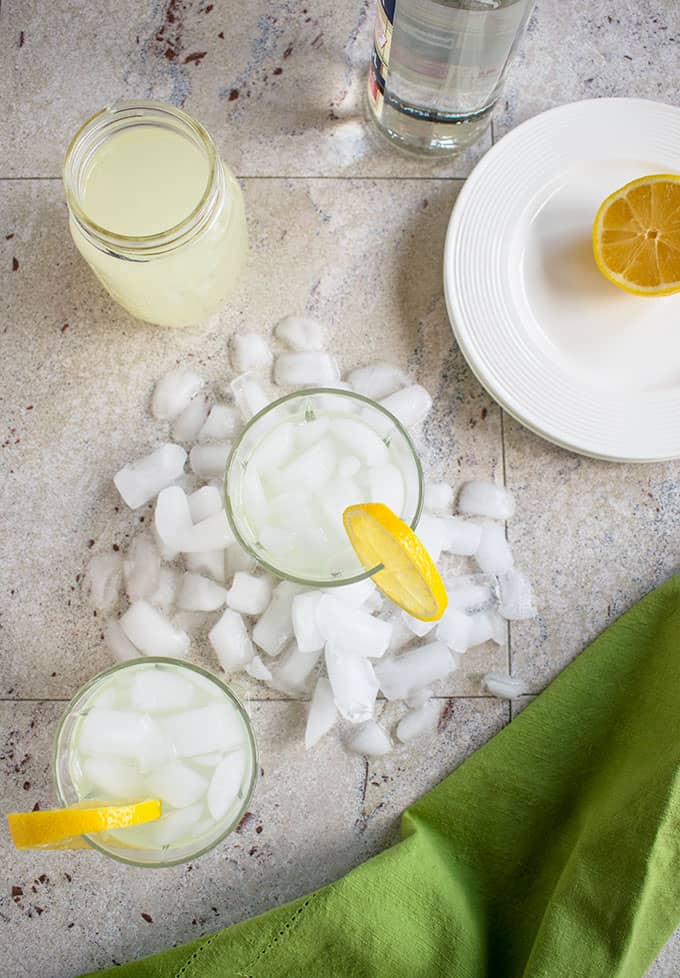 You guys really are going to enjoy this lemonade moonshine. It was a huge hit last summer at our house. I mean, friends in the neighborhood would randomly stop by just to have a glass or two.
It's refreshing, sweet-tart and oh-so delicious. It's lemonade with a kick. Perfect for spring break, don't you think?
Plus, it's even easier to make than my hubby's Apple Pie Moonshine. (That one's developing a cult following, by the way. Have you tried it?)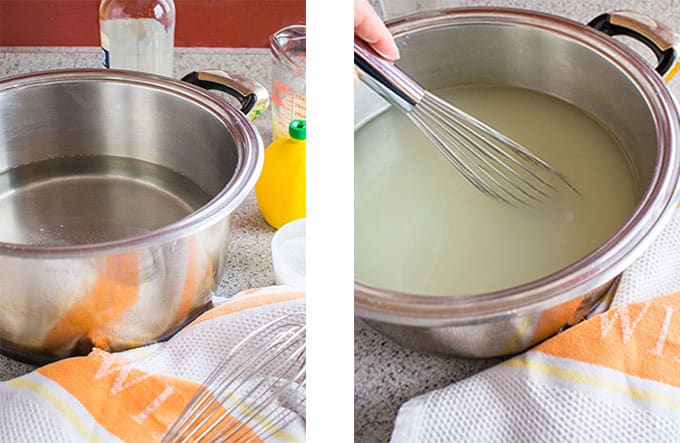 The lemonade version's ready in less than 20 minutes. No overnight business involved.
If you can dissolve sugar in a pot of water on the stove, you've conquered the most challenging part of the recipe. You don't even have to boil the mixture.
Just let the simple syrup cool, then whisk in your 151-proof alcohol and lemon juice. Transfer your lemonade moonshine to bottles or mason jars, (affiliate links) and suddenly, it's summer.
Even if it is snowing outside.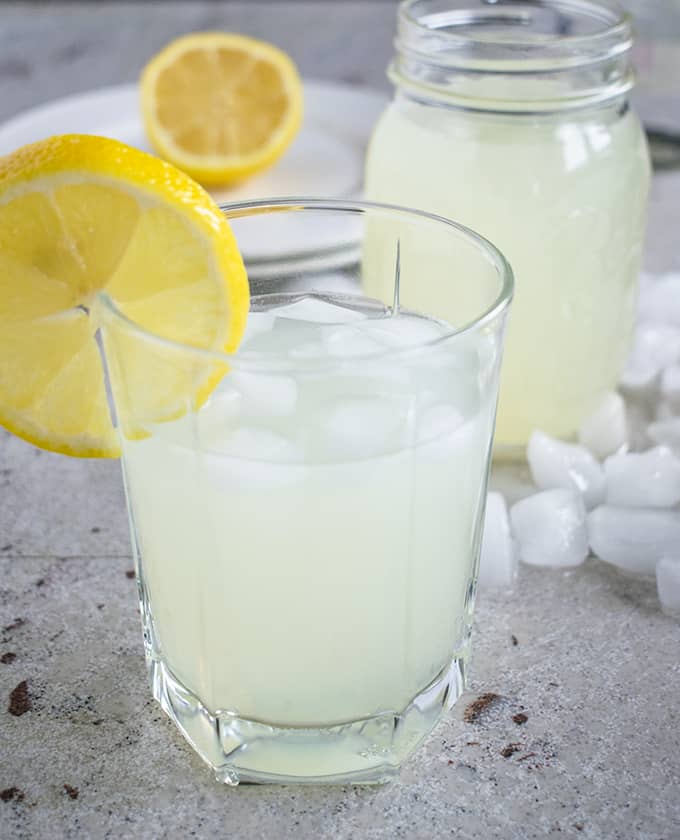 More cocktails to try
Enjoy!
P.S. The lemonade moonshine would be great served with this Red, White and Blueberry Salsa or Guacamole with Cherries, Gorgonzola and Walnuts. Yum!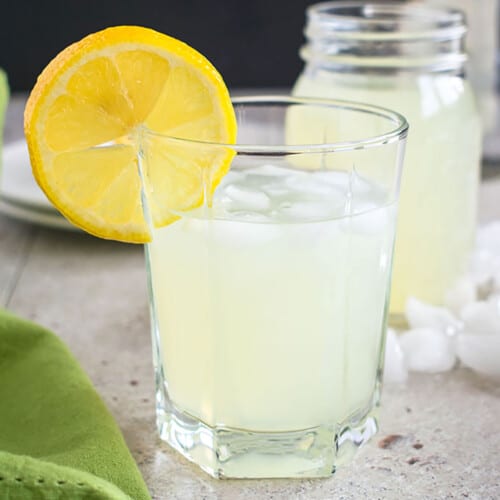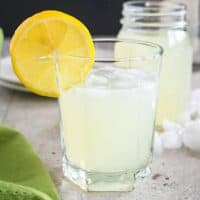 Ingredients
6 ¾

cups

water

1

cup

granulated sugar

1

cup

151-proof alcohol

(such as Everclear)

2 ¼

cups

lemon juice

(bottled juice is fine)
Instructions
Add your water and sugar to a large pot on the stove and whisk to combine. Heat the pot over medium heat until the sugar is dissolved, stirring occasionally. (There is no need to boil the mixture.)

Move the pot to a cool burner and let the sugar water (simple syrup) cool. (The 151 alcohol is flammable, so it's important to make sure the water mixture is no longer hot when you add the alcohol.)

When the water mixture is cooled off, whisk in the alcohol and lemon juice.

Transfer your lemonade moonshine to

bottles

or

mason jars

and refrigerate for up to two weeks. Serve chilled, with ice, if desired.
Notes
With this recipe, each 8-ounce glass will be 15 proof.
For a stronger moonshine (30 proof), use 3 cups water, ½ cup sugar, 1 cup alcohol, and 1 cup lemon juice.
Nutrition
Calories:
144
kcal
|
Carbohydrates:
23
g
|
Sodium:
9
mg
|
Potassium:
56
mg
|
Sugar:
21
g
|
Vitamin C:
21.3
mg
|
Calcium:
8
mg
(Recipe Source: Papa C, aka my hubby, the drinks master)