Make 10-Minute Maple Syrup Salmon on the stove for an easy dinner! Pure maple syrup, butter, lemon and seasonings come together in a magical way in this dish.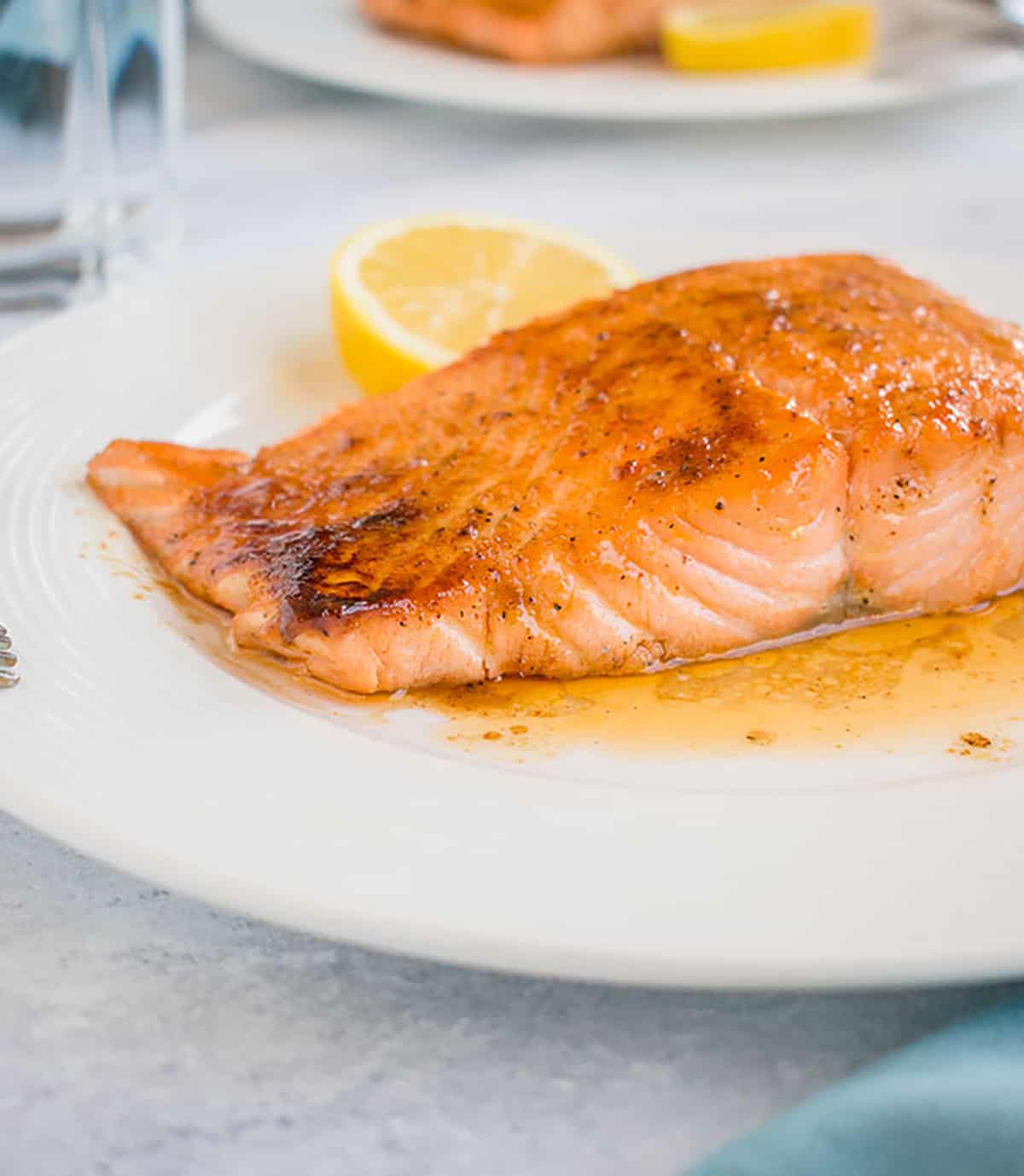 I had to give this Maple Syrup Salmon a facelift. Because this 10-minute recipe is fabulous, but the photos were atrocious.
Do you know what happens to posts like that? They get lost, deep in the archives, and never see the light of day.
Lord knows, I was too embarrassed to share those images any time after 2014.
It was time for a re-do, because this 10-minute, maple-glazed salmon needs to be in your dinner rotation! Pure maple syrup, butter, lemon and seasonings come together in a magical way to produce the most addictive (and easy!) salmon dish to ever come out of my kitchen.
Of course, I love all of my salmon recipes! Don't miss Salmon Caprese, Baked Pesto Salmon, Salsa Salmon with Lime or this Buffalo Salmon!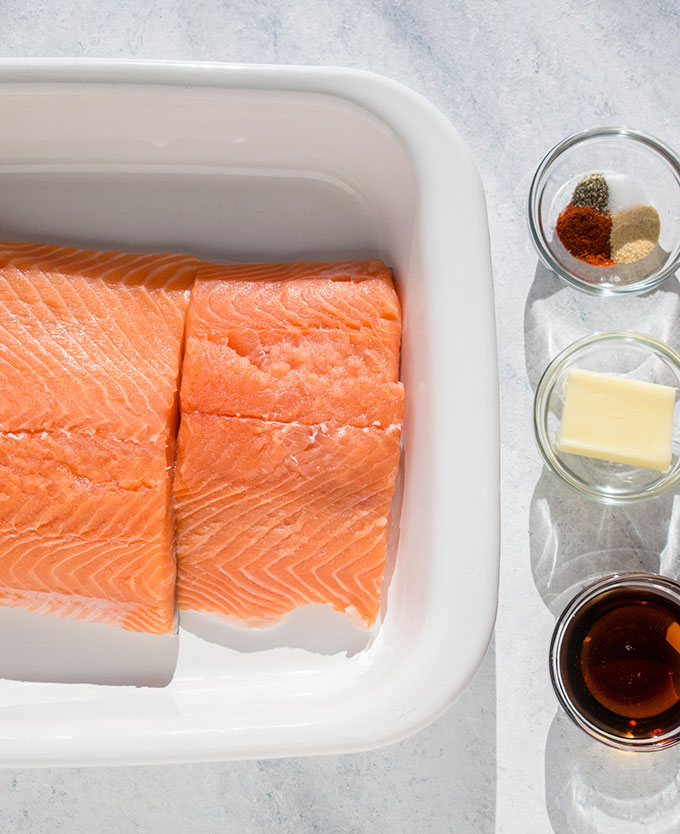 All of us loved it from the first moment I made it several years ago. Even my daughter, who's picky about salmon, was instantly hooked.
And my husband, who tried to tell me he only likes maple syrup on his pancakes, scrounged for scraps of bread after dinner so he could stand at the stove and soak up every drop of delicious glaze left in the pan (affiliate link).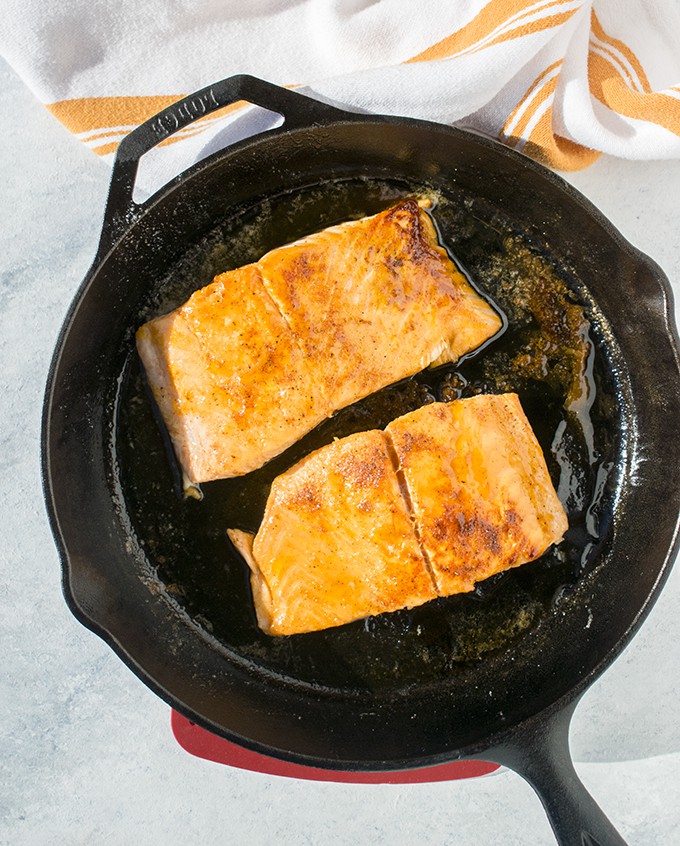 No, it's not like pancakes at all. More like sticky buns...yum!
What to serve with maple syrup salmon
The salmon goes perfectly with a side of baked sweet potatoes (cook them in the microwave for a super-fast dinner.) You can spoon the nectar of the gods, I mean the buttery maple glaze, over your yams for a to-die-for combination.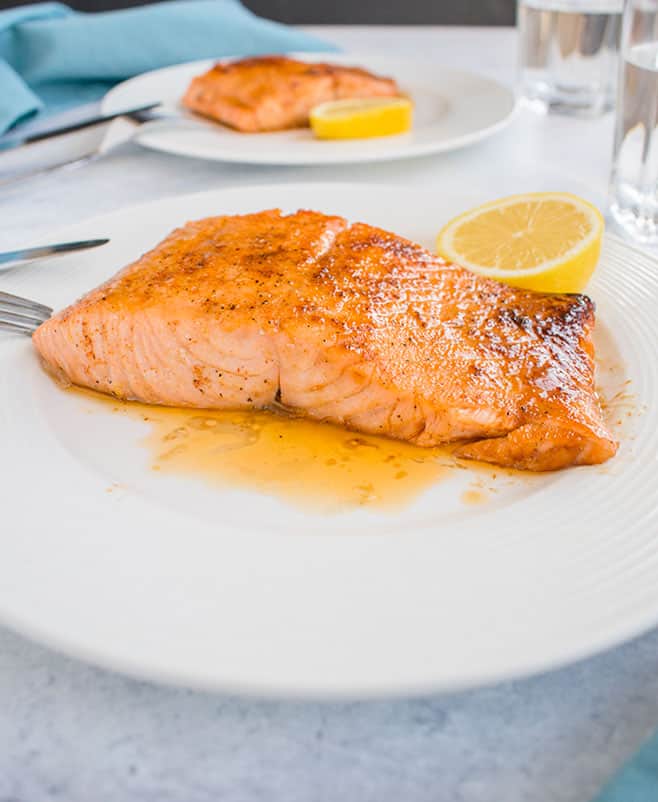 This maple-glazed salmon also goes great with side dishes like:
Just be sure to have some crusty bread to dip into that glaze right out of the pan!
This 10-minute salmon dinner really is that quick to prepare. But a word of caution: Remove any bones from your fish before cooking!
That Time I Got a Fish Bone Stuck in my Throat
True story — once, while eating a different salmon dish, I got a bone stuck in my throat. I mean, it was stabbing me like a harpoon.
I couldn't dislodge it and had to go to the emergency room! It was so ridiculous.
There I was, sitting on the edge of the bed like a stunad, while one by one, doctors and nurses came in to look down my throat and laugh at me. Apparently, no one had ever encountered anything like this.
And I was thinking, "There's nothing to see here...'Tis but a scratch...It's just a flesh wound."
But I wondered how the heck they were going to remove that thing. Thankfully, they brilliantly sprayed Novocaine in my throat and used forceps to pluck that bone out.
It's a good thing I was numbed, because I can't even get a throat culture without grabbing the nurse's wrist and arm wrestling her until it's over.
Anyway, I hope I haven't turned you off to salmon, now that I've become the Aunt Voula of food blogging. ("I had a lump in the back of my neck...inside the lump was my TWIN!)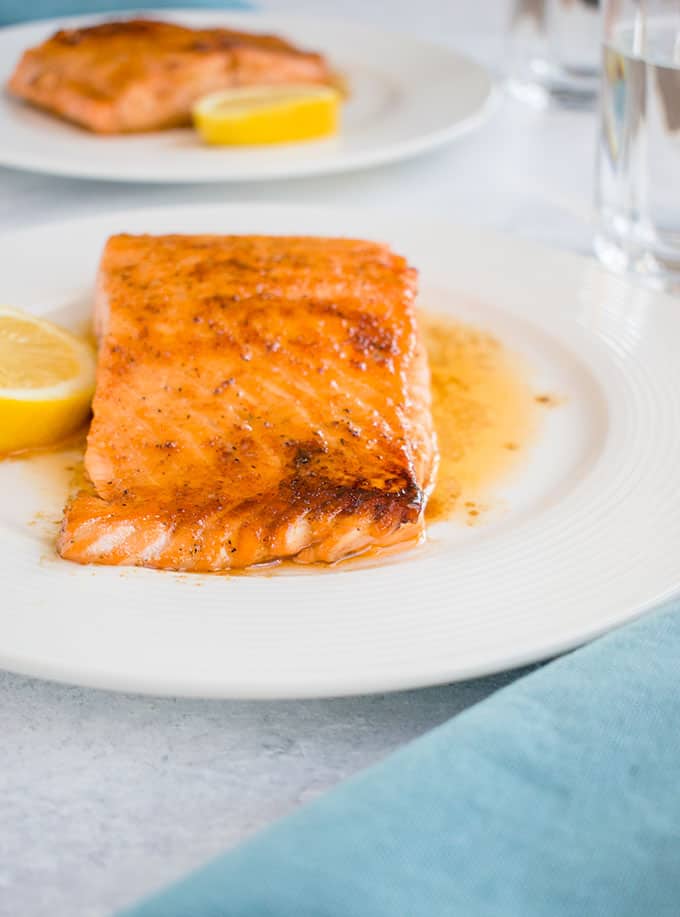 Seriously though, you're going to love this Maple Syrup Salmon!
Enjoy!
(Recipe Source: Cooking with Mamma C. Originally published on October 20, 2014 and updated now with new photos, updated text and nutrition information.)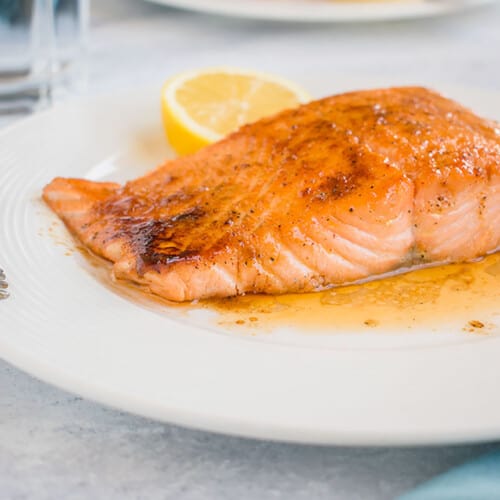 10-Minute Maple Syrup Salmon
Pure maple syrup, butter, lemon & seasonings come together in a magical way in this maple-glazed salmon that's prepared on the stove.
Print
Pin
Rate
Save
Go to Collections
Ingredients
1 ½

pounds

salmon

(cut into four pieces)

3

tablespoons

salted butter

½

teaspoon

garlic powder

½

teaspoon

paprika

¼

teaspoon

pepper

¼

teaspoon

salt

(or to taste)

6

tablespoons

pure maple syrup

(use 1 ½ tablespoons per piece of salmon)

juice of ¼ lemon
Instructions
Rinse salmon and feel for bones to remove. Pat dry with paper towels. Melt butter in a skillet over medium heat.


Add salmon, skin-side down, if there is skin. Sprinkle each piece of fish with salt, pepper, garlic powder, and paprika. Pour 1 ½ tablespoons syrup over each piece of fish.

Cook the salmon on the first side for two minutes. Flip the fish and cover the pan with a lid. After three minutes, remove any skin by lifting it up with a knife and gently peeling it off with your fingers (if it's too hot, use a spatula.) Discard the skin.


Flip the fish again, and after a minute, check for doneness by seeing if it can be flaked with a fork. If so, turn off the heat. (Cooking time will depend on the thickness of your fish. Be sure to watch any thin pieces carefully and remove them when done, letting the thick pieces cook longer.)

Squeeze the lemon quarter over the salmon and serve with the glaze spooned on top. Store leftovers covered in the refrigerator for up to three days.
Notes
You must try dipping some bread into the pan to soak up the glaze!
The salmon is delicious served with baked (or microwaved) sweet potatoes on the side. You can spoon some of the glaze on your sweet potatoes.
Nutrition
Calories:
398
kcal
|
Carbohydrates:
20
g
|
Protein:
33
g
|
Fat:
19
g
|
Saturated Fat:
7
g
|
Cholesterol:
116
mg
|
Sodium:
152
mg
|
Potassium:
900
mg
|
Sugar:
18
g
|
Vitamin A:
330
IU
|
Vitamin C:
0.7
mg
|
Calcium:
56
mg
|
Iron:
1.4
mg