You can make Cast Iron Salmon with Maple Glaze in 10 minutes! Pure maple syrup, butter, lemon and seasonings come together in a magical way in this dish.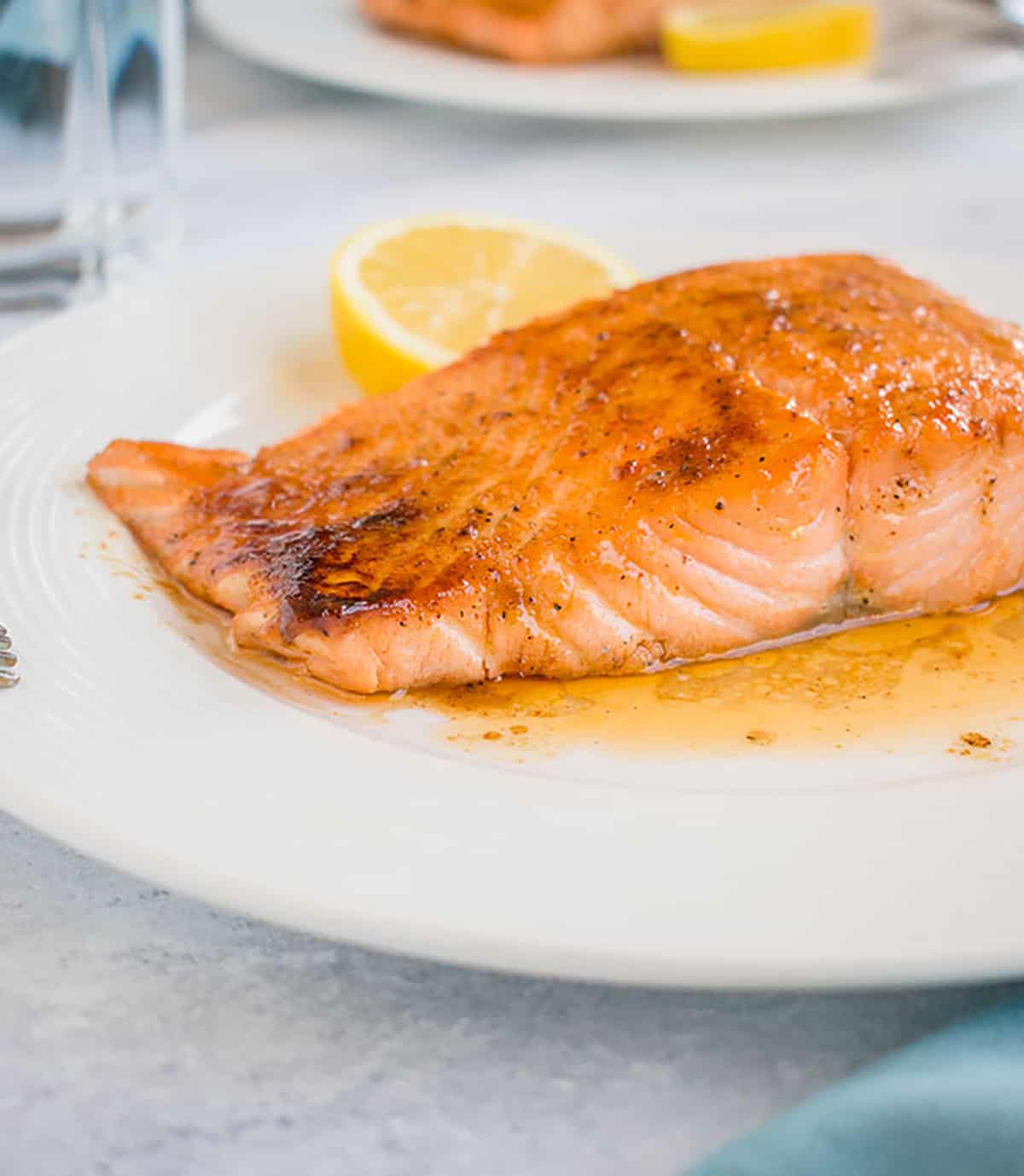 If you need a delicious dinner in a hurry, I've got you! You can make this maple-glazed salmon in 10 minutes on your stove using a cast iron pan or any skillet.
It's the most addictive and easy salmon dish to ever come out of my kitchen. I've been making this for a decade!
It's one of our favorite fish recipes, and I bet you'll love it too. Pure maple syrup, butter, lemon and seasonings come together to make magic.
You'll want to drink that glaze with a spoon! And don't be surprised when dinner is over and you find yourself with a chunk of bread at the stove, sopping up all of that maple goodness from the pan!
Recipe ingredients
As you can see, we're using just a handful of ingredients This is a maple-glazed salmon recipe without soy sauce. And, no marinade is required!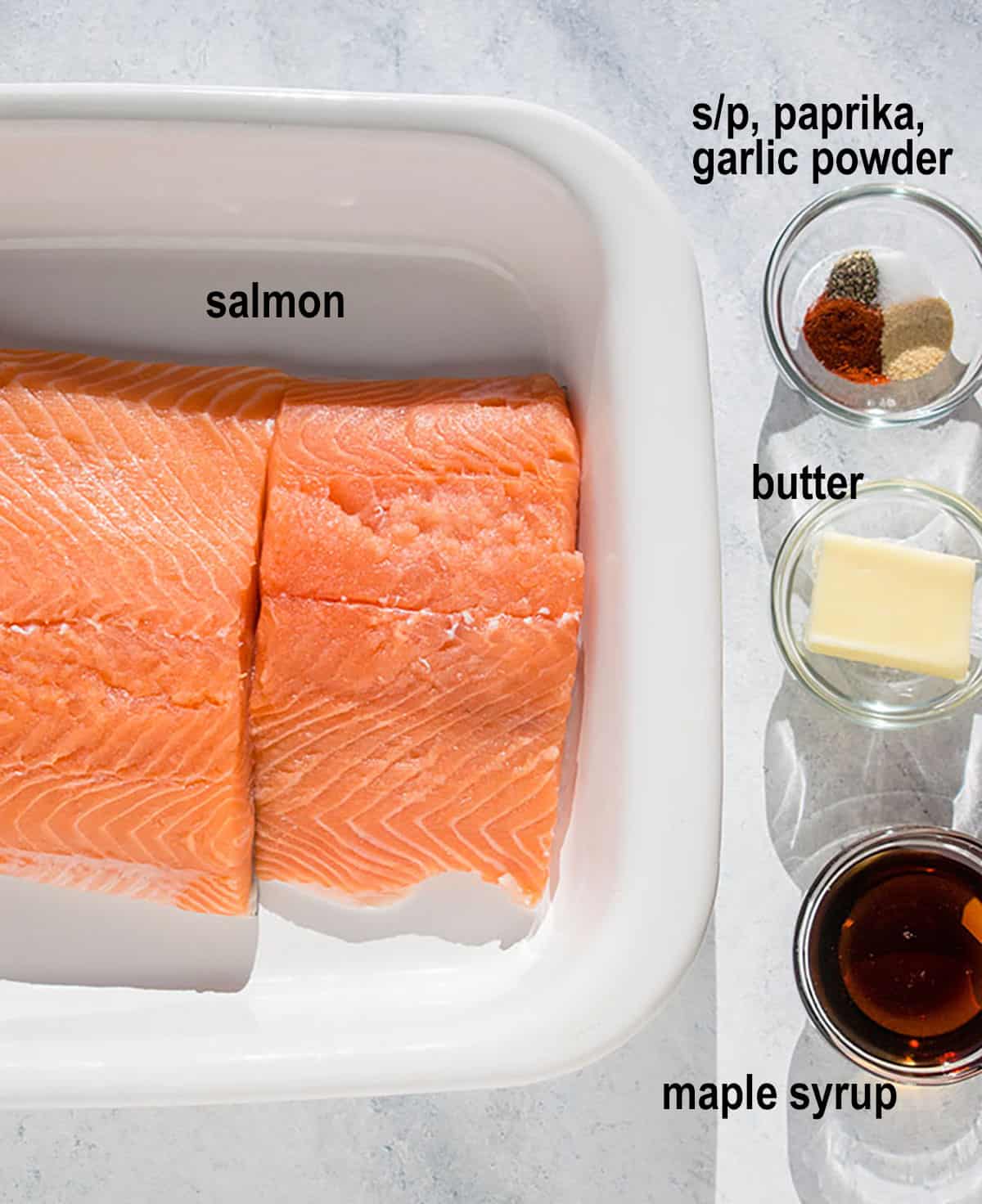 Salmon: You can use Atlantic salmon, which is actually farm-raised, or wild salmon which will cook faster. This salmon buying guide from Seafood Watch makes recommendations for each type.
I like to buy salmon fillets with the skin on, since it is cheaper. Plus, it makes it easier to flip the fish over in the pan.
Maple Syrup: Use pure maple syrup for bold, rich, flavor. Pancake syrup won't taste as good here, but technically, you can use it.
Garlic Powder: You know this Italian lady had to add a garlic accent! Garlic maple salmon is a beautiful thing.
Paprika: I always use regular paprika here, as opposed to hot, sweet or smoked paprika. If you want to use hot paprika, I'd use half the amount, so this dish won't be too spicy hot.
Lemon: This cuts the sweetness of the maple syrup and adds a pop of bright, acidic flavor. Don't skip it!
How to make maple salmon in a cast iron pan
See the card at the end of this post for the full recipe, but here's an overview.
Melt the butter in your cast iron pan (affiliate link) or a 12-inch nonstick skillet (affiliate link).
Add the salmon, skin side down. Season the fish and pour maple syrup on each piece.
After two minutes, flip the salmon, cover and cook for a few minutes.
Remove the skin and flip the salmon again to cook for another minute.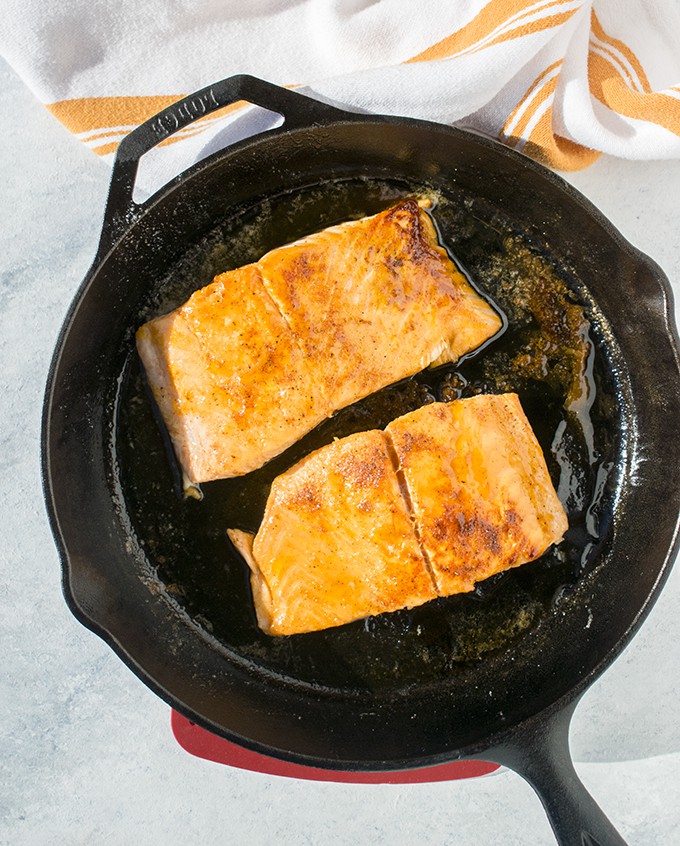 Recipe tips
Before starting, be sure to feel for any bones to remove from the salmon fillets.
You'll know when your pan-seared salmon is done when it reaches an internal temperature of 125°F for Atlantic salmon or 120°F for wild-caught salmon. The flesh of the salmon should flake easily and not be shiny inside.
Thin pieces of salmon will cook faster than thicker ones. Remove thin ones from the pan sooner.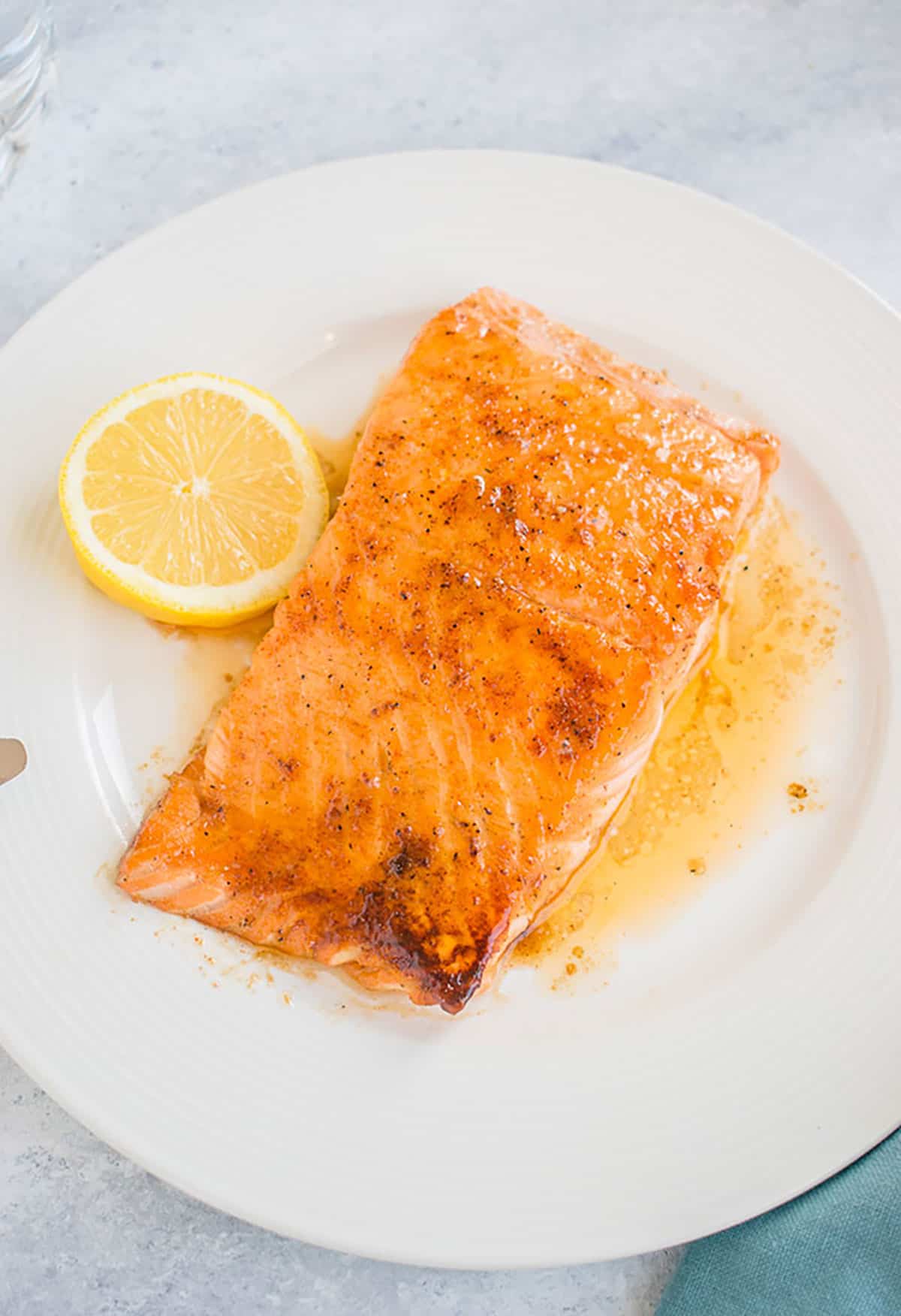 What to serve with maple syrup salmon
To serve, top each piece of salmon with a squeeze of lemon juice and a spoonful of maple glaze.
The fish goes perfectly with a side of baked or roasted sweet potatoes, Oven Roasted Potatoes, or Mashed Turnips. It's also perfect with this Salad with Maple Vinaigrette, Steamed Corn on the Cob and Italian Broccoli with Gremolata.
And don't miss out on dipping this delicious Italian Bread into the nectar of the gods...I mean the buttery maple glaze!
Frequently asked questions
Can you bake cast iron salmon?
Yes, you can bake salmon right in the cast iron pan, and you don't need to flip it! Bake the fish skin-side down at 400 degrees F for 15-20 minutes. At the halfway point, spoon some of the maple glaze from the pan onto the fish.
How long does cooked salmon last in the fridge?
Cooked salmon lasts 3-4 days in the refrigerator. It should be stored in an airtight container.
Can you eat salmon skin?
It's generally safe for people to eat salmon skin, unless you're pregnant or nursing, according to Healthline. In fact, this part of the fish has the highest amount of omega-3 fatty acids, which is great for decreasing your chances of heart disease.
 
However, it's important to consider an individual's health and where the salmon came from. Fish are often exposed to pollutants in our air and water. Salmon can absorb toxins through its skin.

In general, skin from wild-caught Pacific salmon is safer than skin from farm-raised Atlantic salmon.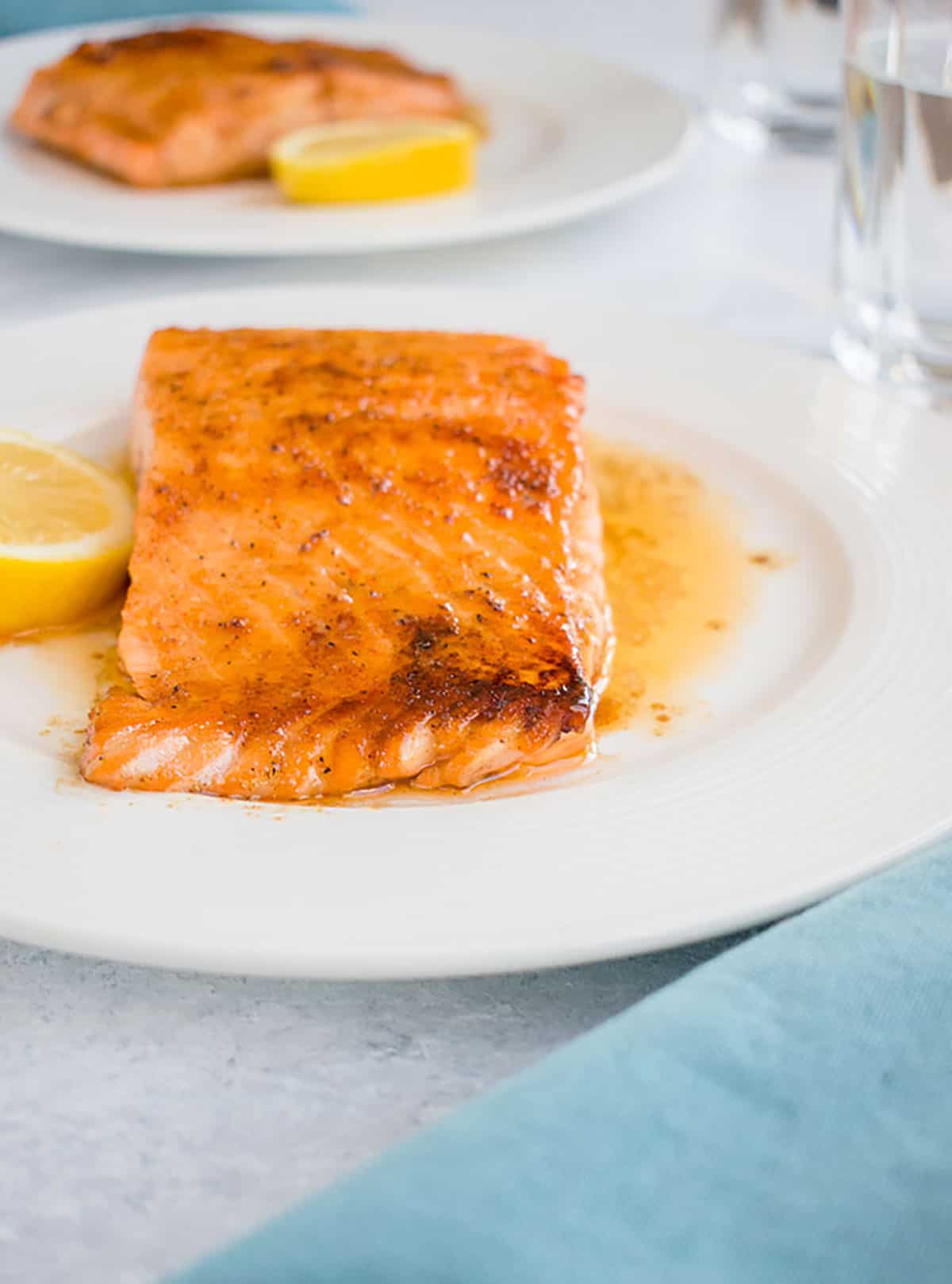 More salmon recipes to try
Enjoy!
If you try this Cast Iron Salmon with Maple Glaze, please leave a comment and a rating!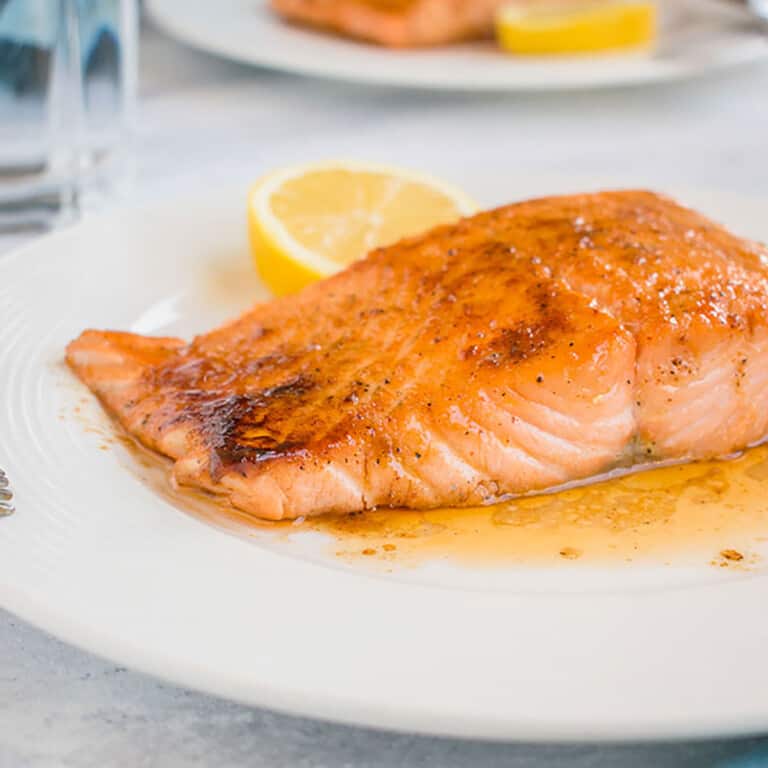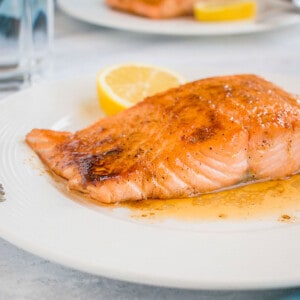 Cast Iron Salmon with Maple Glaze
Pure maple syrup, butter, lemon & seasonings come together in a magical way in this maple-glazed salmon that's prepared on the stove.
Print
Pin
Rate
Save
Go to Collections
Ingredients
1 ½

pounds

salmon

(cut into four pieces)

3

tablespoons

salted butter

½

teaspoon

garlic powder

½

teaspoon

paprika

¼

teaspoon

pepper

¼

teaspoon

salt

(or to taste)

6

tablespoons

pure maple syrup

(use 1 ½ tablespoons per piece of salmon)

juice of ¼ lemon
Instructions
Rinse the salmon and feel for any bones to remove. Pat dry with paper towels. Melt butter in a skillet over medium heat.

Add salmon, skin-side down, if there is skin. Sprinkle each piece of fish with salt, pepper, garlic powder, and paprika. Pour 1 ½ tablespoons syrup over each piece of fish.

Cook the salmon on the first side for two minutes. Flip the fish and cover the pan with a lid. After three minutes, remove any skin by lifting it up with a knife and gently peeling it off with your fingers (if it's too hot, use a spatula.) Discard the skin.


Flip the fish again, and after a minute, check for doneness by seeing if it can be flaked with a fork. If so, turn off the heat. (Cooking time will depend on the thickness of your fish. Be sure to watch any thin pieces carefully and remove them when done, letting the thick pieces cook longer.)

Squeeze the lemon quarter over the salmon and serve with the glaze spooned on top. Store leftovers covered in the refrigerator for 3-4 days.
Notes
You must try dipping some bread into the pan to soak up the glaze!
The salmon is delicious served with baked (or microwaved) sweet potatoes on the side. You can spoon some of the glaze on your sweet potatoes.
Nutrition
Calories:
398
kcal
|
Carbohydrates:
20
g
|
Protein:
33
g
|
Fat:
19
g
|
Saturated Fat:
7
g
|
Cholesterol:
116
mg
|
Sodium:
152
mg
|
Potassium:
900
mg
|
Sugar:
18
g
|
Vitamin A:
330
IU
|
Vitamin C:
0.7
mg
|
Calcium:
56
mg
|
Iron:
1.4
mg
(Recipe Source: Cooking with Mamma C. Originally published on October 20, 2014 and updated now with new information.)