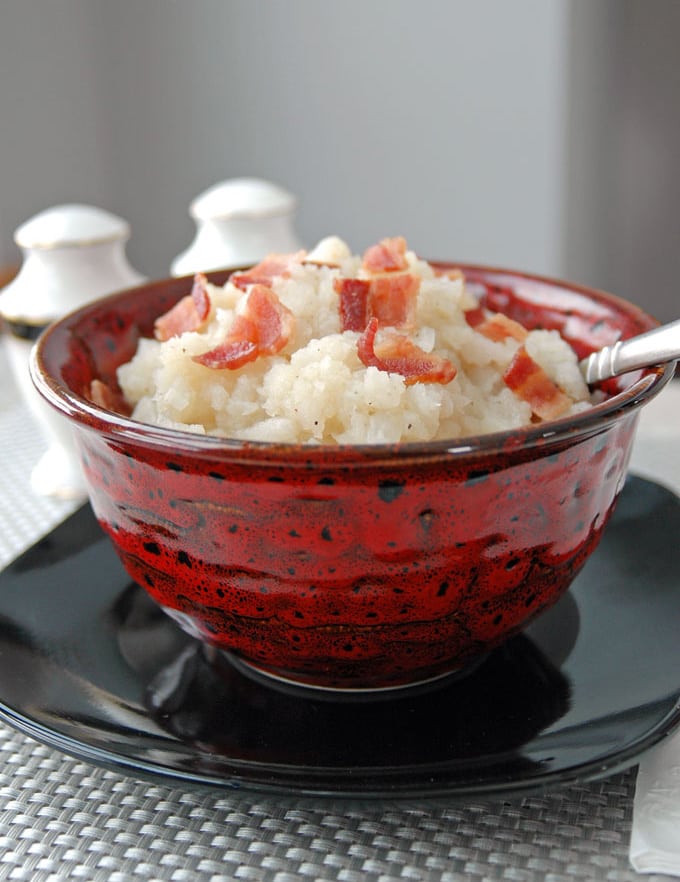 Turnip for what? If you're over 30 or don't live with a teenager, you might not get that joke. But I assure you, it's very, very funny. My kids are cringing about now, but I'm sure they'll forgive me, since these mashed turnips with brown butter and bacon are divine.
Would you believe that we'd never tried turnips until about three weeks ago? True story. But when we were visiting my in-laws in Connecticut for Thanksgiving, our dear friend Marion told me all about her mom's mashed turnips and had me drooling. I had to get the recipe and see what we'd been missing. Whoa!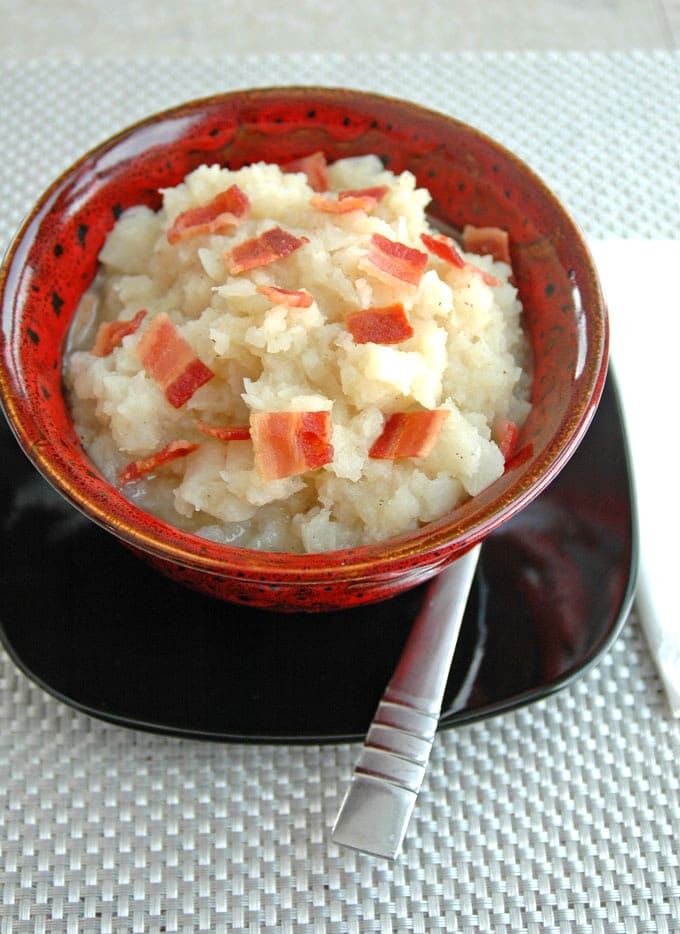 I'm slightly embarrassed to admit that I didn't even know what turnips looked like. I had to Google a picture of them so I could find them at the grocery store. I took a photo of them for you though. You're welcome.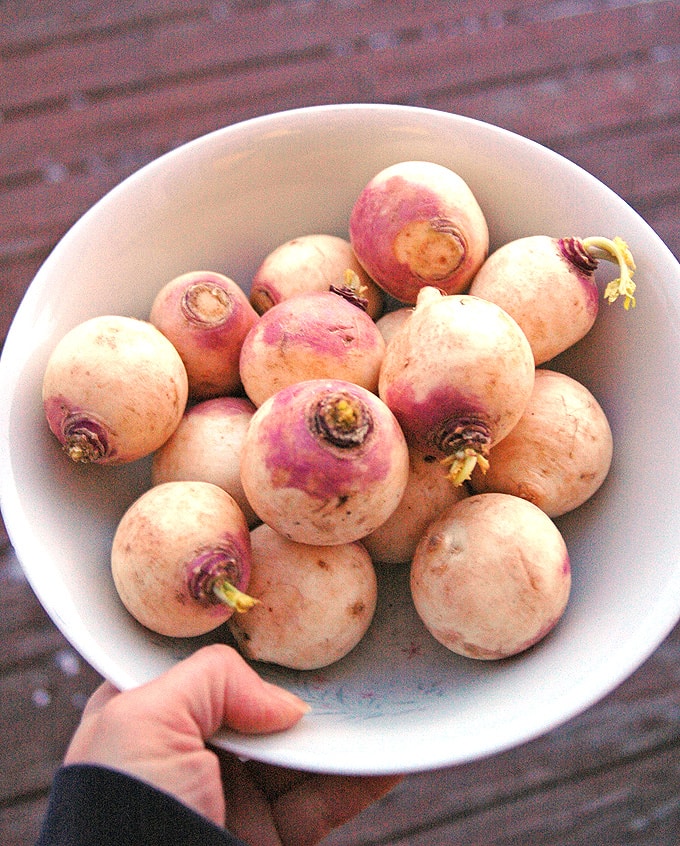 When you peel the turnips, they look like small, white potatoes. In this dish, the turnips are boiled, mashed and mixed with brown butter, bacon, and a little brown sugar, plus salt and pepper. (My adaptations included omitting the bacon grease and browning the butter to give it a rich, nutty flavor.) The turnips taste similar to cauliflower, and this dish is savory with the slightest hint of sweetness.
The turnips have a much higher water content than cauliflower, however. In fact, you only use one cup of water to boil/steam the turnips, and even after draining, you'll notice some liquid in the bowl when you serve these. Still, they'd be an excellent substitute for mashed potatoes.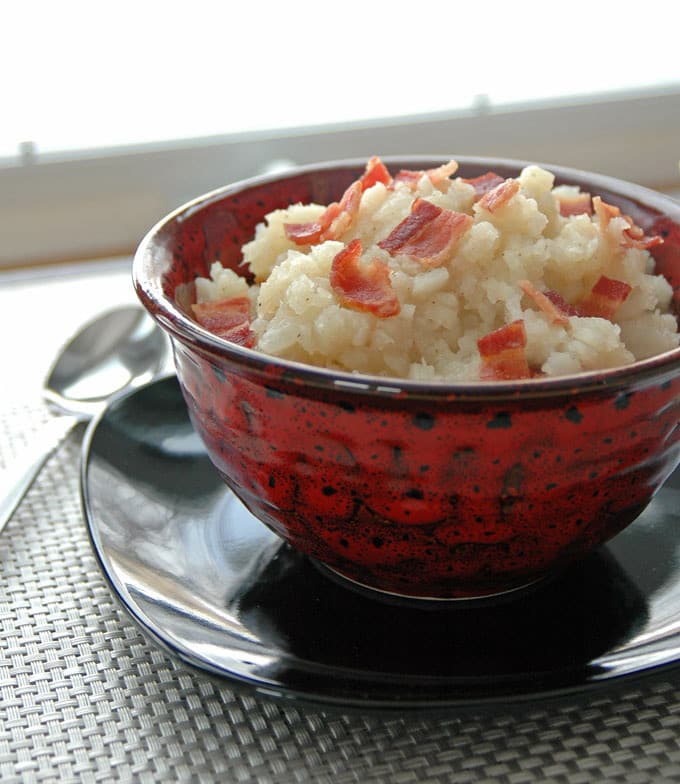 Brown butter, brown sugar or bacon alone can make any meal delicious. But include all three, and you have a dish that sings. Yum! Where have these turnips been all of my life?
(Recipe Source: Adapted from a recipe given to me by our dear friend Marion, who got it from her mother, Mrs. J., whom we remember with much love. What a spunky lady!)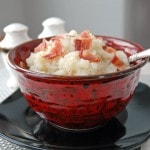 Mashed Turnips with Brown Butter and Bacon
Savory with just a hint of sweetness, these Mashed Turnips with Brown Butter and Bacon are so delicious! A great substitute for mashed potatoes.
Keyword:
bacon, brown butter, mashed turnips
Ingredients
2

pounds

turnips

(the smaller ones are less bitter)

1

cup

water for boiling

1 1/8

teaspoon

salt

(divided use)

3

strips of lean bacon

2

tablespoons

salted butter

1/4

teaspoon

black pepper

1 1/2

teaspoons

brown sugar
Instructions
Rinse the turnips in cold water and trim off the stem and root ends. Use a vegetable peeler to remove the skin. Rinse the turnips again and cut them into cubes.

In a medium pot, place one cup of hot water and a teaspoon of salt on the stove over high heat to boil. When the water is boiling, add the turnips. When the water comes to a boil again, lower the heat and cover the pot. Cook the turnips for 15-20 minutes, or until fork tender. Drain.

While the turnips are cooking, cook the bacon in the microwave on a plate between paper towels. The bacon is done when it just becomes crispy and is no longer pink. Pat the cooked bacon with a clean paper towel to absorb excess grease, and using kitchen scissors if you have them, cut the bacon into small pieces and set them aside.

To brown the butter, place the butter in a small pan over medium high heat and watch it carefully as it melts. Lower the heat a bit and swirl the pan or use a spoon to stir the butter around. The butter will foam, and eventually, the milk solids will start to brown. Keep watching the butter so it won't burn. The butter is browned when it is a caramel color. As soon as it reaches that stage, turn off the heat and remove the pan to a cool burner.

When the turnips are drained, return them to the pot and mash them with a potato masher. Stir in 1/8 teaspoon salt, the brown butter, black pepper, brown sugar and bacon. (If you wish, you can reserve some of the bacon to sprinkle on top before serving.)

Store leftovers in the refrigerator for up to four days.
Nutrition Facts
Mashed Turnips with Brown Butter and Bacon
Amount Per Serving
Calories 150
Calories from Fat 81
% Daily Value*
Fat 9g14%
Cholesterol 20mg7%
Sodium 775mg34%
Potassium 372mg11%
Carbohydrates 13g4%
Protein 3g6%
Vitamin A 140IU3%
Vitamin C 38.1mg46%
Calcium 54mg5%
Iron 0.6mg3%
* Percent Daily Values are based on a 2000 calorie diet.