We love Roasted Butternut Squash Cubes! I'm sharing a family favorite, plus my tips and step-by-step photos for how to peel and cut butternut squash.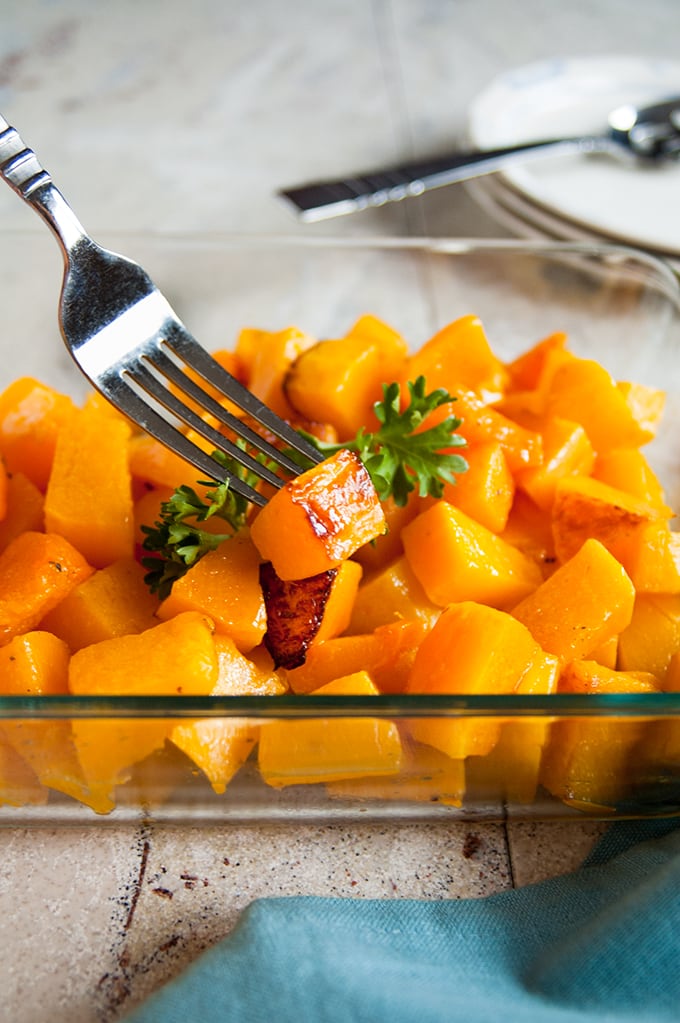 Have you ever tried roasted butternut squash cubes? This is one of our favorite Italian Side Dishes, so I had to share it with you and hopefully, demystify the process of how to peel and cut butternut squash.
I have to thank Ina Garten for introducing me to roasting butternut squash cubes four years ago. (Not in person, of course, but wouldn't that be cool?)
Before, I just assumed butternut squash needed to be cut in half and roasted in a pan of water.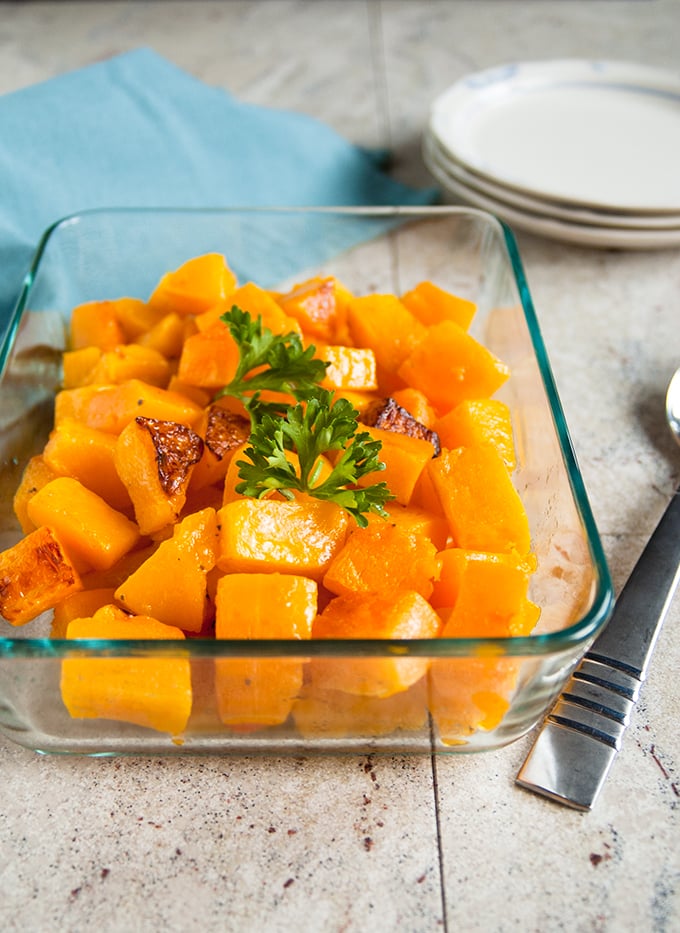 But peeling and cutting it into cubes first, then roasting it at 400 degrees F allows for crispy edges and buttery, soft middles. It sweetens the vegetable and brings out the best flavor, especially when using olive oil and mouthwatering seasonings.
I've adapted Ina's recipe by reducing the oil and using my favorite Italian seasoning, Seasonello. (I have no affiliation with Seasonello, but that's my Amazon affiliate link.)
I use the herbal salt at least three times a week when cooking veggies, meat or potatoes. It's a fantastic combination of sea salt, garlic, rosemary, sage and pepper. But, no worries if you don't have it; you can always use salt and pepper here instead.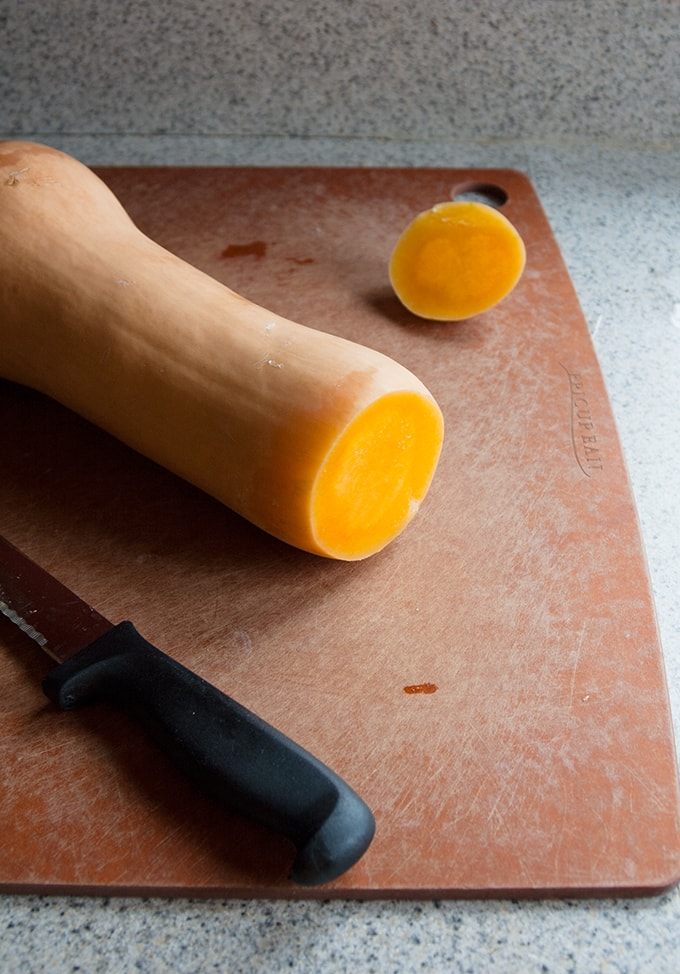 Peeling and cutting butternut squash can be intimidating, but I've figured out a few tricks to make it easier. (If your grocery store sells the squash already cubed, and you're not concerned about the added expense, by all means, go ahead and buy three cups to roast.)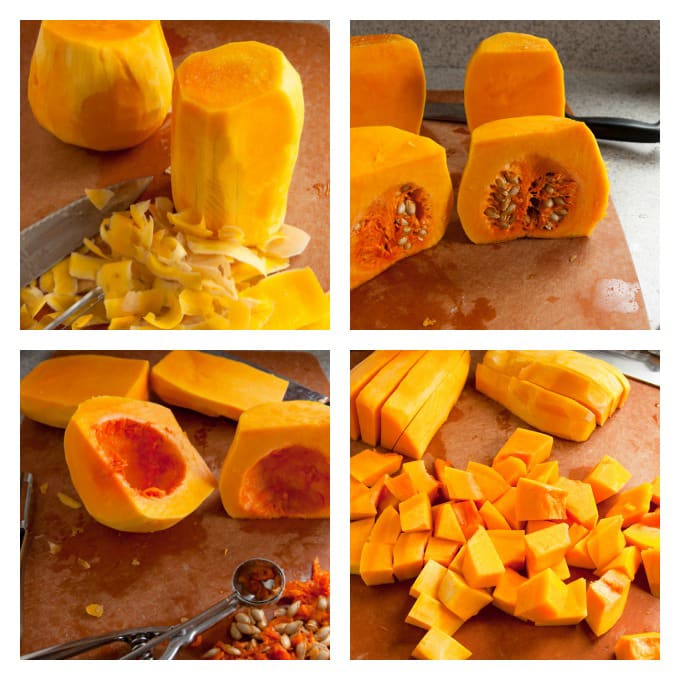 Here are my tips to cut and peel butternut squash:
Heat your whole squash in the microwave for 3-4 minutes on high to soften it first.
Peel the butternut squash after you've cut off the ends and cut the vegetable in half the short way, so it's easier to grasp.
Peel the squash until you see orange flesh; the pale yellow flesh you see at first is tough and needs to be removed.
Use a small scoop, if you have one, to clean out the seeds and pulp. It works much better than a spoon or fork.
I've included more details on cutting the butternut squash into cubes on the recipe card below, and you can refer to the photos above. The good news is, it's easier than cutting spaghetti squash (my most dreaded kitchen task!), and the results are so worth it.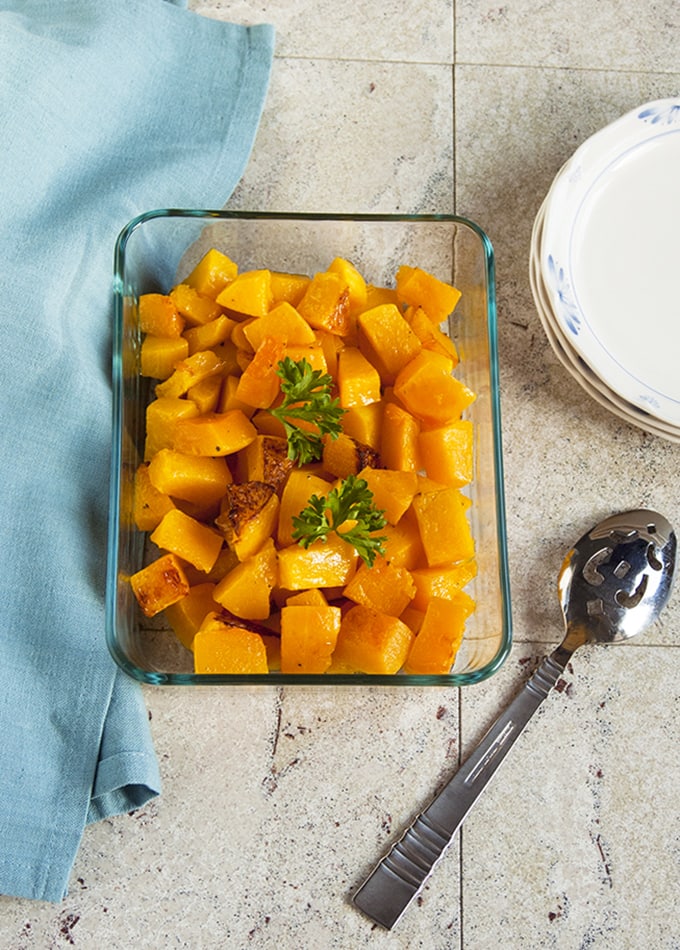 Roasted butternut squash cubes for the win! Enjoy!
P.S. If you want to check out other recipes where I've used Seasonello, see Seasonello Roasted Potatoes and Homemade Turkey Lunch Meat.
(Recipe Source: Adapted from Ina Garten, Food Network)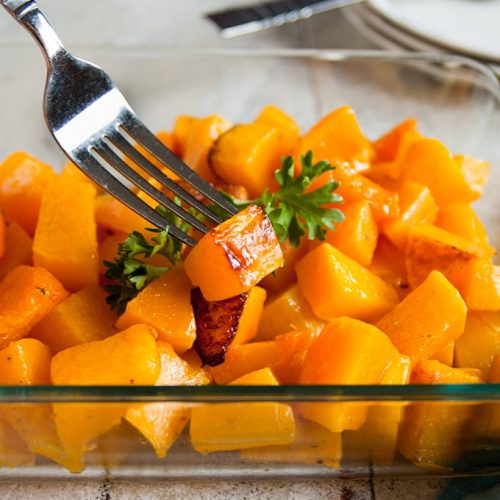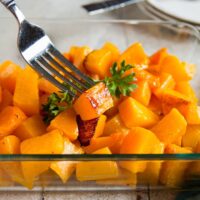 Ingredients
2 ½

pounds

butternut squash

2

tablespoons

olive oil

⅓

teaspoon

Seasonello

(or use salt & pepper to taste; see notes)
Instructions
Heat your oven to 400 degrees F. Rinse your butternut squash and pat it dry.

Heat your squash in the microwave on high for 3-4 minutes to soften it. On a large cutting board, use a large serrated knife to slice off the stem and root ends of the squash. (If you're having trouble cutting through the squash, heat it a little more in the microwave.)

Discard the ends and cut the squash in half the short way. Use a vegetable peeler to remove the skin from the squash halves, peeling until you see orange flesh. (The pale yellow flesh you see first is tough and needs to be removed.) Discard your peels.

Slice each piece of butternut squash in half the long way. (See photos.)

Use a small scoop (if you have one) or a spoon to scrape out the seeds and pulp. Discard the seeds and pulp.

To cut your squash into cubes, first cut the squash into long strips about 1 ½ inches wide. Cut those logs into cubes as shown in the photos.

Place your butternut squash cubes in a single layer on a rimmed baking sheet. Top them as evenly as you can with the olive oil and seasoning. Use your clean hands (or a large spoon) to toss and mix the vegetables. Wash your hands, if needed, and bake the butternut squash for 30 minutes, stopping at the halfway point to flip the squash over with a metal spatula. The squash should be soft, with some crisp edges. You can taste it to see if you want to bake it a little longer.
Notes
If your squash weighs less than 2 ½ pounds, you should use less Seasonello. If you don't have a kitchen scale, you can weigh the butternut squash at the store.
If you don't have Seasonello, you can use salt and pepper to taste.
Nutrition
Calories:
151
kcal
|
Carbohydrates:
26
g
|
Protein:
2
g
|
Fat:
5
g
|
Sodium:
9
mg
|
Potassium:
798
mg
|
Fiber:
4
g
|
Sugar:
4
g
|
Vitamin A:
24110
IU
|
Vitamin C:
47.6
mg
|
Calcium:
109
mg
|
Iron:
1.6
mg