Salmon Caprese with Balsamic Glaze is my favorite salmon ever! It's so easy, yet impressive enough for company. You need to try this! Don't miss the video!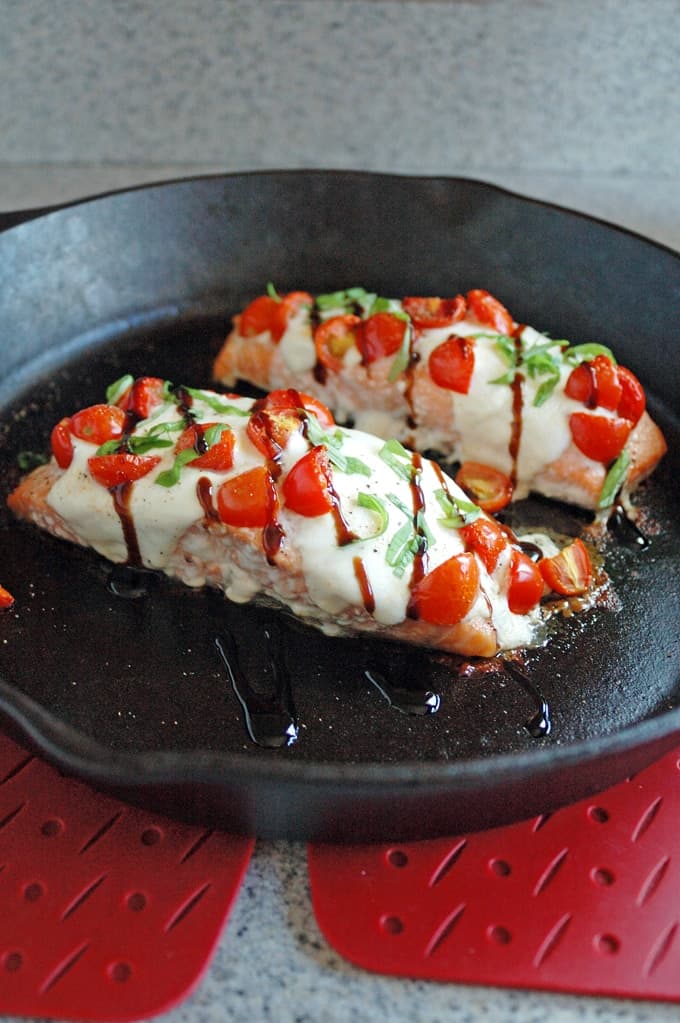 What do you do when your doctor says to eat salmon twice a week for the omega-3s?
a. Get a second opinion
b. Make the same old salmon recipe every three days
c. Decide to come up with the best darn salmon dishes to keep things interesting
Luckily for us, I chose "c." And, I have to say, this Salmon Caprese with Balsamic Glaze (hey, that rhymes!) knocks my socks off. It's the best salmon I've ever made.
And I love all of my salmon recipes. I'll even go out on a limb and say someone who doesn't like fish might enjoy this Salmon Caprese.
I mean, it looks like pizza, right?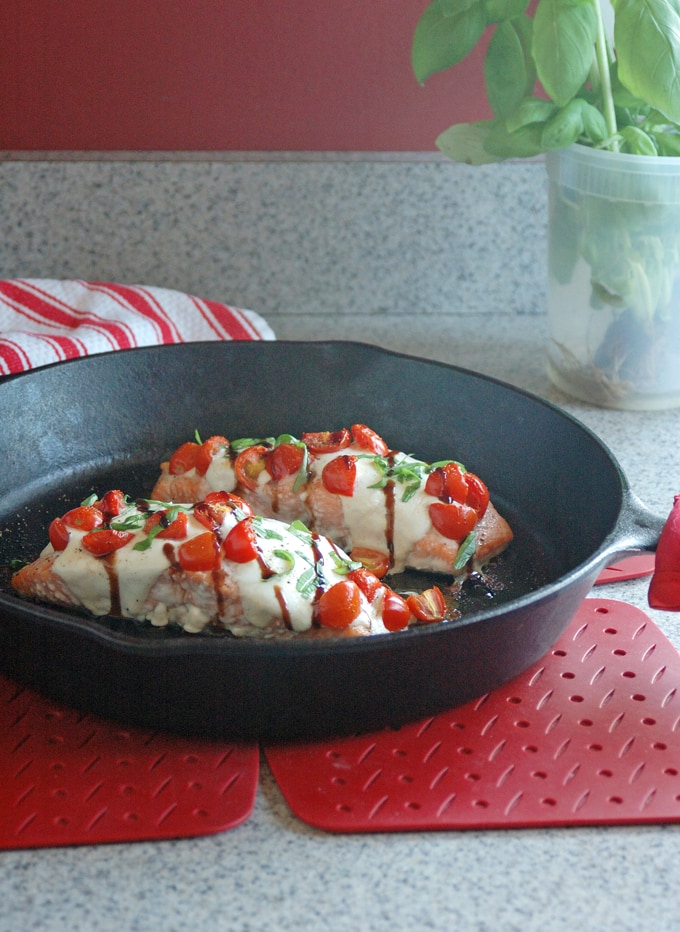 I took gorgeous, mouthwatering Caprese ingredients — fresh mozzarella (the soft, white kind), tomatoes and basil — and married them with salmon.
I layered the mozzarella and tomatoes on the oiled and seasoned salmon, roasted them, then sprinkled the ribbons of basil atop the gooey, melted cheese and drizzled it all with balsamic glaze.
Delizioso!

I need to tell you about the island paradise of Capri for a moment, since that's the origin of the Caprese combination of ingredients. First, it's actually pronounced "KAH-pree," with the accent on the first syllable.
Second, it's located near Naples, where Mom was born.
Third, I left my heart there 34 years ago when we stayed in Capri for two whole weeks in August during our family trip to Italy with Nonna. (The photo of Nonna on my About Me page was taken in Capri on our hotel balcony.) I vowed to return someday, and visiting with my hubby and kids remains at the top of my bucket list.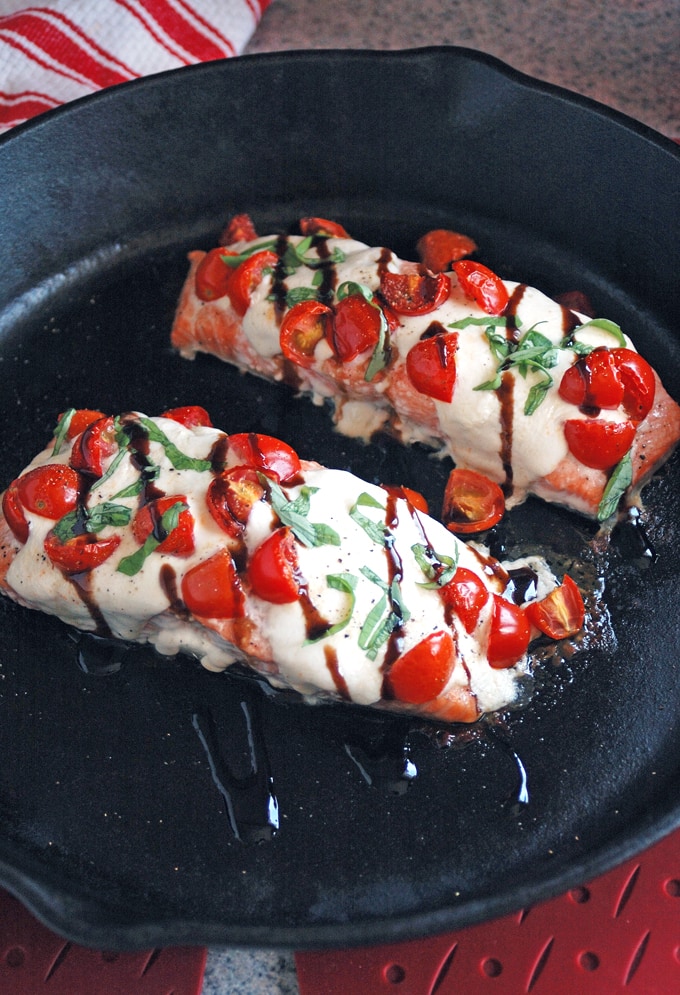 Would you believe I never liked raw tomatoes until I ate them in Capri?
On our beach days, we'd buy "mozzarella e pomodoro" sandwiches, which consisted of a slab of crusty Italian bread stuffed with fresh, buffalo mozzarella and a thick slice of juicy, sweet tomato, accented with olive oil and basil...what's not to love?
Then, at night, we'd dine al fresco, often at a particular restaurant that served the best pizza Margherita, again with the freshest mozzarella, tomatoes and basil. Heaven!
Can you blame me for trying to recreate that Capri vibe with this Caprese Salmon with Balsamic Glaze?
And, while I'm giving you the recipe with the amounts as best I can, this is the kind of dish you can wing after the first time or two. Put on some music, sip some wine or tea, and decorate your salmon with layers of Caprese deliciousness, without worrying about measuring or counting.
Just like an Italian.
More salmon recipes
Enjoy!
(Recipe Source: Cooking with Mamma C)
Watch the video to see how easy it is to make Salmon Caprese with Balsamic Glaze!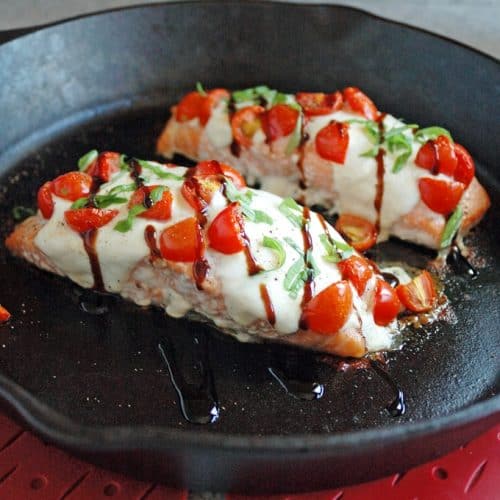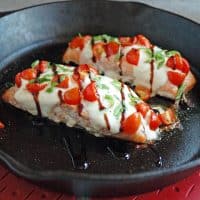 Ingredients
1.75

pounds

salmon

(4 pieces)

4

teaspoons

olive oil

salt

pepper

8

ounces

fresh mozzarella cheese

16

grape tomatoes

garlic powder

6

medium basil leaves

3

tablespoons

balsamic glaze
Instructions
Preheat your oven to 400 degrees F. Grease your baking pan (a rimmed baking sheet or anything your fish will fit into) with cooking spray.

Rinse your salmon under cold water and feel for any bones to remove. Pat the fish dry with paper towels.

Place your salmon in your pan (skin side down) and top each piece of fish with one teaspoon of olive oil. Brush the oil or use your fingers to spread it evenly. (Wash your hands if you touched the raw fish.) Sprinkle salt and pepper on the salmon.

Slice your fresh mozzarella into rounds about ½ inch thick (or a little thinner, if you prefer). Place two slices of mozzarella on each piece of salmon, in a single layer. (If your fish is longer, you might be able to fit three slices of cheese.)

Rinse your tomatoes and pat them dry. Slice them in half, then in half again. Place your tomatoes on top of the mozzarella, distributing them across each piece of fish. Sprinkle the tomatoes with garlic powder and black pepper. (You shouldn't need any more salt, since the cheese is salty.)

Bake your salmon for 20 minutes, or until the fish can be flaked with a fork. If your salmon is thin, you might only need 15 minutes.

While the salmon is in the oven, rinse and pat dry your basil leaves. Trim off the stems. Make ribbons of basil (chiffonade) by rolling up each leaf and then slicing it into sections about ¼-inch thick.

To serve, remove the skin (if any) from the bottom of the fish. Top each piece of salmon with basil ribbons and drizzle on balsamic glaze.
Nutrition
Calories:
518
kcal
|
Carbohydrates:
9
g
|
Protein:
52
g
|
Fat:
29
g
|
Saturated Fat:
9
g
|
Cholesterol:
153
mg
|
Sodium:
446
mg
|
Potassium:
1176
mg
|
Sugar:
4
g
|
Vitamin A:
1030
IU
|
Vitamin C:
9.3
mg
|
Calcium:
317
mg
|
Iron:
2
mg