Pan-Fried Eggplant with Tomato Sauce is a family recipe from Naples! Thin eggplant planks are fried in oil and layered with Parmesan cheese, sauce, and basil. Eat them at room temperature or chilled and try them in a sandwich!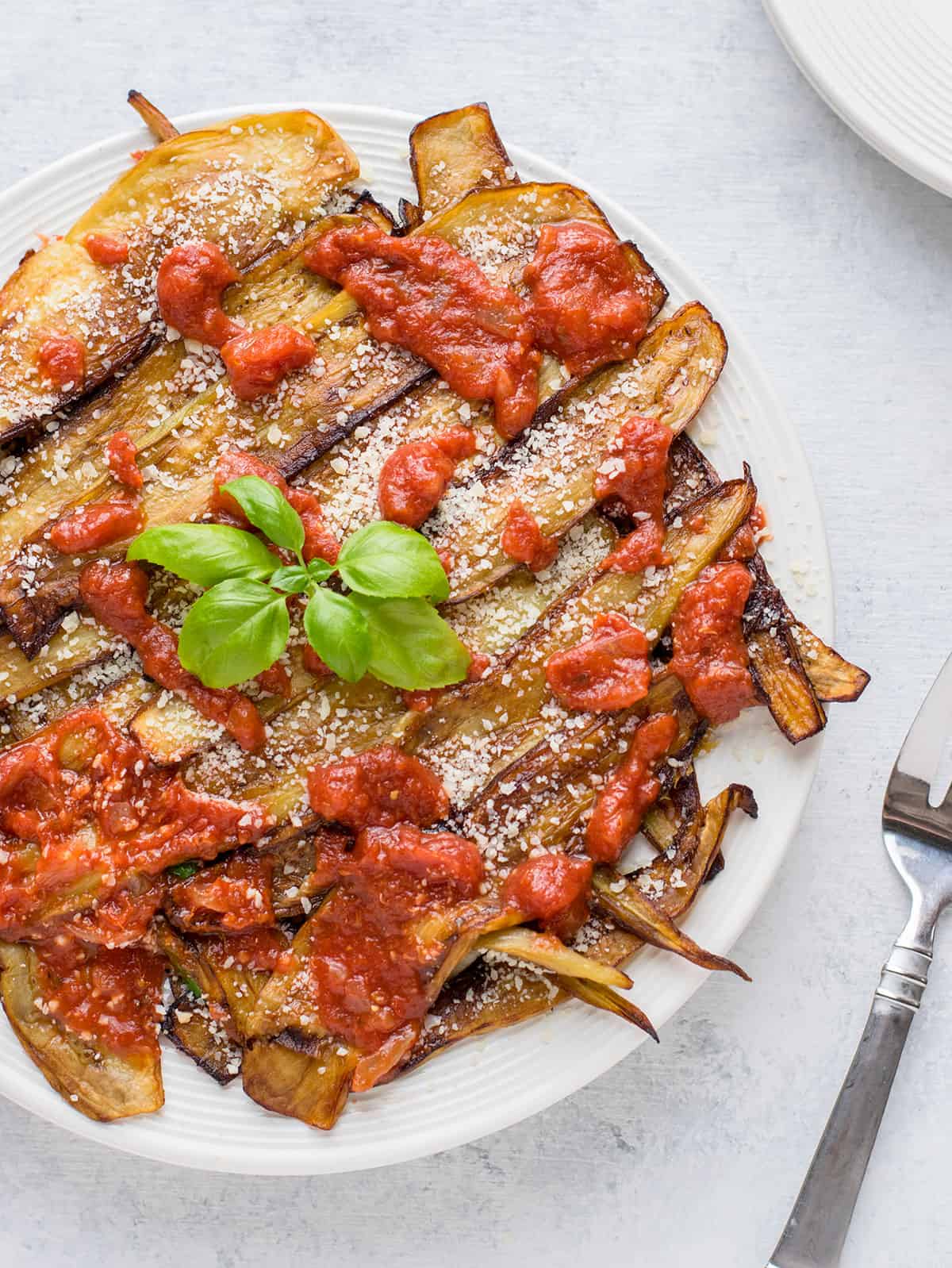 No, this is not Eggplant Parmigiana.
There's no flour, eggs, bread crumbs or mozzarella here. Just plain eggplants fried in oil, then layered with Parmesan cheese, tomato sauce and basil.
Delizioso! It's one of the best things in life.
My family refers to this dish as...wait for it..."eggplants in a dish."
But it's probably more helpful to refer to it as a "pan-fried eggplant recipe with tomato sauce."
No matter what you call it, you have to try this authentic Italian eggplant recipe from Naples!
Recipe ingredients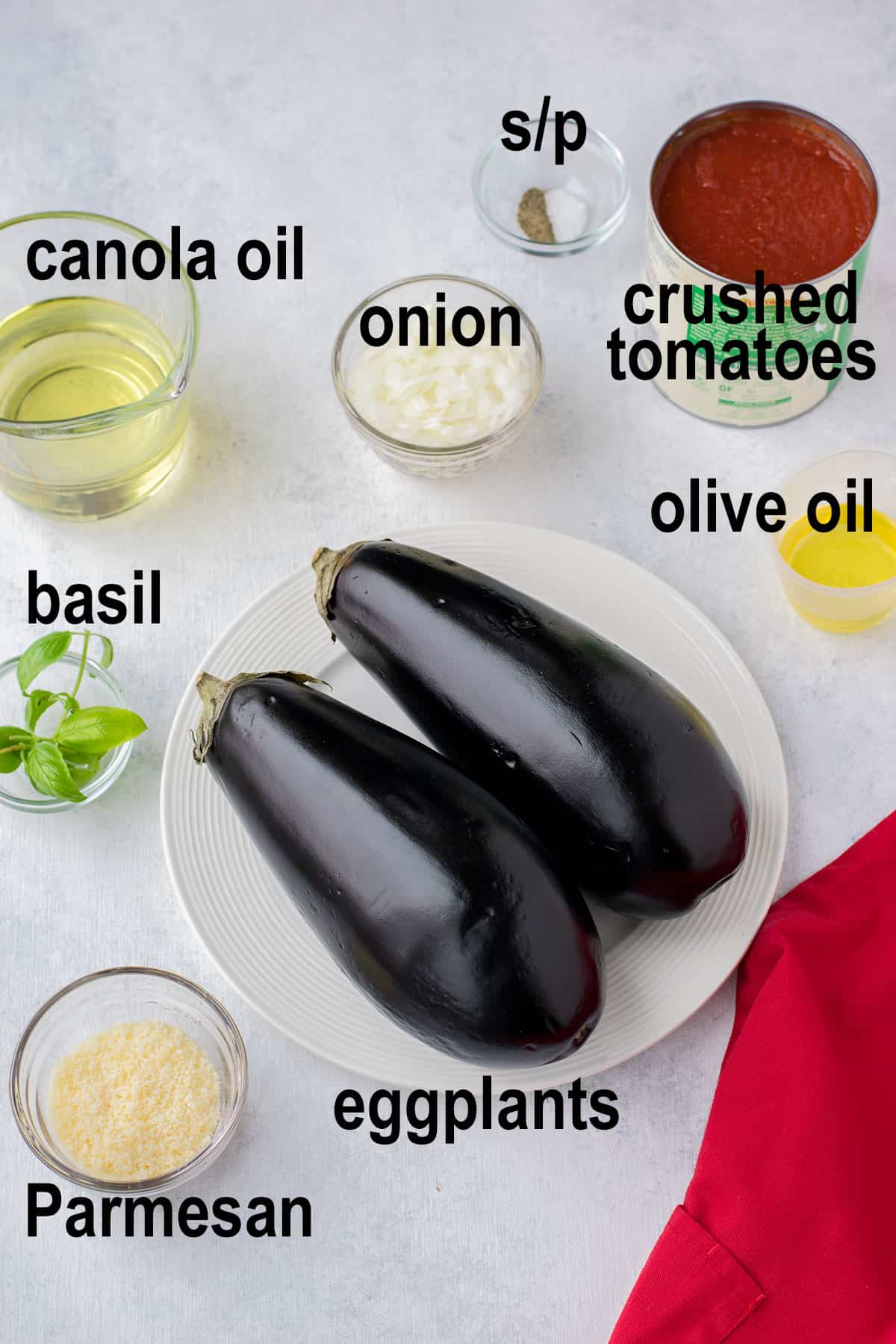 Eggplants: It all starts with eggplants, of course. Make sure they're firm, glossy and not bruised.
Try to buy long, skinnier ones, if possible, because they'll have less seeds, which are bitter. Look for green stems, not brown.
Oil: We're using canola oil for pan frying the eggplants on the stove. It's best to use oil with a high smoke point for frying, so don't use olive oil here.
Tomato Sauce: This recipe also includes the ingredients for a light tomato sauce that's slightly sweet, thanks to onions and no garlic. But, feel free to use this marinara instead, if you already have it made.
Salt the eggplant to reduce bitterness
Salting the eggplants (sometimes called "sweating" eggplants), draws out moisture and reduces bitterness.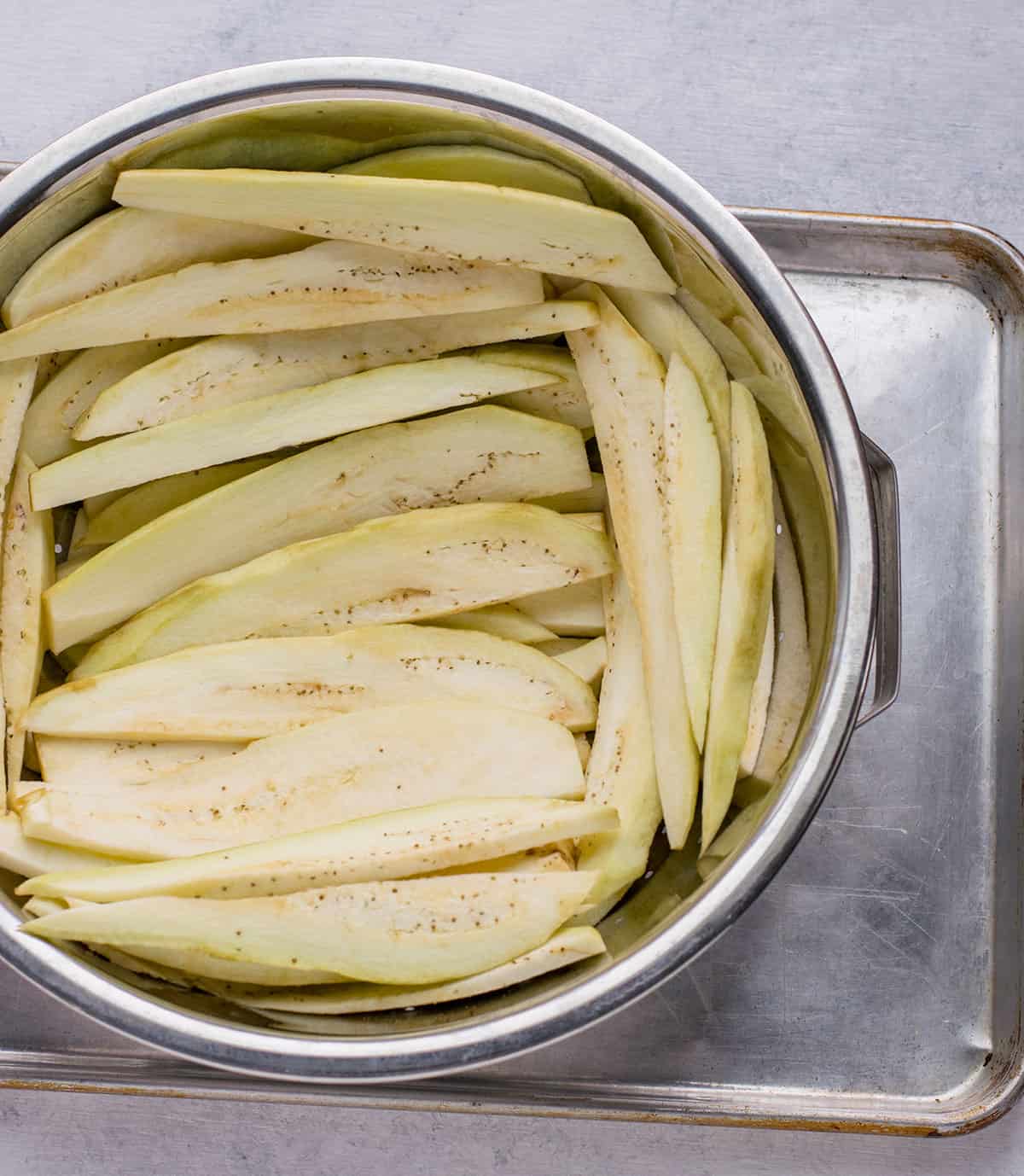 Sprinkle salt on a layer of raw eggplant planks.
Add more layers of salted eggplant as needed.
Let the eggplants sit for at least 30 minutes.
Use paper towels to wipe off the moisture and salt.
How to make pan-fried eggplant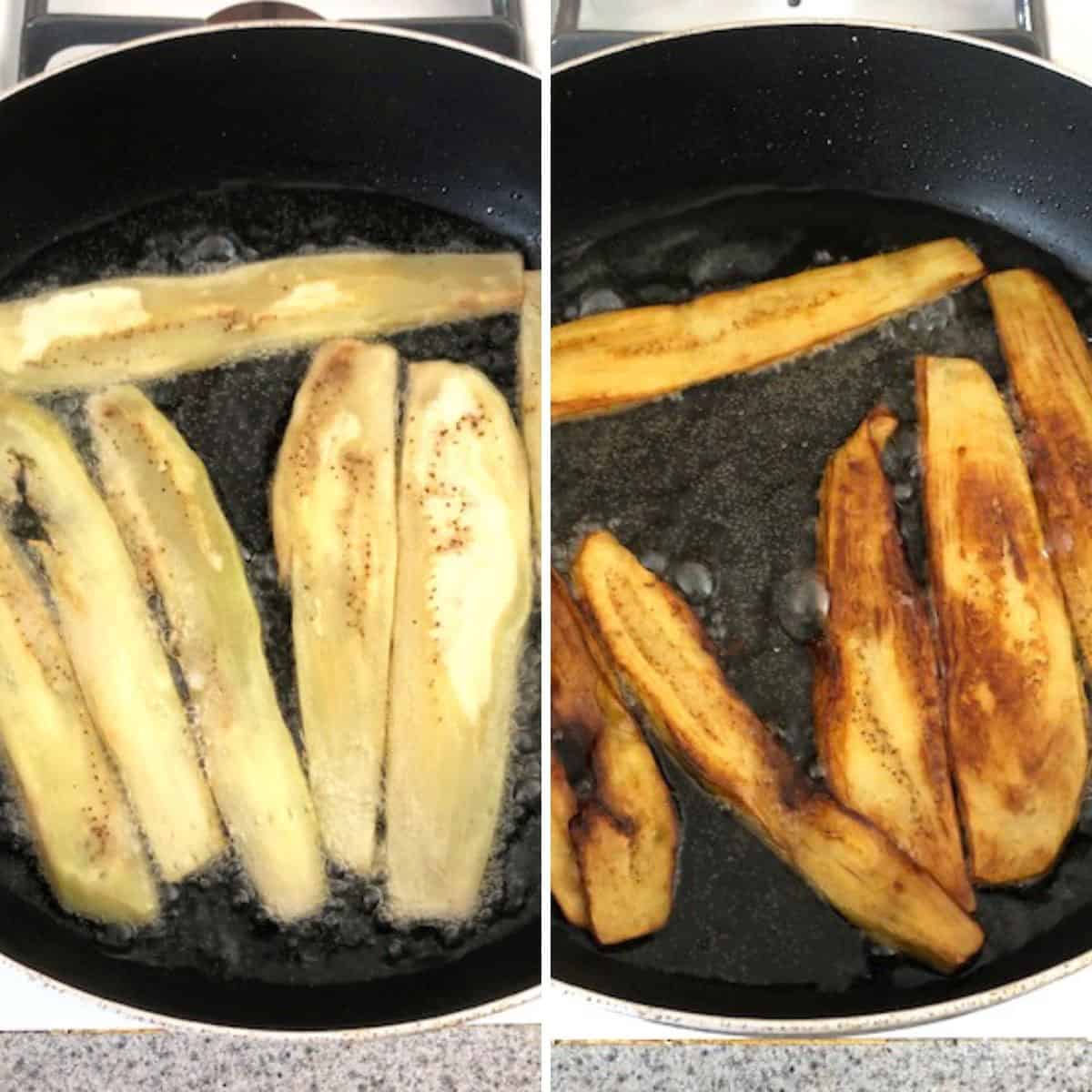 See the recipe card at the bottom of this post for full instructions, but here's an overview.
Heat 1 ¼ cups of oil in a frying pan.
When the oil is sizzling, add a layer of eggplant planks.
Fry each side until golden brown.
Drain the eggplant on a platter lined with paper towels.
How to make the tomato sauce
You just need to sauté the chopped onion in olive oil, then add crushed tomatoes and seasonings. The sauce only needs to cook for about 15 minutes.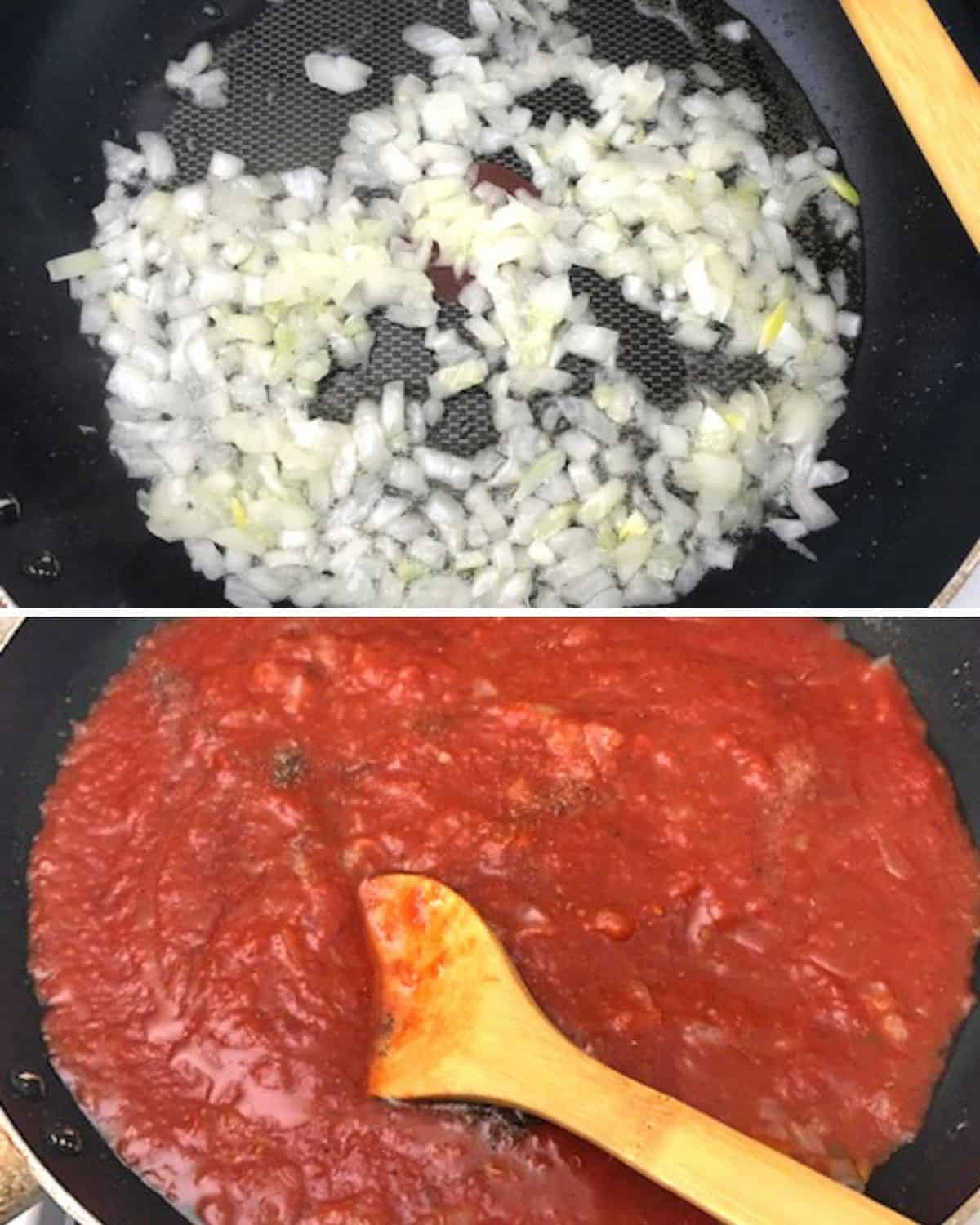 How to assemble the dish
Line up some eggplant planks horizontally in a single layer on your dish or platter.
Generously sprinkle on Parmesan cheese, dot with sauce and add a few basil leaves.
Add another layer of eggplant in the opposite direction. Add some Parmesan, sauce and basil.
Make more layers as needed. Garnish with basil.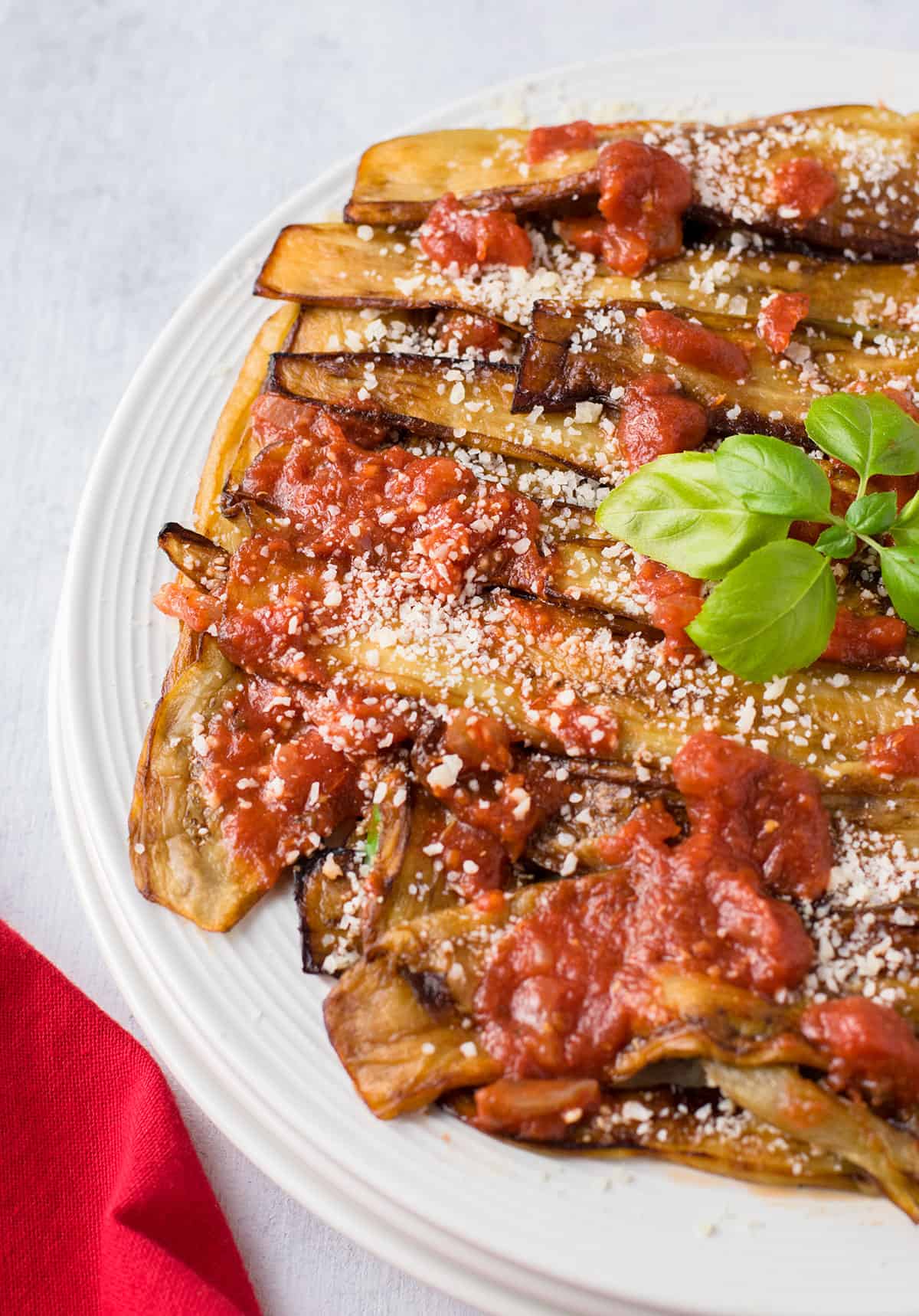 How to serve it
This pan-fried eggplant dish is best eaten at room temperature. You can serve it with Italian chicken cutlets, steak pinwheels, roasted pork loin or pasta.
But, make sure you have some crusty Italian bread to enjoy with it! You can tear off some bread to chase each bite or tuck the eggplants into a sandwich for the most glorious lunch or vegetarian dinner.
These are the real deal, folks! I hope you enjoy them!
Frequently asked questions
Do you have to peel the eggplant?
It's safe to eat eggplant skin, but it can have a tough texture if your eggplant is large. It's best to peel large eggplants, but if you use small ones, you can leave the skin on.
Can you roast the eggplants instead of frying them?
If you want to roast these, you must use a nonstick baking sheet (affiliate link), or the thin eggplants will stick. It doesn't work to grease a regular baking sheet or line it with parchment paper.

Let the eggplants roast at 500 degrees F until brown, then spray on some oil to finish roasting, so they won't be soggy. They will taste almost as good as the pan-fried eggplant and will have less fat and calories.

Other eggplant recipes to try