These Parmesan Eggplants with Tomato Sauce are a tradition from Naples! Fried or roasted eggplants are layered with Parmesan cheese, sauce, and basil in a dish that's eaten cold or at room temperature. Try these in a sandwich!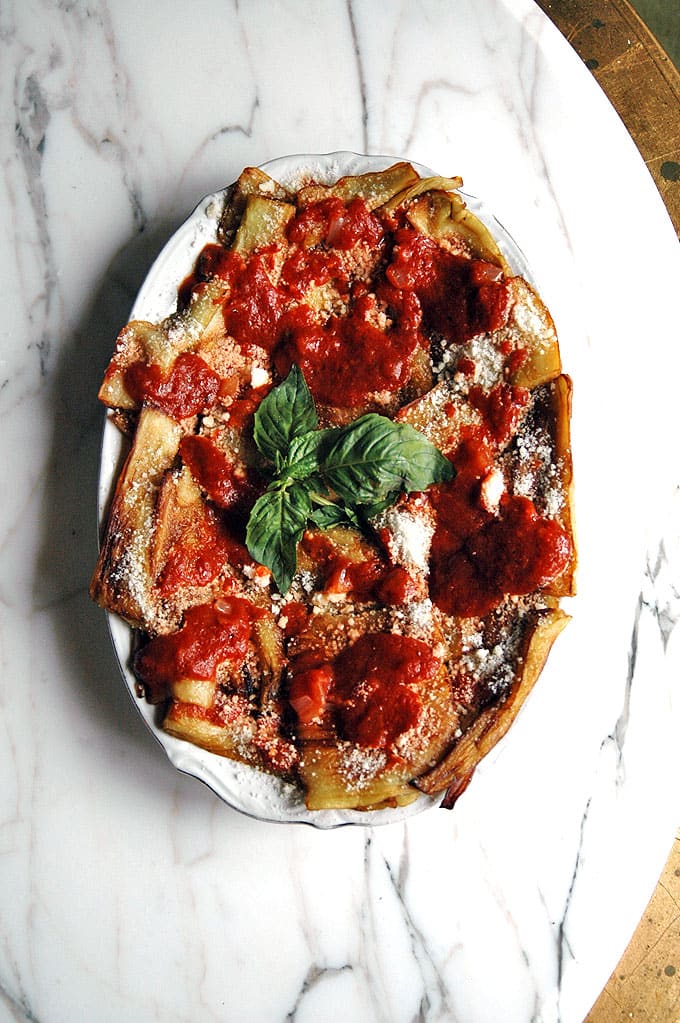 No, this is not Eggplant Parmigiana.
There are no flour, eggs, breadcrumbs or mozzarella here. Just eggplants, fried in oil (or roasted for a healthier option), then layered with Parmesan cheese, tomato sauce, and basil.
My family refers to this dish as...wait for it..."eggplants in a dish." But I think "Parmesan Eggplants with Tomato Sauce" is a bit more specific.
These gluten-free eggplants are served at room temperature, but are not bad cold out of the fridge. If you can tolerate gluten, a loaf of crusty Italian bread is mandatory, because you will want to cut yourself a nice slab, slice it open, and stuff it with these savory eggplants for the most glorious lunch or vegetarian dinner.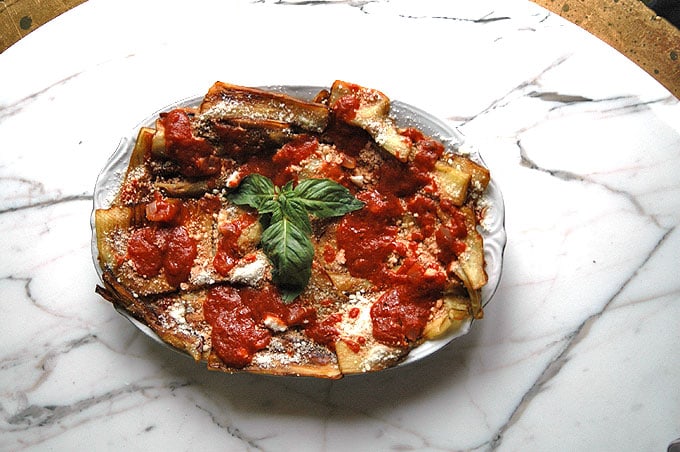 Now, let's talk about roasting or frying. Since I started this blog and began documenting previously unwritten family recipes, I've come to realize that my cooking heritage includes lots of frying and lots of oil. (No wonder Dad used to drive to Gallucci's to buy olive oil by the box — a box full of gallon-sized cans of olive oil.)

I'm constantly trying to balance staying true to tradition and cooking healthier. Plus, I always consider the time and hassle involved in making food the old-school way and use shortcuts wherever they make sense.
That's a long-winded way of saying I prefer to roast my eggplants for this dish instead of frying them.
Do they taste the same?
Not quite, but they're still good. (My husband couldn't even tell the difference.)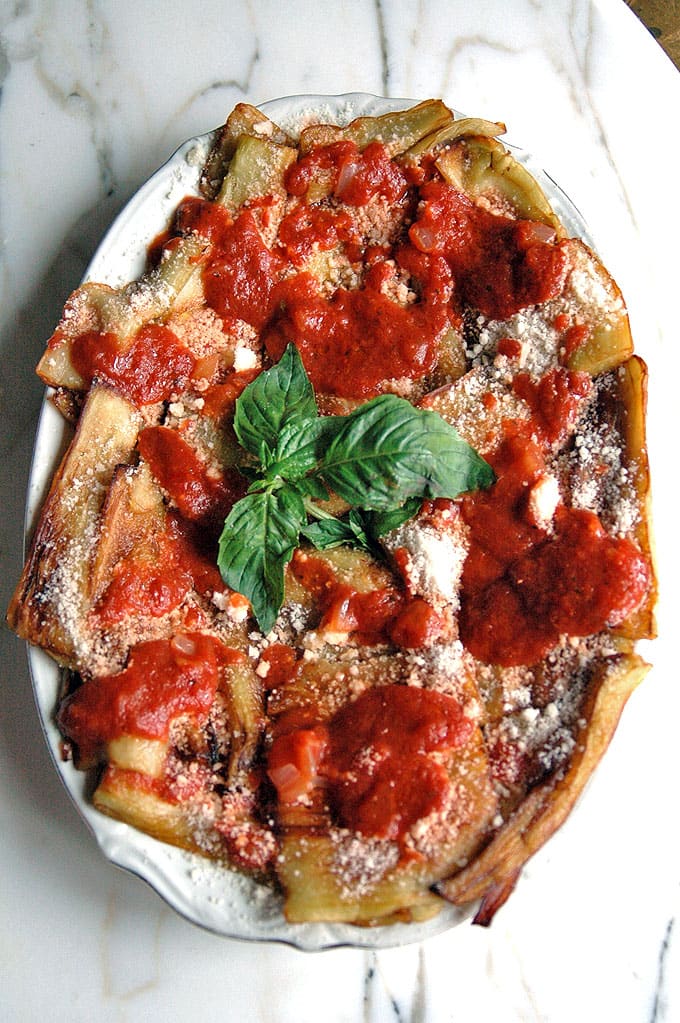 I just don't have the patience to stand at the stove and fry all of these eggplants when I can throw them in the oven (using a nonstick baking sheet at 500 degrees) and use a fraction of the oil (I let the eggplants brown first, then spray on some oil to finish roasting, so they won't be soggy.)
And while the eggplants are roasting, I can use the time to prep the rest of the meal or make the quick sauce, which includes onion but no garlic, for a sweeter flavor.
But, no worries if you want to make these Parmesan eggplants with tomato sauce the traditional way. I've included directions for frying, as well as roasting.
However you cook them, I hope you enjoy these!
(Recipe Source: Adapted from my Mom's version of a family recipe from Naples.)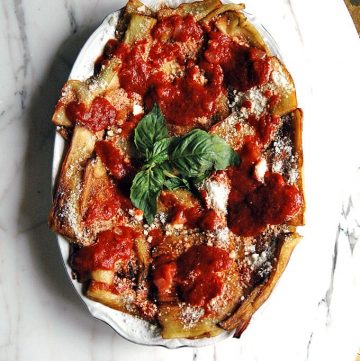 Parmesan Eggplants with Tomato Sauce
A gluten-free dish that features fried or roasted eggplants layered with Parmesan, a quick tomato sauce & basil
Print
Pin
Rate
Ingredients
Eggplants
4

small or 2 large eggplants

canola oil if using frying method

(enough oil to come an inch up the sides of your pan)

olive oil spray if using roasting method

1/3

cup

freshly grated Parmesan cheese

6-8

fresh basil leaves
Tomato Sauce
4

tablespoons

olive oil

1

small onion

(peeled & chopped)

1

28-ounce can crushed tomatoes

1/4

teaspoon

salt

1/8

teaspoon

black pepper
Instructions
Prepare the eggplants:
Rinse the eggplants and pat them dry. Cut off the stem at the top and the root end at the bottom. Peel the eggplants by using a sharp knife to slice off the skin. (It's easiest to stand up the eggplants on a cutting board and then slice off a thin layer of skin from top to bottom.) Slice the eggplants in half the long way, then slice them into planks about 1/3-inch to 1/2-inch thick. If you have wide eggplants, slice the planks in half again the long way, so you end up with planks about 1 3/4-inch wide. If there are lots of seeds, remove them as best you can, because they will be bitter.

To draw moisture out of the eggplants so they won't be soggy and absorb as much oil, place the eggplants in a colander that's resting in a sheet pan. Start with one layer of eggplants that will fit. Salt the eggplants, then add another layer of eggplants on top. Salt those as well. (Do as many layers as you need.) Weigh the eggplants down by placing a heavy pot on top of them. Let them sit for at least 30 minutes. Then, using paper towels, wipe the salt and moisture off the eggplants and blot them dry.
Prepare the Sauce:
Heat olive oil in a large skillet (or large sauce pan if making more than one batch) on medium high. Add onion and cook until soft, around four minutes, stirring occasionally. Add crushed tomatoes, salt, and pepper; stir.

When sauce starts to boil, lower the temperature and loosely cover the pan with a lid, using a wooden spoon resting on the rim of the pan to keep the lid propped open.

Cook on low, stirring occasionally, for 15-20 minutes.
To cook the eggplants, choose one of the following methods.
Traditional Frying Method:
In a large frying pan, pour enough canola oil (or corn oil) to come an inch up the sides of the pan. Heat the oil on medium high until it is hot enough to sizzle. When the oil is ready, place some eggplants in the pan in a single layer (fit as many as you can without overlapping.) Brown the eggplants on the first side, which may take around 4 minutes. Use a fork to lift each eggplant to check the bottom.

When it is browned, flip it to cook on the other side. Check after a couple minutes to see if it is browned on the second side. Remove each plank after it is browned on both sides and let it drain on a paper-towel-lined platter (or you can drain the eggplants on a wire rack with a baking sheet underneath.) Continue frying the eggplants in batches until they are done (you might want to use two pans.)
Roasting Method (low-fat):
Preheat oven to 500 degrees F (allow 15 minutes for oven to reach that temperature.) Spray a nonstick baking sheet with oil (regular ones will stick, even if oiled). Place the eggplants on the pan in a single layer. Roast the eggplants in the oven for 15 minutes on the first side (or until they are browned on the bottom. Do not let them burn.) Spray some olive oil on the eggplants and flip them over. Spray the other side of the eggplants and bake them for another 3-5 minutes, checking to see when they are browned on the bottom. When eggplants are browned, remove them to a paper-towel-lined platter.
Assemble the dish
Line up the eggplants horizontally in a single layer in a round or oblong platter, going all the way to the edges of the dish. Generously sprinkle on some Parmesan. Dot the eggplants with some sauce (do not cover them with sauce, just spoon some here and there.) Then add a few basil leaves.

Make another layer, this time vertically lining up the eggplants. Repeat with the Parmesan, sauce and basil. Continue making layers as needed, ending with some basil on top.
Serving & Storage
Serve the eggplants immediately, or let them sit at room temperature for up to two hours. Refrigerate leftovers, and eat them cold or at room temperature within five days. The eggplants are excellent with crusty Italian bread.

Store leftover sauce in the refrigerator for up to a week, or freeze it.
Notes
When buying eggplants, choose skinnier ones if possible. They should have fewer seeds. Make sure the eggplants are firm and not bruised. They should have green tops, not brown. If the ones on display look bad, ask a produce employee if there are any more in the back. (He or she can bring out a box and let you pick the ones you want.) Cook the eggplants within two days of purchasing them.
Nutrition
Calories:
233
kcal
|
Carbohydrates:
24
g
|
Protein:
7
g
|
Fat:
13
g
|
Saturated Fat:
2
g
|
Cholesterol:
5
mg
|
Sodium:
432
mg
|
Potassium:
925
mg
|
Fiber:
8
g
|
Sugar:
14
g
|
Vitamin A:
465
IU
|
Vitamin C:
20.3
mg
|
Calcium:
149
mg
|
Iron:
2.6
mg
Other eggplant recipes to try