You don't have to love pumpkin to enjoy these Peachy Pumpkin Scones with a peach tea glaze! Plus, I'm sharing one of my favorite stories we've been laughing about for nearly 35 years!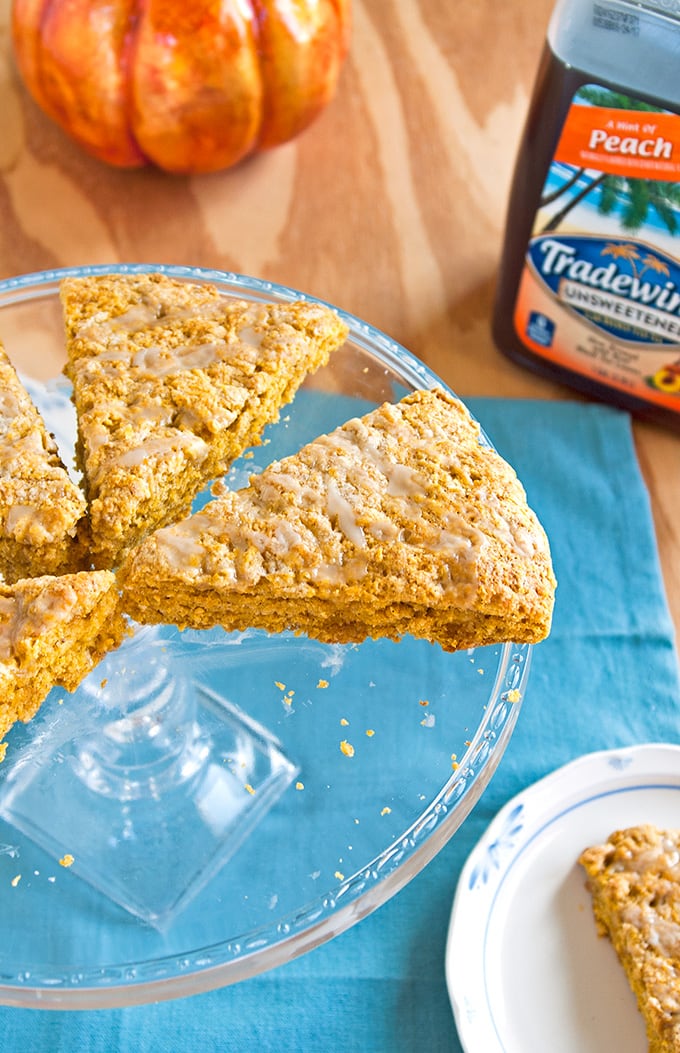 I've been dying to post some type of pumpkin treat. As the lone pumpkin lover in my household, it's easier said than done.
First, I can't afford to consume an entire batch of dessert by myself (although, I did once, in my 20s; see my Pumpkin Smoothie post from two years ago).
Second, I can't take the guilt induced by my loved ones who ask if I'm going to make something for them too?
Ugh!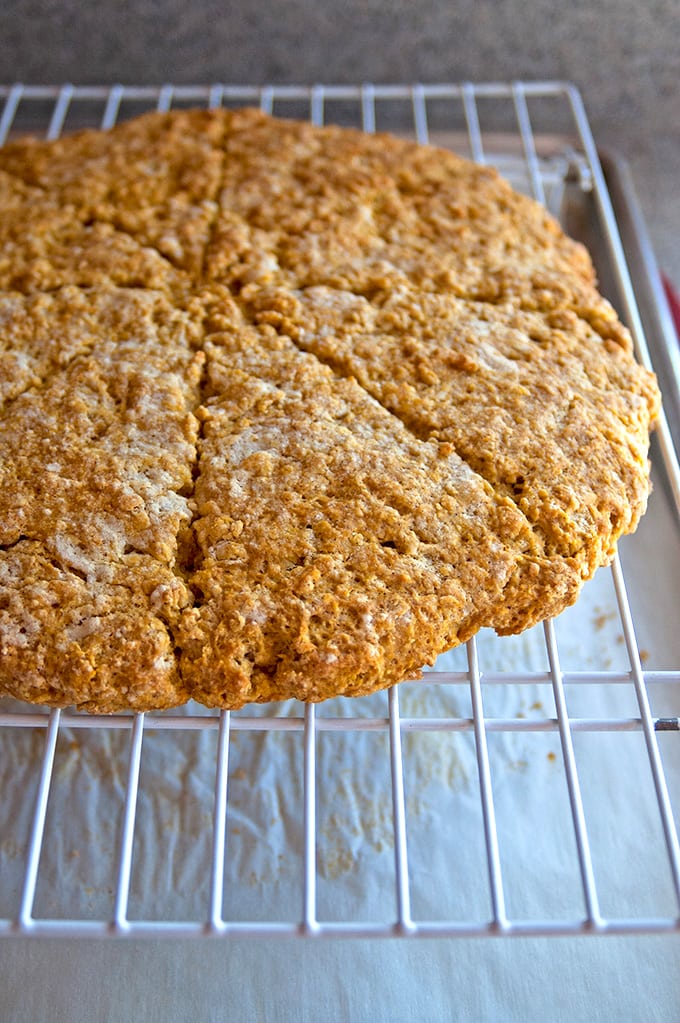 But with my daughter away at college and my hubby out of town for the past few days, I saw an opening.
My son was still here, but he's the type who'll try something with pumpkin as long as it isn't too pumpkiny, if you know what I mean. (I have a funny story to share about something that rhymes with "pumpkiny," so don't miss the rest of this post.)
Anyway, I made these Peachy Pumpkin Scones, and guess what? My son really likes them!
The peach tea glaze won him over.
Yes, that's right. I made the glaze with peach iced tea and even added some of the peach tea to the scone batter.
Mmmm.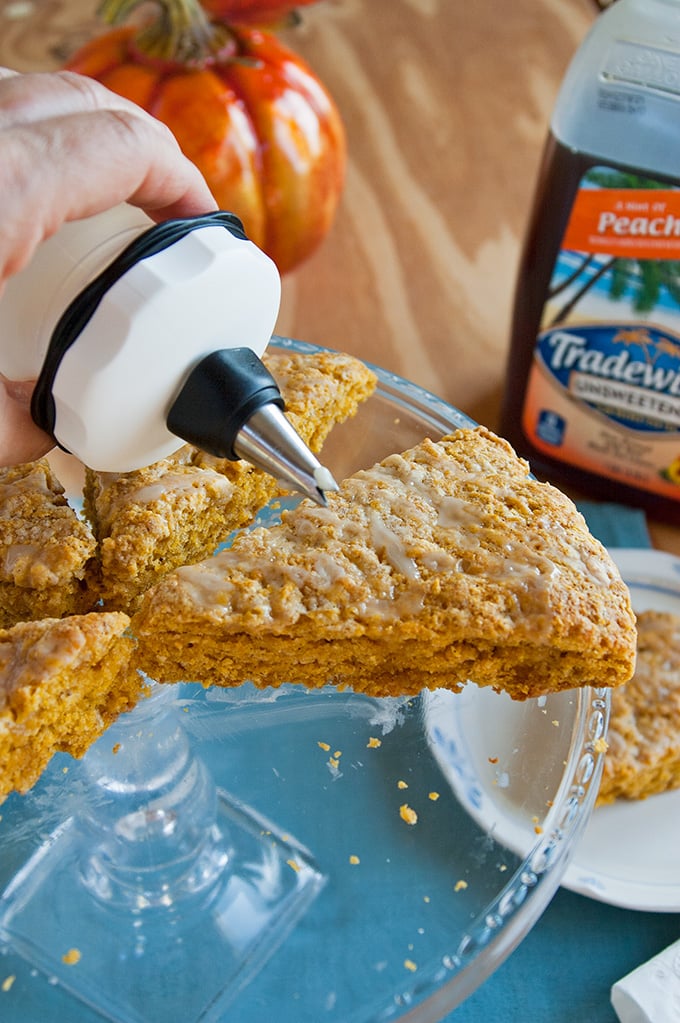 Because, here's the thing about pumpkin. Like a nice pair of jeans you can dress up or down, pumpkin will succumb to whatever accents you add.
And, since I wanted the peach flavor to shine, I omitted the cloves I'd tried with my first batch, and reduced the cinnamon. The result is a tender scone with mild pumpkin flavor, a hint of cinnamon and ginger, and a delicious peach flair.
And, with just four tablespoons of butter in the entire batch, these scones aren't full of fat. Yay, no guilt!
And, now, I have to tell you the "Duncany" story. At first Mom didn't want me to share it, but when I persisted, she looked at me slyly and asked, "Why, does it rhyme with something?"
She knows me so well.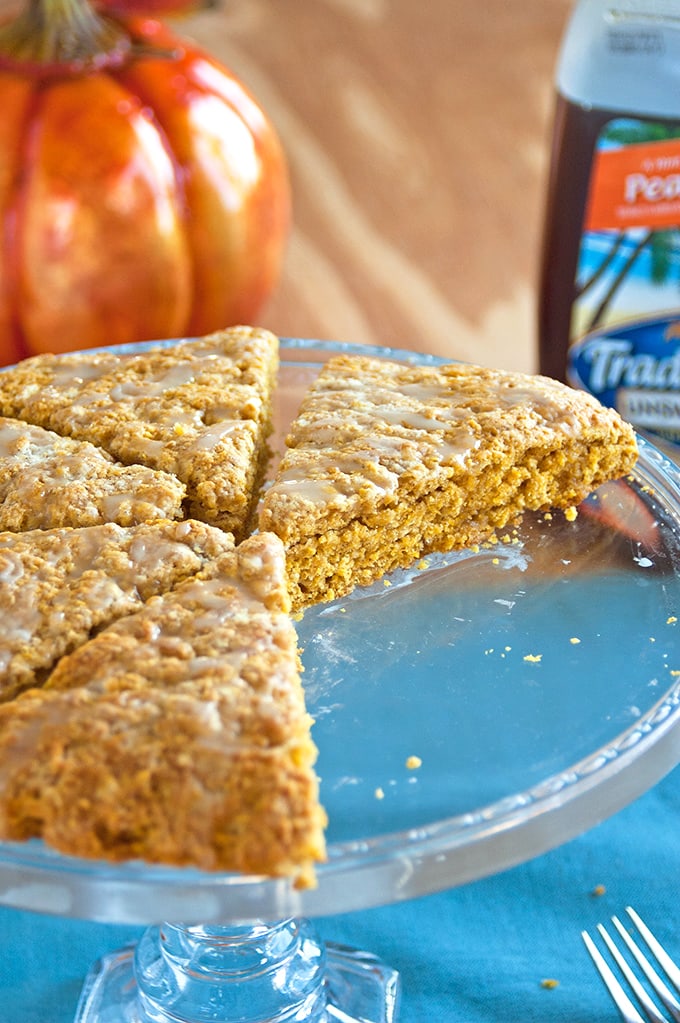 Years ago, when I was maybe 10 or 11, Mom really wanted to buy some pants just like a pair she used to have that fit her nicely. And, although Mom's English is superb, every once in a while, something doesn't come out right, since she was born and raised in Italy.
She told us the clothing brand was "Duncany." Can you guess what it was supposed to be?
Dad and I didn't know enough about fashion (still don't) to even question whether it was the right name. So, Dad, trying to be helpful, called all the department stores in two counties.
"Hello, my wife is looking for Duncany pants. Do you carry them?"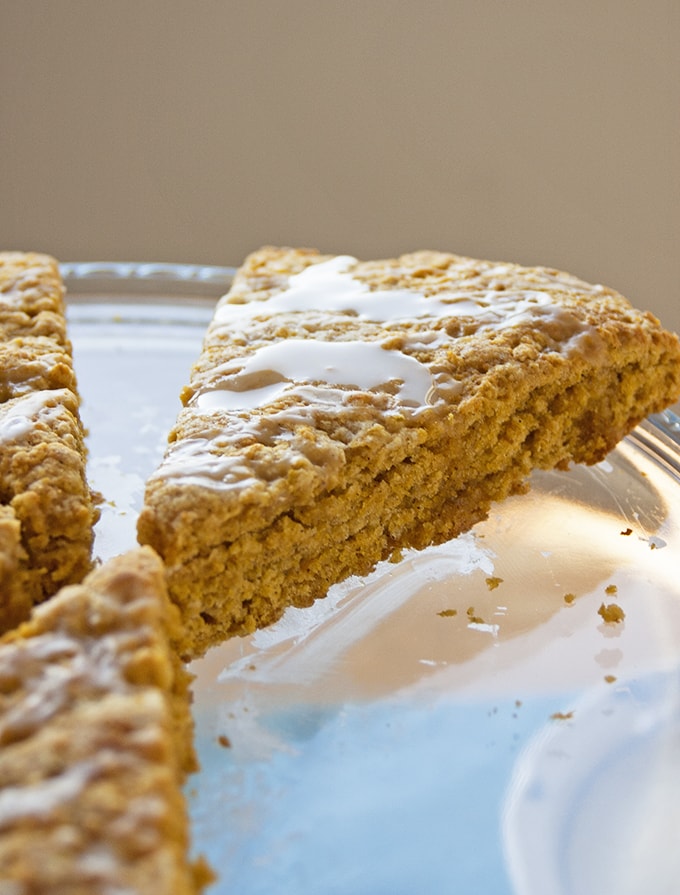 And wouldn't you know it, no one sold the "Duncany" brand. Mom was so frustrated.
One night, we went to the mall and Mom decided to bring this up with the clerk in the Petites department.
Mom: "I've been looking all over for Duncany pants. Do you sell them?"
Sales Clerk, after staring at us for a full minute: "Do you mean DKNY?!!"
Donna Karan New York! Bahaha!
Thanks, Mom for letting me share that story. And, I hope you all enjoy these Peachy Pumpkin Scones. They're really delicious, and not too PKNY.
P.S. If you love pumpkin, don't miss my Pumpkin French Toast or this Alfredo Pumpkin Pasta Sauce!
(Recipe Source: Cooking with Mamma C)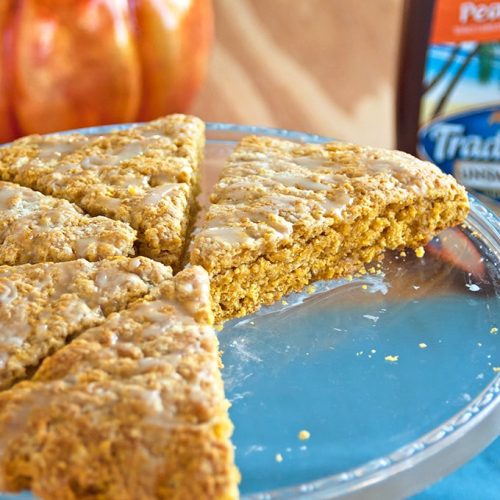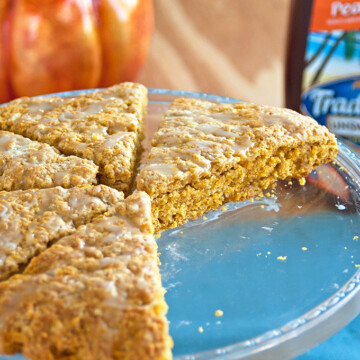 Ingredients
Scones
1 ¾

cups

flour

⅓

cup

sugar

2

teaspoons

baking powder

½

teaspoon

baking soda

¼

teaspoon

salt

½

teaspoon

cinnamon

⅛

teaspoon

ginger

4

tablespoons

chilled salted butter

½

cup

pure pumpkin

2

tablespoons

peach iced tea

1

extra-large egg

½

teaspoon

vanilla extract
Peach Tea Glaze
1

cup

confectioners sugar

(sifted)

2

tablespoons

plus 2 teaspoons peach iced tea
Instructions
Preheat your oven to 400 degrees F and line a baking sheet with parchment paper.

In a large bowl, whisk together your flour, sugar, baking powder, baking soda, salt, cinnamon and ginger.

Slice your butter into pieces ½ inch wide and cut those in half. Dot your butter over the flour mixture and use a pastry cutter to cut the butter in evenly, until the mixture resembles coarse meal.

In a small mixing bowl, whisk together your pumpkin, two tablespoons Tradewinds peach iced tea, egg and vanilla. Add the pumpkin mixture to your flour mixture and fold it in, just until incorporated. Use your hands to gently bring the dough together into a ball.

Place the dough onto the center of your lined baking sheet. Pat the dough into an 8-inch circle, making sure the thickness is even throughout. Use a bench scraper or straight-edged knife to score (make lines but do not cut through) the dough into eight wedges. (Start by making a line as if to cut the dough in half, then in fourths, then eighths.)

Bake the dough for 15 minutes, or until it's golden.

While your scones are baking, make your glaze. Place a fine mesh strainer or sifter over a medium mixing bowl and sift your powdered sugar into the bowl. Add two tablespoons plus two teaspoons of peach iced tea and whisk to combine.

When your scones are done baking, cool the circle of scones for two minutes on the baking sheet, then gently transfer it to a wire rack to finish cooling. When cooled, slice it into eight wedges.

To glaze your scones, place your wire rack with the scones on top of your parchment-lined baking pan, or over a sheet of wax paper. Drizzle the scones with glaze (only glaze the ones you will serve immediately.)

Store scones and extra glaze covered at room temperature for up to two days. Glaze the scones just before serving.
Nutrition
Calories:
258
kcal
|
Carbohydrates:
46
g
|
Protein:
3
g
|
Fat:
6
g
|
Saturated Fat:
3
g
|
Cholesterol:
35
mg
|
Sodium:
201
mg
|
Potassium:
169
mg
|
Fiber:
1
g
|
Sugar:
24
g
|
Vitamin A:
2590
IU
|
Vitamin C:
0.7
mg
|
Calcium:
56
mg
|
Iron:
1.7
mg