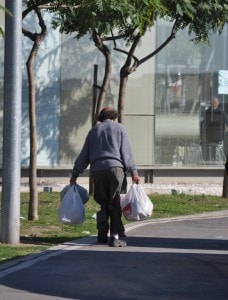 As I mentioned in my last hunger post, I used to work on Public Square in Downtown Cleveland. One day, I headed out at lunchtime to grab a bite to eat.
As I joined the busy people on Euclid Avenue rushing to their destinations, I noticed a stocky man up ahead trudging along slowly, carrying white plastic bags in each hand. He stopped to pick through a garbage can.
I watched in horror as he looked inside every bag he could reach. I know that people go trash picking for recyclables they can return for a refund.
But this man, who appeared to be about 60, was opening every wadded-up sandwich wrapper. He must have been looking for scraps of food, too.
It was heartbreaking.
Immediately, I thought of the fresh bagels sitting on the counter at work, left over from our morning meeting. I hurried back into the building and headed into the office kitchen.
I found a bag and filled it with two huge bagels, a paper plate, napkins, a plastic knife, and couple of cream cheese packs. Then I rushed out to Euclid to try to find the man.
I looked in the direction of the garbage can but did not see him at all. I turned and checked the opposite way, but no luck either.
Where could he have gone?
I quickly rounded the corner to Superior Avenue and continued my search. I glanced down the street but did not see him anywhere.
Starting to worry that I had lost him, I turned to look the other way. Off in the distance, I saw him resting on the ground, leaning against one of the buildings, his white plastic bags at each side. I breathed a sigh of relief.
I hustled along in his direction, determined to get the bagels to him. But suddenly, he stood up and began walking away.
I was never going to catch up with him at this rate.
So, I started running up Superior, in my suit and 4-inch heels. (The kind with the ankle straps comes in handy.) When I was within earshot, I called out to him.
"Sir! Excuse me, Sir!"
But he kept on walking.
"EXCUSE ME, SIR!" I shouted.
This time, he heard me. He came to a halt, still with his back to me. Robotically, he turned his head to the left, then to the right.
Realizing there was no other gentleman being summoned, he ever-so-slowly turned around, his face weary and expressionless. He stood perfectly still, holding his bulky plastic bags as he waited for me to catch up to him.
"I brought you bagels," I said, a bit out of breath, holding up my paper bag.
He just stared at me. Undeterred, I gestured toward a flat wooden bench near the street. I walked over and patted the seat.
"Come, sit down," I invited him. I took out a white napkin, unfolded it, and spread it on the bench like a tablecloth.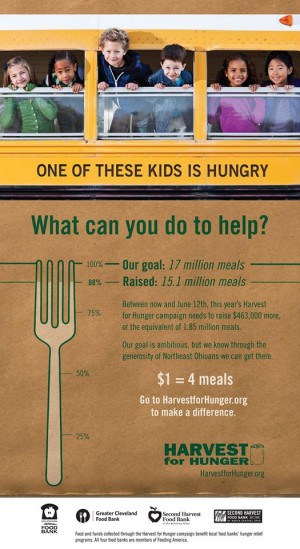 Still speechless, the man came over to me and sat down. He watched as I unpacked my bag, one item at a time.
"I brought you cream cheese," I told him. "Do you like cream cheese?" I could hear the hope in my voice.
His face broke into a smile, and he finally spoke.
"Yes, yes I do!" he said. I could hear the anticipation in his voice.
Smiling, I took out the cream cheese and began peeling back the foil lid for him. (I can't help it.)
As I handed him the loaded plate, our eyes locked for a long moment, each of us searching, as if peering into the other's soul. I felt warmth and brotherly love. When he spoke again, it was almost a whisper.
"You...you have such a good heart," he said, still looking into my eyes. "Thank you."
Instinctively, I reached out to touch his forearm in a gesture of goodbye.
"God bless you!" I told him, before turning and walking away.
This time, though, my pace was much slower and pensive — more like that of my newfound friend. Perhaps it was because some of his burden had been transferred to my shoulders.