I'm sharing New Orleans restaurants and highlights from our trip! Don't miss my recommendations!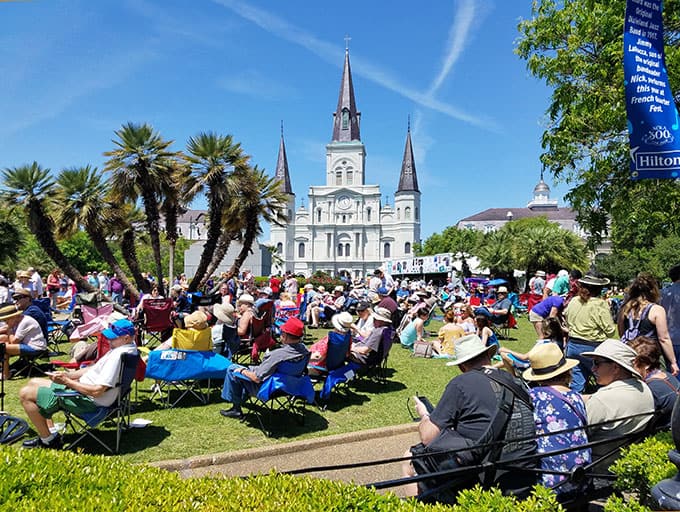 Have you been to New Orleans? My hubby and I went for the first time in April, to celebrate our 25th wedding anniversary.
It also was the week of my birthday and the French Quarter Festival, featuring lots of great music, food and drinks. And... 2018 is the 300th anniversary of New Orleans.
So, we did lots of celebrating! And, what a place to visit.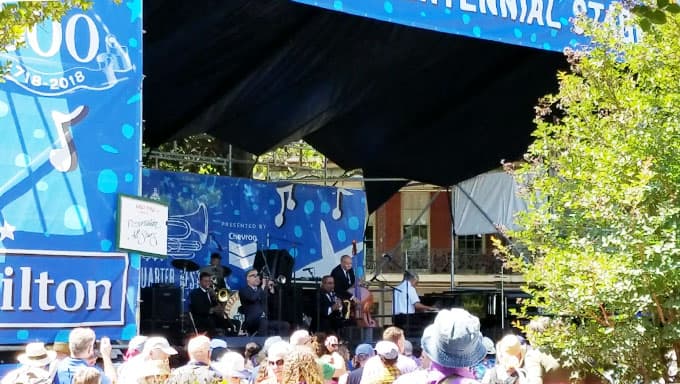 I've never been anywhere — except Italy — where the food preoccupied my mind the.entire.time.
As I was finishing each meal, I'd be anticipating the next. Where would we go? What goodness awaited us?
I have to tell you about the best food I ate in New Orleans. My hubby took most of the photos, since my phone's battery was dwindling fast.
BREAKFAST/COFFEE
A visit to New Orleans wouldn't be complete without beignets and café au lait from Café du Monde. You'll wait in line (it moves quickly) to eat under a crowded tent, unless you can get a spot in the tiny café.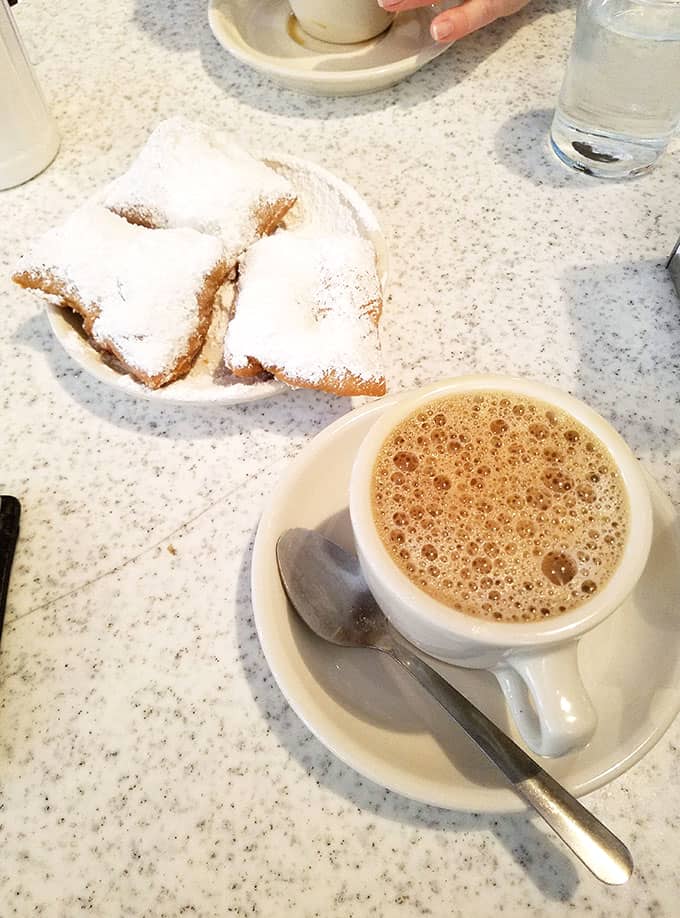 But it was the best coffee of our trip. And, and the beignets were definitely better than the ones at Cafe Beignet. Tip: I highly recommend dipping your fried doughnuts into your café au lait for an out-of-body European experience.
LUNCH
You might recall I've given up store-bought luncheon meat and eat Homemade Turkey Lunch Meat instead. But our New Orleans bucket list included a muffuletta sandwich — featuring a round sesame loaf filled with ham, salami, Provolone and olive salad.
So, we headed to Central Grocery & Deli for the original muffuletta. Central is an Italian import store, in case you couldn't tell.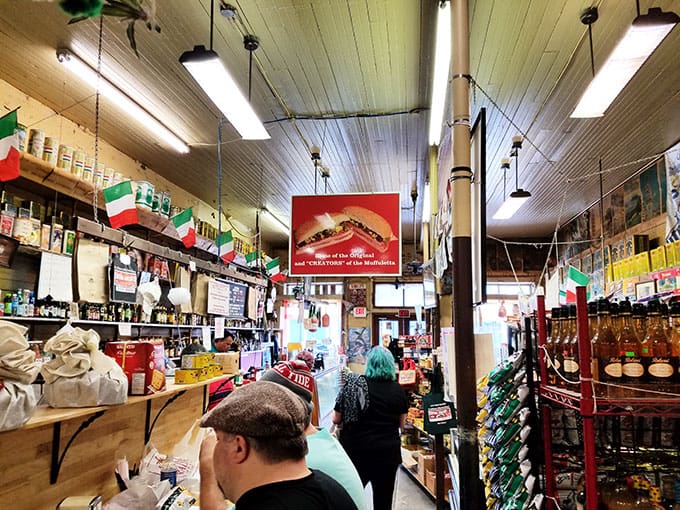 This is merely a fourth of a muffuletta sandwich. My hubby and I ordered a half portion and split it. We got the olive salad on the side, because I'm an Italian anomaly who only eats black olives.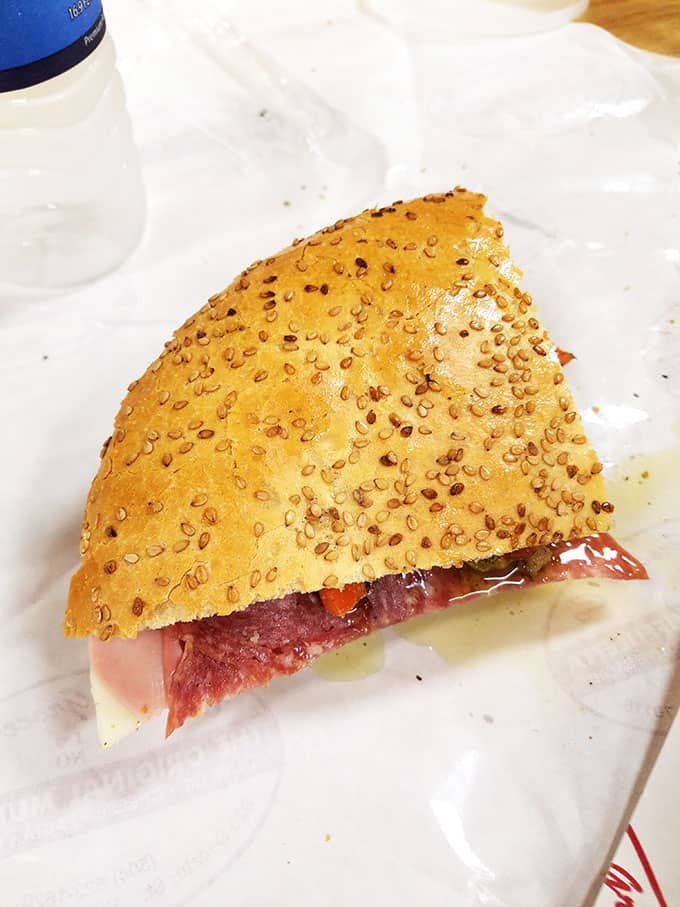 Confession...that was the best deli sandwich of my life. I probably could've eaten a full half myself.
Behold, my birthday "cake." This lemon meringue pie doughnut from District: Donuts Sliders & Brew had me swooning with every bite. And so did the rest of our lunchtime meal.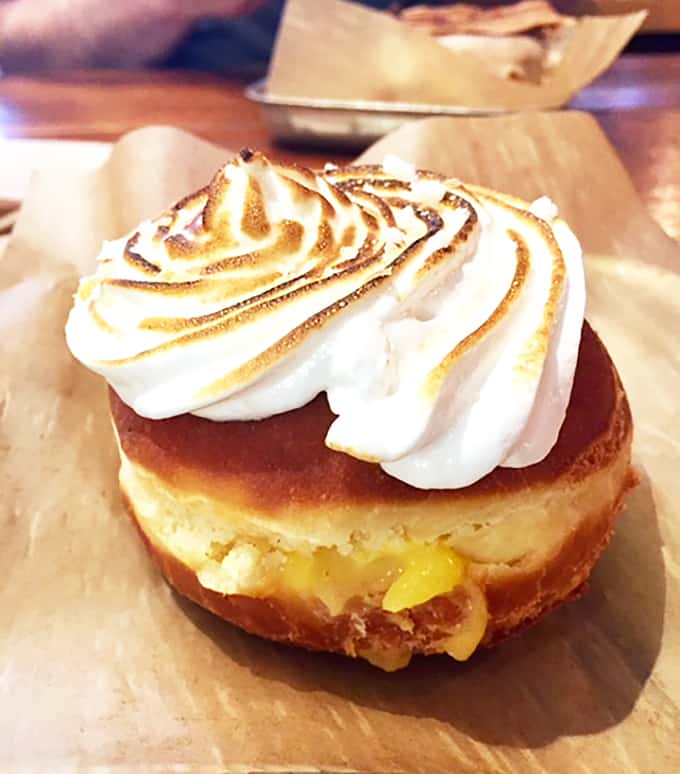 I ordered the Chicken Slider — a fried chicken thigh topped with a sweet and spicy slaw and candied jalapeños. OMG!!! I wanted to order more, but I'd eaten enough (I also had waffle fries) and didn't want to overdo it.
However...if I had to pick one New Orleans restaurant I'd return to again and again...it's District. Run, don't walk to the Garden District (filled with lovely homes like the one below) and check out the fabulous breakfast menu too!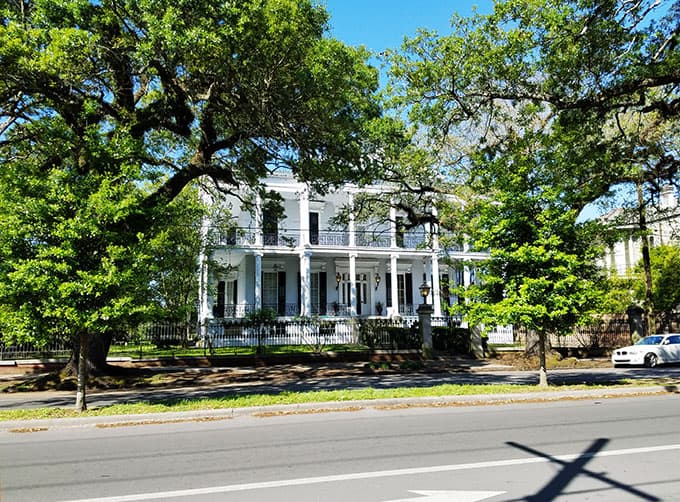 DINNER
Essence of Emeril was our favorite cooking show for years. So, visiting one of Emeril Lagasse's restaurants was at the top of our dining bucket list. Our first night, we enjoyed dinner at NOLA, where we shared the most mouthwatering gumbo.
And by "shared," I mean my hubby ordered it as a first dish, and after reaching over for one taste, I decided I'd take half the bowl. We were so intent on scooping up as much goodness as possible before the other devoured the whole thing...that we didn't even snap a photo.
So no gumbo pics for you. But trust me, it was the best gumbo of our trip. Heck, it was the best gumbo of our lives.
Next, I have to tell you about Irene's, the Italian-Creole restaurant where we enjoyed the best dinner of our trip. I was really nervous to try this soft-shelled crab appetizer, but it was one of the most delicious dishes I've ever eaten!! It was floured and fried just like calamari, but with slivered almonds and a lemon-butter sauce.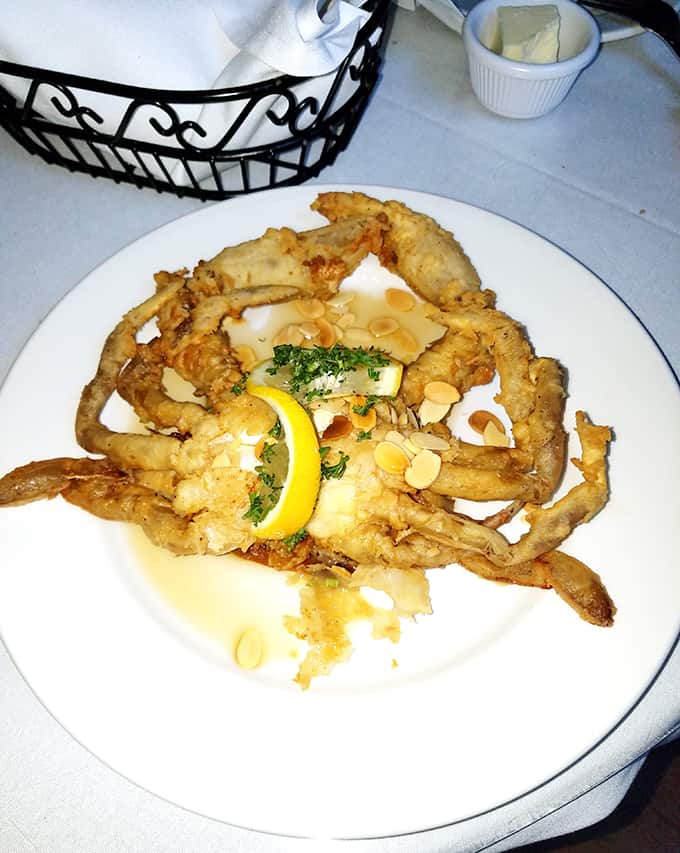 We thought we'd died and gone to heaven. Then, the mussels arrived.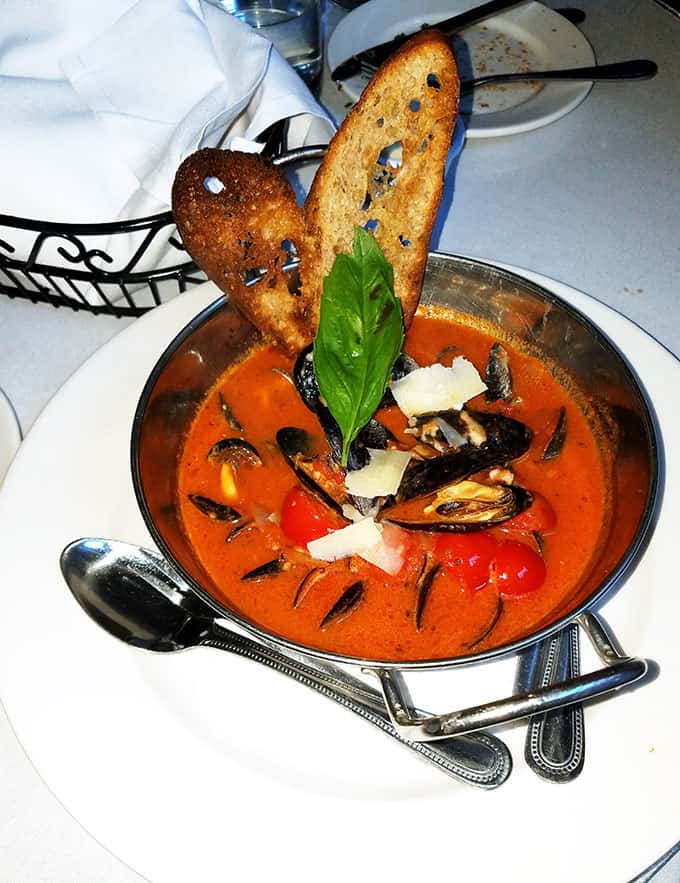 We practically dove into that bowl, heads down, fresh bread in hand. The crostini were good too, but my hubby and I have a thing for dipping fresh, Italian bread into a pool of garlic-laced, seafood tomato sauce. If food were music, this would be our song.
By the time our entrées arrived, we were full. I had just a few bites of my lasagna, which tasted good, but was too heavy on the meat, too light on the cheese, and too thin on the pasta. I much prefer my family's Traditional Lasagna.
But, I'd return to Irene's in a heartbeat. Don't miss it!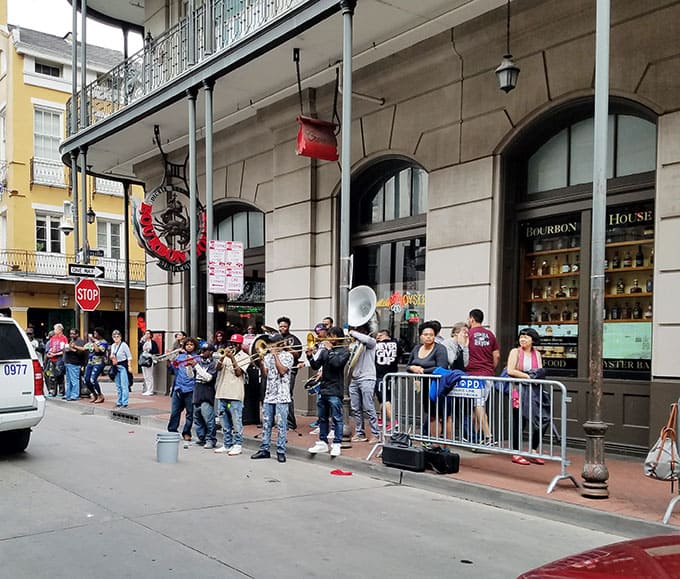 While strolling through the French Quarter around Bourbon Street (ideally before it gets dark, wild and crazy), you can enjoy street musicians performing New Orleans jazz as people gather to listen, dance and feel as if work, responsibilities and real life are a million miles away.
At least, that's how we felt.
One night, sans reservations, we took a tip from our hotel concierge and ate at Mr. Ed's Oyster Bar & Fish House. As the name implies, oysters are its specialty and were the best thing we ate there.
I'm not one for raw oysters (ewww) but char-grilled ones are a different ballgame...similar to clams, but better. OHMYGOSH you have to try char-grilled oysters with garlic butter and Parmesan. To die for.
Sightseeing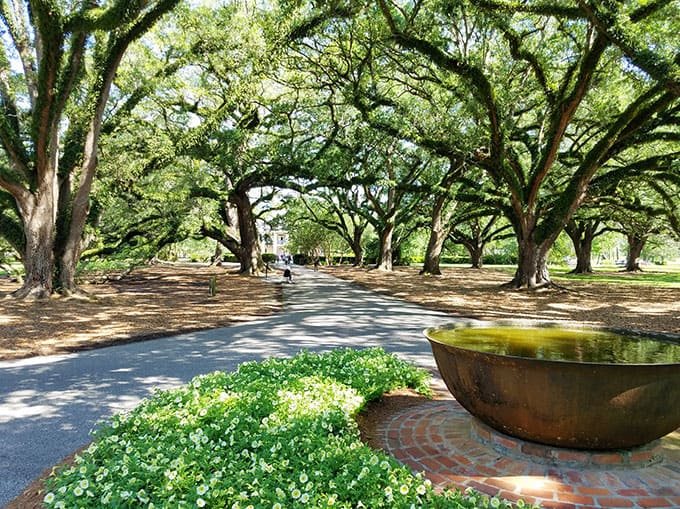 We took a half-day excursion to Oak Alley Plantation, just over an hour away. The scenery is gorgeous; the history is ugly. But, it's worth the trip, to understand where America has been.
As we walked away from the house toward the Mississippi River, we were excited to see the American Duchess docked along the shore. We didn't get to hop aboard, but were thrilled to get as close as we could.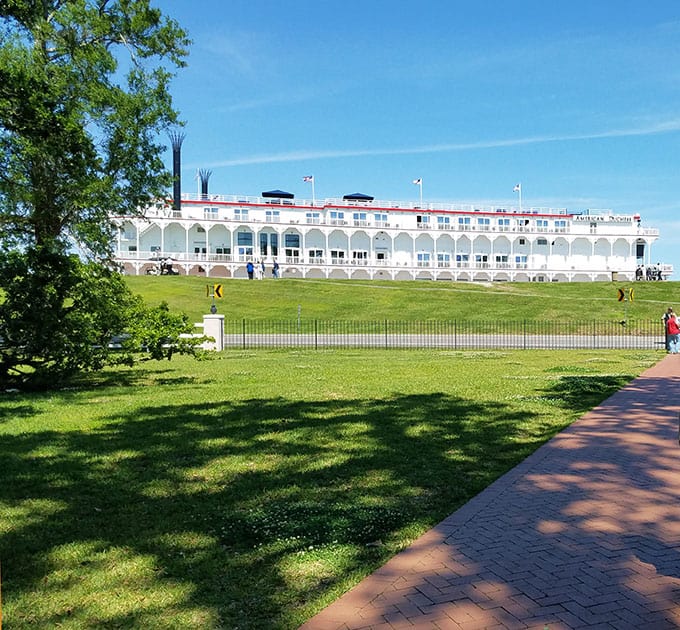 Back in New Orleans, we enjoyed St. Louis Cathedral, the stunning white building pictured at the top of this post. Don't miss this iconic landmark, the oldest Catholic church in America.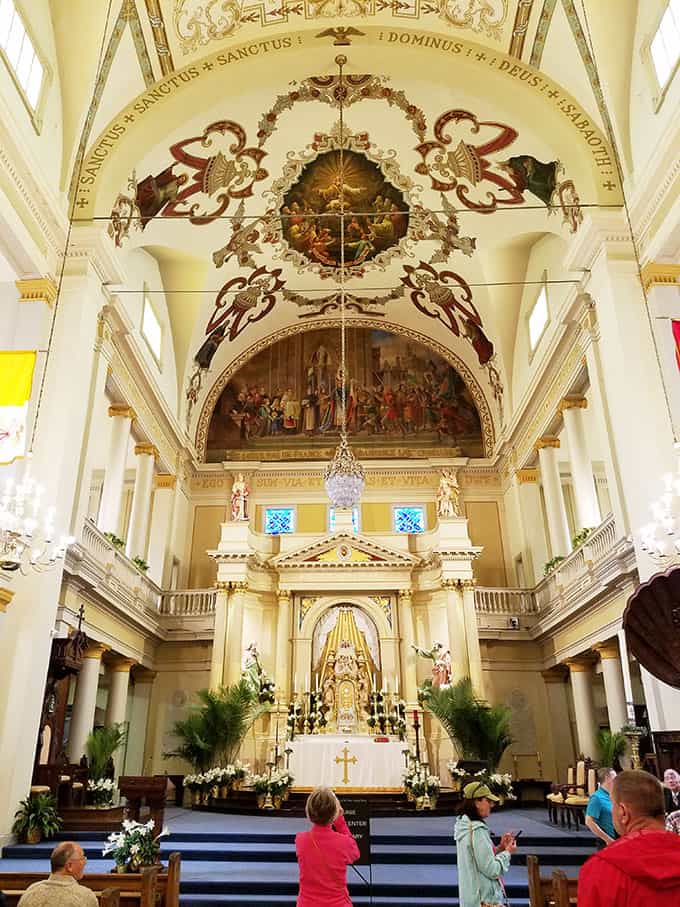 It's located on Jackson Square, one of the most beautiful places in the city.
New Orleans has many faces: the gritty, music-filled French Quarter; the clean, serene, residential Garden District; the lively riverfront and casino area; and the bustling business district. We enjoyed them all.
And gained four pounds in four days.
If you liked this post, Pin it to share!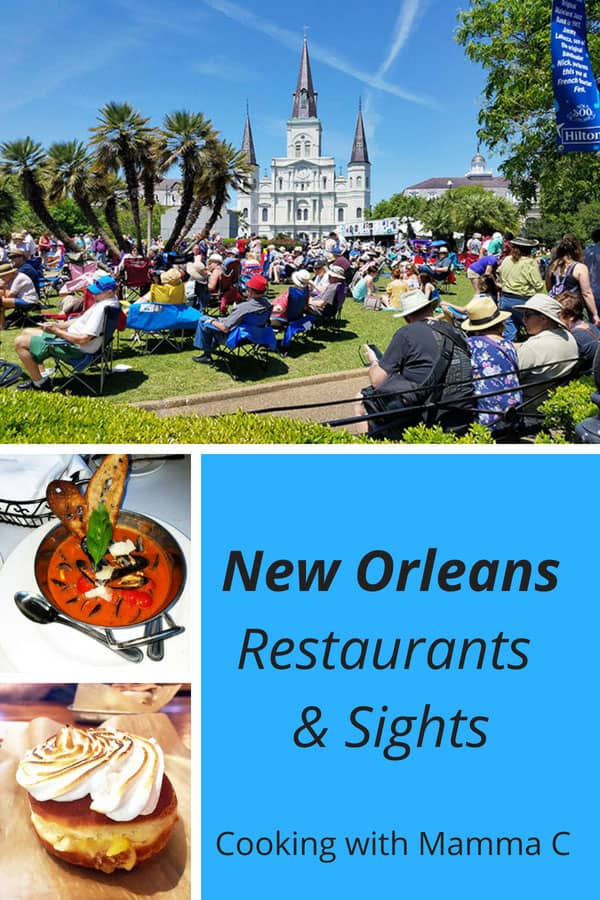 P.S. You may also like this post about my trip to Austin, Texas.