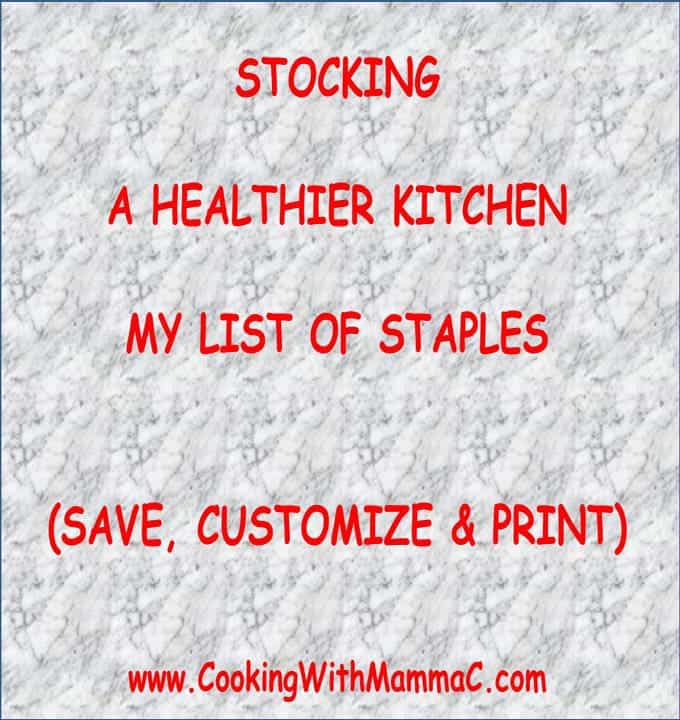 When I changed my eating habits to include more fruits, vegetables and whole grains and less meat and processed foods (see My Recipe for Losing Weight without Dieting), I had to change my list of grocery staples.
I've received a request to share my list, because as my friend pointed out, when you've been buying the same items for 25 years, it's hard to know where to start to do things differently.
So, I've broken down the items I use to stock my kitchen. These are not things I buy every week, but whenever they get low I make sure to add them to my grocery list.
By the way, I always organize my grocery list by categories (produce, meat, dairy, etc.) in the order those departments appear in the store I frequent the most. I've found it helps me to track whether I've bought everything. Plus, it's so much less overwhelming than staring at a massive list of items in no particular order.
I've organized my staples list in a table with handy-dandy copy, save and print icons. (I am using a plugin, so don't be too impressed. But be a little impressed, because I had to figure out what to do with it.)
You will see five icons above the table on the right side. The first icon is to copy to your clipboard, the second and third icons both allow you to save the table to Excel (where you can customize it), the fourth allows you to save it to a pdf, and the last button enables you to format it to print. If you do print, please note that when you are finished, you will need to hit the "escape" button to return to the blog post.
To see all of the columns/categories, you can scroll horizontally at the bottom of the table. You also can select how many rows you view on your screen by adjusting the number at the top left of the table. (I am geeking out right now.)
Let me know if you have any questions! Am I stocking the same items you are?
And don't miss How to Meal Plan for the Week!
[table id=1 datatables_tabletools="true" /]