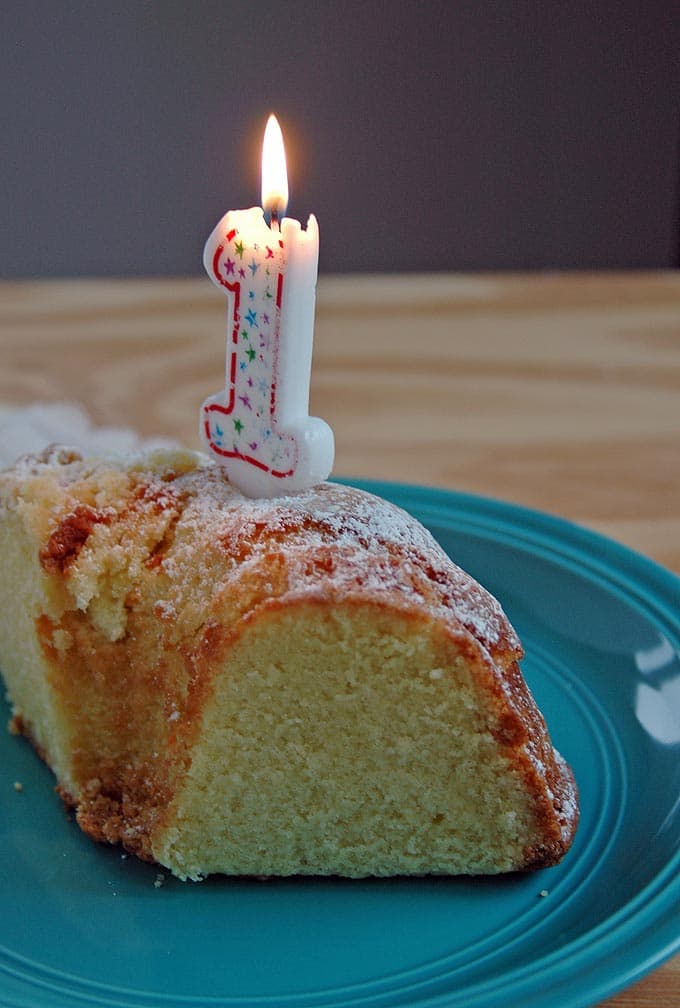 Hi, Gang! I hope you've had a good week.
It's been a busy time here, with my daughter graduating from high school, my in-laws visiting from Connecticut, and a big work project keeping me hopping. But I couldn't let this day pass without saying, "Happy Birthday, Cooking with Mamma C!"
It's so strange. I launched my blog just one year ago today, yet I can't remember life without it. It's like it's always been a part of me. (It's probably because I pretended I had a food blog for years, taking pictures of my meals and walking around creating content in my head. What a nerd!)
Today, I can say Cooking with Mamma C has been a consistent source of happiness for me. It's led me to new friends, taught me new skills, and provided the creative outlet I craved for years. (I needed to find something, since I stink in art, sing off key, can't sew a button, and have to keep my distance from hot glue guns. I do dance well, but it's taking awhile for Dancing with the Stars to call, you know?)
So, food blogging has been good for me, and I plan to keep it up. I hope my efforts have benefited you in some way, too. I'd like to share a few life lessons I've learned throughout this process, in the hopes that I might encourage and inspire you to chase your dreams.
1. Go for It!
Is there something you've always wanted to do but find yourself holding back because of self-doubt, your circumstances, or any excuse under the sun? Well, life is too short not to "step out and find out," as preacher Joyce Meyer likes to say. If you at least try to make it happen, you'll realize soon enough whether you're on the right track. But if you never take that risk, you'll never get the reward. And, if it doesn't work out, at least you'll know for sure that it wasn't right for you.

2. Put One Foot in Front of the Other
Can you identify the next step you can take to make your dream a reality? Do you need to do some research? Learn some new skills to enhance the talents you already have? Find a way to practice in a safe setting until you feel more comfortable? I spent five months preparing to launch my blog, and it's still a work in progress. But I don't have to climb the staircase all at once (nor necessarily see the entire staircase). I just have to place my foot on the next step.
3. Strive for Excellence, Not Perfection
Have you ever let perfectionism paralyze you? Has it kept you from enjoying yourself whenever things are not just so? A year ago today, I sat at my computer on a Sunday afternoon, tweaking my yet-unpublished blog behind the scenes for the hundredth time. (Remember how I spent five months on it before launching?) So, my husband — in a heroic act of tough love — stood over me and told me to hit "publish."
"You've worked on this long enough," he said. "It's time to publish this blog."
And I replied with my anxious "But this," and "But that," objections.
"You need to hit publish!!"
"On a Sunday?"
"Yes! Hit publish right now!!!"
And then I knew. I knew he was right. I knew it was time. I knew it wasn't perfect, but I knew it was good. (And I could always go back and fix whatever was bothering me.) I had to let go of my perfectionism and fear, and just share this thing I had created. I had to release it from my tight clutches so that it could become something more, something that would bloom in the light of day and grow organically as readers would add their voices and share with others.
So, on that Sunday afternoon, I hit "publish" and announced to my Facebook friends that Cooking with Mamma C was live. My husband and I stayed glued to my computer to see what would happen next. We watched as I got comments on my blog. I got comments on Facebook. I got visitors all day long. And we couldn't stop smiling.
Thanks to all of you for your support, encouragement and visits this past year. I'm so glad you're here!
P.S. Don't tell my Hubby I said he was right.
P.P.S. You may want to read my Reflections on Six Months of Blogging.
XO,
Andrea