Mom's Creamy Cheesecake with Sour Cream Topping is amazing! It's baked in a 9x13 without a water bath, so it's easy and no fuss. You'll love its refreshing tang and buttery graham cracker crust!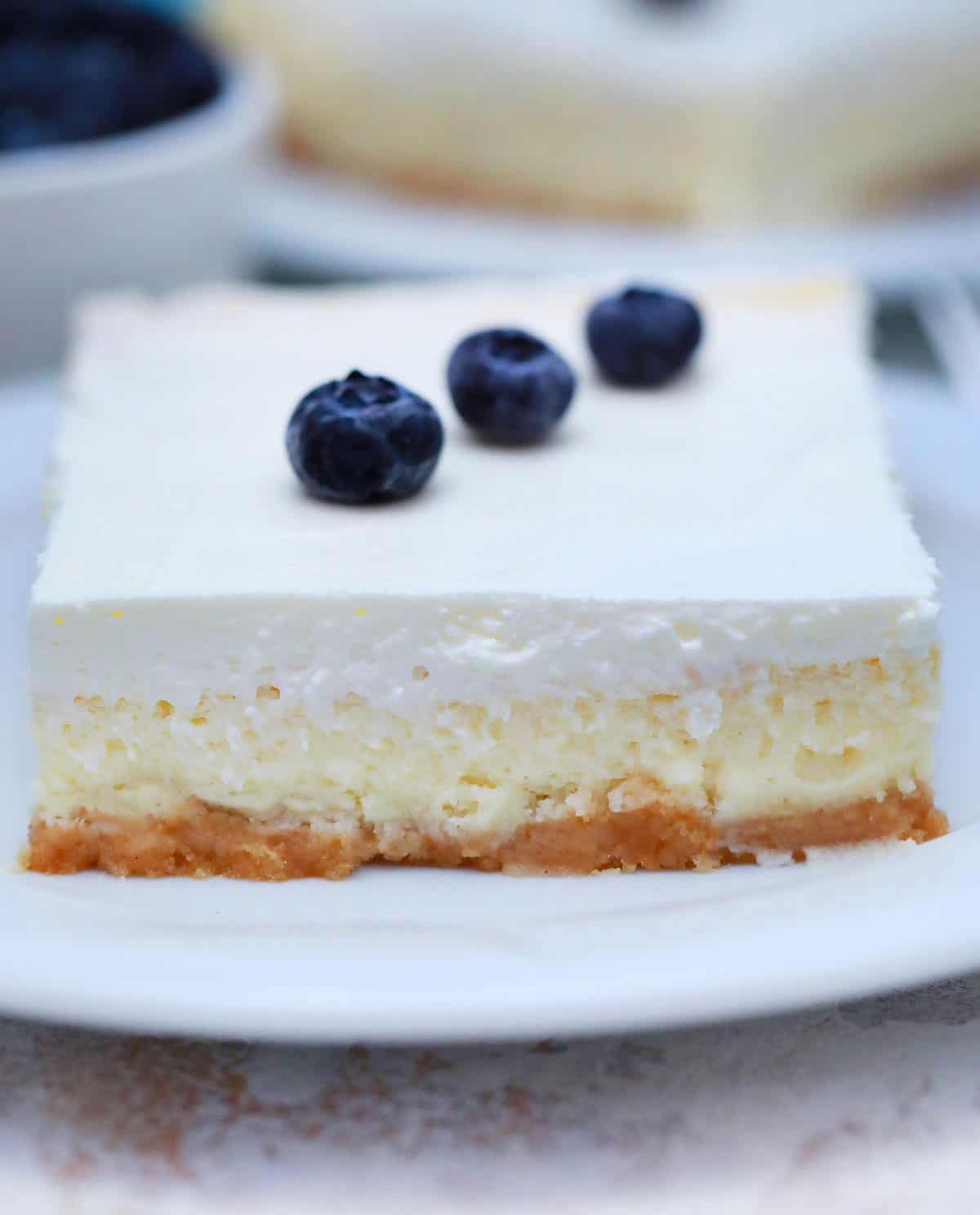 You'll want to print this one for keeps, folks.
I never thought Mom would share her cheesecake recipe with me, let alone allow me to publish it! This is big.
This Creamy Cheesecake with Sour Cream Topping has been devoured at countless New Year's Eve celebrations, graduations, and who knows how many dinners.
Mom's probably made it nearly 100 times.
She got a version of this recipe from a friend many years ago, then adapted it along the way. After hearing all the changes Mom made, I informed her this was her recipe now.
You're going to love it!
Recipe ingredients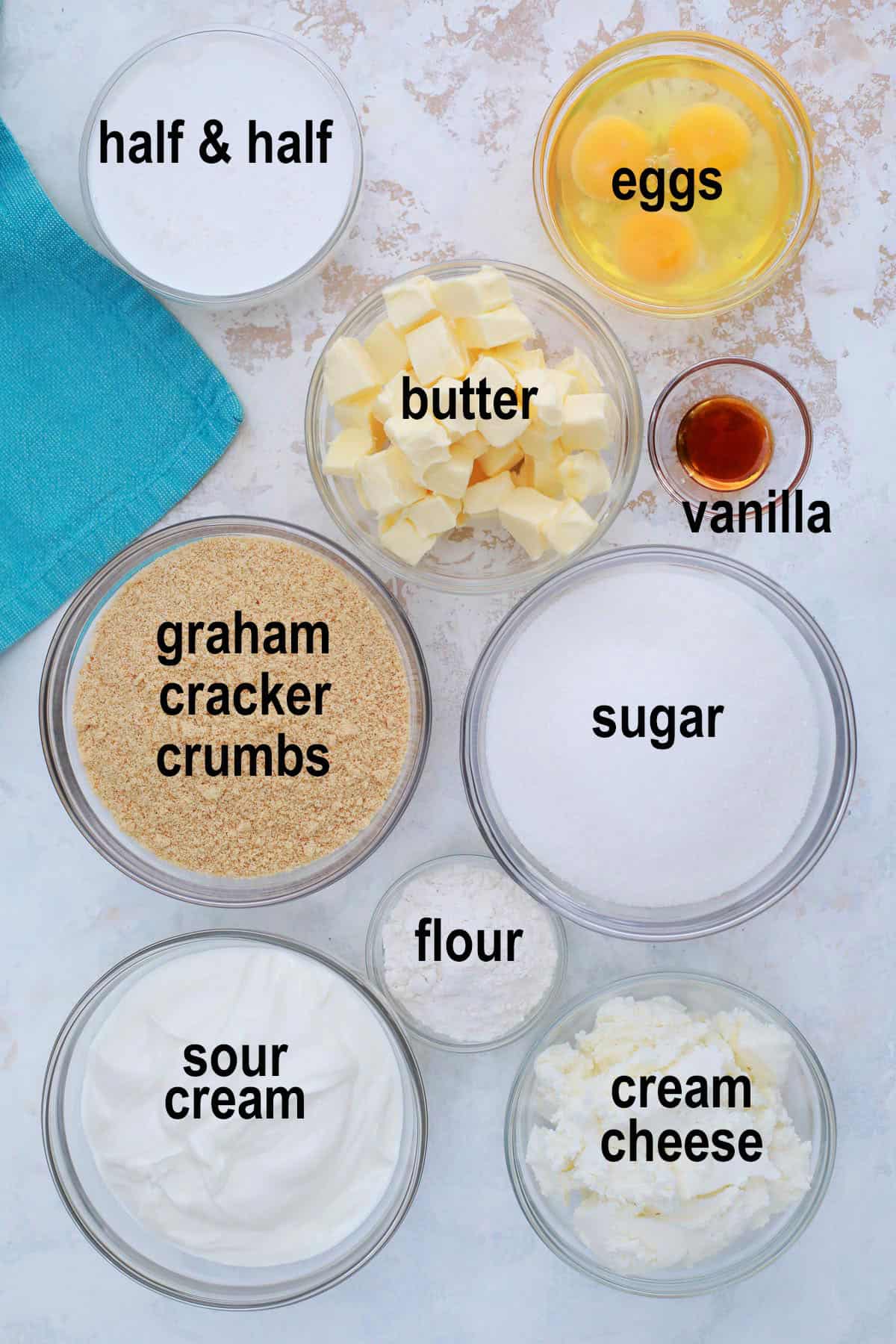 Let the cream cheese and eggs sit at room temperature for an hour before starting. You want to be able to easily mix the batter.
Half and half is used in this cheesecake to make it creamy. Mom even increased the amount of half and half from the original version, for a super creamy cheesecake recipe.
If you're looking for a more airy cheesecake, try this Fluffy Crustless Cheesecake!
9x13 graham cracker crust
Mom's graham cracker crust is the best! It isn't dry at all.
Extra butter produces a moist crust that gets even softer after a couple days.
I wish I knew Mom's secret years ago! It would've spared me the sandy results I use to get from following standard graham cracker crust recipes.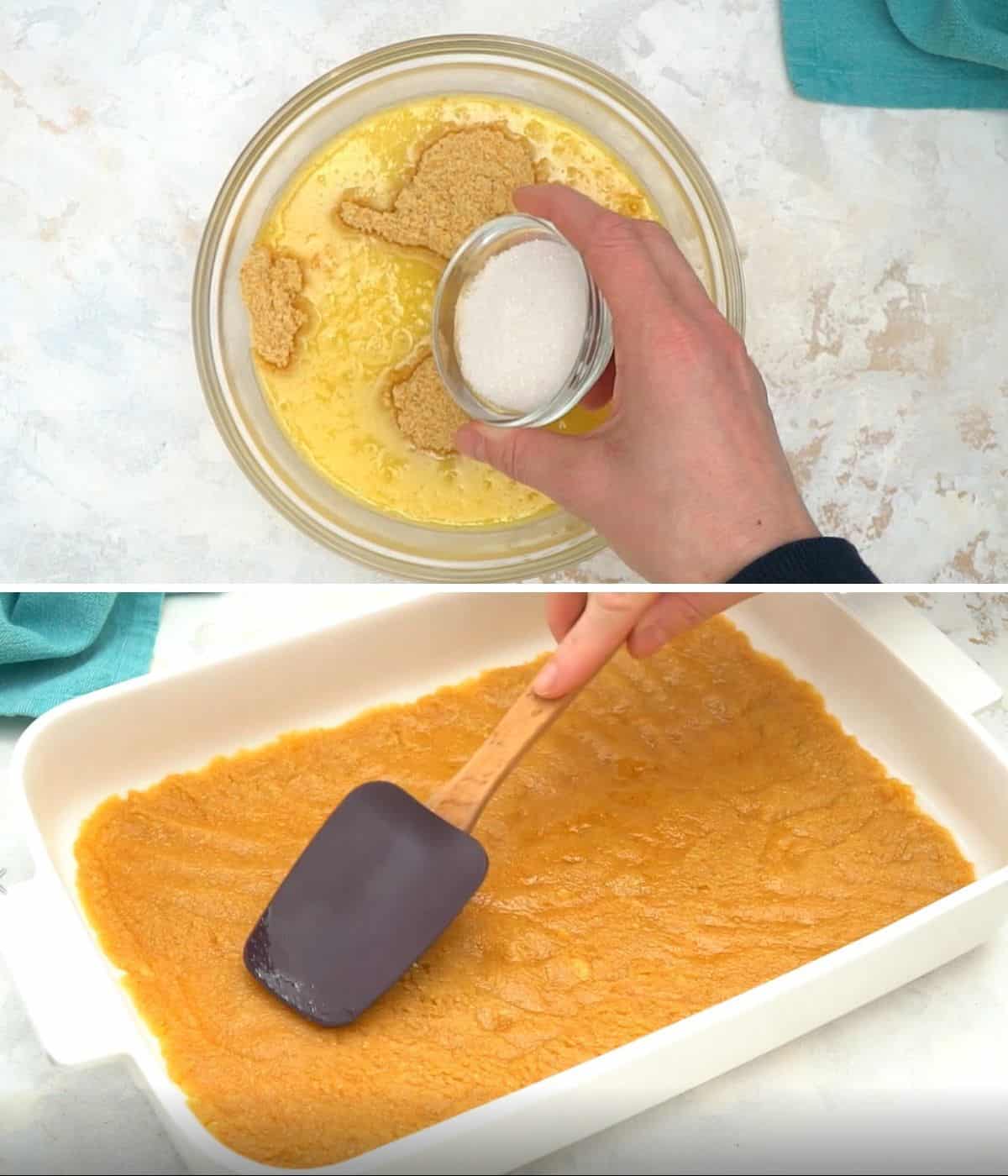 And I love the convenience of using a 9x13 pan here instead of a springform one, which can leak. I use a 9x13 with square edges, similar to this one (affiliate link).
Make the cheesecake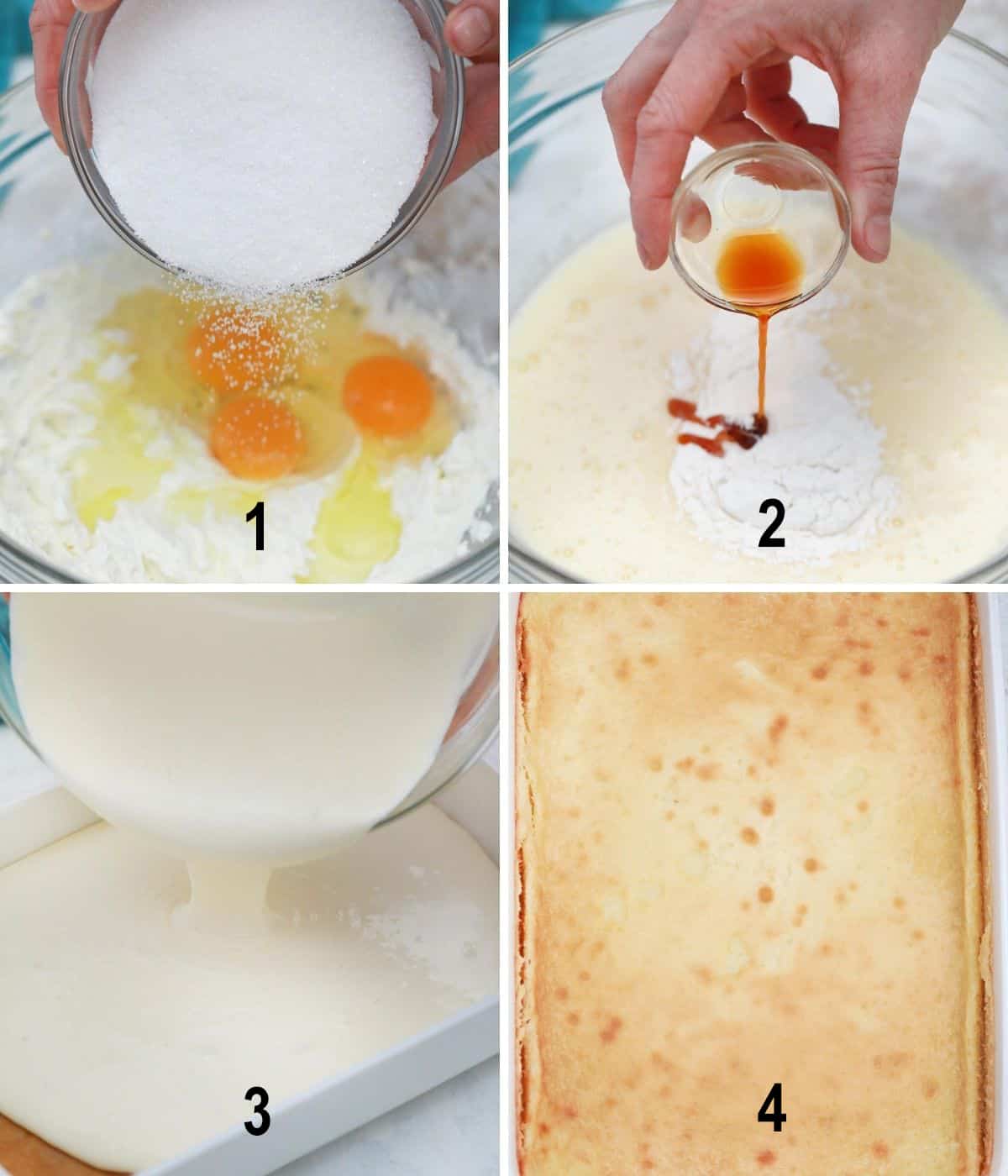 See the recipe card at the end of this post for full instructions. Make this the day before you want to serve it, so it has time to chill and set overnight.
You just need to beat the ingredients until smooth and pour the cheesecake batter onto the unbaked graham cracker crust.
Bake the cheesecake at 325 degrees F until set. My oven takes 45-50 minutes, but a couple readers needed a longer baking time in their ovens.
And...no water bath is needed! The cheesecake won't crack at this low temperature. Plus, the sour cream topping would cover it anyway.
Make the sour cream topping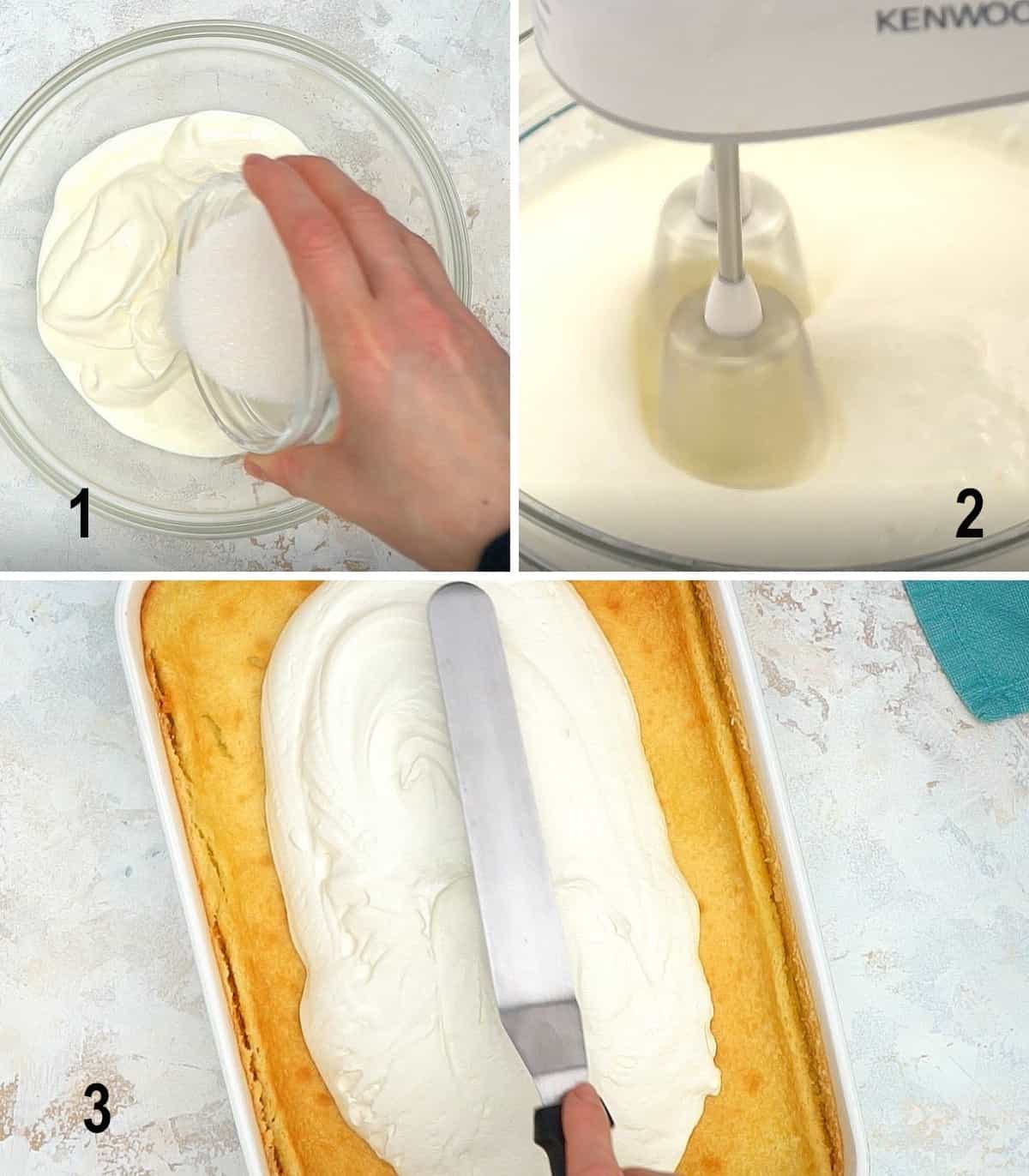 The sour cream cheesecake topping is so easy to make! Just stir or mix fresh sour cream with a little sugar and spread it right on the cooled cheesecake.
It'll greet your taste buds with a refreshing tang.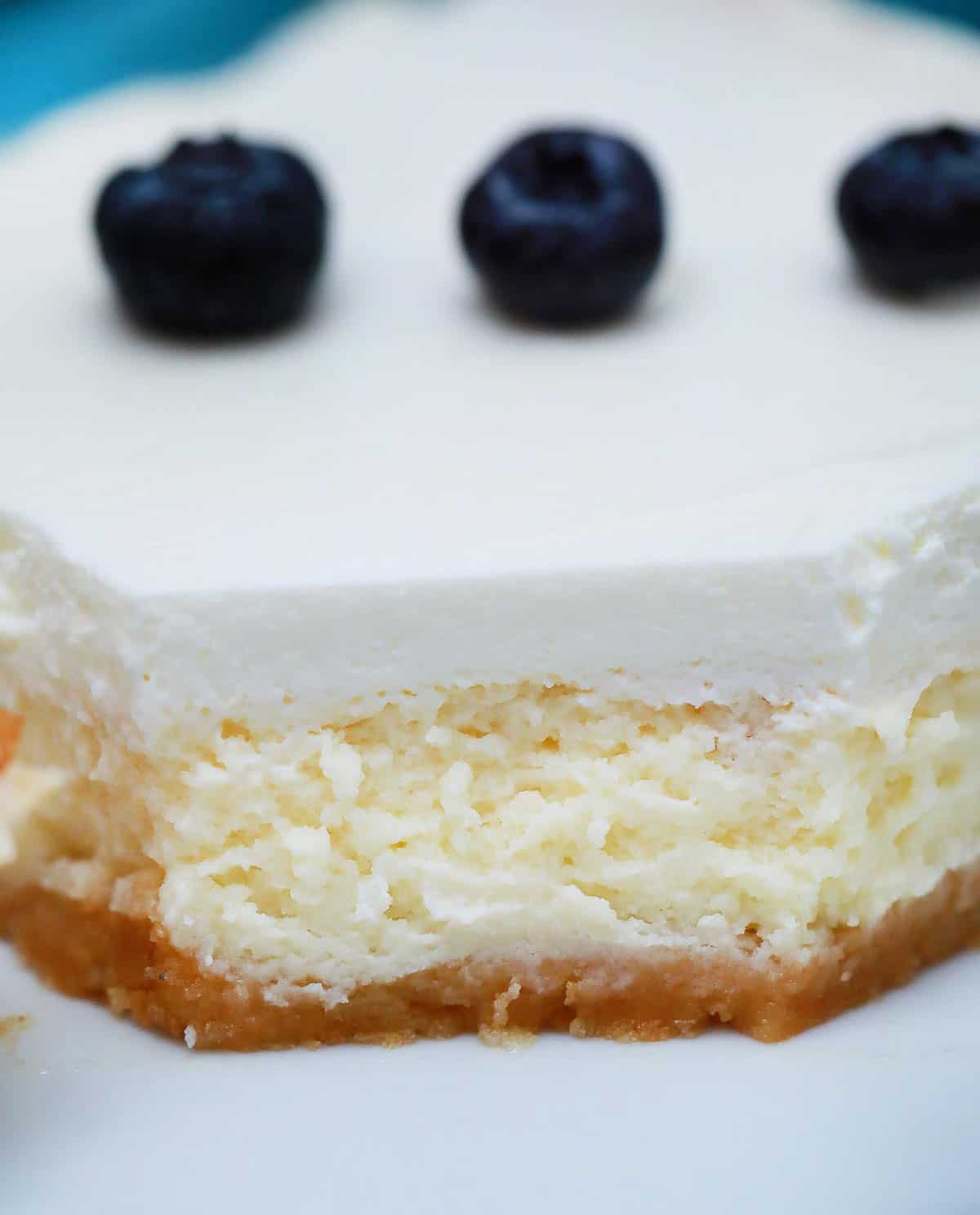 How to serve it
Mom always slices her cheesecake bars into dainty squares, unlike my lasagna-slab portions you see here. Hey, I had to fill up the plates for the photos, you know?
And Mom simply serves this cheesecake with sour cream topping, unadorned.
It's delicious like that, but I have to say, it's fabulous with fresh blueberries on top! I love the way their crisp, juicy texture complements the creaminess of the cheesecake.
You also could use Italian strawberries with Sugar or one of these Cheesecake Toppings from Scratch.
You'll have to experiment!
And invite me over.
Can you freeze cheesecake with sour cream topping?
Don't freeze the topping. You can freeze the plain cheesecake, without the topping. Thaw the cheesecake overnight in the refrigerator, then add the sour cream topping before serving it.
Do you have to cook the sour cream topping?
No. You'll simply mix sour cream with sugar and spread the sweetened sour cream on top of the cheesecake.
More desserts like this
Enjoy!