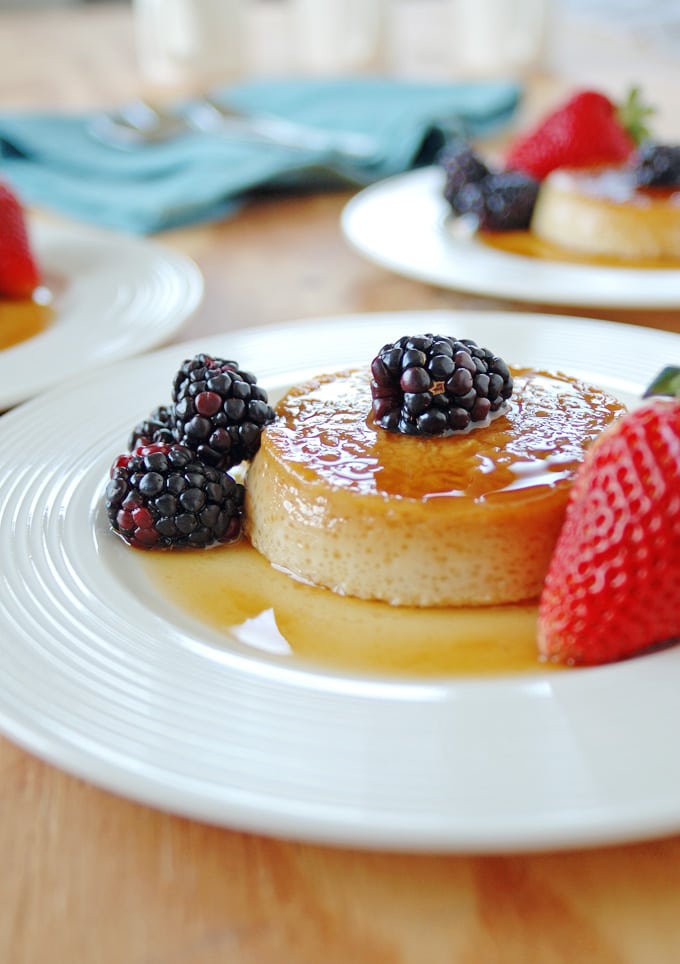 Is it Cinco de Mayo yet? Because I'm ready. I made this luscious, low-fat maple flan with berries, thanks to my new ramekins. But you could probably use a 9-inch cake pan instead. Just promise me you'll try this; without a doubt, it's one of my favorite desserts on Cooking with Mamma C.
Don't you just love flan? I get giddy with excitement whenever I see it on the dessert menu. I'd never tried making it though, until I was thumbing through The Complete Cooking Light Cookbook the other day, and this recipe was calling my name. I was hooked by how easy it sounded, and the fact that it uses pure maple syrup instead of any refined sugar. Plus there's 2% milk and no heavy cream.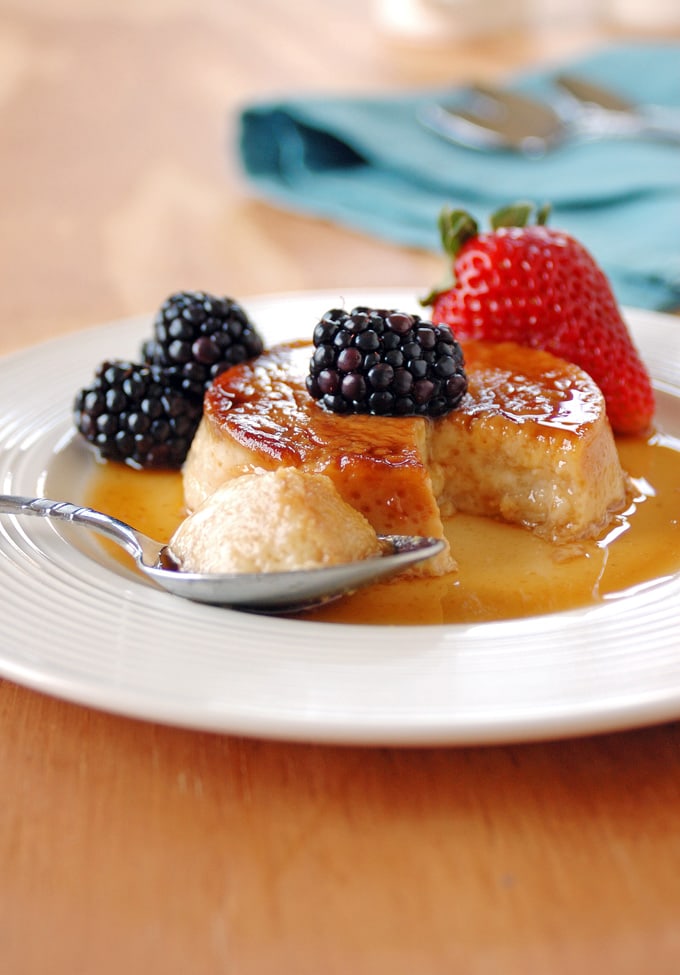 I was already feeling psyched when I suddenly remembered that Cinco de Mayo is coming up. Perfect timing! (See, there's no need for me to plan content for months! I can just fly by the seat of my pants. It's all good.)
So, I simply added a pinch of salt and berries to the recipe and went with it. I'm so glad I did. I'm in custard heaven, and don't miss the fat at all.
Plus, my hubby is happy with this dessert, which works out well, since it was our 23rd wedding anniversary Sunday. I have to tell you we've really evolved as a couple. We're so much more easy and relaxed (for Italians). Here's what I mean.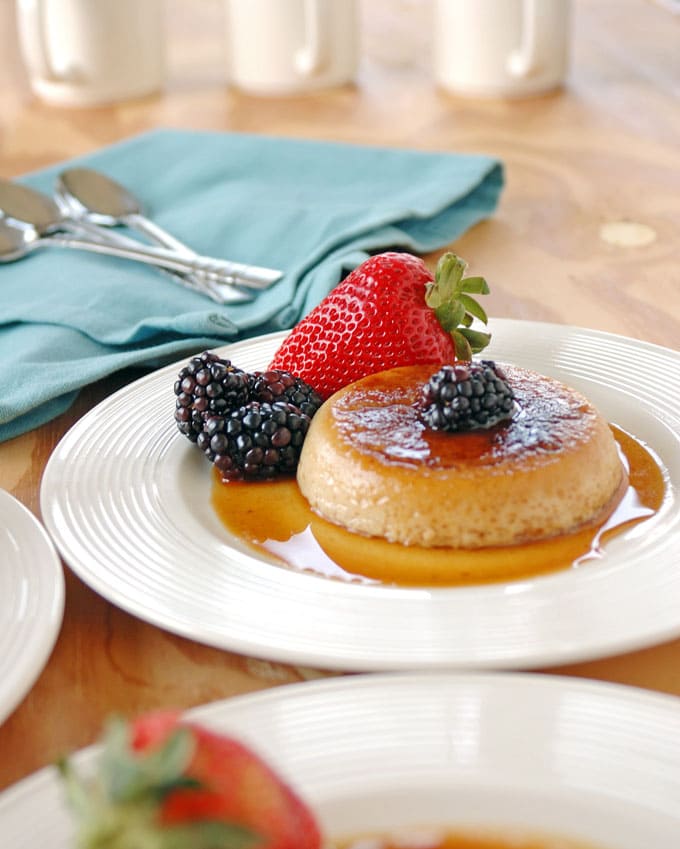 I woke up Sunday, glanced at Facebook, and was reminded by a memory photo that it was our anniversary. "That's right," I thought, and posted a loving note to my hubby on his Facebook page.
He walked into the room, and I wished him "Happy Anniversary!"
He stared at me. "It's today? I thought it was next week."
I made us Our Favorite Pancakes, and my hubby told me he would head to my parents' house early so he could do some plumbing repairs for them before my birthday dinner. (I was sick last week, so we postponed our celebration.) And, while a younger, more selfish, immature me would have wondered what he was going to do for me on our anniversary, the woman I am today couldn't imagine anything more thoughtful than for him to help out Mom and Dad. I vowed to buy my hubby a nice card when I went grocery shopping.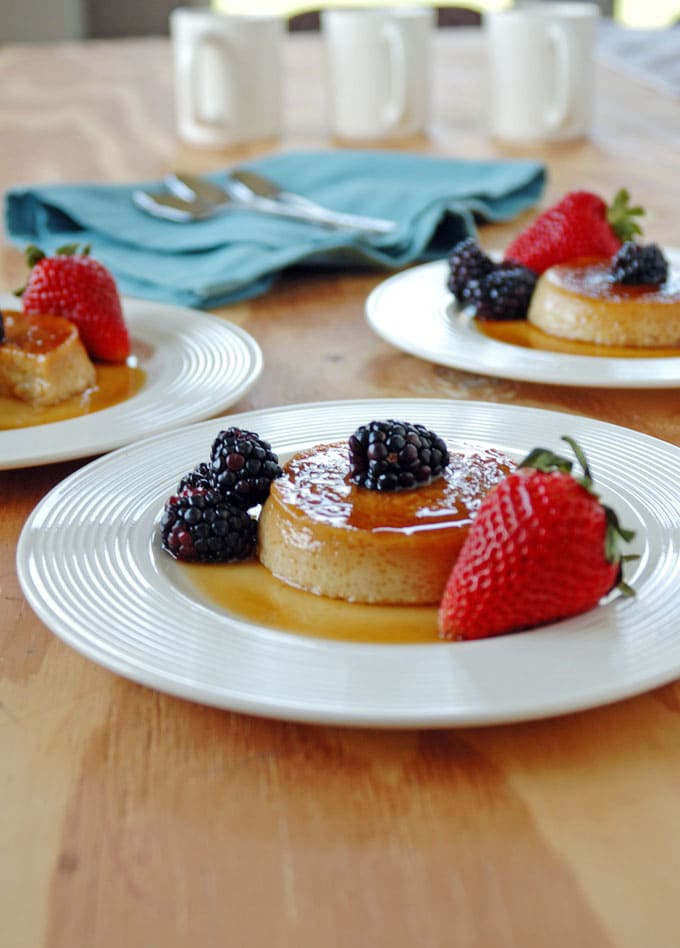 A few hours later, I stood, puzzled, in the greeting card aisle. "Was I supposed to buy a card for someone?" I asked myself.
Self: "Well, you're going to Mom and Dad's for dinner. Is it a special occasion for anyone there?"
"....No. We're celebrating my birthday and anniversary, so I'll probably be the one receiving cards."
Self: "So, you're good then."
Several hours later, after devouring Mom's scrumptious feast that included clam chowder, breaded scallops, her caponata, sautéed broccoli, salad, bread, fruit, and her to-die-for cassata cake, my hubby and I were nearly passed out in the living room when it hit me. "I didn't buy you a card at the grocery store!"
"It's okay. I didn't get you a card either," my hubby admitted, with a smile.
And then we burst out laughing.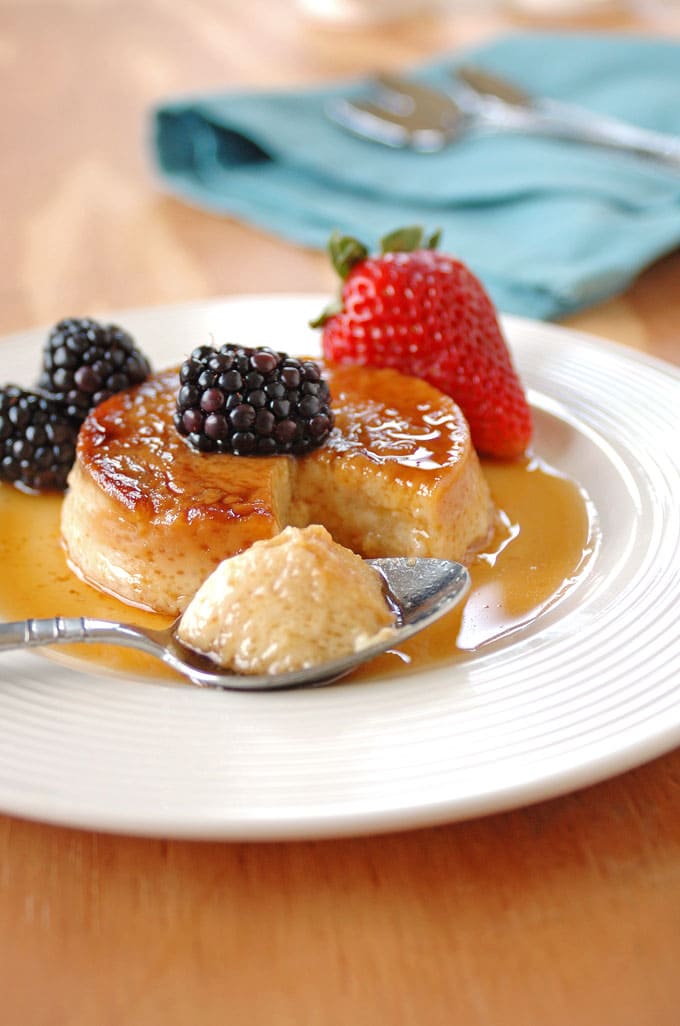 The good thing about getting older is we're recognizing the value of everyday things we once took for granted. Cards and gifts are nice, but cooking a meal or fixing the toilet can be a more meaningful way to say "I love you." And, let's face it, we may not remember to do anything else.
Honey, I'm so glad you're enjoying the flan.
(Recipe Source: Slightly adapted from The Complete Cooking Light Cookbook, 2000, page 168)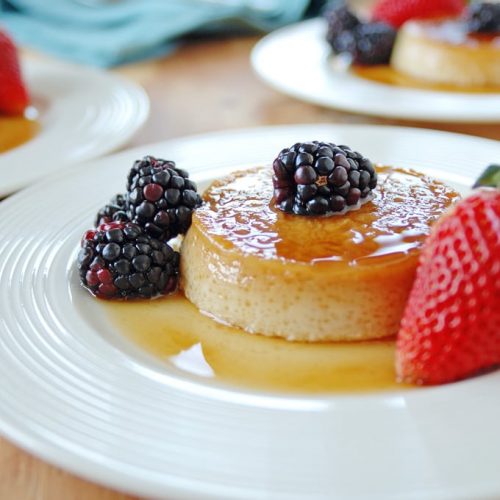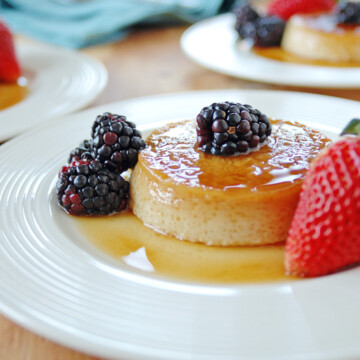 Low-Fat Maple Flan with Berries
One of my favorite desserts! Note, you will need a candy thermometer and should let the flan cool for three hours before serving.
Print
Pin
Rate
Save
Go to Collections
Servings:
10
ramekins or 1 9-inch round cake pan
Ingredients
3

eggs

(beaten; I use extra-large)

cooking spray

1 ½

cups

pure maple syrup

(divided use)

2

teaspoons

all-purpose flour

2

cups

2% milk

1

teaspoon

vanilla extract

1

pinch

salt

berries for serving
Instructions
Preheat your oven to 375 degrees F. Grease 10 ramekins or 1 9-inch round cake pan with cooking spray. Beat your eggs and set them aside.

In a heavy saucepan, cook ½ cup of the maple syrup over medium-high heat, until it reaches the hard-ball stage (260 degrees F). You will need to insert a candy thermometer in the pan to monitor the temperature. It should take at least five minutes to reach this stage.

Immediately and very carefully pour the syrup (it will be extremely hot) into your greased ramekins, trying to keep the amounts even. (The longer the syrup sits in the pan, the darker it will become until it burns.)

Place your flour in a medium mixing bowl. Gradually add your remaining 1 cup of maple syrup, whisking until blended. Add your milk, vanilla, eggs and salt. Beat with a mixer at low speed until well blended.

Pour the milk mixture into a measuring cup or something with a spout and evenly pour the mixture over the maple caramel in your ramekins. If using ramekins, fill 2 9x13 pans with one inch of hot water. Place the ramekins in your baking pans. (If you are using a round cake pan for the flan, you will need to add an inch of water to a large roasting pan and set your cake pan in it.)

Bake for 1 hour and 10 minutes, or until a knife inserted in the center comes out clean. Wearing gloves, take the ramekins out of the baking pan and set them on a wire rack to cool for an hour. Then, chill the flan in the refrigerator for two hours before serving.

To serve, invert a dessert plate over the top of a ramekin and flip over the flan onto the plate. Add blackberries, strawberries, or other berries as garnish. Only invert the servings you will need at the moment. Refrigerate leftovers for up to three days.
Nutrition
Calories:
175
kcal
|
Carbohydrates:
35
g
|
Protein:
3
g
|
Fat:
2
g
|
Saturated Fat:
1
g
|
Cholesterol:
52
mg
|
Sodium:
49
mg
|
Potassium:
192
mg
|
Sugar:
31
g
|
Vitamin A:
120
IU
|
Vitamin C:
0.1
mg
|
Calcium:
117
mg
|
Iron:
0.3
mg