You must try my Hungarian Chicken Paprikash with Dumplings! I'm half Hungarian and worked to get the recipe just right!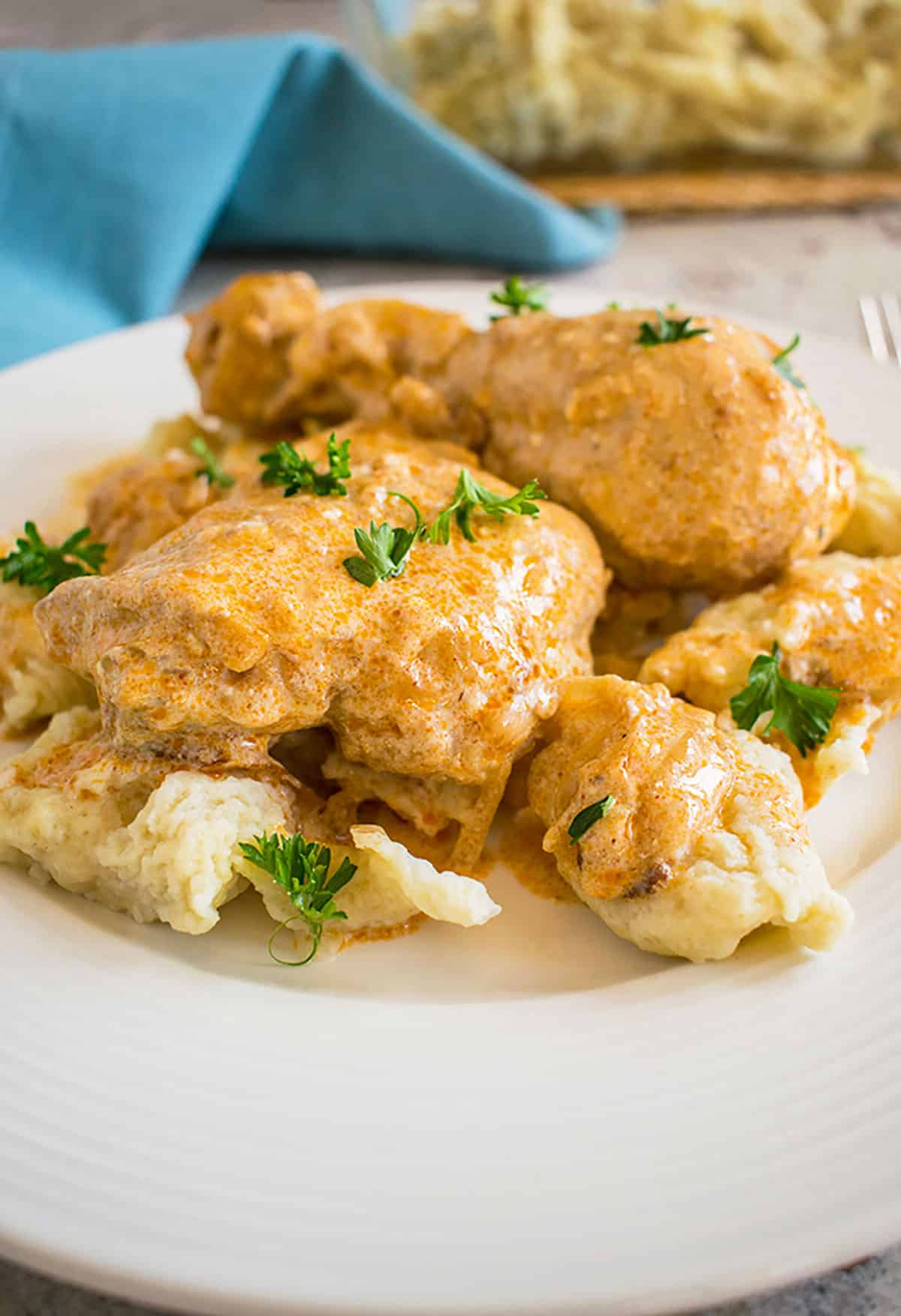 Chicken Paprikash with Dumplings holds a special place in my heart, because it reminds me of my Hungarian grandparents, as well as Nonna. (If you haven't read my About section, you probably didn't realize that I'm half Hungarian!)
Grandpa and Grandma (Dad's parents) were Hungarian immigrants who owned Gold Cross Pharmacy on Woodhill Road in Cleveland. (Grandpa was a pharmacist, just like his brother and father.)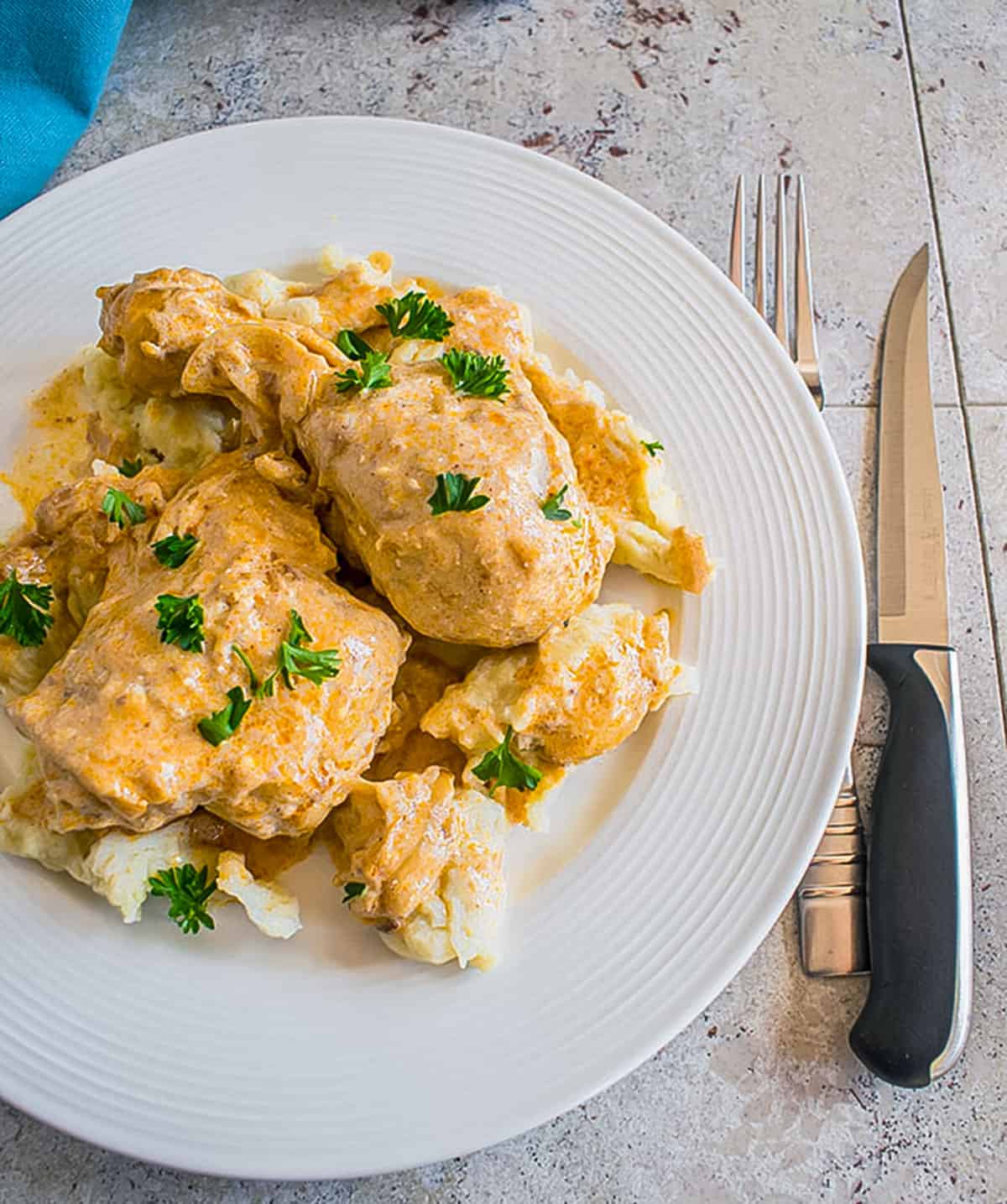 Grandpa and Grandma sold the drugstore before I was born, but how I wish I could go back in time to see it.
There was an old-fashioned soda fountain, where Dad — get this — was a "soda jerk" as a kid, making all of the ice cream floats. (No wonder he always asks my kids if they want whipped cream and a cherry on top of their ice cream!)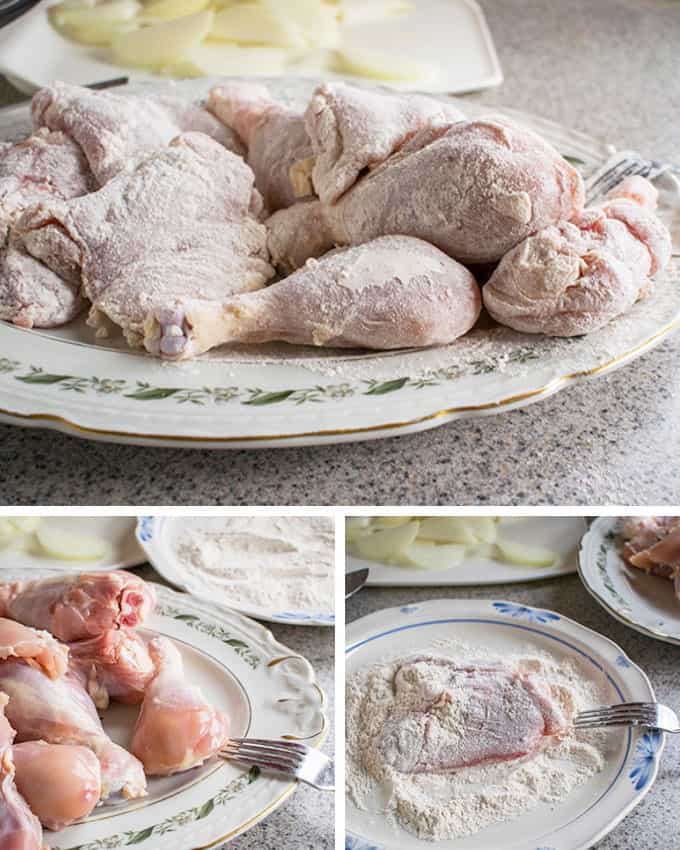 Grandma died when I was six years old, and had not been in good health prior to that, so I never got to spend quality time with her. Grandpa would come to our house for Sunday dinners though, and Mom often prepared dishes such as Chicken Paprikash, Beef Stroganoff, and Swiss Steak for him.
Nonna would be there too, of course, helping Mom to cook.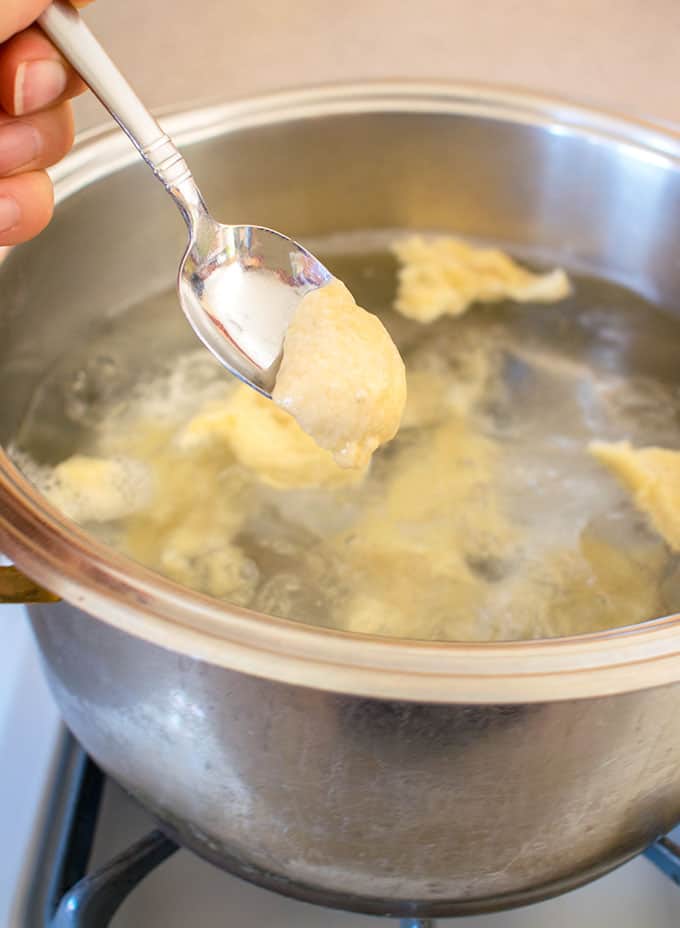 And, since dumplings are very similar to pasta, Nonna was all over them. She'd get so excited about the "trrahm-poh-leens," as she called them, her eyes twinkling as she and Mom would stand at the stove, Mom boiling the dumplings in batches, while Nonna waited to scoop them out with the strainer (affiliate link) when they were cooked.
Here's where I let you know that now we only refer to dumplings as "trrahm-poh-leens," just like Nonna did. In fact, I have to remember to let my kids know they're supposed to call them "dumplings" in public.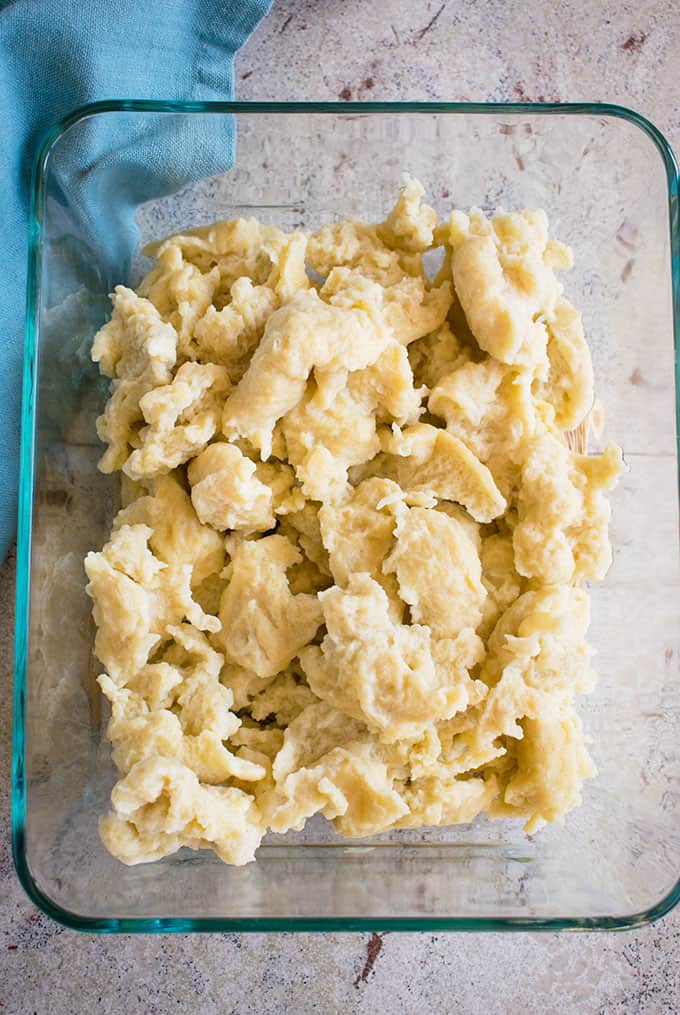 Over the years, I did some experimenting to come up with my own Hungarian Chicken Paprikash with Dumplings.
Here's what makes this recipe delicious:
Flouring the meat first helps thicken the sauce.
Using chicken stock instead of broth provides more flavor.
Adding more paprika makes the dish sing.
Using low-fat sour cream lightens the gravy a bit, but using full-fat sour cream will give you a smoother sauce.
Substituting water for the milk in the dumplings gives a better texture.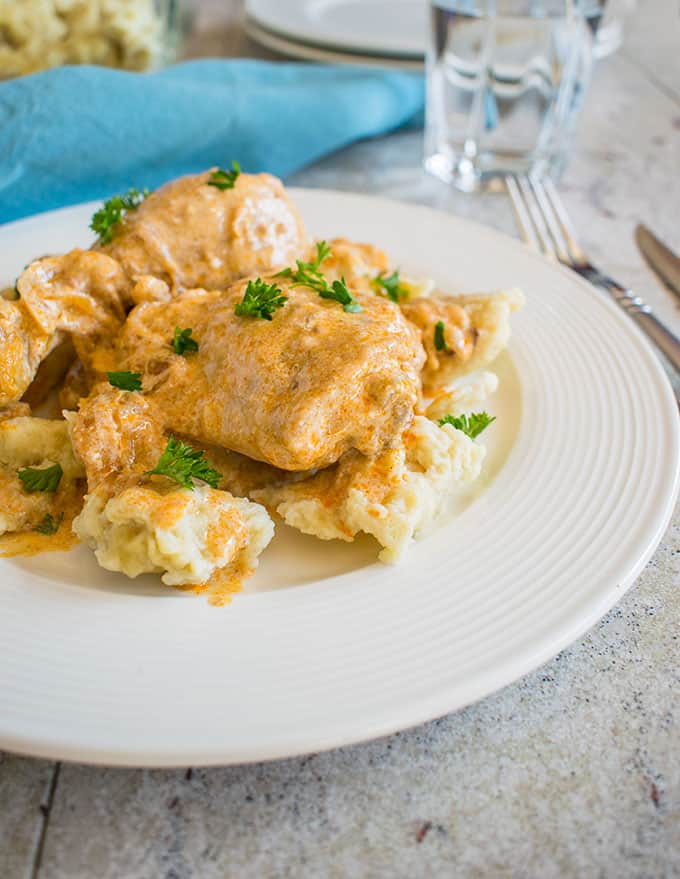 I know I came up with a winner, since my son requests this meal every year for his birthday, Mom and Dad thoroughly enjoy it, and my husband and daughter are always excited to hear Hungarian chicken paprikash and trampolines are on the menu.
This dish is definitely a family favorite, and I hope you enjoy it as much as we do! I know Grandpa, Grandma and Nonna are happy when I get my Hungarian groove on in their memory.
(Recipe Source: Cooking with Mamma C. Originally published on October 2, 2014 and updated now with new photos, nutrition info. and additional narrative. See one of the original photos below!)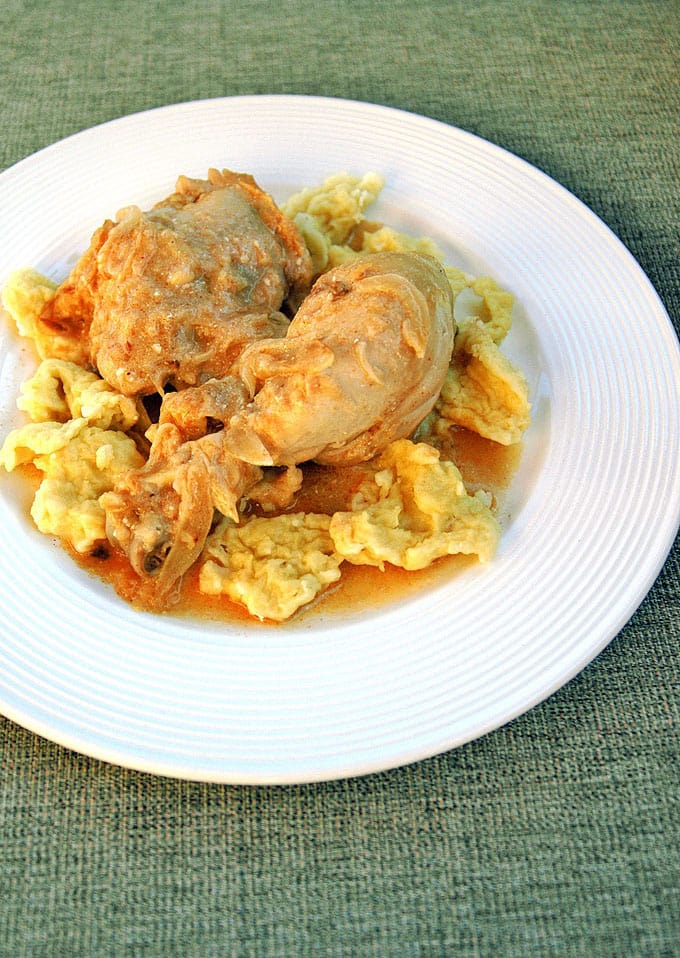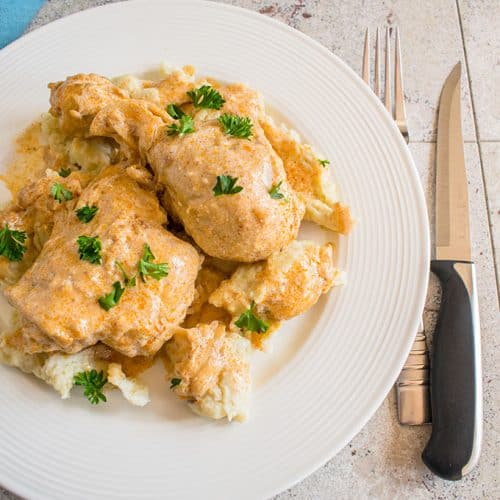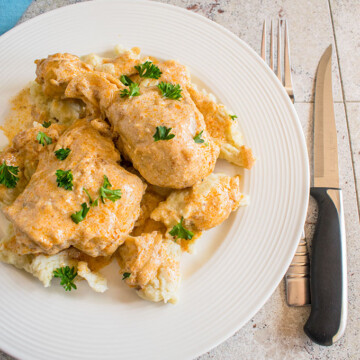 Ingredients
Chicken Paprikash
3

small or 2 medium yellow onions

(peeled & thinly sliced)

8

chicken thighs

(skinned)

7

chicken drumsticks

(skinned)

½

cup

all-purpose flour

¼

teaspoon

garlic powder

⅓

teaspoon

Hungarian paprika

⅛

teaspoon

salt

⅛

teaspoon

black pepper

2

tablespoons

olive oil

(plus extra if needed to brown meat)
Paprikash Gravy
1 ½

cups

chicken stock

1

tablespoon

Hungarian paprika

8

ounces

low-fat sour cream

(or use full-fat for a smoother result)

1

teaspoon

corn starch

salt and pepper to taste
Dumplings
6

eggs

(beaten)

4

cups

all-purpose flour

1

cup

water

2

teaspoons

salt

water for boiling the dumplings

1

teaspoon

salt for boiling the dumplings
Instructions
Peel and thinly slice onions. Set aside. In a dinner plate, combine flour with the garlic powder, ⅓ teaspoon paprika and ⅛ teaspoon each of salt and pepper.

Skin chicken (use a paper towel to grasp the skin and pull it off.) Pat chicken dry with paper towels. Set up an assembly line from left to right with the chicken, the seasoned flour, and a 9x13 pan. Using a fork, dredge each piece of chicken in the flour on both sides and place the floured chicken in the pan.

In your largest skillet, heat the olive oil on medium high. Add the onions and cook them for six minutes or until they are soft, stirring occasionally.

Add the chicken to the skillet with the onions and brown the meat on both sides, for a total of 7-10 minutes. (You can do this in batches if needed or use a second skillet to brown some of the chicken in a bit of olive oil.)

While the chicken is browning, whisk 1 tablespoon paprika into 1 ½ cups of chicken stock. Place all of the browned chicken in the large skillet with the onions, and pour the seasoned chicken stock over it. Lower the heat to medium and cover the pan. Simmer for at least 25 minutes. (Check on it once during that time, to spoon some gravy over the chicken.)

While the chicken is simmering, prepare the dumplings. Fill a pasta pot just over halfway with hot water. Add a teaspoon of salt to the water, cover the pot, and heat it on high. In a medium mixing bowl, beat the eggs with a fork or whisk. Using a large spoon, stir in the flour, water, and 2 teaspoons of salt until well combined. (A whisk won't work well for that.)

Place the bowl with batter near the stove, along with two regular teaspoons, a large slotted spoon, a clean 9x13 pan and a roll of foil.

When the water is boiling, uncover the pot. Scoop a teaspoon of batter, and use the other teaspoon to scrape it off over the pot, so that the batter drops into the boiling water. Continue adding teaspoons of batter to the pot in a single layer, trying not to let the dumplings touch each other. (You will need to do this in batches.)

Cook the dumplings for 3-5 minutes, depending on how firm you want them.The dumplings will float when they are almost cooked. (After the dumplings float, I usually wait a couple of minutes and then cut one open to taste it. Make sure it is cooked through. If it is too firm for your liking, cook it some more. You also can cut any large dumplings in half to finish cooking.)

Use a slotted spoon (or strainer) to remove the cooked dumplings, letting any excess water drain back into the pot. Place the drained dumplings in your clean 9x13 pan and loosely cover them with foil to keep them warm. Keep your water boiling and continue cooking and draining the dumplings in batches until all of the batter is gone.

When you are done cooking the dumplings, the chicken should be ready. Cut into a piece of chicken to make sure it is not pink inside. If the chicken is cooked, turn off the heat and add dollops of sour cream around the skillet, stirring carefully after each addition.

To thicken the gravy, add a few tablespoons of the gravy to the corn starch in a cup and whisk together. Add the corn starch mixture to the skillet and carefully stir it in. You can taste the chicken and gravy to see if additional salt and pepper are needed, or just provide extra at the table.

To serve, place a portion of dumplings in the center of each plate and top with the chicken and gravy. Add salt and/or black pepper if needed.

Store leftover dumplings in the refrigerator and use them by the end of the next day. (They will start to turn grey after that.) If you wish, you can just cook half of the dumplings and save the rest of the batter in the refrigerator to cook fresh dumplings the next day. Store any leftover chicken and gravy in the refrigerator for up to three days.
Notes
If you are making this quantity of chicken and don't have a skillet larger than 12-inches, you may want to use a second skillet, even for simmering the chicken. If so, when you are ready to simmer, put some of the onions in the second pan with some chicken and use 1 ½ cups of stock in each pan. Cover both pans and simmer until cooked. Then, you can remove just the chicken and onions (minus the stock) from the second pan and add them to the rest of the cooked chicken before adding in the sour cream and corn starch.
This recipe makes a lot of chicken, which is great for leftovers. Sometimes, I reduce the chicken part of the recipe by half, but make the full amount of gravy and dumplings, since my family eats lots of them!
Nutrition
Calories:
760
kcal
|
Carbohydrates:
62
g
|
Protein:
44
g
|
Fat:
35
g
|
Saturated Fat:
10
g
|
Cholesterol:
305
mg
|
Sodium:
909
mg
|
Potassium:
667
mg
|
Fiber:
2
g
|
Sugar:
2
g
|
Vitamin A:
430
IU
|
Vitamin C:
3.3
mg
|
Calcium:
94
mg
|
Iron:
5.2
mg