Three weeks ago, if anyone would've told me I'd be head over heels for a cod recipe, my response would've been, "What you talkin' 'bout, Willis?" But this Lemon Parmesan Cod with Garlic Butter has blown me away and become an instant family favorite.
Allow me to explain. You see, apparently there are two types of cod: dried/salted and fresh/frozen.
Since I was not born with this information, as my chemistry teacher used to say, I had no idea. (Is it just me? Does everyone else in the universe know this?)
Anyway, 20 years ago, I tried baccalà (that's Italian for dried, salted cod) and immediately decided I didn't like it at all.  I was completely unaware that baccalà had an alter ego — the moist, mild-tasting, sturdy, so-good-it-could-pass-for-a-poor-man's-lobster fresh cod.
So, I didn't eat cod for two whole decades. What?!!
Yes, folks, I've been missing out on what has now become my favorite variety of fish. The only reason I finally tasted it is that the grocery store was out of tilapia, and the fish clerk urged me to try the cod instead.
I'd recently seen a drool-worthy photo of a cod dish on Pinterest, so I decided to take the plunge. (I'm a risk-taker like that.)
I'm so excited to tell you what I made. I took my beloved Parmesan Chicken Drumsticks with Garlic Butter recipe and turned it into a cod dish!
I added fresh parsley and lemon zest to the Parmesan-garlic-paprika mixture, dipped the fish in melted butter, then coated the cod with the incredible lemon-Parmesan blend. Then I baked it at 400 degrees for 15 minutes on a sheet pan. Just like the chicken, it comes out of the oven in a nice pool of garlic butter begging for bread to be dipped in it.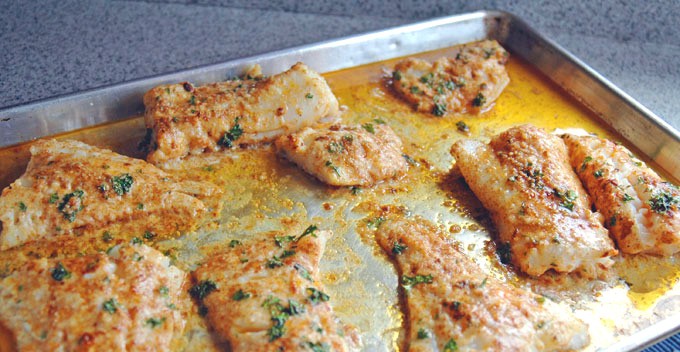 We devoured this meal like vultures. And get this — my 17-year-old daughter, who usually eats a toddler-sized portion of fish, ate a large piece and then took seconds.
We all just stopped and stared. I made this again two weeks later, and everyone welcomed it back, happily dipping their bread into the pan before I even sat down.
This cod is that good. And I can't wait to see what other cod recipes I can come up with. Look out, Honey. Your wife is smitten.
Enjoy! And, if you like Cooking with Mamma C, you can subscribe to receive new posts via email and follow me on Facebook, Pinterest, Twitter and Instagram!

(Recipe Source: Cooking with Mamma C)