Baked Cod with Parmesan and Garlic Butter is the most popular dish on Cooking with Mamma C and one of the best cod recipes! It's even loved by toddlers and people who don't like fish! Gluten free, low carb and keto.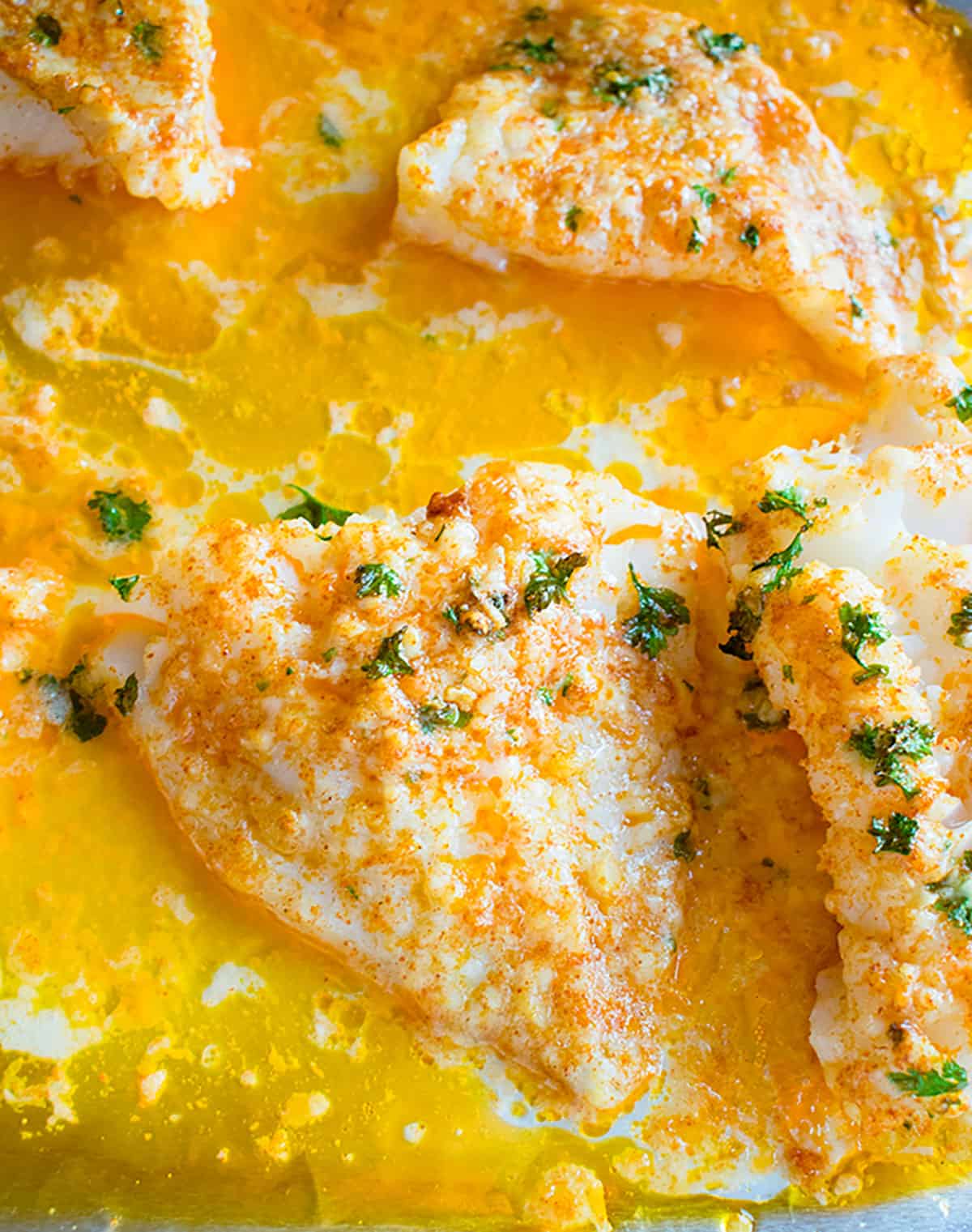 Several years ago, if anyone would've told me I'd be head over heels for a cod recipe, my response would've been, "What you talkin' 'bout, Willis?"
But this Baked Cod with Parmesan and Garlic Butter blew me away and became an instant family favorite. And, it quickly became the most popular recipe on Cooking with Mamma C, garnering fans from around the world.
Allow me to explain. I once tried baccalà (that's Italian for dried, salted cod) and decided I didn't care for it. (But I recently made fried baccalà and loved it!)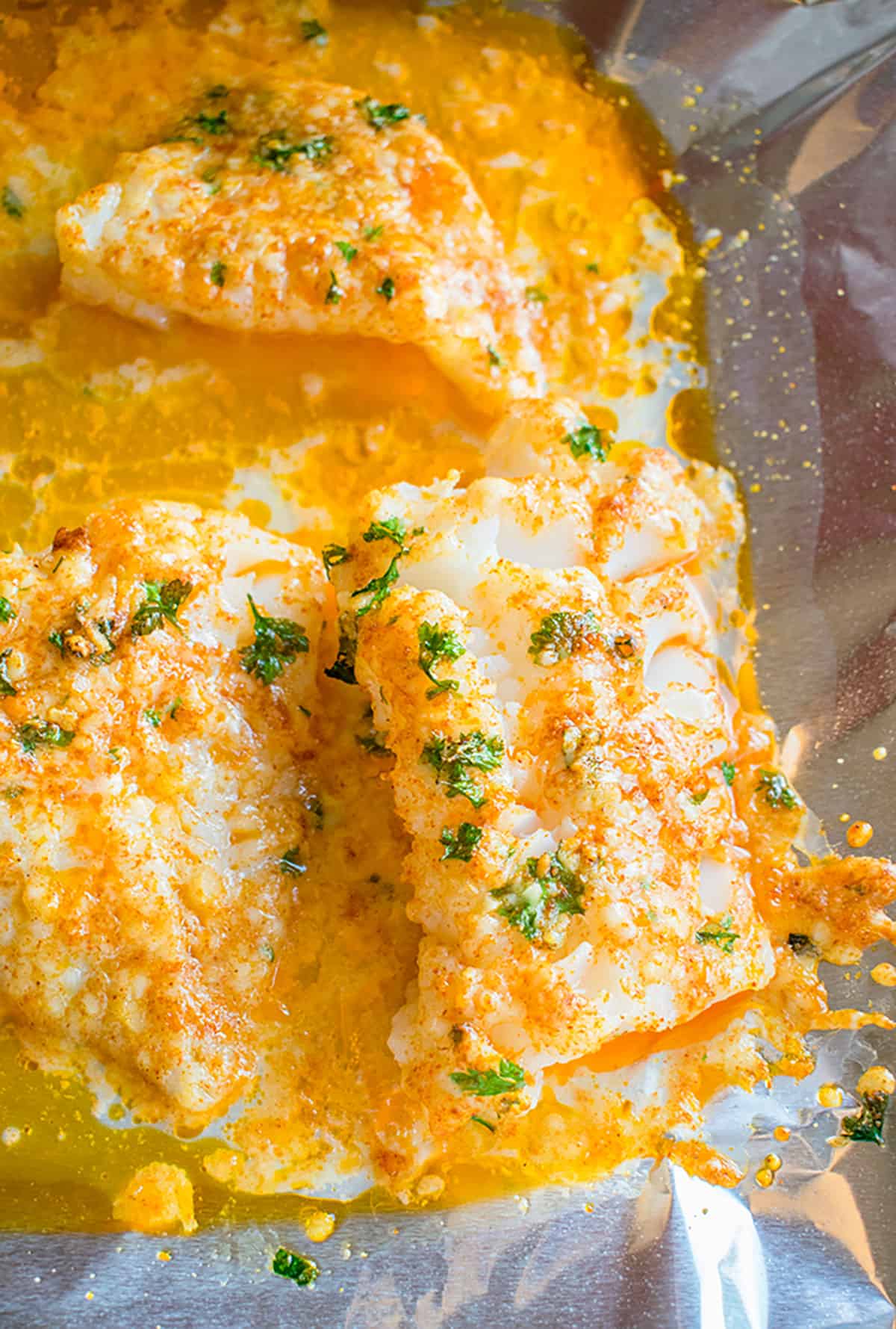 I was completely unaware that baccalà had an alter ego — the moist, mild-tasting, sturdy, so-good-it-could-pass-for-a-poor-man's-lobster fresh cod.
So, I didn't eat cod for two whole decades.
What?!!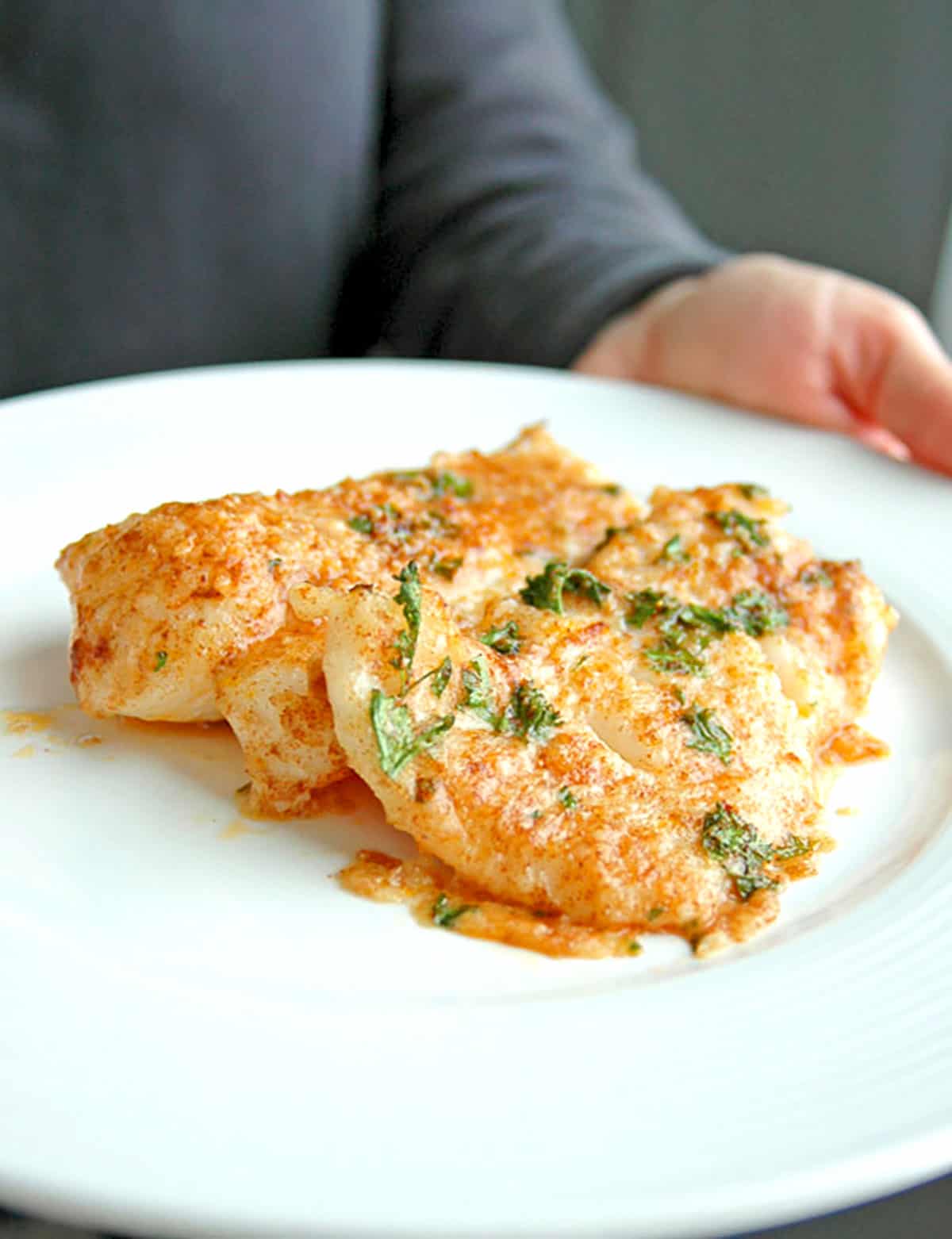 Yes, folks, I missed out on what has now become my favorite variety of fish. I'm so glad I eventually let a fish clerk talk me into making cod back in 2014.
That's when I took my beloved Parmesan Chicken Drumsticks with Garlic Butter recipe and turned it into a baked cod dish. A gluten-free, low-carb, keto-friendly cod recipe that even picky eaters love. It's perfect for Lent or any night of the week!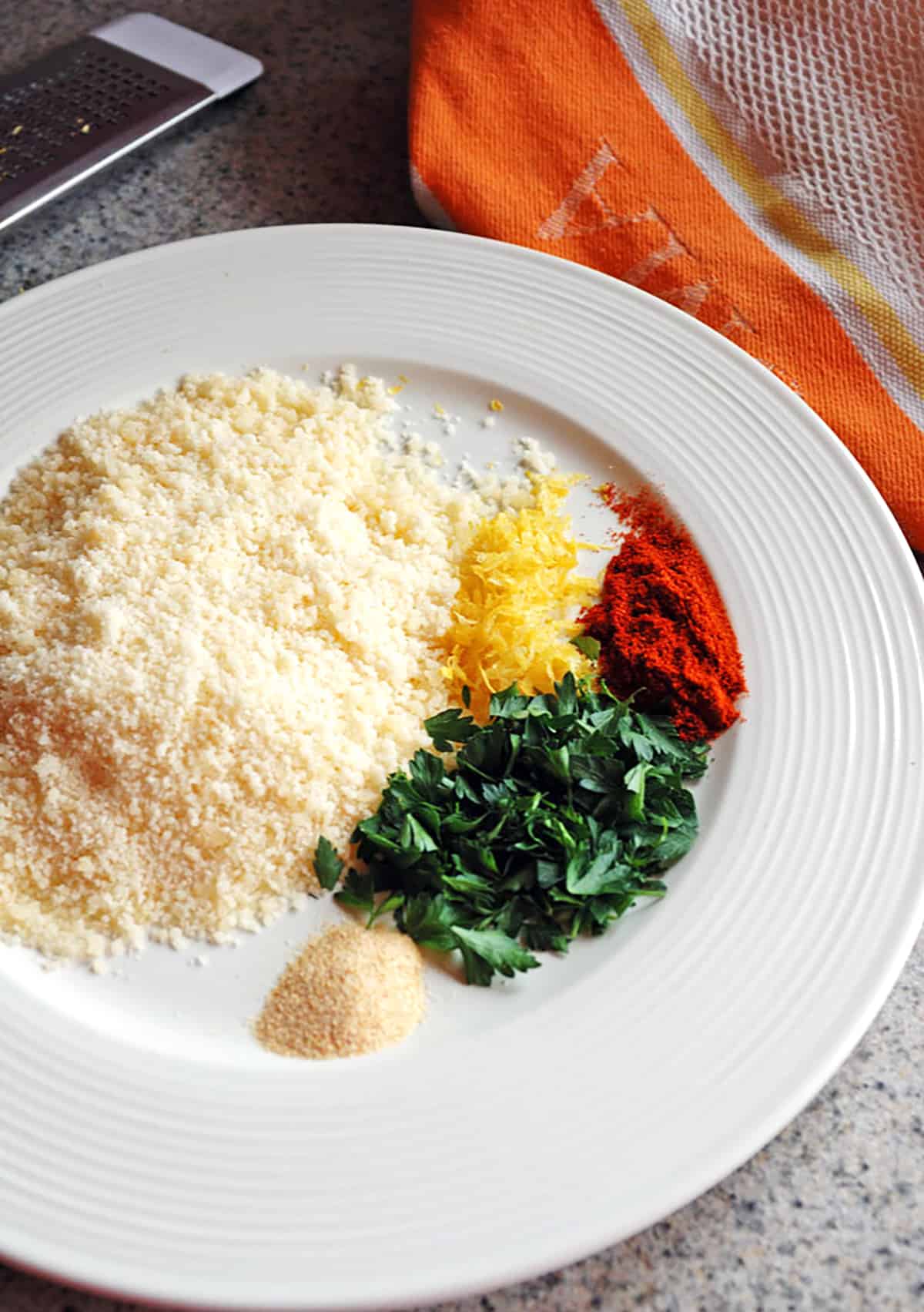 How to Make Baked Cod with Parmesan and Garlic Butter
Mix freshly grated Parmesan with garlic powder and paprika.
Add lemon zest and chopped parsley to the mixture. I use this zester (affiliate link).
Dip the cod in melted butter, then dredge it in the cheese mixture, pressing it onto the fish.
Drizzle any extra butter over the fish.
Bake the cod at 400 degrees F for 15 minutes.
Squeeze lemon juice over the baked cod.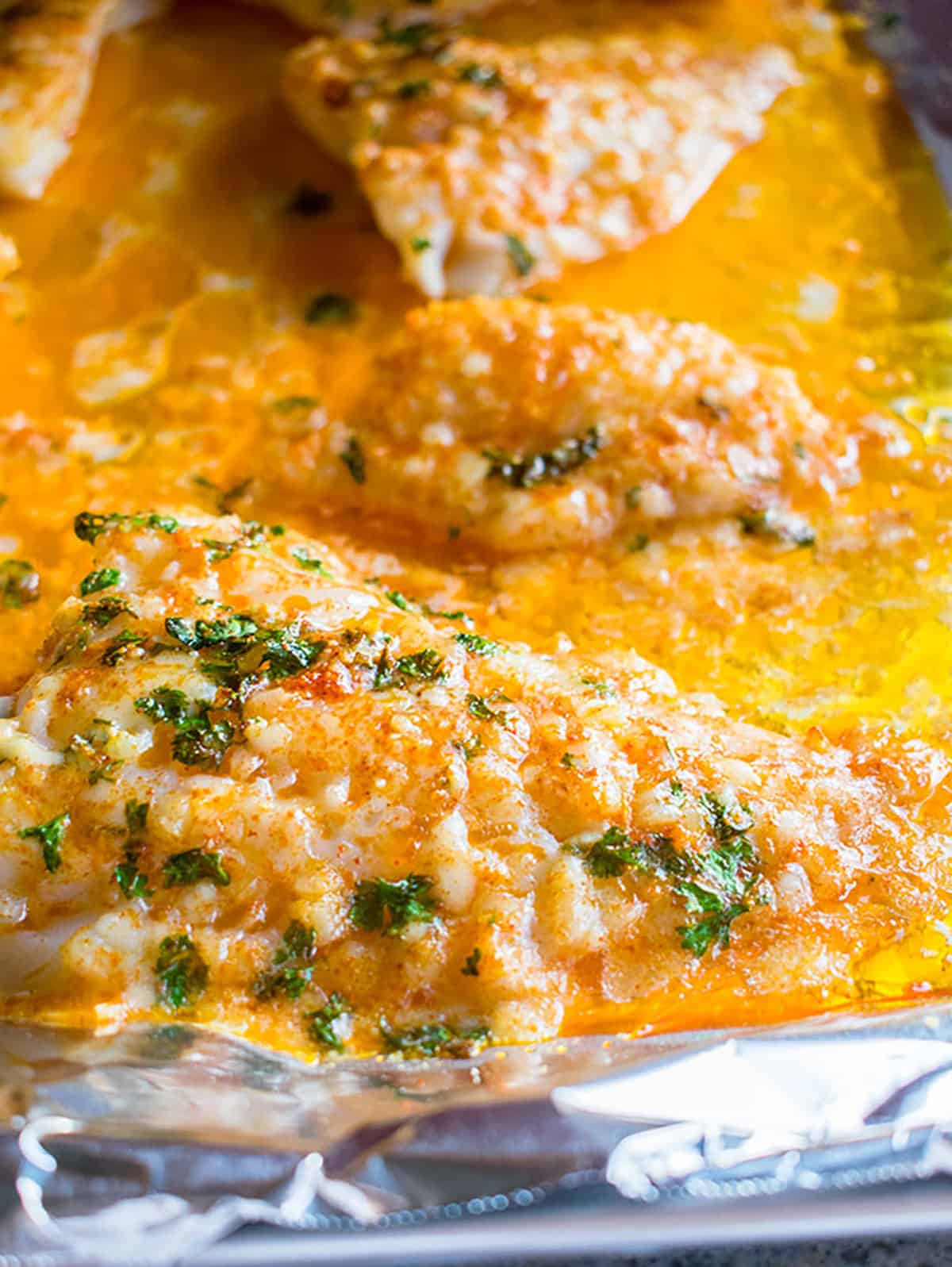 The Parmesan-crusted cod comes out of the oven in a nice pool of garlic butter begging for bread to be dipped in it. If carbs and gluten aren't issues for you, go for it!
Now, since there are so many comments on this post, I'll share my answers to some of the most common questions about this cod recipe.
Can I Prep this in Advance for Company?
Sure! Earlier on the day you want to serve it, dip the cod fish in the melted butter and coat it with the Parmesan mixture. Then, refrigerate it in a single layer, covered lightly with foil instead of plastic wrap, which would stick to the coating.
Remove the pan(s) of fish from the fridge 15 minutes before the cod needs to go in the oven. You might need to bake the cod slightly longer than 15 minutes if your pans are chilled, so just cut into one of the thicker pieces to see if it's ready.
Can I Use Frozen Cod in this Recipe?
For best results, use fresh cod, but you can use frozen cod if you thaw it first. Make sure to pat the cod dry with paper towels.
Can I Use Fresh Garlic?
Yes, several readers have substituted a chopped garlic clove for the garlic powder with great results.
What Can I Substitute for Fresh Parsley?
Try a teaspoon of dried parsley or dried basil.
Can I Use Bottled Lemon Juice?
Yes, use what you have. Next time, you can try it with the lemon zest and fresh lemon juice.
What If I Don't Have Paprika?
Skip the paprika and then, after the fish is cooked, see if it needs extra black pepper or even a bit of red pepper.
Can I Make this with Haddock?
Yes. Haddock can be used as a substitute for cod.
Would this Work with Shrimp?
Shrimp tastes delicious with these ingredients. Here is the recipe for Baked Parmesan Shrimp with Garlic Butter.
You also might like my other low-carb, gluten-free recipes using the garlic-Parmesan coating:
WHAT TO SERVE WITH THIS BAKED COD RECIPE
If you want to keep this meal gluten free, try it with rice and asparagus. Amish Brown Butter Mashed Potatoes also would be a great side dish.
More Cod Recipes
If you love cod as much as I do, be sure to check out my crispy baked cod, Baked Cod with Coffee Butter. And, don't miss my Nonna's Sautéed Cod with Tomatoes
Here are 23 cod recipes you might enjoy too.
Enjoy!
(Recipe Source: Cooking with Mamma C. Originally published on November 17, 2014 as Lemon Parmesan Cod with Garlic Butter. Republished now with updated text, photos and nutrition info.)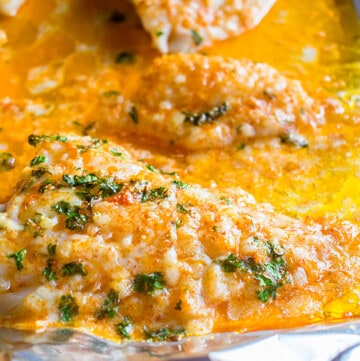 Baked Cod with Parmesan and Garlic Butter
Baked Cod with Parmesan and Garlic Butter is sure to become a favorite meal and is fit for company! Serve with bread to dip into the luscious garlic butter.
Print
Pin
Rate
Ingredients
3/4

cup

freshly grated Parmesan cheese

1/2

lemon

(zest, plus juice)

2

tablespoons

fresh parsley

(cut small or chopped)

1/2

teaspoon

garlic powder

1 1/4

teaspoon

paprika

3

tablespoons

salted butter*

(See notes. Use up to 5 tablespoons if you want extra butter sauce)

1 1/2

pounds

fresh cod
Instructions
Preheat the oven to 400 degrees F. Grease a rimmed baking sheet with cooking spray. Place the grated Parmesan on a dinner plate and add the garlic powder and paprika.

Wash the lemon and pat it dry. Cut it in half and make zest from one of the halves by using a zester or grater to shave off the yellow part of the skin, adding it to the cheese mixture.

Rinse the parsley and pat it dry. Cut it with scissors or chop it before adding it to the cheese mixture. Toss the cheese mixture with a fork to blend it.

Rinse the fish in cold water and rub your thumbs along the surface to see if there are any bones to remove. Pat the fish dry with paper towels.

Melt the butter in a small pan on the stove or microwave it in a bowl. Set up an assembly line from left to right with the fish, the butter, the cheese mixture, and the sheet pan.

Use a fork to dip each piece of fish in the butter on both sides, then in the cheese mixture, coating both sides and patting the topping onto the cod with the fork. Place the coated fish onto the sheet pan, top with any excess melted butter and bake for 15 minutes. The cod is done when it can be easily flaked with a fork.

Squeeze lemon juice over the fish and serve with bread for dipping in the garlic butter (you can place the pan on the table for informal dinners) or spoon the butter over rice, mashed potatoes or polenta. Store leftover cod in the refrigerator for up to three days.
Notes
* I use salted butter and find this dish is salty enough with the Parmesan. If you're using unsalted butter, you'll need to add salt.
Nutrition
Serving:
6
ounces
|
Calories:
303
kcal
|
Carbohydrates:
2
g
|
Protein:
37
g
|
Fat:
15
g
|
Saturated Fat:
8
g
|
Cholesterol:
112
mg
|
Sodium:
455
mg
|
Potassium:
769
mg
|
Vitamin A:
970
IU
|
Vitamin C:
11.6
mg
|
Calcium:
244
mg
|
Iron:
1.2
mg