Mom's Pesto with Pecorino Romano is the best! It'll become your go-to recipe for basil pesto sauce!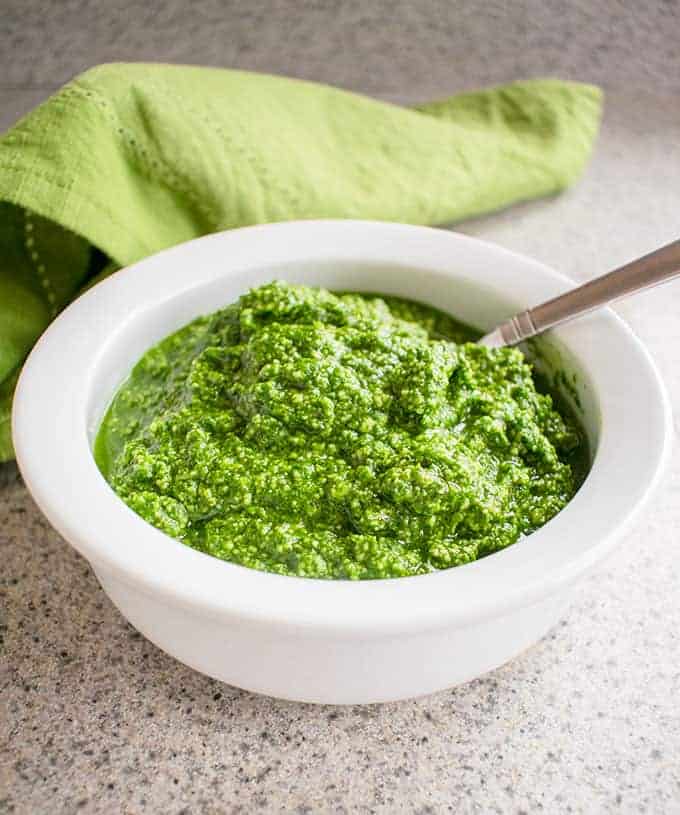 My family's been eating pesto since 1982...long before it was cool to eat pesto in America. And, while it seems every grocery store, food blog and Italian restaurant features basil pesto nowadays, I have to say I've never tasted any as good as Mom's Pesto with Pecorino Romano.
I'm thrilled she's allowing me to share her recipe! You have to try this for Pesto Salmon, Pesto Chicken or stir some into Pasta with Peas!
Pesto hails from Genoa in the Italian province of Liguria. It was there, in the town of Rapallo on the Italian Riviera, where we first tasted this fragrant, delicious paste of basil, garlic, olive oil, cheese and pignoli (pine nuts).
Mom, Dad, Nonna, my brother and I were spending five weeks in Italy visiting family and touring the country. In Rapallo, we would go to this unassuming little shop that sold fresh, handmade pasta, along with a selection of homemade sauces —all native to the region —to pick up items for dinner.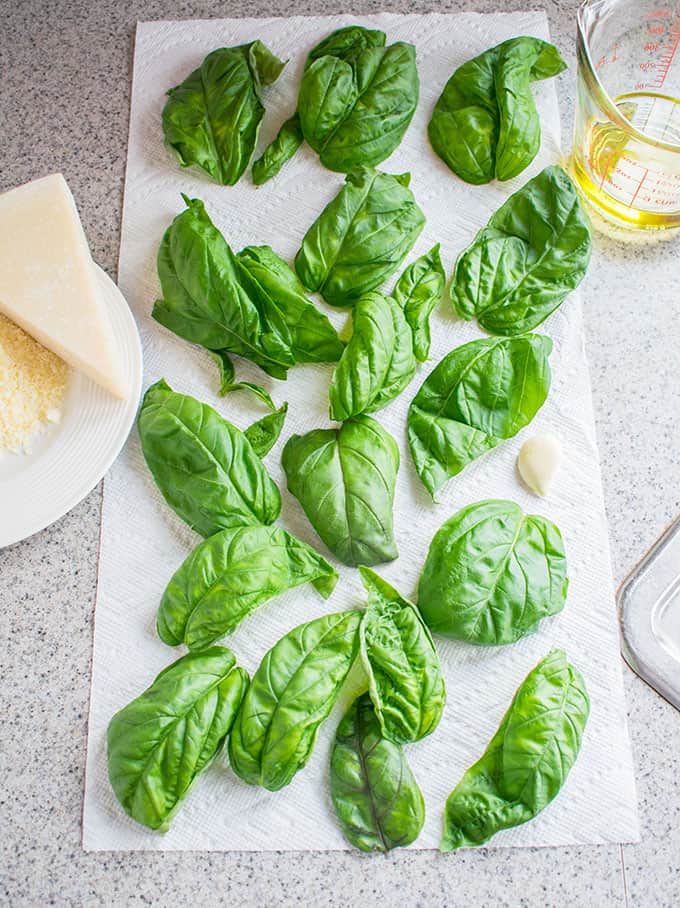 I was only 13 but never once hesitated to dive into whatever food was placed in front of me. Even if it was a strange green color.
And, when we tried the pesto...wow. Just wow.
Mom made sure to find a recipe (she says she got it from an Italian magazine), and began making her pesto with Pecorino Romano when we returned to the States. She actually uses a 50-50 combination of imported Pecorino (made from sheep's milk) and Parmesan, achieving the perfect balance of salty and sharp flavor, without being overpowering.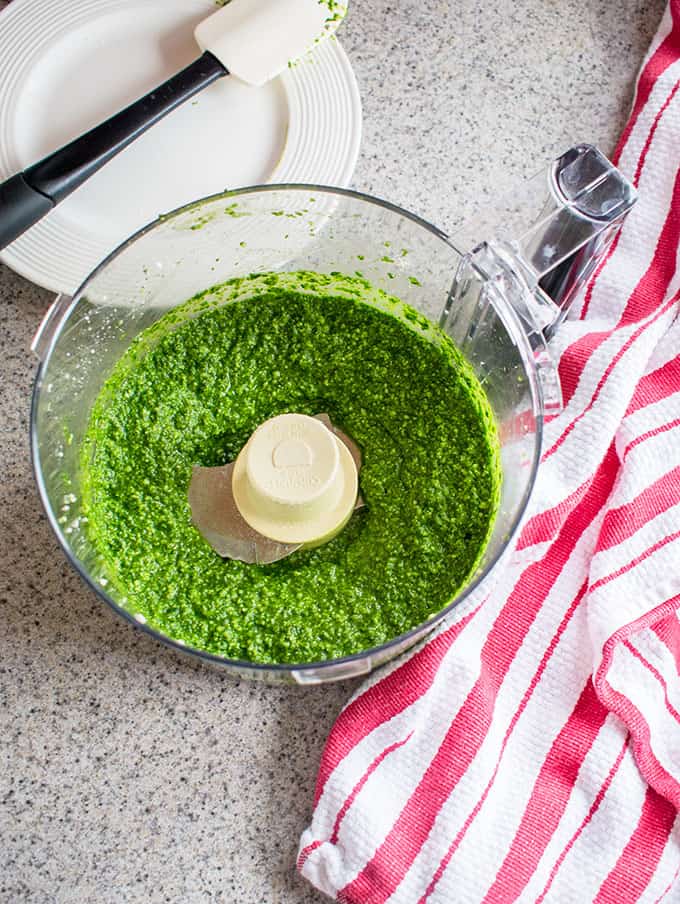 It wouldn't be summer without Mom's pesto. She used to grow basil and make large quantities of her green sauce, freezing quarts of it to last us into fall.
With that amount, she'd omit the pine nuts, since they're so expensive, but the pesto was still absolutely delicious. (I didn't use any nuts when I made it to photograph.)
But if you buy them, you also can make these Italian pine nut cookies.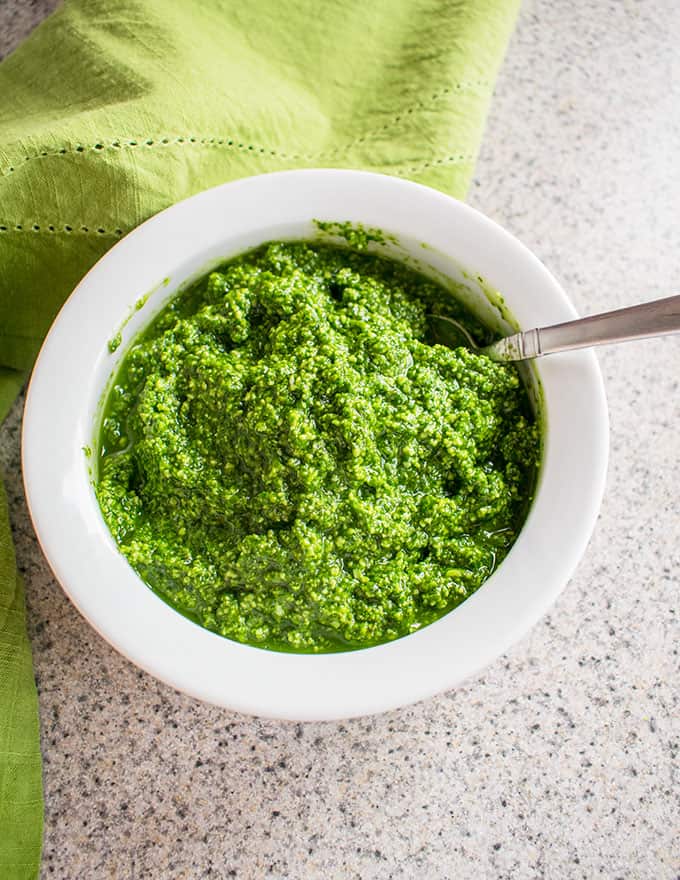 When I had an apartment during my college years, Mom would supply me with her pesto so I could enjoy it with pasta. In fact, I think I honed my sales skills while convincing my roommates they had to try pasta with Mom's pesto, even if they were a little weirded out.
Of course, it only took one bite for them to become fans. Mom's pesto became legendary.
Friends, this is one of my favorite recipes on Cooking with Mamma C. If you have a nice quantity of basil leaves, you must try this! I've included Mom's tips for success in the recipe notes.
And, for times when you don't have enough basil, try making this Easy Spinach-Walnut Pesto. And, don't miss the Creamy Walnut Sauce for Pasta, which is like a blonde pesto.
More pasta sauces
Enjoy!
P.S. If you love basil, check out my Homemade Basil-Garlic Mayonnaise, Creamy Smoked Salmon Pasta, Italian Mac and Cheese!
(Recipe Source: From my Mom, who originally saw the recipe in an Italian magazine after we tried pesto in 1982. I updated the photos on July 19, 2018.)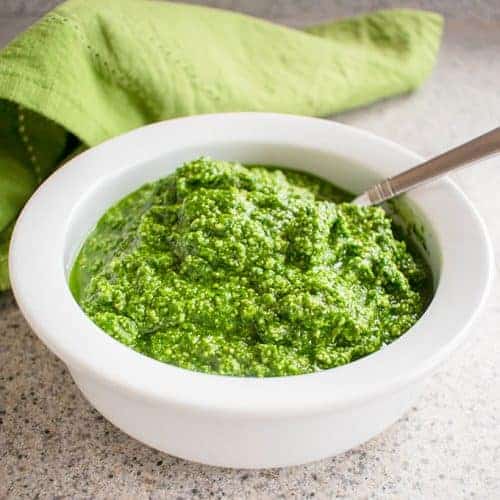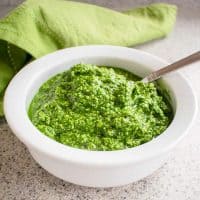 Ingredients
5

ounces

fresh Genovese basil leaves

(stems removed; see notes)

one large garlic clove

(or two small)

2

Tablespoons

pine nuts

(optional)

½

cup

olive oil

½

cup

freshly grated Parmesan cheese

½

cup

freshly grated imported Pecorino Romano cheese
Instructions
Rinse your basil and pluck off the stems. Pat your basil leaves with a paper towel to absorb excess water, and place the leaves on paper towels to air dry. (See notes.)

Grate your cheeses, if needed (I use my blender.) Combine the Parmesan and Romano in a small bowl.

Peel the garlic and place it in a food processor. Add the pine nuts, if using. Pulse until the garlic is cut into small pieces.

Add the basil leaves to the food processor and pulse until they're broken up, while drizzling in the olive oil.

Add your combined cheeses to the food processor and process until a creamy paste is formed. There is no need for salt, since the cheese is salty enough.

Use the pesto as a sauce stirred into pasta or on pizza, chicken or fish. Store the pesto covered, in the refrigerator for two weeks, or freeze for up to one month.
Notes
Mom's tips:
1. Genovese basil with corrugated leaves is more flavorful than lemon basil with flat leaves.
2. The basil must be air dried to ensure the leaves are completely dry, in order to achieve the right texture.
3. If you don't have a scale to weigh your basil, you can fill up a 2-cup liquid measuring cup twice with packed basil until it's heaping.
4. Imported Pecorino Romano (made from sheep's milk) is key for flavor. You can buy it at an Italian import store or online (affiliate link).
Nutrition
Calories:
139
kcal
|
Carbohydrates:
1
g
|
Protein:
3
g
|
Fat:
13
g
|
Saturated Fat:
3
g
|
Cholesterol:
8
mg
|
Sodium:
124
mg
|
Potassium:
58
mg
|
Vitamin A:
740
IU
|
Vitamin C:
2.4
mg
|
Calcium:
122
mg
|
Iron:
0.6
mg