Parmesan Chicken Drumsticks with Garlic Butter - A gluten-free, oven-baked chicken that's better than fried! It's low carb and keto friendly too! If you can have bread, try dipping it in the delicious garlic butter!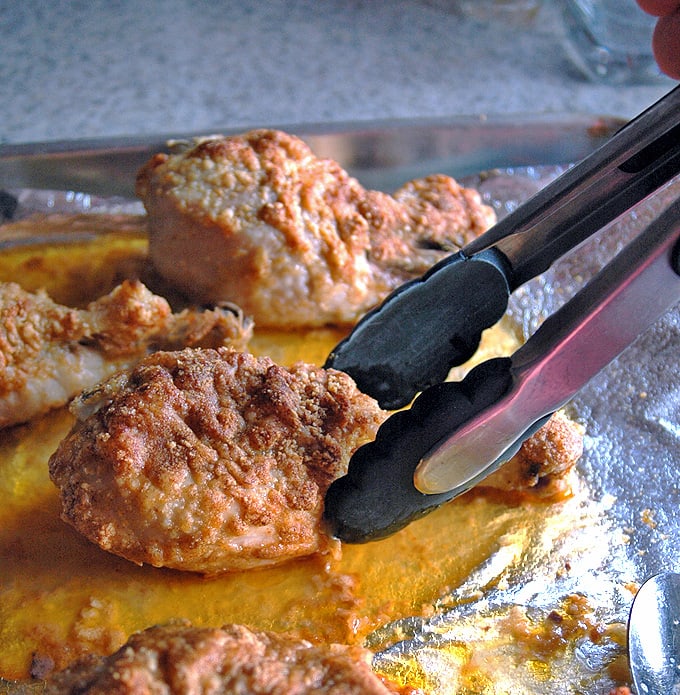 I'd be remiss if I didn't share this recipe for Parmesan Chicken Drumsticks with Garlic Butter. It's the most kid-pleasing, man-pleasing and mom-pleasing chicken I make on a regular basis.
Oven-baked and gluten-free, it's a great substitute for fried chicken, with an Italian twist. (Of course.)
Skinless chicken drumsticks are dipped in melted butter, then rolled in a mound of freshly grated Parmesan cheese that's been seasoned with garlic powder and paprika. That flavor profile is incredible, and it's what I use in these keto Parmesan chips, this baked cod, Parmesan shrimp and these jalapeño poppers.
I just had to add garlic powder to this chicken.
The drumsticks are baked on a foil-lined, rimmed sheet pan for an hour.
And then...Then they will emerge from the oven, a bit crispy on the outside, tender and juicy on the inside, and resting in a pool of mouth-watering garlic butter that we love to soak up with fresh, Italian bread. Bits of crispy Parmesan dotting the pan provide the perfect salty accent.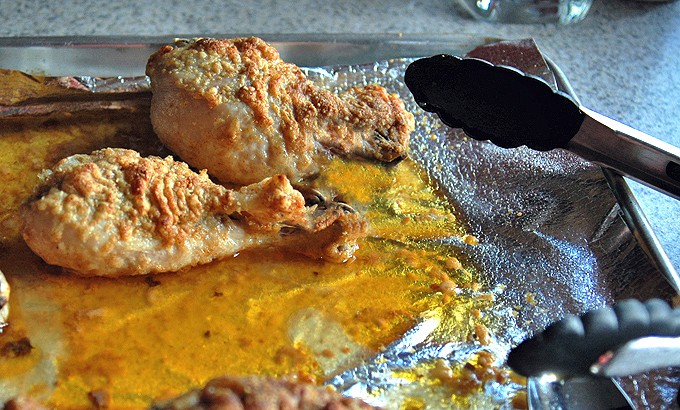 To say I serve this "family style" would be too refined. Maybe "Flintstones style" is more appropriate.
We start out very civilized, with a drumstick or two on our plates, and forks and knives that are optional. Meanwhile, the baking pan is at one end of the table, beckoning to us with its garlic butter goodness.
Each of us eats with one eyeball monitoring (or guarding) the pan. You don't want to be the last one to get to The Pan.
Then, it's time to grab a slice of bread, reach over rudely and dip into The Pan. This is immediately followed by protests.
"Hey! You're hogging all of the garlic butter. Save some for everyone else!"
"I'm not hogging it!"
And that's just the adults.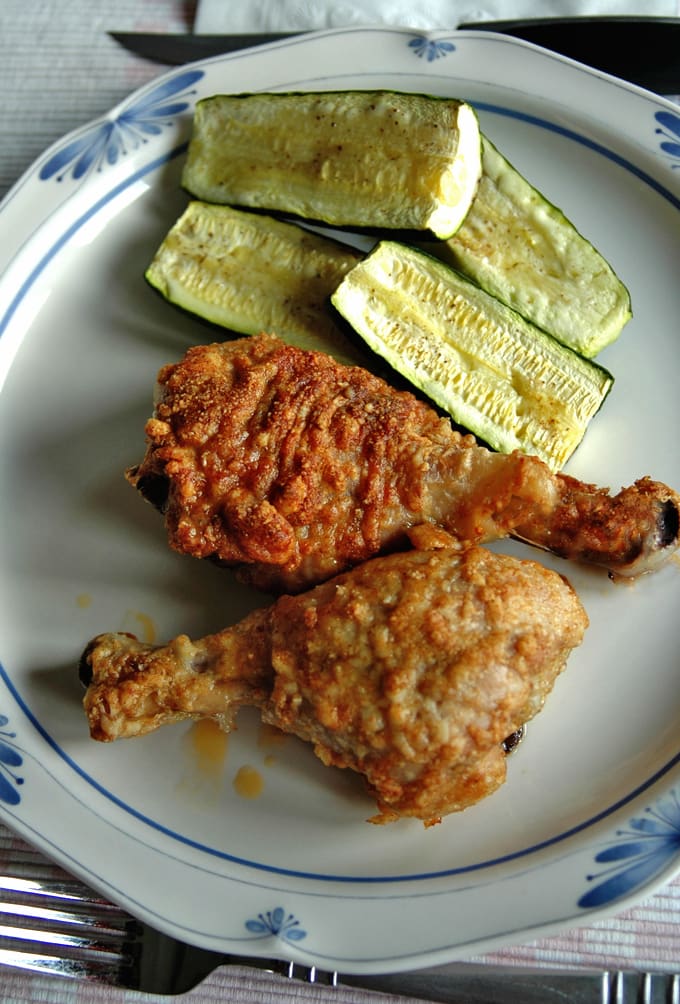 Then, anyone sitting too far away must get up and walk around the table, carrying bread slices, to elbow in and get a spot at the trough — I mean The Pan. It's important to dip as fast as you can while keeping your eyes peeled for competition.
Eventually, someone, preferably a responsible adult, must referee the process to ensure that everyone has gotten a decent amount of garlic butter action. And here's my secret: this is one pan you should volunteer to wash. When you lift up the foil, more goodness awaits.
In case anyone is wondering, I did make this once with chicken breasts, for a dinner party. They tasted good.
The entire time though, I longed for The Pan. (It was sitting in the kitchen with all of the uncivilized clutter as we ate in the dining room, with napkins on our laps.)
It wasn't the same.
Enjoy!
More chicken recipes to try
Don't miss my family's Italian chicken cutlets and this coq au vin recipe. You also have to try my Italian meatloaf with chicken and this delicious Hungarian Chicken Paprikash with Dumplings!
Recipe Source: Adapted from Leanne Ely, Saving Dinner (affliate link).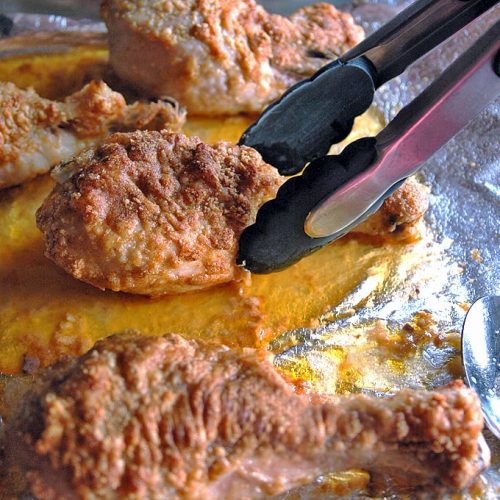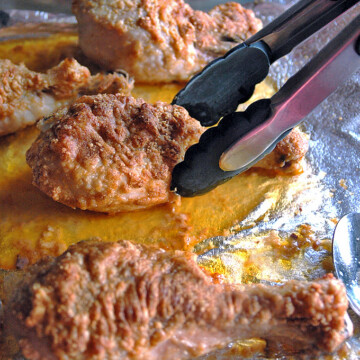 Parmesan Chicken Drumsticks with Garlic Butter
A delicious oven-baked, gluten-free alternative to fried chicken, with an Italian twist. Great with bread to dip into the melted garlic butter (or serve with rice to keep it gluten-free).
Print
Pin
Rate
Save
Go to Collections
Ingredients
10-12

chicken drumsticks

(skinned)

4

tablespoons

salted butter

1

cup

freshly grated Parmesan cheese

2

teaspoons

paprika

¾

teaspoon

garlic powder

Italian sliced bread (optional)

(for serving, to dip in butter)
Instructions
Preheat oven to 350 degrees. Line a rimmed baking sheet with foil and grease it with cooking spray.

Remove skin from each drumstick by using a paper towel to grasp the skin and pull it off. Rinse chicken in cold water and pat dry with a paper towel.

Melt butter in a pan on the stove or in the microwave in a microwave-safe bowl.

Grate Parmesan (use a Vitamix or food processor if you have one.) Place grated cheese on a dinner plate and mix in paprika and garlic powder.

Set up an assembly line from left to right, with the chicken, the pan of melted butter, the plate with the seasoned Parmesan and the foil-lined pan. Use a fork to spear a drumstick, dip it in butter, then into the Parmesan mixture, coating all sides. Place the coated chicken on the foil-lined pan. Repeat for the rest of the chicken.

Bake the chicken uncovered for one hour, or until completely cooked. Check for doneness by cutting into a piece. It should no longer be pink inside.

Serve the chicken with sliced Italian bread to dip into the melted garlic butter from the pan (or to keep it gluten-free, serve with rice).
Nutrition
Calories:
211
kcal
|
Carbohydrates:
1
g
|
Protein:
18
g
|
Fat:
14
g
|
Saturated Fat:
8
g
|
Cholesterol:
89
mg
|
Sodium:
389
mg
|
Potassium:
180
mg
|
Vitamin A:
720
IU
|
Calcium:
193
mg
|
Iron:
0.7
mg