You can make Pasta with Peas (Piselli) in less than 30 minutes! You'll love this one-pot, easy recipe from Naples. Add bacon if you wish, and don't miss the video!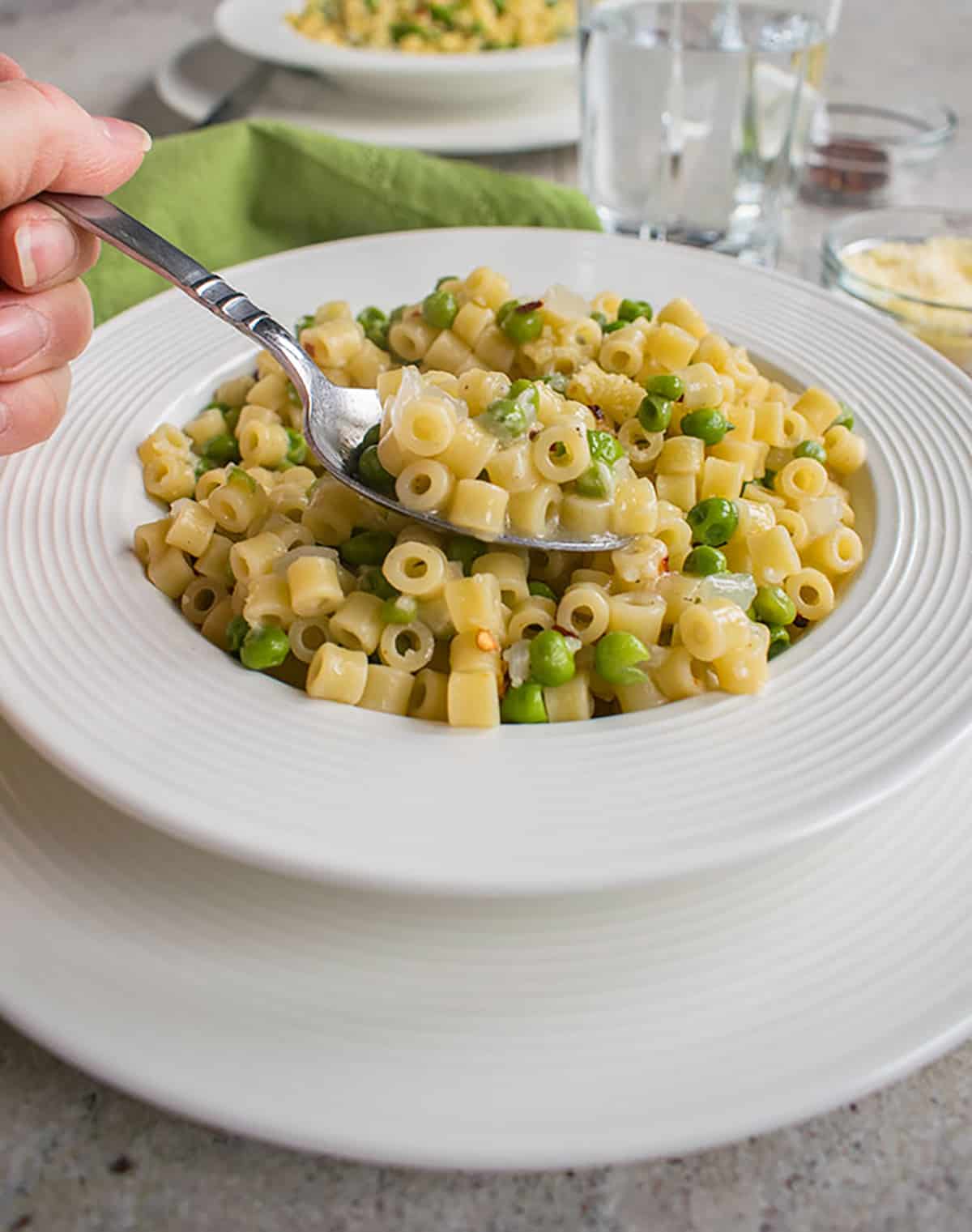 My family is from Naples, so I've been enjoying this pasta e piselli my whole life. It's one of my all-time favorite meals, and it's attracted hundreds of thousands of Cooking with Mamma C fans since I first published the recipe in 2016!
Read on, if you want to know how to make the best Pasta with Peas! It's a one-pot meal that can be on your table in under 30 minutes. The cooking water doesn't get drained, so it's a cross between soup and a pasta dish.
If it sounds similar to Pasta with Zucchini, Pasta with Broccoli and Pasta e Fagioli, you're onto something!
I love all of these one-pot pasta dishes I grew up eating and now make for my family. But if I had to choose my absolute favorite...it's Pasta with Peas for the win!
Promise me you'll try it. It's the perfect meatless meal for Lent or any night of the week! And be sure to try these Sautéed Italian Peas!
Recipe ingredients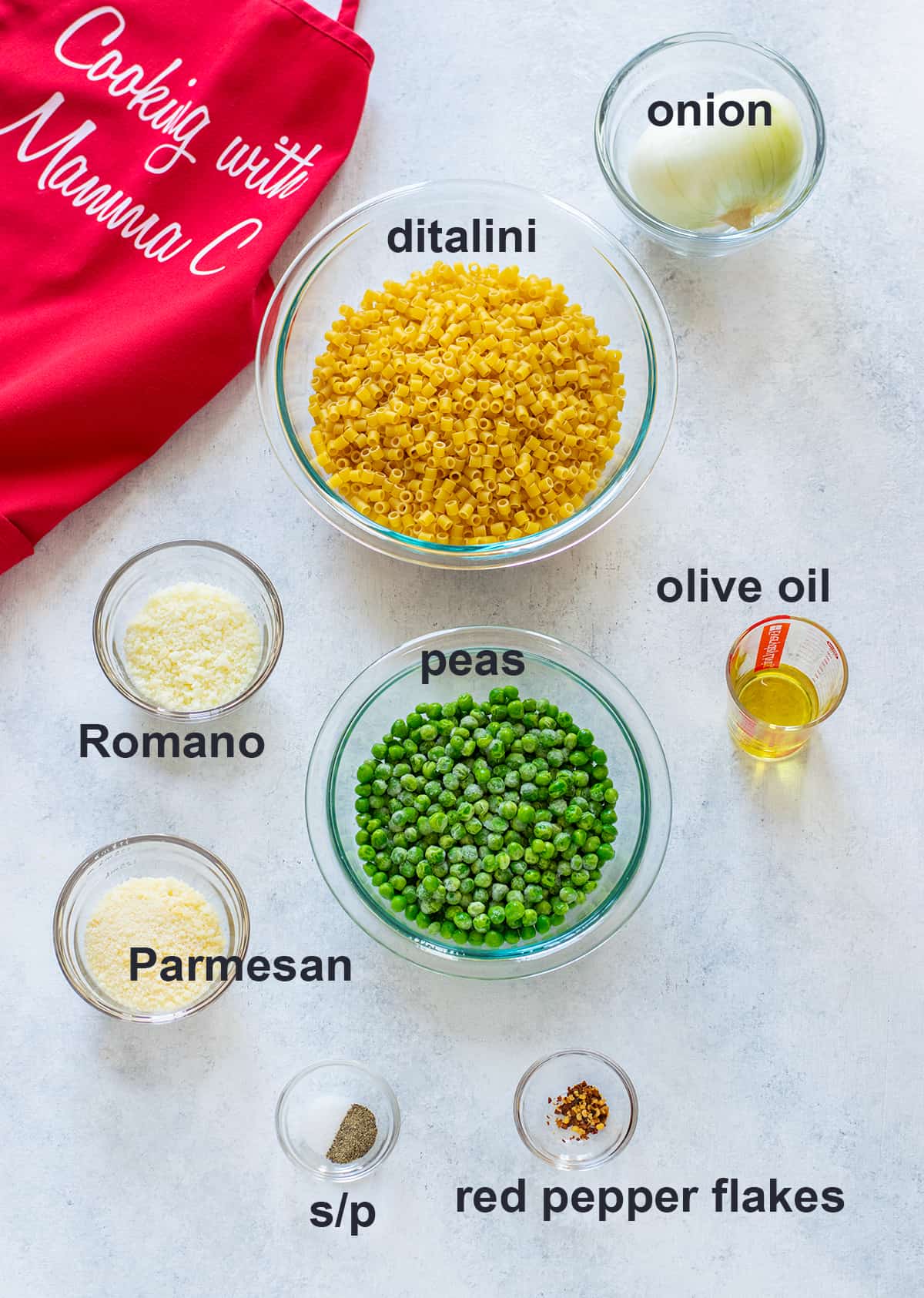 Pasta: Ditalini is traditionally used for this dish. But you could substitute tubetti, elbows, little shells or any small pasta to make your macaroni and peas!
Just make sure to use dried pasta instead of fresh, homemade pasta. Fresh pasta cooks too quickly for the one-pot, no-draining method we're using here.
Peas: I always use frozen peas for convenience, but you can use fresh peas if they're available. I love the sweetness of baby peas, but you can use garden peas.
Onions: Use yellow, white or red onions. Use yellow onions for a stronger flavor, red ones for a hint of sweetness or white ones for a milder flavor. Lately, I prefer yellow onions in this dish!
Cheese: We're using equal parts of Parmesan and Romano cheeses here, achieving the perfect balance of salty and sharp flavor. For the best results, use freshly grated cheese. I use my Vitamix (affiliate link).
Note, some vegetarians won't eat Parmesan or Romano because an animal enzyme (rennet), is used in their production. If this is an issue, vegan Parmesan can be used instead.
Optional Bacon: Mom used to make this pasta and peas with bacon, but we've kept it meatless for several years now. We don't miss it, since there's plenty of flavor going on here.
But, see the recipe notes for instructions to add bacon or pancetta.
How to make pasta with peas
See the card at the end of this post for the full recipe, but here's an overview.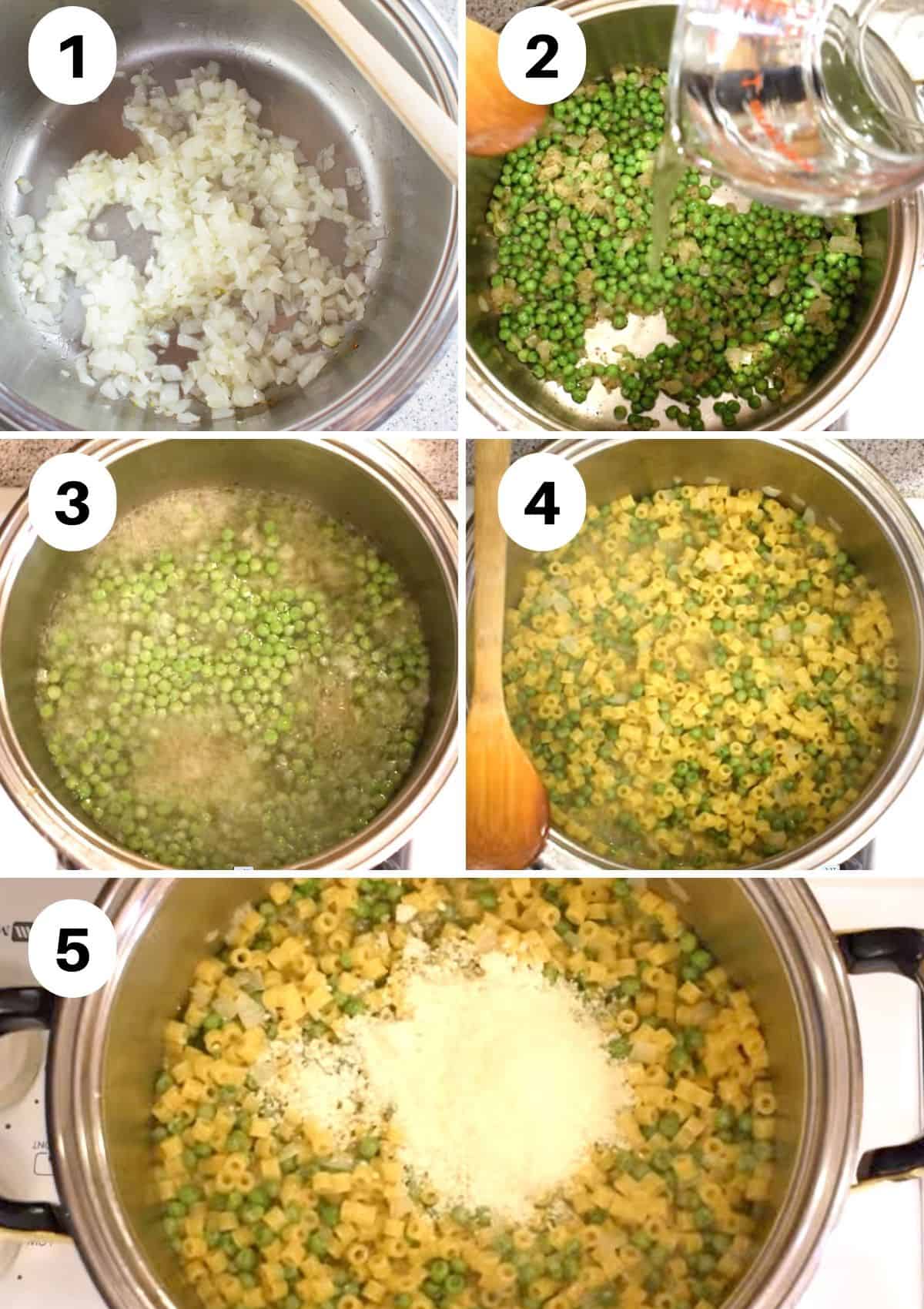 Sauté the onions in olive oil.
Add the peas and cook until nearly done. Then add the water.
Bring the pot to a boil.
Add the ditalini and cook the pasta until al dente.
Don't drain the water. Turn off the heat and add Parmesan and Romano.
Recipe tips
Be sure to measure the water as directed to boil the pasta. We're using just enough water to cook the pasta without draining it. If you pour in too much water, you'll have watery results.
The water amount listed is for ditalini pasta, which generally takes about 10 minutes until it's al dente. If you use a different type of pasta that takes longer to cook, you may need to add up to a cup of extra water so it won't all be absorbed before the pasta is done.
What to serve with it
If you want this Pasta with Peas to be the main dish, serve it with the best Italian tossed salad and homemade Italian bread or Parmesan focaccia.
Or, the pasta can be the first course, followed by chicken cutlets, broiled cod or oven-fried fish with a side of rapini (broccoli rabe).
You can use beautiful Italian pasta bowls (affiliate link) to show off this delicious meal.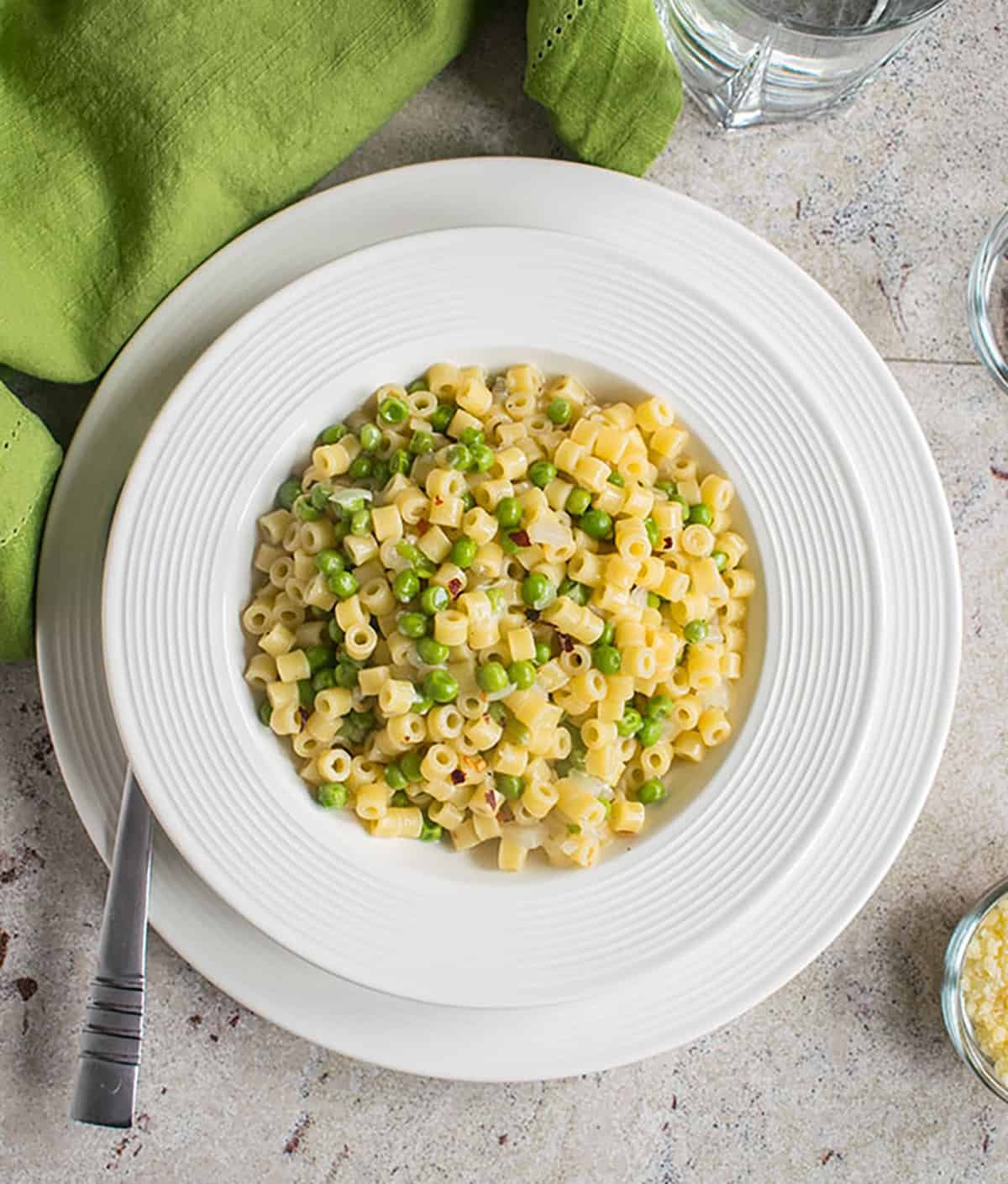 Frequently asked questions
How should you store leftover pasta e piselli?
It's best to eat this dish immediately, because the leftovers will get dry. But you can store pasta and peas in a sealed container in the refrigerator for up to four days. Don't freeze it, or the pasta will become mushy.
How do you reheat pasta with peas?
You can reheat servings of pasta and peas in the microwave, covered with wax paper. Add a little olive oil to the food first, so it won't be dry.

You also could reheat this in a covered pan on the stove. Add olive oil or butter first.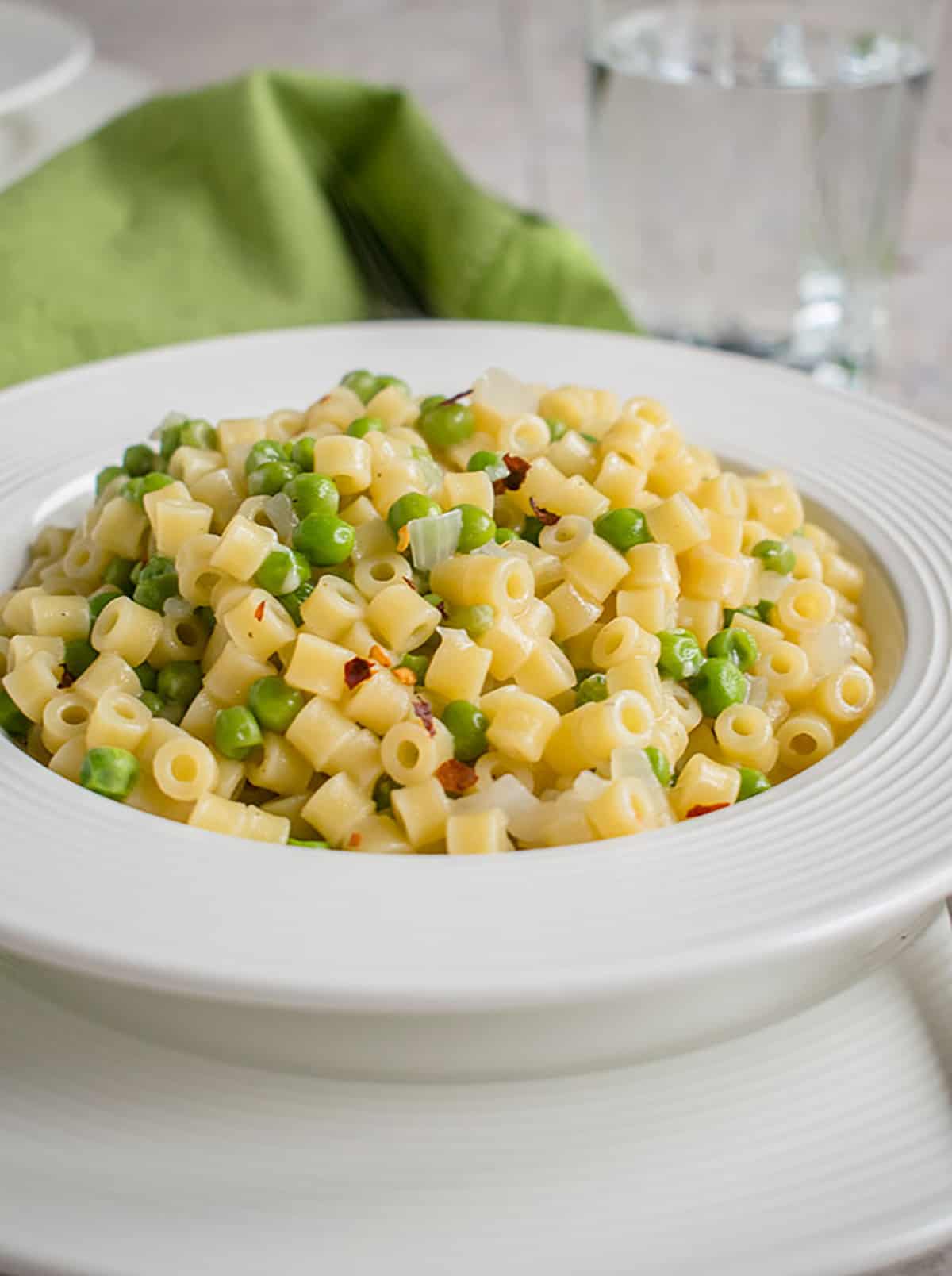 More recipes like this
Be sure to check out my other pasta recipes and don't miss these:
Enjoy!
If you try this Pasta with Peas recipe, please leave a rating and a comment!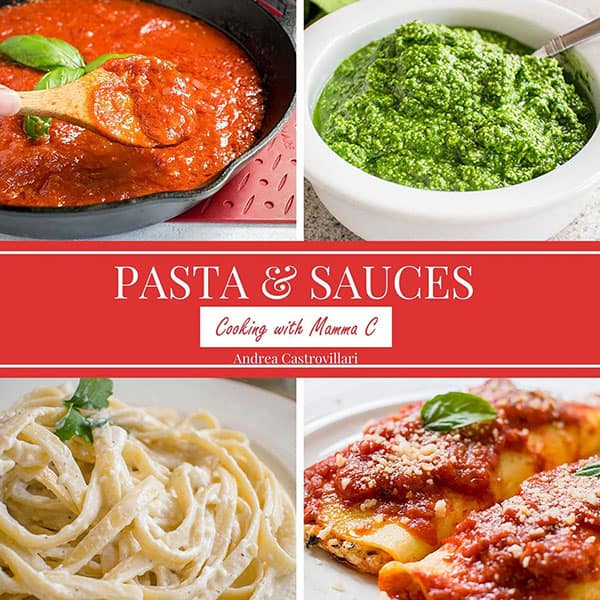 E-Cookbook!
With my Pasta & Sauces collection, even a beginner can cook like an Italian nonna!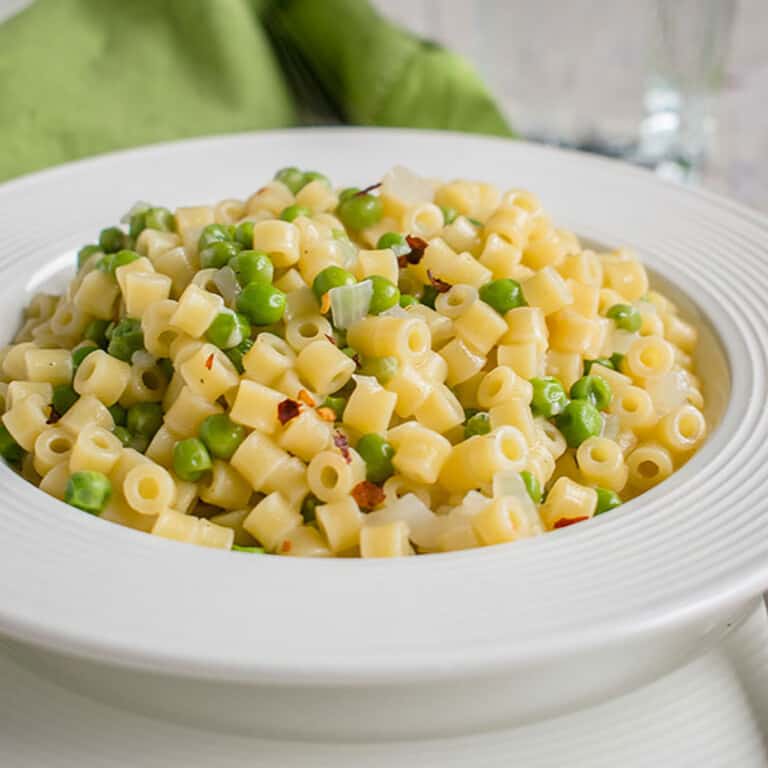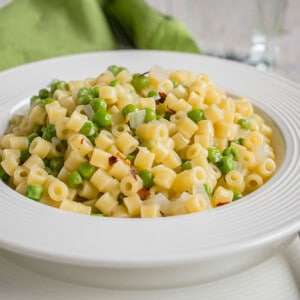 Ingredients
1

medium onion

(yellow, white or red)

2

Tablespoons

olive oil

1

13-ounce package frozen baby peas

½

teaspoon

salt

½

teaspoon

pepper

4 ½

cups

hot water

1

pound

ditalini or other small pasta

(dried pasta, not homemade)

⅓

cup

freshly grated Parmesan cheese

(plus more for serving)

red pepper flakes for serving

(optional)
Instructions
Peel and chop the onion. Heat the oil in a large pot on medium-high. Add the onions to the pot and stir to coat them with oil. Cook the onions for five minutes or until they're soft, stirring occasionally to prevent sticking. While the onions are cooking, you can grate the cheeses if needed. (I use my blender.)

Add the frozen peas, salt and pepper to the pot and stir to combine. Let the peas cook for five minutes, stirring occasionally. They should be almost fully cooked.

Add the water to the pot and increase the heat to high. Cover the pot with a lid and let the water come to a boil. When the water is boiling, add the pasta and stir it to prevent sticking. Lower the heat slightly and cook the pasta, uncovered, until it's al dente, stirring frequently to prevent sticking. (Make sure to scrape along the bottom of the pot.) When the pasta is cooked, do NOT drain the water.

Turn off the heat and stir in the Parmesan and Romano. Taste to see if you need any extra salt. (You may not, since the Romano is salty.)

Serve with extra Parmesan (or Romano) and red pepper flakes. Store leftovers in the refrigerator for up to four days. Add a little olive oil before reheating leftovers, so they're not dry.
Notes
I always use baby peas, since they're sweeter than regular peas.
If you want to make this with meat, you can add 4 ounces of cubed pancetta or prosciutto or 3-4 strips of bacon, chopped, when the onions are soft. 
Use store-bought, dried pasta for this recipe. We haven't tested it with homemade pasta, which cooks much faster and may not provide enough time for the water to absorb.
Nutrition
Calories:
424
kcal
|
Carbohydrates:
67
g
|
Protein:
17
g
|
Fat:
9
g
|
Saturated Fat:
2
g
|
Cholesterol:
10
mg
|
Sodium:
363
mg
|
Potassium:
352
mg
|
Fiber:
5
g
|
Sugar:
6
g
|
Vitamin A:
540
IU
|
Vitamin C:
25.9
mg
|
Calcium:
162
mg
|
Iron:
2
mg
(Recipe Source: Adapted from Mom's version of this dish, which she learned from Nonna. Originally published on February 10, 2016, updated with a video and new photos in 2019 and republished now with more information.)